The 2021 Acura TLX plants its flag among premium mid-size sedans with a racy design, strong turbocharged engines, and improved dynamics. The TLX is a mid-size premium sport sedan that offers front-wheel drive and torque-vectoring all-wheel drive. It seats five in comfort and exists in a middle space between mainstream sedans and a luxury market dominated by European rivals. In size, competitors include the Audi A6, BMW 5-Series, and Mercedes-Benz E-Class, but it's priced more like the Audi A4, BMW 3-Series, and Mercedes-Benz C-Class. The Cadillac CT5 and Lexus ES are the closest rivals for both price and size.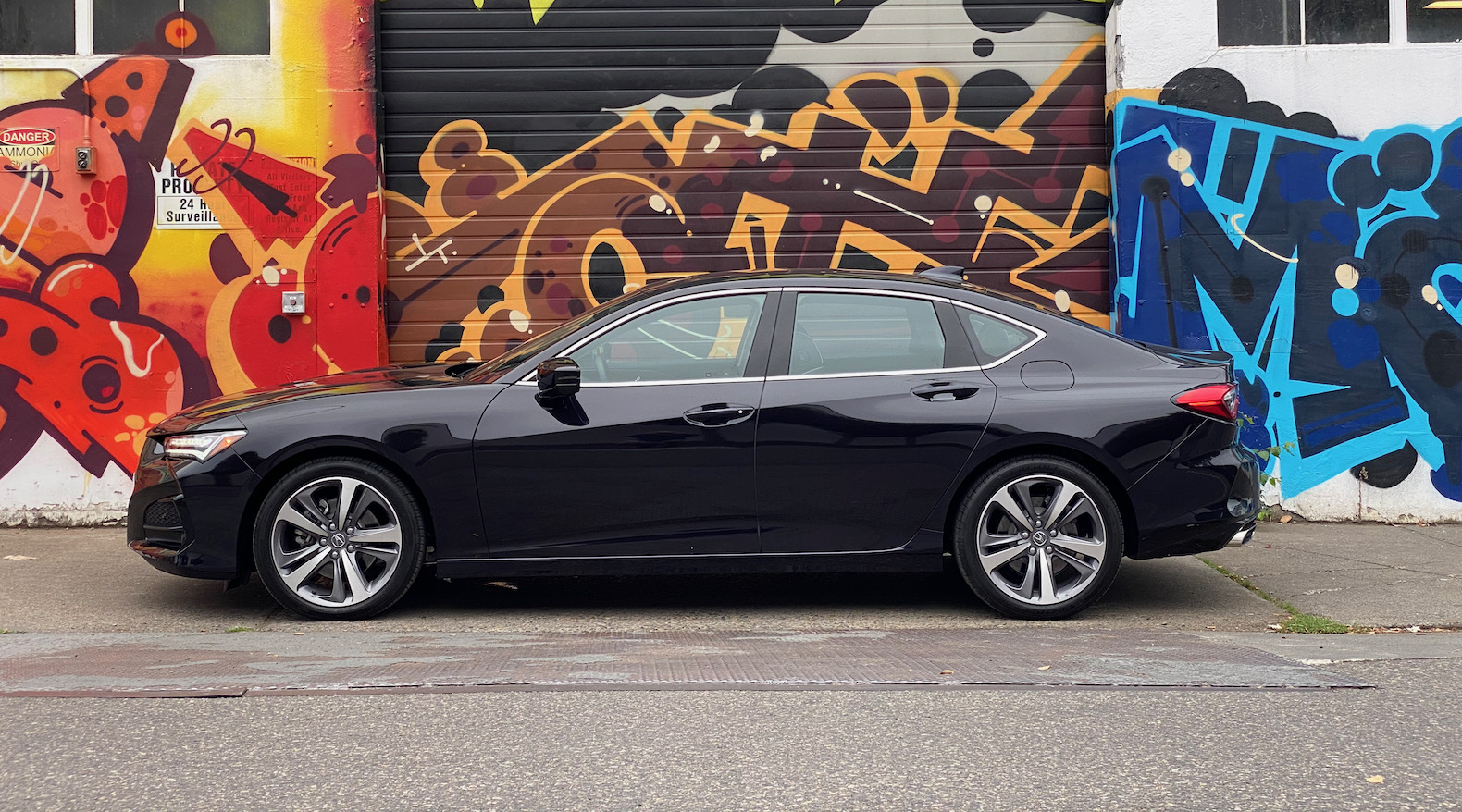 This time around, the 2021 Acura TLX sculpts a daring shape around zesty turbocharged engines. A stiffer platform and a double-wishbone front suspension contribute to agile handling, and the interior adopts luxury-car materials. For 2021, the TLX is no longer an upscale version of the Honda Accord, and instead uses its own dedicated platform. It gets a pair of new engines, and a daring new design that is a dead ringer for the Type S concept car that Acura revealed at Pebble Beach in 2019, which is a very good thing.

Acura offers the TLX in base, Tech, A-Spec, and Advance trims that really amount to a concise set of options packages. A performance-oriented Type S model will arrive this coming Spring. By the numbers, the new 2021 TLX is nearly three inches longer from bumper to bumper than the outgoing version, with 3.7 inches added between the wheels. It's also more than two inches wider and a half-inch lower than the previous model, on-trend with "longer, lower, wider" for every other new car on the planet. All but the Type S are powered by a new 2.0-liter turbo-4 that replaces both a 2.4-liter inline-4 and a 3.5-liter V-6. It makes 272 horsepower and 280 pound-feet of torque, giving it slightly less hp but slightly more torque than the outgoing V-6, but it loves to sing. When it arrives, the Type S will have a 355-hp 3.0-liter turbo-V-6. Both come exclusively with a 10-speed automatic transmission.

The TLX sheds its Honda Accord platform for a new dedicated architecture that also trades MacPherson struts for double wishbones up front. Adjustable dampers are available for the first time. These upgrades team with better front/rear weight balance to create a car with sharp moves that drives smaller than its size. The TLX comes standard with a variety of active safety and driver-assist features, including automatic emergency braking with pedestrian detection, active lane control, and adaptive cruise control. The 2021 Acura TLX starts at $38,525 for the base model, and all-wheel drive adds $2,000. Standard features include 12-way power-adjustable heated front seats with driver memory, synthetic leather upholstery, a 10.2-inch center screen with a touchpad controller, Apple CarPlay and Android Auto compatibility, a 10-speaker audio system, ambient interior lighting, LED headlights and taillights, and 18-inch alloy wheels.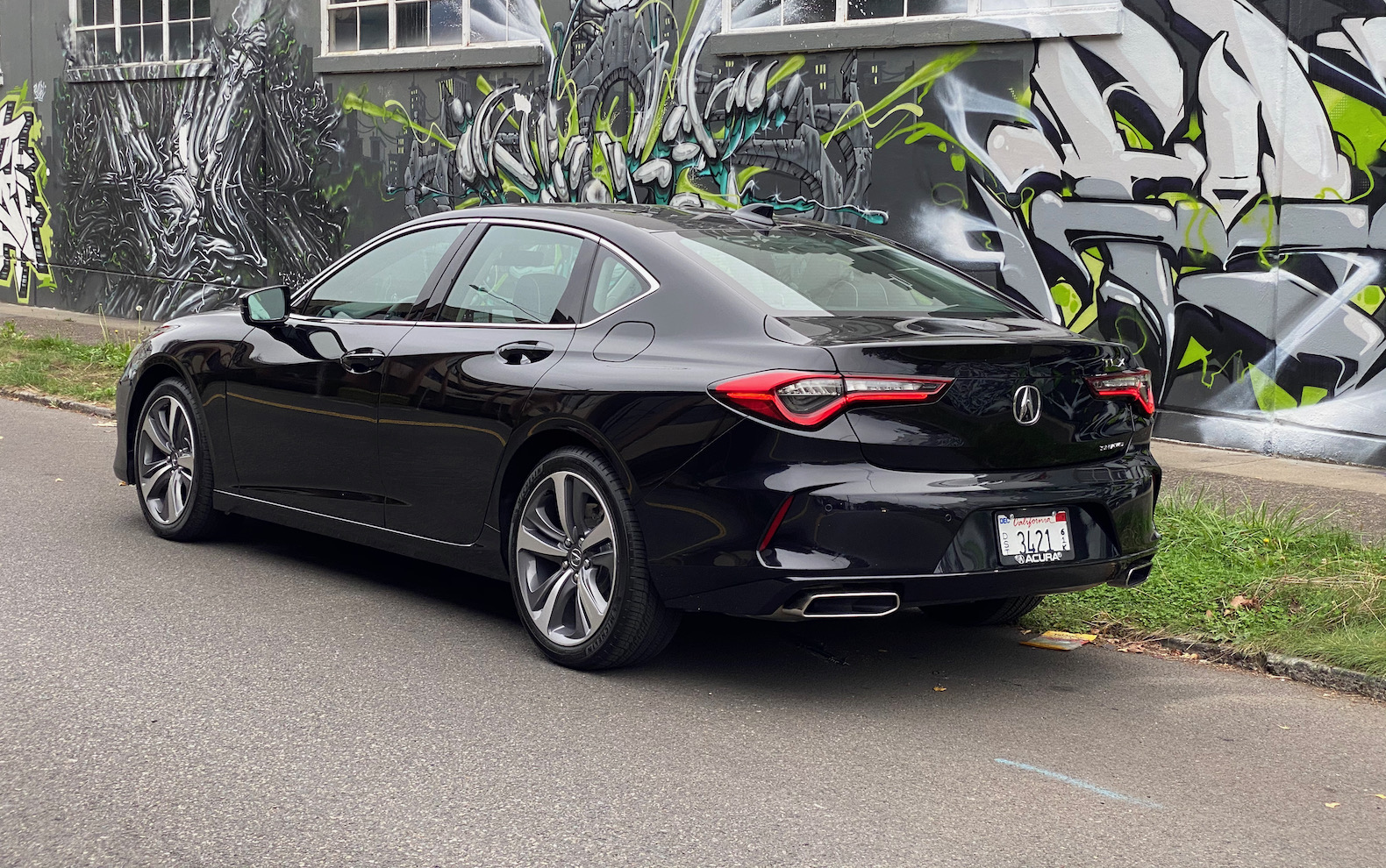 The 2021 Acura TLX takes on a sportier, more emotional design inside and out, finally. The TLX's new design could be its greatest strength with buyers. A longer dash-to-axle ratio gives the car the look of a rear-drive sedan with a long hood and short deck, and that's only emphasized by wide shoulders front and rear. The 2021 Acura TLX enlists lines, creases, and angles into a more organic shape than its predecessor. The nose, which is larger this year, visually pulls its hood and fenders forward in a shape that gathers at the diamond-patterned grille and hints at its tension. Along the sides, the TLX's long hood and added inches between the dash and front axle hint at a rear-drive preference it doesn't have. The athletic cabin reaches back toward a short rear decklid and pinched window line. The door handles rise from front to back, which makes the TLX look like a sprinter, poised in the blocks. Around back, the high trunk lid spoiler is perched on top of wide taillights, which are stacked on big exhaust ports, or even bigger quad-tipped finishers on the Type S. We think it looks exceptional both outside and inside, a rarity in the automotive universe. 
The 2021 Acura TLX boasts a stiff structure and improved balance that help it drive smaller than its size. Acura injects more sport into its midsize sport sedan for 2021 and replaces its base engine with a stronger turbo-4 that is a match for the outgoing V-6. It's a large car that handles smaller than its size, and that's aided by a torque-vectoring all-wheel drive system that can send power to the outside rear wheel. The 2021 Acura TLX comes standard with front-wheel drive and offers optional all-wheel drive that can send 70 percent of the power to the rear and all of that power to the outside rear wheel to improve handling.

Under the hood, the TLX is powered by a 2.0-liter turbo-4 or a 3.0-liter turbo V-6. The base engine makes 272 horsepower and 280 pound-feet of torque, increases of 66 hp and 100 lb-ft over the base engine in last year's TLX and 13 lb-ft of torque versus the outgoing V-6. Acura isn't quoting a 0-60 mph time, but it should be in the high 5-second range, making it as fast as the previous V-6. The turbo makes the power available early, and it stays on tap thanks to the smooth-shifting 10-speed automatic transmission. An aggressive exhaust note is present in Sport mode which enthusiasts should appreciate. A 3.0-liter V-6 will produce 355 horsepower in the Type S model this Spring and should cut the 0-60 mph time into the mid-to-high 4-second range. We can't wait to get our hands on it.

Acura makes key changes to improve the TLX's handling. Its structure is 50 percent stiffer than the outgoing car and it's twice as stiff where the suspension meets the body. That suspension now has double wishbones up front instead of MacPherson struts and offers adjustable, adaptive dampers for the first time. The work pays off with quick, stable steering and sharper responses from the chassis. The Advance trim's adjustable dampers provide a varying ride quality that always stays controlled and never becomes too firm. While the TLX is still little nose-heavy and that will lead to pushing when driven fast into turns, but its torque-vectoring all-wheel drive system can make up for some of that. The brakes are strong, with a high, firm pedal. The TLX is fun to drive and comfortable with a willing power even in its base model. Its dynamics are improved in every way versus the car it replaces and quite impressive.
The 2021 Acura TLX is efficient for its size and power. Given its power and size, the 2021 Acura TLX is fairly efficient. With front-wheel drive, it is EPA rated at 22 mpg city, 31 highway, and 25 combined. The front-drive A-Spec trim is slightly less efficient with ratings of 22/30/25 mpg. All-wheel drive also reduces fuel economy to 21/29/24 mpg. The more-powerful TLX Type S model doesn't have fuel economy ratings yet. We averaged a respectable 25.3 mpg over a lead-footed week in an all-wheel-drive Advanced model.
For 2021 Acura aims for the TLX to score well in all industry safety tests. Acura's 2021 TLX has already aced all the IIHS tests with good ratings across the board including headlights and crash prevention to earn the coveted Top Safety Pick+ rating. Unfortunately it hasn't been tested yet by federal NHTSA but expect similar stellar results. The 2021 Acura TLX comes standard with forward collision warnings, automatic emergency braking with pedestrian detection, active lane control, adaptive cruise control, a driver-attention monitor, traffic sign recognition, and automatic high beams. Also available are blind-spot monitors, rear cross-traffic alerts, and front and rear parking sensors. The TLX comes with next-generation front airbags developed by parent company Honda designed to reduce injuries in sharply angled front crashes.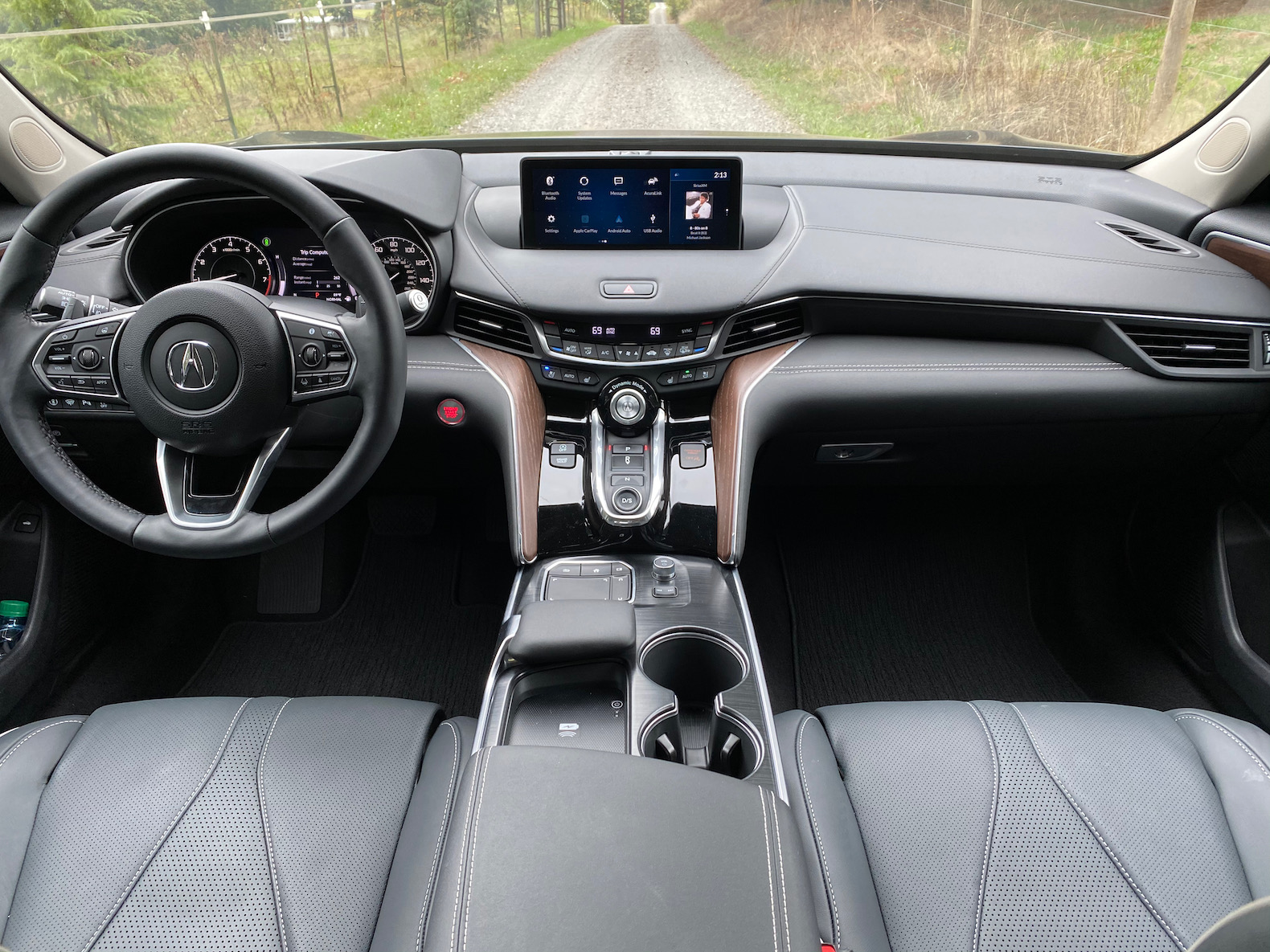 Good space and high-quality materials make the 2021 Acura TLX's cabin a comfortable environment for the driver and passengers. The interior of the new TLX isn't significantly larger, however. That's due to the long space between the front axle and dash, which was lengthened by 7.8 inches for a sportier look. The cabin still has plenty of room up front and a comfortable rear seat with thigh support not found in most cars these days. Inside, the TLX uses more right angles to frame its modern interior with a racier motif. The infotainment screen is planted on top of the dash, above air vents and climate controls, and a center stack dramatically drops to the armrest. Acura's center-mounted, push-button shifter controls the 10-speed automatic transmission and a rotary knob for driving modes smack in the middle. It's not as big as a similar setup used in the NSX, but still conveys its sporty abilities.
The TLX's fit, finish, and materials are all worthy of a car costing thousands more, and buyers can choose a color scheme that fits their personality. The A-Spec and Type S look racy, while lighter colors create a serene environment in other models. Synthetic leather is standard, but real leather is available and the A-Spec model adds synthetic suede seat inserts and contrast stitching. The stitching is toned down to match the upholstery in other models, but it's still there and the wood and metal trim all look and feel great.

Acura offers lots of front seat adjustments to make occupants comfortable. The standard seats have 12-way power adjustments and seat heating, and the Advance model adds 16-way thrones. Both accommodate wider frames while also providing enough support for aggressive driving. The rear seat is better than most found in mid-size cars because the longer seat bottoms provide excellent thigh support. The car is also wide enough to fit three passengers across without jostling for room. Still, those taller than 6-feet might want more leg room. Only the trunk takes a hit with a small opening created by the short deck and a relatively tight 13.5 cubic feet of space However, folding rear seatbacks make it more useful.
The 2021 Acura TLX comes well equipped even in base form from a simple lineup. Acura offers a small lineup for the TLX that makes choosing a car very simple. The TLX has a strong list of standard equipment, but no optional features. Acura's TLX lineup consists of base, Tech package, A-Spec, and Advance package trims. All TLXs come with a 10.2-inch center screen that's controlled by a touchpad. The driver's finger position on the pad correlates to the position of the controls on the center screen. It's easily one of the more intuitive infotainment interfaces and one of our favorites, only haptic feedback would make it better.
A TLX Type S with more power and greater performance is also coming this Spring. We recommend spending an additional $4,000 for the $42,525 Tech package trim. It adds navigation with real-time traffic information, leather upholstery, 19-inch wheels, a 13-speaker ELS audio system, blind-spot monitors, rear cross-traffic alerts, and front and rear parking sensors. We also recommend spending the $2,000 for the slick-road security and handling benefits of all-wheel drive. The 2021 Acura TLX Advance trim costs $47,325 with front-wheel drive and $49,325 with all-wheel drive. The Advance trim comes with adjustable dampers, remote starting, power folding mirrors with puddle lights, rain-sensing wipers, a surround-view camera system, 16-way power-adjustable front sport seats, open-pore wood trim, a head-up display, heated rear seats, and a heated steering wheel. When it arrives, the TLX Type S will be the most-expensive model with a price in the mid-to-low $50,000s.
We finally feel that Acura has returned to its lauded past of impressive vehicles such as the original Legend and NSX with the all-new 2021 TLX. Acura's new TLX brings together all that it has learned and wrapped it into a near-perfect package with strong efficient powertrains, edgy new styling that looks fresh and moves the styling needle, and blends it with cutting-edge technology. In the end, the new TLX blends the best of Acura's hallmarked past in an amazing new midsize sedan.
For all your new car shopping needs, check out: drivevise.com Vehicle shopping made simple!