The 2020 Volkswagen Atlas Cross Sport is a sporty crossover SUV with a spacious interior and seating for five adults. It's not flashy, luxurious, or especially powerful, but it bests most competitors for outright interior space. The 2020 Atlas Cross Sport can accommodate adults in every outboard seat as well as provide adult-sized access through big door openings. Cargo space is near the top among competitors, as it should be for a long and large vehicle that will fill most suburban garages.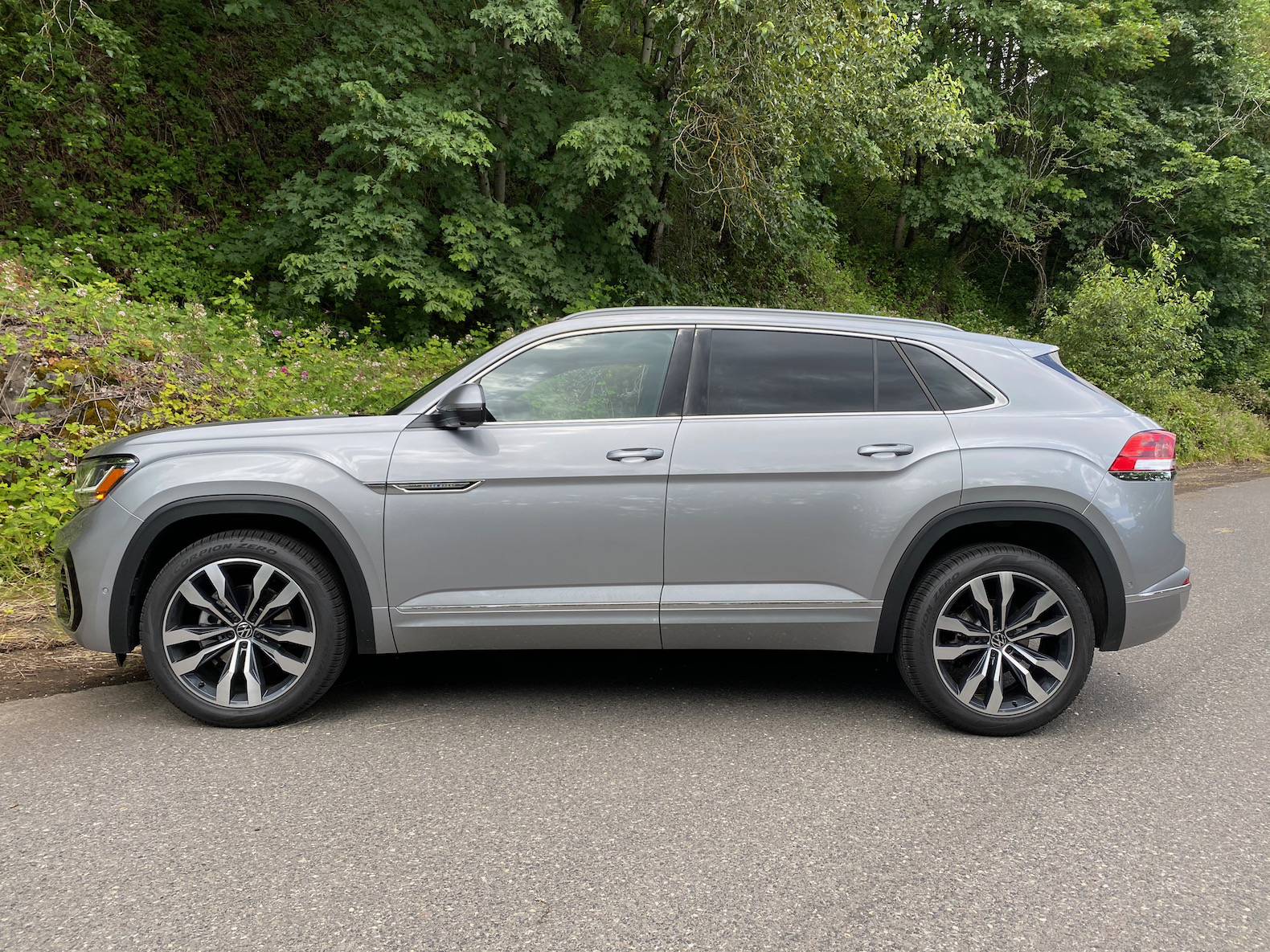 Once aboard, passengers will have to ante up the trim levels for more technological convenience and creature comforts. The conservative design may appeal to some shoppers. This year, VW launches a new version of its infotainment software on the crossover, and it still comes standard with Apple CarPlay and Android Auto capability. Also standard is a good range of collision-avoidance safety tech that earned good marks in federal and independent safety testing. However, subpar headlights prevented it from earning a coveted Top Safety Pick award bestowed by the IIHS.

Available in S, SE, and SEL, plus an R-Line appearance package, the Atlas SUV can be had with turbo-4 or V-6 engine. The Atlas' best driving asset is its composed ride, which soaks up bumps better than most competitors even with the 21-inch alloy wheels available on the range-topping SEL Premium trim. The best value with all these confusing trim levels is the Atlas SE V-6 with all-wheel drive at around $38,000, which offers plenty of space per dollar.
The all-business 2020 VW Atlas Cross Sport looks imposing. With its 2020 Atlas Cross Sport, Volkswagen employs no tricks to make its big crossover look delicate, dainty, or demure. The wide grille, rectangular headlights, and massive fender flares give the Atlas Cross Sport a stylish in-your-face look. 20-inch wheels are standard kit on many versions of the Atlas Cross Sport, while the range-topping SEL Premium swaps in 21-inch rolling stock that gives it a more athletic look. With flared haunches at all four corners, sloped roofline, stubby rear end, and blunt front end, the Atlas Cross Sport has presence. It looks sportier than the Atlas, like the Audi Q8 is to the Q7.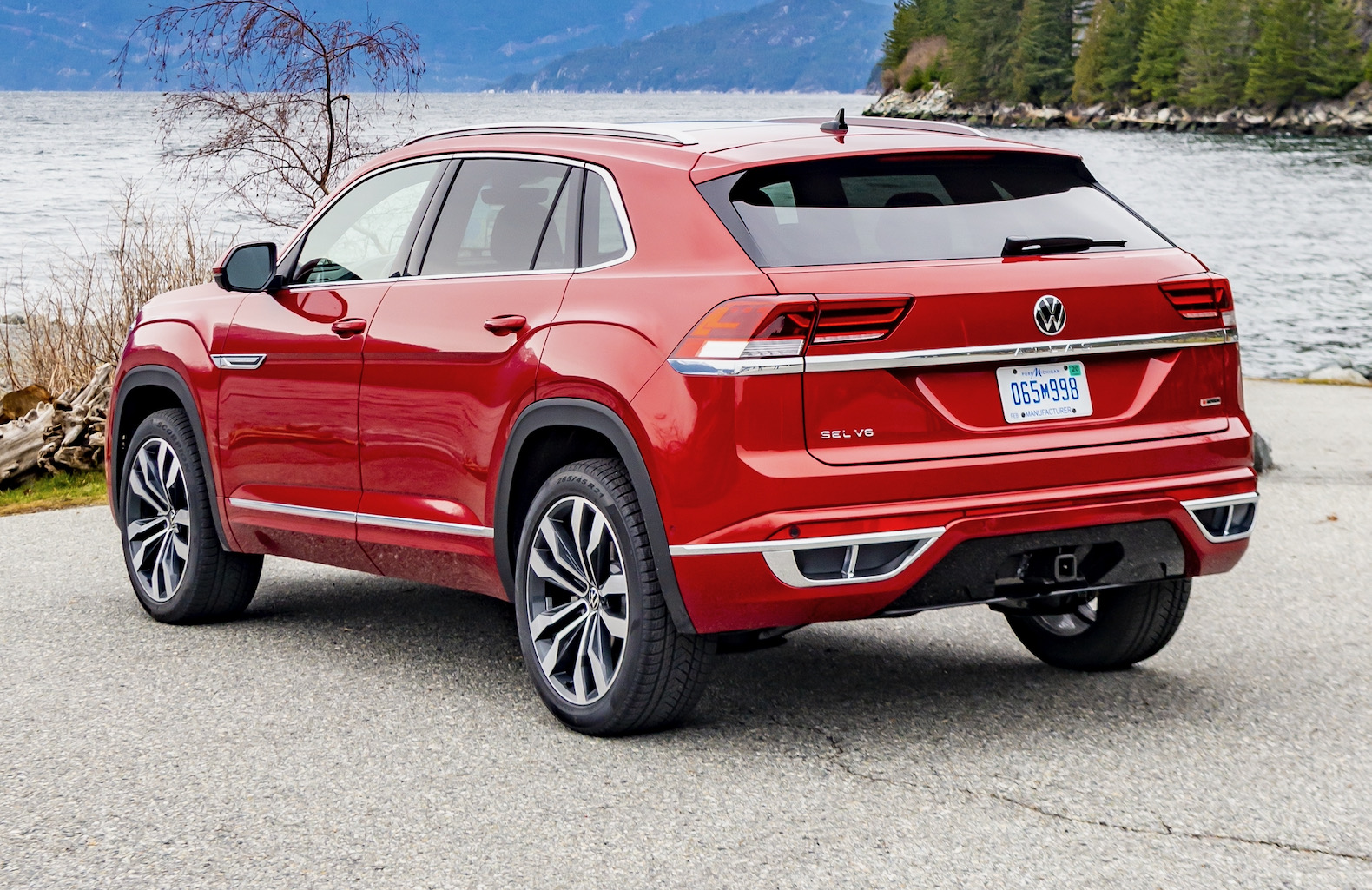 The 2020 VW Atlas Cross Sport has a more athletic feel than its big dimensions would suggest, though more power would be welcome, it impresses with a comfortable, composed ride. Most 2020 Atlas Sport Cross' use a 3.6-liter V-6 rated at 276 horsepower, though a 235-hp 2.0-liter turbo-4 is standard with front-wheel drive. The V-6 is quiet and works well with the standard 8-speed automatic transmission, but it doesn't easily overcome its 4,500-pound curb weight with all-wheel drive. With a full load of passengers aboard, the 2020 Sport Cross struggles up hills.

The long 117.3-inch wheelbase helps the Atlas shrug off small bumps and stay composed at highway speeds. The steering stays arrow-straight even in heavy crosswinds and is more nimble on winding roads than we've come to expect from most larger crossover SUVs. Though all-wheel drive is optional, the 2020 Atlas is better suited to dirt roads and winter's worst than it is to mud plugging. A handful of drive modes let drivers dial in traction control settings for snow and muck at the twist of a knob. With the right options, the Atlas can lug 5,000 pounds worth of trailer, though it won't win any drag races. Cruising down the highway with the adaptive cruise control set above 70 mph, the Atlas Cross Sport is a nice place to spend your time
Fuel economy isn't the 2020 VW Atlas Cross Sports forte, mostly due to its weight that gives it such a good ride. The 2020 Volkswagen Atlas Cross Sport is a big crossover SUV with a thirst to match. \The optional V-6 is the most popular choice, and with all-wheel drive it's rated at just 16 mpg city, 22 highway, 19 combined. Front-wheel-drive Sport Cross crossovers with the V-6 are better at 17/23/19 mpg. The turbo-4 when paired with front wheel-drive only is rated at 21/24/22 mpg and 18/23/20 mpg with all-wheel-drive. In our week with an all-wheel-drive SEL we averaged 19.6 mpg.


The 2020 Volkswagen Atlas Sport Cross is a safe choice among crossover SUVs. The big crossover SUV earned five stars from the NHTSA, top marks in crash tests from the IIHS, and comes standard with collision-avoidance tech we consider essential on a family vehicle. Every Atlas includes automatic emergency braking, blind-spot monitors, and rear cross-traffic alerts. Active lane control and adaptive cruise control are available, though some rivals make those advanced driver assistance systems standard. The Atlas ranked "Good" in every crash test performed by the IIHS, but "Moderate" or "Poor" headlight ratings on all trim levels prevented it from earning a Top Safety Pick award. The NHTSA rated the Atlas at five stars overall, with four stars in the calculated rollover test. Given their higher centers of gravity, very few crossover SUVs earn five stars in the rollover test.
Inside, the Cross Sport is car-like with a low dash and tall and wide front glass for good visibility. The plastic controls are centered around either a 6.5- or 8.0-inch touchscreen. It's not super sytlish in its design, but the interior gets the job done with few frills. The cloth seats on base Atlas S and synthetic leather seating on mid-level Atlas SE trims hit the mark. VW doesn't do anything to dress it up for the Atlas SEL other than to swap synthetic leather for the real stuff. The front seats are firm and offer a decent range of adjustment. Big rear door openings reveal a spacious bench.
But it is functional and business-like with its design. All the main controls feature knobs, switches, and buttons. Anyone in the Atlas Cross Sport will know how to change the climate control system, whereas some might be confused when it comes time to do the same thing in a Blazer. The 8.0-inch touchscreen infotainment system is easy-to-use, thanks in part to volume and tuning knobs; the interface has no lag like Honda's system, and it looks modern.
Great space in all three rows means the 2020 VW Atlas Cross Sport is a good choice for active families. The 2020 Volkswagen Atlas Sport Cross can accommodate four average-size. It doesn't matter where you are seated in the Atlas Cross Sport, you'll have plenty of room. The center armrest is so large you'd have to try to touch your elbow to your loved one's in the passenger seat, if you are into that kind of thing. In back, the term stretch-out room is defined with 40.4 inches of legroom. Thanks to only being 5.2 inches shorter than the three-row Atlas, with the second row folded, the Sport Cross can lug nearly 78 cubic feet of luggage. With row two upright, that drops to a still-impressive 53.6 cubes.

The 2020 Volkswagen Atlas Cross Sport is offered in S, SE, and SEL trim, each with a few variants. Regardless all Cross Sports come with a 4-year/50,000-mile warranty that includes two years of free maintenance. The base Atlas S costs about $32,000, though adding the V-6 and all-wheel drive hikes that to more than $35,000. Standard fare includes cloth upholstery, a 6.5-inch touchscreen for infotainment, Apple CarPlay and Android Auto compatibility, active safety features, and 18-inch alloy wheels.

Family buyers may want to step up to the Atlas Cross Sport SE for about $1,500 more that adds automatic climate control, a larger 8.0-inch touchscreen, three more USB ports (for a total of four), and easy-clean synthetic upholstery. For those who must have it all, the Cross Sport SEL with the optional Premium package runs about $50,000 and includes a digital instrument cluster, leather upholstery, heated and cooled front seats, Fender-branded speakers, and a panoramic sunroof. 
Volkswagen brings its A-game with its new mid-size Atlas Cross Sport. Muscular styling, large interior room, and a long list of standard features are just the beginning. Adding in a German driving dynamics and a great warranty only sweeten the deal and make the 2020 VW Atlas Sport Cross a must see.
For all your new car shopping needs, check out: drivevise.com Vehicle shopping made simple!