The 2020 Nissan Kicks is a quirky and cute crossover that's inexpensive. Style on a budget is possible, just like the 2020 Nissan Kicks. The 2020 Kicks is a compact crossover that costs less than $20,000 in base versions. It's front-wheel drive only and not particularly fast, but it's inexpensive and fuel-efficient with a big touchscreen. This year, all Kicks crossovers get automatic emergency braking, blind-spot monitors, and lane-departure warnings as standard equipment. The Kicks is offered in S, SV, and SR trim levels from less than $20,000 to a little above $22,000.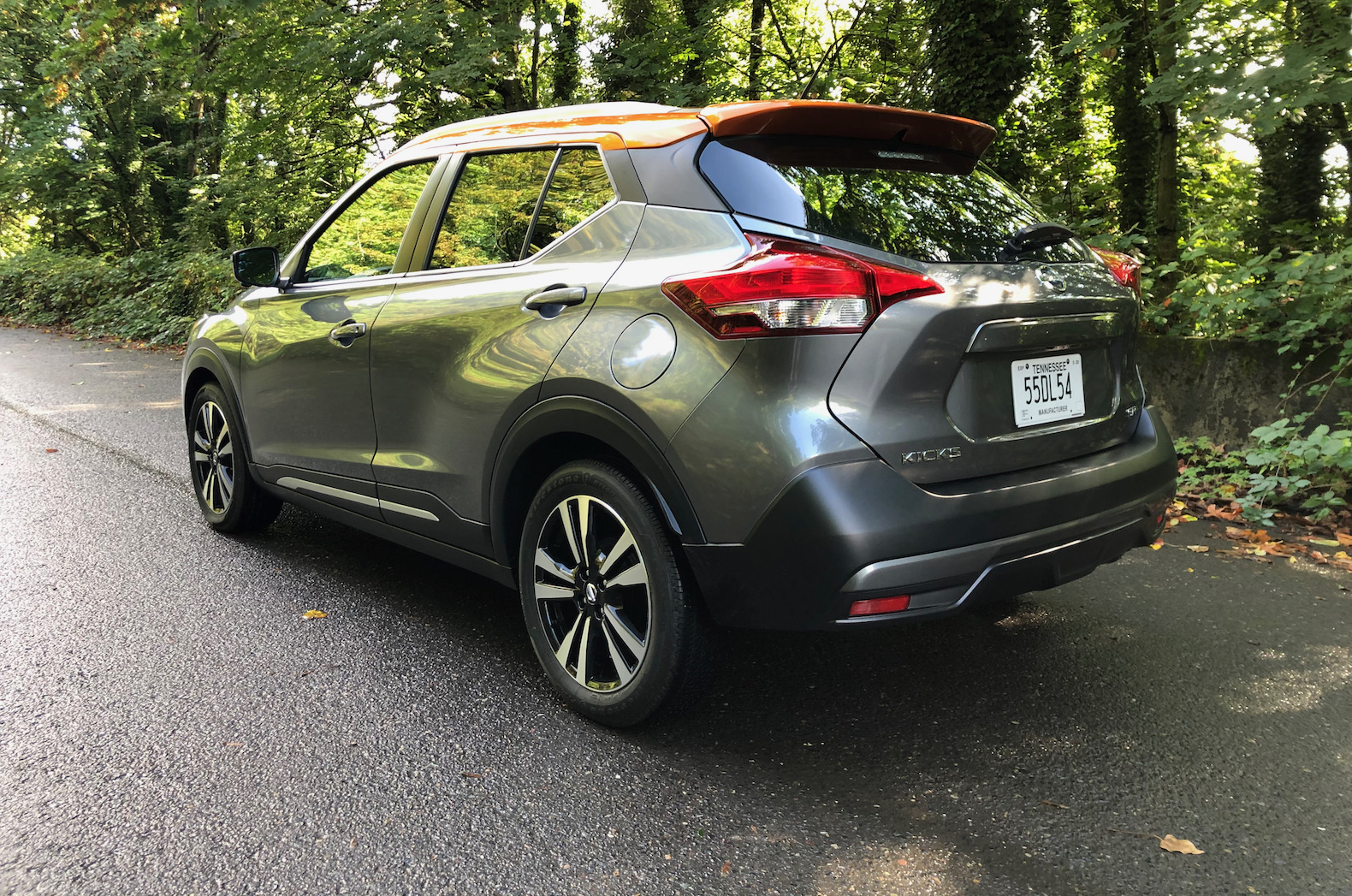 The powertrain is comparatively sedate, for what that's worth. The only engine is a 1.6-liter inline-4 that makes 122 horsepower teamed to a continuously variable automatic transmission (CVT). The duo returns 32 mpg combined, according to the EPA, and the Kicks is relatively zippy around town. At highway speeds, the Kicks runs out of legs and making a pass takes time. The Kicks' cabin is good for four, but not five. The back seat is suitable for small adults and children, but only two. There's good cargo space behind the second row which more than doubles when the seats are folded.

The IIHS gave it mostly top "Good" scores on its crash-test battery, and called the Kicks a Top Safety Pick when equipped with headlights in the top trim. Federal testers weren't as kind. The Kicks gets automatic emergency braking in all versions, which finds its way into our good graces. Base Kicks aren't a penalty box, but we'd opt for a Kicks SV for $21,595. It gets the same 7.0-inch touchscreen as the rest of the lineup but adds Apple CarPlay and Android Auto compatibility, automatic climate control, and 17-inch wheels.
A fun bubbly exterior sets the stage for the fun 2020 Kicks. The Kicks follows sneakers, which may or may not be a coincidence. The Kicks has a sharp outward style, with an upright grille that aims high and mostly succeeds. The flared front wheel arches frame black cladding that aims for a more rugged look, despite the front-wheel-drive only drivetrain. The rear is defined by a short window and an on-trend "floating roof" and taillights that jut out from the rear hatch. The 2020 Nissan Kicks has just enough pizazz to make it fresh and unique but not polarizing.
With a small engine and budget setup, the 2020 Kicks isn't fleet-footed. Fuel efficiency and a low price is the 2020 Kicks' mission, not outright performance. The most important number for the 1.6-liter inline-4 and CVT is 32 mpg combined, not its 122 hp. While that won't win favor with performance fans, it will however cost less at the pump. The Kicks is front-wheel drive only, despite its crossover stance. The small engine is helped somewhat by its lightweight frame, which tips the scales at just over 2,600 pounds.
As a result, around-town speeds are adequate and the Kicks is relatively zippy. At highway speeds, the Kicks requires healthy throttle to keep pace with moving traffic and passes require advance planning. Most Kicks ride on 17-inch wheels that are comfortable around town. The Kicks uses MacPherson front struts and a rear twist-beam that it shares with the Sentra, which makes the ride mostly comfortable. The Kicks also uses drum brakes on its rear wheels that speaks to its low price, but braking performance is mostly unaffected.
The 2020 Nissan Kicks makes the most of its small engine and small footprint. A small, relatively efficient inline-4 and front-wheel drive help the 2020 Nissan Kicks spread out trips to the pumps. The EPA rates the Kicks at 31 mpg city, 36 highway, 33 combined. Fairly efficient for the class. The Mazda CX-3 rates 31 mpg combined, the Hyundai Venue gets a 32 mpg combined rating, and the Ford Ecosport earns a 28 mpg combined rating with front-wheel drive. The Subaru Crosstrek earns a 29 mpg combined rating with standard all-wheel drive.
A mixed crash-test scorecard for the 2020 Kicks and standard automatic emergency braking keep Nissan's small hatchback at the forefront of its class. The IIHS called the Kicks a Top Safety Pick thanks to good crash-test scores, headlights that rate "Acceptable," and automatic emergency braking that the IIHS rated as "Superior" at avoiding forward crashes. Kicks S and SV models get headlights that rate lower and don't qualify for the award. The NHTSA wasn't as kind and gave the Kicks a four-star overall score, including four stars for front crash protection and rollover protection. All Kicks get standard automatic emergency braking, blind-spot monitors, and lane-departure warnings. A rear-seat reminder is standard on Kicks SV and SR versions that can help remind parents (and pet parents) to check the rear seats before exiting the vehicle.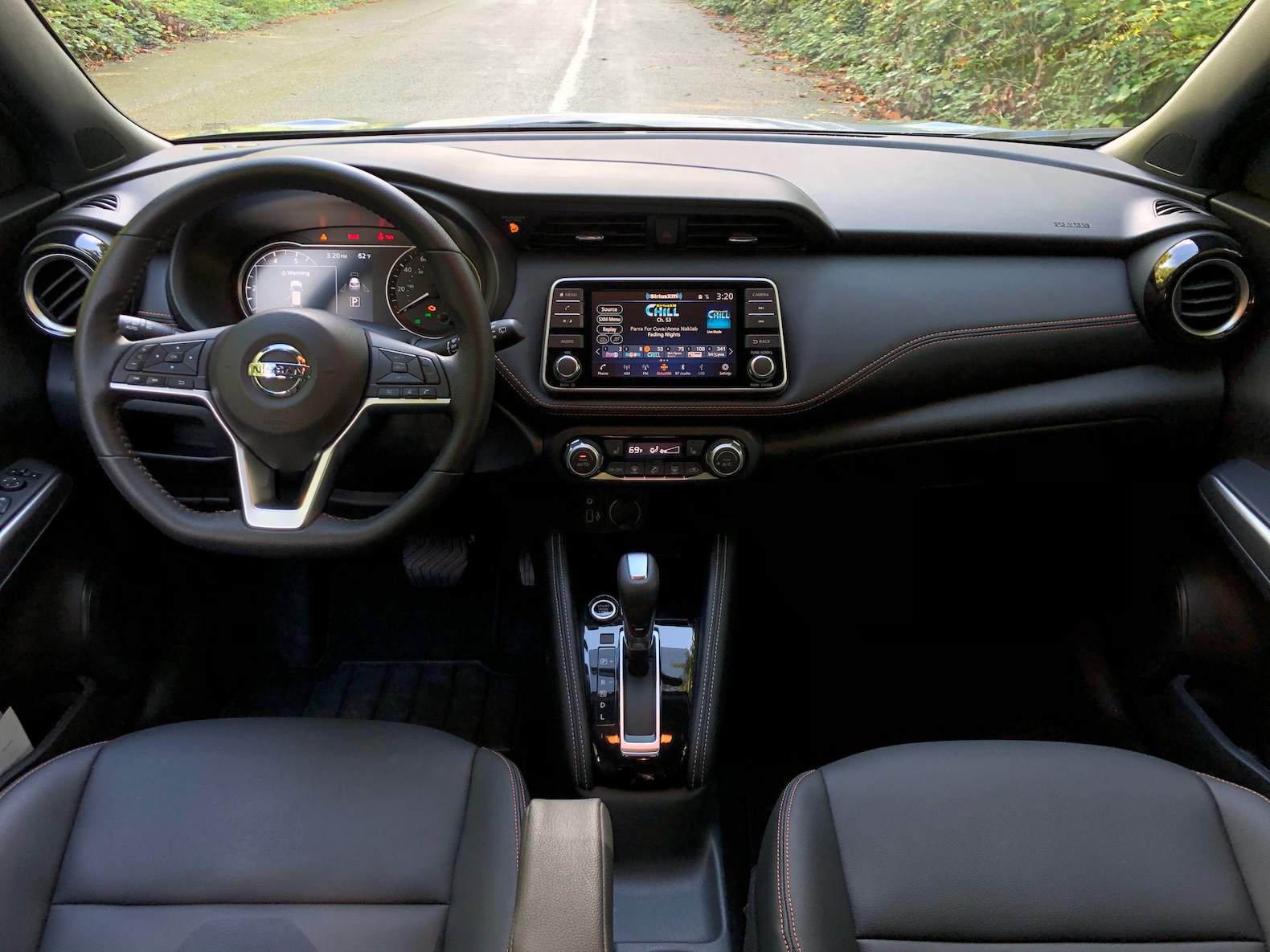 The 2020 Kicks doesn't hide that it's built to a budget but still has good cargo space. Driver and front passenger sit higher in the Kicks than small cars of yesterday. There are some ergonomic quirks: the armrests sit at different heights and there's not a lot of small-item storage without a central console. Top trims get contrasting stitching on the seats, but the hard plastics and cheap carpeting reinforce that the smallest Nissan crossover is built to a budget. No trim looks dressy, and the plain dashboard doesn't try anything new to bookend the big 7.0-inch touchscreen.
The flat seat bottoms are mostly comfortable, although longer legs will yearn for more support. Rear-seat riders get decent space, especially head room and decent leg room owing to the higher roofline. It's better than it sounds because the seats are upright, but three across in the Kicks' narrow rear seat is quite optimistic. Behind the rear seats there are 25.3 cubic feet of cargo room, which is spacious. Fold the rear seats down and the space grows to 53.1 cubes, which is useful, although the seats don't lay completely flat.
Cheap cars are a lost art but the 2020 Kicks gets it right and Nissan nails the small-car basics in the 2020 Kicks. For 2020, the Kicks is available in S, SV, and SR trim levels without many options scattered between. The Kicks S costs $19,965 and includes active safety features, one USB port, Bluetooth connectivity, cloth upholstery, 16-inch wheels with plastic covers, and a 7.0-inch touchscreen for infotainment. All-wheel drive isn't available on any Kicks, and base versions don't have any options from the factory.

The best value is a Kicks SV that adds 17-inch wheels, Apple CarPlay and Android Auto compatibility, automatic climate control, a 7.0-inch digital instrument screen, and remote start. The 2020 Kicks SV costs $21,595, including destination. The top-shelf Kicks SR adds a leather-wrapped steering wheel, exterior accents, fog lights, and a surround-view camera system. An options package can add synthetic upholstery, premium audio by Bose, and heated seats for $1,000. The 2020 Kicks SV costs $22,215, including destination, where it overlaps larger crossovers that offer all-wheel drive.
All in all the 2020 Nissan Kicks is an impressive in-town commuter offering a great size and utility that's perfect for an urban runabout. The Kicks offers class-leading fuel-economy, a roomy city-car interior, and a price that's not going to break the wallet. So if you're looking for an around town grocery-getter with impressive standard features and reliability, the Nissan Kicks should definitely be on your shopping list.
For all your new car shopping needs, check out: drivevise.com Vehicle shopping made simple!