The 2020 Toyota RAV4 covers more bases this year with smartphone compatibility and tough-looking off-road trims. One of the most popular crossovers on the planet finally looks like it can go anywhere on earth, too. The 2020 Toyota RAV4 adds a TRD Off-Road trim level this year that bolsters the soft-roader's trail-running resume and gives shoppers another reason to get lost. This year the RAV4 is available in LE, XLE, Adventure, TRD Off-Road, and Limited trim levels. The RAV4 Hybrid will be offered in LE, XLE, XSE, and Limited trim levels. The RAV4's good looks go further in TRD Off-Road models. They add more off road-adjacent hardware and twin-tube shocks, chunky 18-inch wheels with all-terrain tires, and gray exterior accents.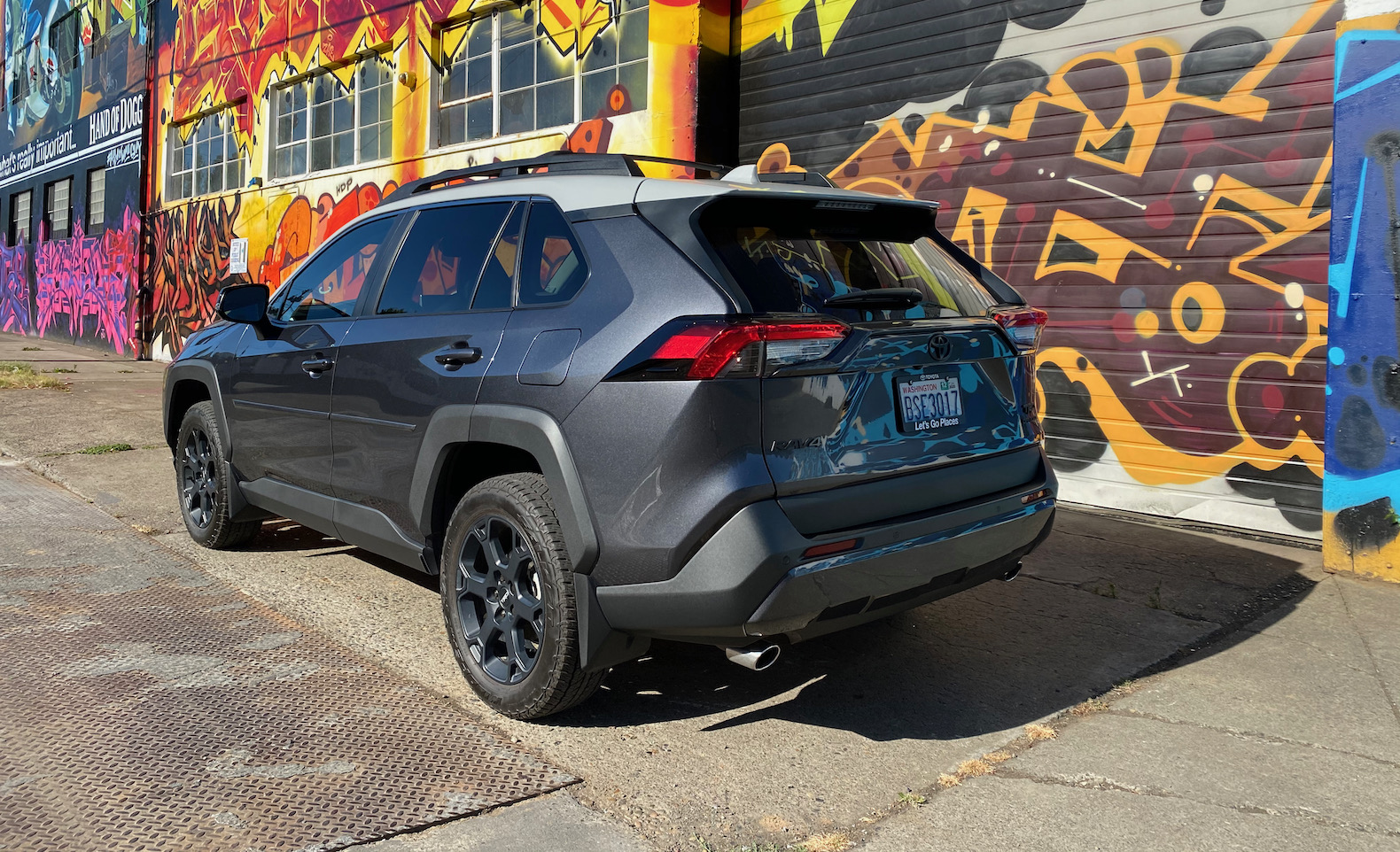 Under the hood of most RAV4s is a 2.5-liter inline-4 that makes 203 horsepower mated to an 8-speed automatic. It's just fine, although asking more from the engine can reveal its less-refined side. The RAV4's ride is similarly fine, although competitors smooth the road out a little better. The RAV4 Hybrid rates up to 39 mpg combined, which is good compared to nearly any vehicle. Unfortunately the Hybrid isn't available with either of the fun Adventure and TRD Off-Road trims.

Four average adults won't have any problems fitting into the RAV4. Head room may be an issue for taller adults, and three broad-shouldered adults may be cramped in the back. Every RAV4 is equipped with automatic emergency braking, active lane control, adaptive cruise control, and automatic high beams. Blind-spot monitors are standard on most models, and a surround-view camera system is on the options list. The redesigned 2019 RAV4 earned top crash-test scores from safety officials, which should be peace of mind for small families and new-car buyers. 
The 2020 RAV4 swings for the fences and hits a stylish home run among compact crossovers. We're still figuring out how the 2020 Toyota RAV4 can come from the same automaker as the Prius. To our eyes, the RAV4 is stylish without being brash, angular without being busy, trendy without being tired. The RAV4 channels the 4Runner and Tacoma in all the right ways. The mini off-roader may not have the hardware, but it certainly has the look. In profile, the RAV4's roof is low and stylish without overplaying its hand with too-small windows. The chunky fenders are a good look, but the fat rear roof pillars help to give it a muscular stance. The tail has high-mounted tailights that are connected with a small panel that can add contrast to the blocky rear end. The TRD Off-Road features a roof rail, bigger fenders, and revised bumpers from the Adventure trim level.
The big news for the 2020 Toyota RAV4 is the available TRD Off-Road package that adds "mucho" to the already-macho soft-roader's looks. Every RAV4, TRD Off-Road or otherwise, is powered by an inline-4. RAV4 Hybrids add an electric motor and batteries for better fuel efficiency and a little more power. The gas-only RAV4 is powered by a workaday 2.5-liter inline-4 paired to an 8-speed automatic that makes 203 hp. It's competent but hardly a standout. Front-wheel drive is standard on most versions, and all-wheel drive is optional on all trim levels except Adventure and TRD Off-Road, where it's standard. The Adventure and TRD Off-Road are also only available with the gas-only engine.

Toyota offers two all-wheel-drive systems in the RAV4: LE and XLE trims get a conventional system that shuttles power around unobtrusively; TRD Off-Road, Adventure, and Limited versions get an all-wheel-drive system that also uses the brakes to grip side-to-side and the system can direct up to 50 percent of its power toward the rear wheels for better traction. When the latter system detects slip in wheels, it brakes those wheels for better grip to the wheels that aren't slipping. It's a slick system but dings fuel economy slightly. The RAV4's stiff frame and four-wheel independent suspension (MacPherson struts in front with  multi-link, trailing wishbones in the rear) give the RAV4 a supple ride over rough bumps, but competitors such as the Subaru Forester and Honda CR-V are a little softer. The 2020 RAV4 TRD Off-Road sports the Adventure's 8.6 inches of ground clearance, but also adds revised shocks and spring and chunky 18-inch Falken all-terrain tires.
The 2020 Toyota RAV4 is economical with its fuel compared to other compact crossovers. Spend more, and the RAV4 can be economical with its fuel compared to any other car on the road. The EPA rates front-wheel-drive versions of the 2020 RAV4 at 26 mpg city, 35 highway, 30 combined. Adding all-wheel drive doesn't sink fuel economy either. The EPA rates most RAV4 AWD models at 25/33/28 mpg. The RAV4 LE with all-wheel drive fare slightly better at 27/34/30 mpg. The 2020 RAV4 with hybrid batteries does best. Equipped with all-wheel drive, the RAV4 Hybrid rates 41/38/40 mpg, which is far better than many other small crossovers. In our week with a TRD Off-Road version we averaged 27.6 mpg.
Good active safety features complement good crash-test scores in the 2020 Toyota RAV4. Federal and independent safety officials give the RAV4 high marks for its crashworthiness. Standard automatic emergency braking on every model adds to the Toyota crossover's impressive resume. The IIHS called the 2020 RAV4 a Top Safety Pick thanks to its top "Good" scores in all crash tests, and a front crash prevention system rated "Superior" at preventing forward crashes. The wide range of available headlights could've gotten it a TSP+ award, but the standard headlights on the XLE, XSE, and Limited hybrid models were rated as "Poor". Federal testers gave the RAV4 a top five-star overall rating. Every RAV4 is equipped with automatic emergency braking, active lane control, adaptive cruise control, and automatic high beams. Blind-spot monitors are standard on XLE and higher trim levels. That's exceptional safety hardware and software for the RAV4 and it could help save lives on the road.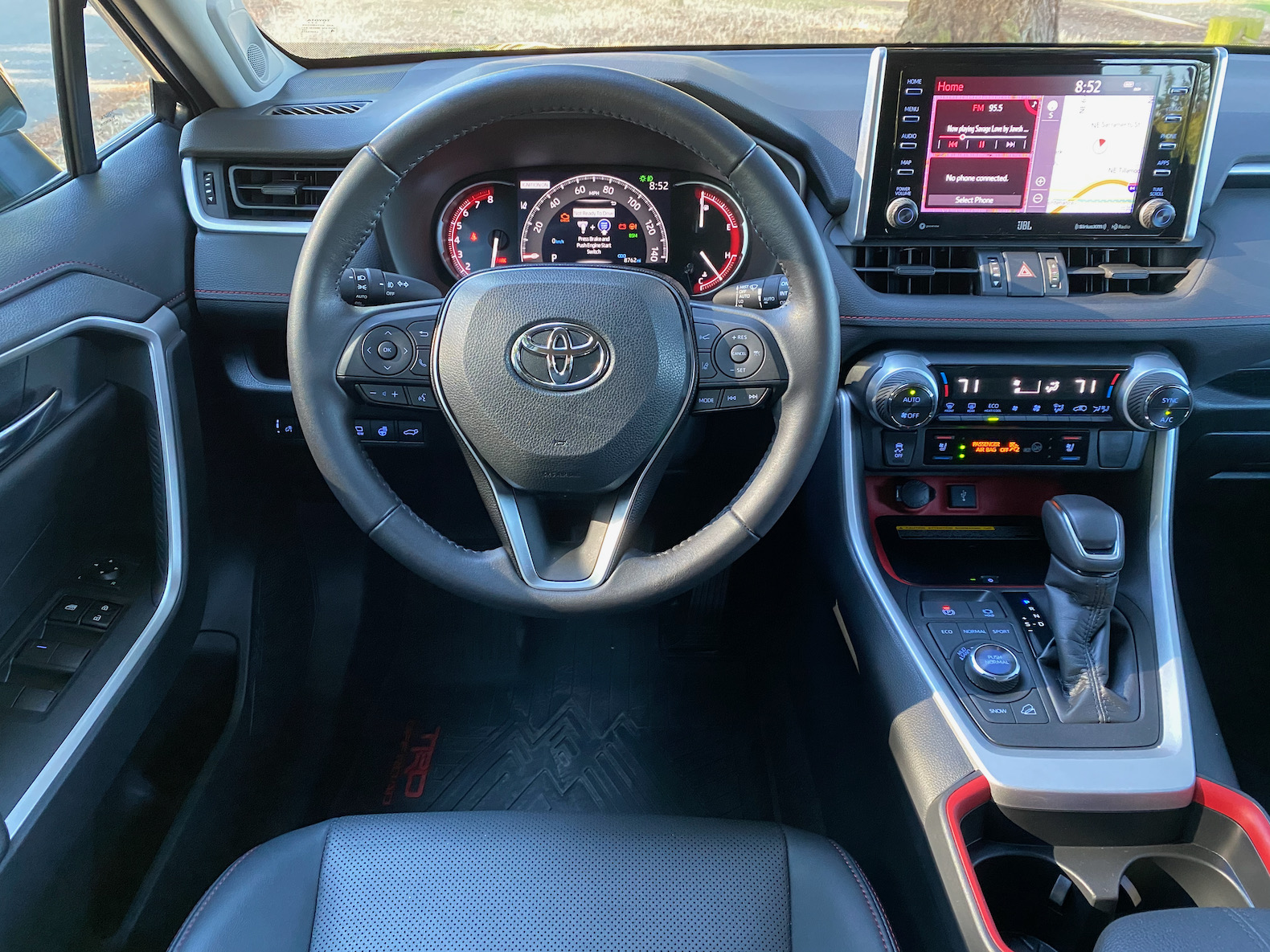 Inside, the RAV4's dash is wide and horizontal, punctuated by a tablet-style touchscreen planted on top of the vents. There's good storage inside that's helpful, although it may be surrounded by cheaper-feeling plastic in LE and XLE trims. The trims are differentiated by accent stitching and upholstery patterns, which we like. For example, the RAV4 TRD Off-Road gets red stitching on black synthetic leather upholstery, with a red accent in the center console and stitched headrest accents, and washable vinyl floor and cargo mats that play up the high-contrast, outdoorsy feel.
Starting from the front seats, the available moonroof can cut into head room for taller passengers. The rear seats are a little lower and offer scant more head room, but the door cutouts are somewhat small compared to the rest in its class. The seat bottoms are thin but still comfortable if a little flat. Three abreast in the back is possible, but not preferred for wider bodies. There are more than 37 inches of rear leg room, which should be enough for average builds. Behind the second row is more than 37 cubic feet of cargo space, even in the hybrid version. The load floor is a little higher than other compact crossovers, including the 2020 Ford Escape, but the cutout is wide and the opening can accommodate big boxes. With the second row folded, the RAV4 holds about 69 cubic feet of cargo.
A new 2020 RAV4 TRD Off-Road adds more trail-riding goodies, but every RAV4 gets good stuff. New Android Auto compatibility complements an outstanding suite of basic features in every RAV4 that includes at least a 7.0-inch touchscreen with Apple CarPlay compatibility, automatic emergency braking, at least one USB charger, Bluetooth connectivity, and power features.Most RAV4s have five USB ports, dual-zone climate control, and options for heated seats.  This year, the 2020 RAV4 adds a TRD Off-Road (based on the Adventure trim) to its lineup of LE, XLE, XLE Premium, and Limited trim levels. RAV4 Hybrid models are available in LE, XLE, Limited, and XSE trims.
The 2020 RAV4 LE costs about $27,000, including destination, and includes cloth upholstery, 17-inch wheels with hubcaps, a split-folding rear seat, the 7.0-inch touchscreen, one USB port, and a suite of active safety features that we describe above. All-wheel drive is optional and costs $1,400 on non-hybrid models. (Hybrid, Adventure, and TRD Off-Road RAV4s are equipped with all-wheel drive as standard equipment.) $28,265 gets you an XLE gas-powered model or $30,515 for a hybrid model with all-wheel drive. The XLE adds 17-inch alloy wheels, fog lights, a power-adjustable driver's seat, keyless ignition, five USB chargers, and more available options including heated seats and safety add-ons.

Adventure and TRD Off-Road versions will appeal to outdoorsy buyers thanks to their beefed-up hardware, even though both use the same inline-4 rated at 203 hp as the rest of the gas-powered range. Adventure models add 19-inch wheels, roof rails, dual-zone climate control, an 8.0-inch touchscreen for infotainment, digital instrument cluster, synthetic leather upholstery, leather-wrapped steering wheel, orange accents inside, soft interior materials, and a household-style power plug. TRD Off-Road versions wear chunky all-terrain tires on 18-inch wheels, sub in red interior accents, twin tube shocks, and add a standard moonroof, and power liftgate. The top RAV4 Limited models go all-in with synthetic leather upholstery, premium audio, 19-inch alloy wheels, and unique bumper. For $36,900 with all-wheel drive, the 2020 RAV4 Limited costs nearly as much as a Lexus NX, which has more power and nicer interior materials. RAV4 hybrid versions are equipped similarly to their gas-powered counterparts.
With the RAV4 TRD Off-Road, Toyota has added a few trail-ready features to the mega-selling crossover's repertoire. The RAV4 TRD Off-Road could be the first step for the small crossover down the TRD familial line. Toyota offers TRD Sport, TRD Off-Road, and TRD Pro versions of the Tacoma and Tundra trucks. Regardless of trim line, the 2020 Toyota RAV4 is an impressive crossover, one that Toyota continually keeps improving to make it one of the best.
For all your new car shopping needs, check out: drivevise.com Vehicle shopping made simple!