The 2020 Toyota Camry lineup ranges from mainstream suburban family car to fuel-sipping commuter to track-tuned TRD sports sedan. There's something for everyone here, at least everyone who hasn't followed the SUV craze. Some versions, such as the Camry Hybrid like our test vehicle, seemingly do everything well and efficiently. The lineup is offered in L, LE, XLE, SE, XSE, and TRD trims. The base 2.5-liter inline-4 thrusts 203 horsepower to the front wheels, while the optional V-6 feels every bit stronger thanks to its 301-hp rating. The hybrid powertrain delivers performance akin to the base engine with fuel economy that can top 50 mpg. Handling is gentle in base versions, closer to thrilling in the tuned SE and XSE trims, and entertaining with the TRD badge affixed to the rear. Don't look for all-wheel drive, something rivals have started to offer in a bid to lure SUV shoppers in wintry climes. All Camrys are front-wheel drive for now, but that will change for 2021.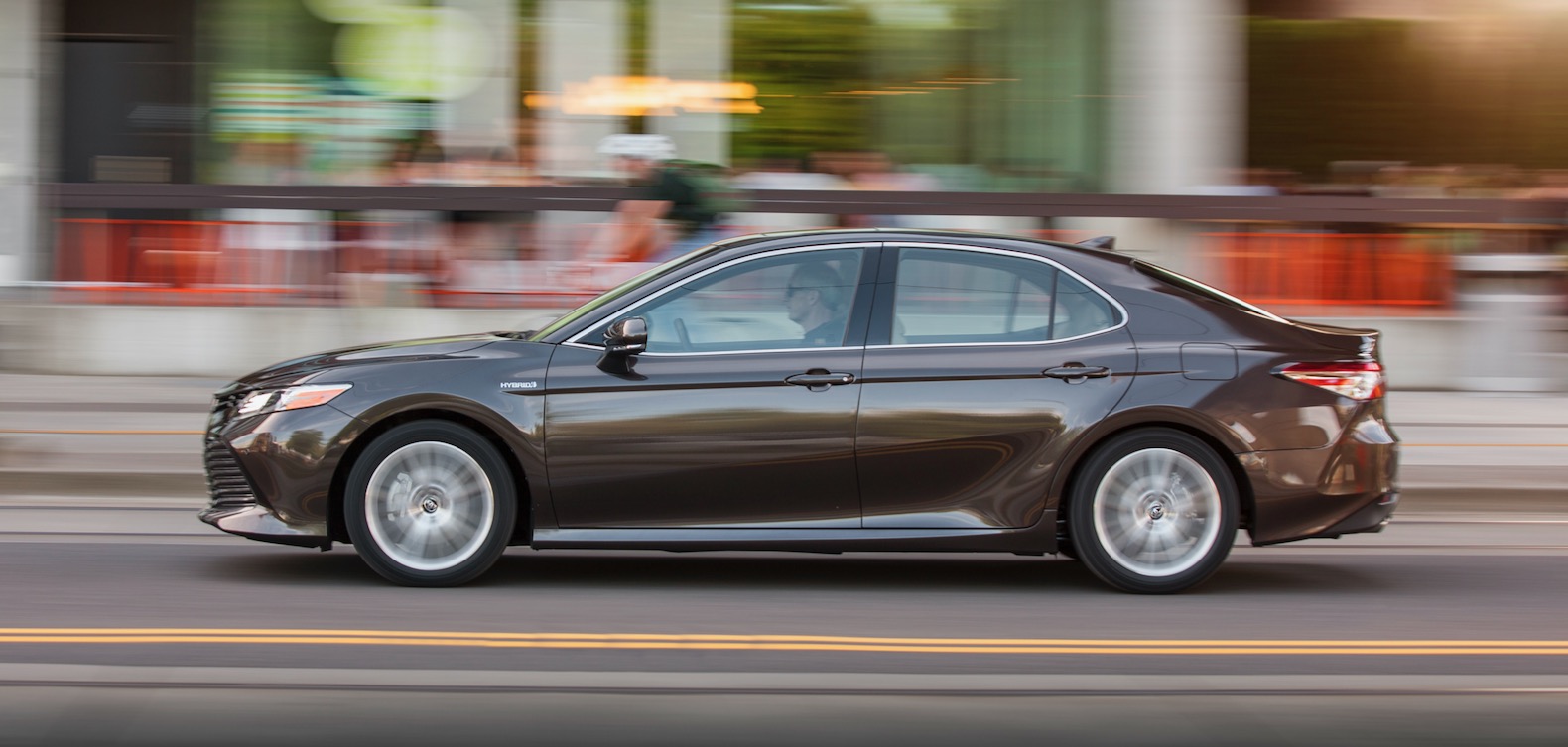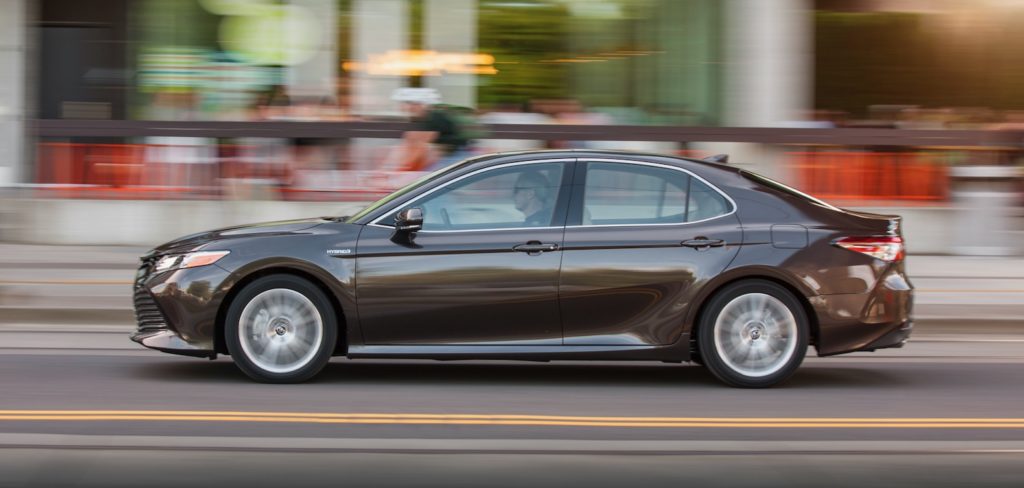 No matter what's under the hood, the Camry boasts a sleek shape that's still conservative but with a fresh take. A driver-oriented dash inside gives the Camry a high-tech feel with its standard touchscreen, though new Android Auto compatibility this year joins Apple CarPlay. Meanwhile Camrys have done exceptionally well in crash tests and boast a high degree of collision-avoidance features standard with prices that start around $26,000 and climb to $37,000 or more with options.
The latest Toyota Camry cuts a stylish shape, something we've not said about Camrys before. The 2020 Toyota Camry tries hard to stand out, perhaps too much so from some angles, but we have to give its maker credit for the effort. All versions of the Camry share the same silhouette, whether they're base Camry L sedans or the new racy Camry TRD. The long nose and short tail give the sedan rear-drive-like proportions. Clean detailing helps, and versions with an S in their name—SE and XSE—as well as this year's new TRD look the boldest of the bunch. The Camry TRD is festooned with tuner-like lower cladding and a goofy rear spoiler. It's the least-subtle Camry ever, though that was a low bar to start with. Hybrids don't look different other than their badges, which helps give them incognito eco-cred.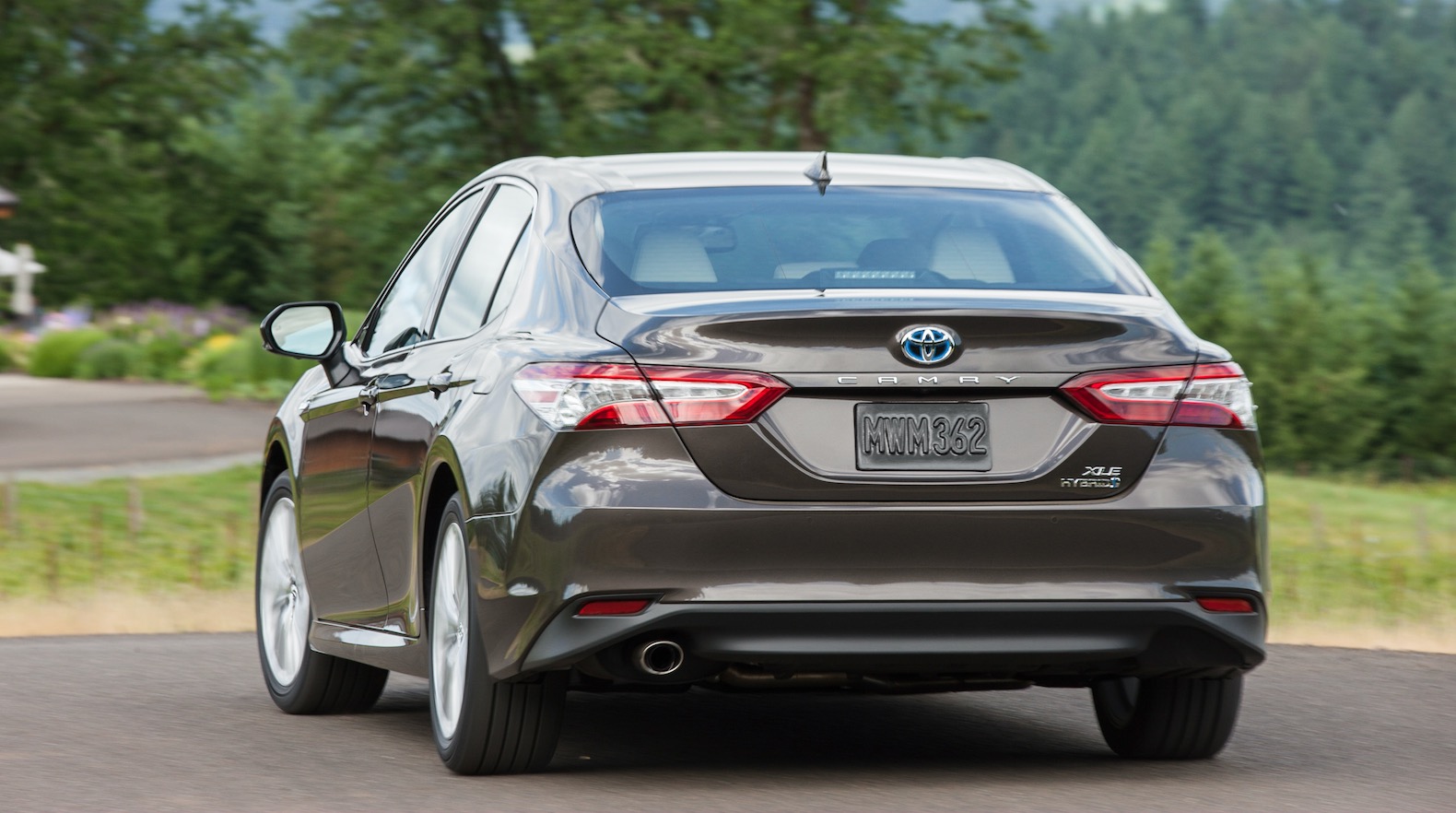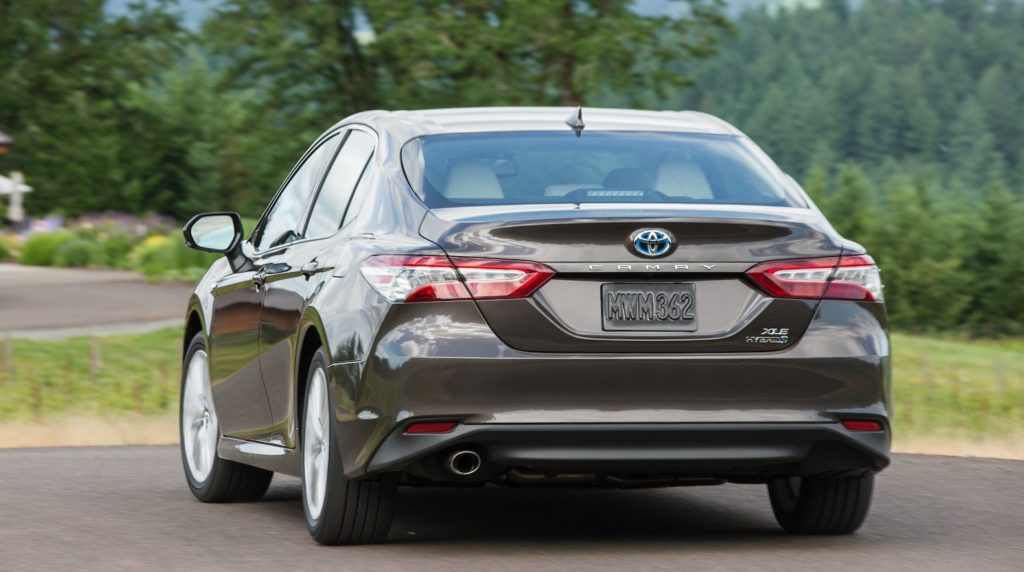 The 2020 Toyota Camry prioritizes comfort above all else in most trims, and that's just fine with us. Don't let its sporty looks fool you: the 2020 Toyota Camry is a gentle performer in most configurations. The 2020 Camry lineup consists of four basic flavors: standard L, LE, and XLE trims; sportier SE and XSE trims; hybrid versions; and the new Camry TRD. The base 2.5-liter inline-4 shuttles 203 horsepower to the front wheels through an 8-speed automatic transmission. In most situations, the base engine provides more than adequate acceleration. The optional 3.5-liter V-6 makes the most of its impressive 301 hp sent forward again through an 8-speed automatic transmission. Passing power is superb with the V-6, which is only available in XSE and XLE trims.

Opt for the hybrid in LE, XSE, or XLE trims and Toyota swaps in a 176-hp version of the 2.5-liter inline-4 teamed with an electric motor that combines for 208 hp. Acceleration is on par with the base non-hybrid engine, and the powertrain works well with the electronic continuously variable transmission (CVT). Curiously, the base Camry Hybrid LE makes use of a lithium-ion battery, while the Hybrid XSE and XLE trims feature a heavy, lower-tech nickel-metal-hydride setup that's less fuel-efficient.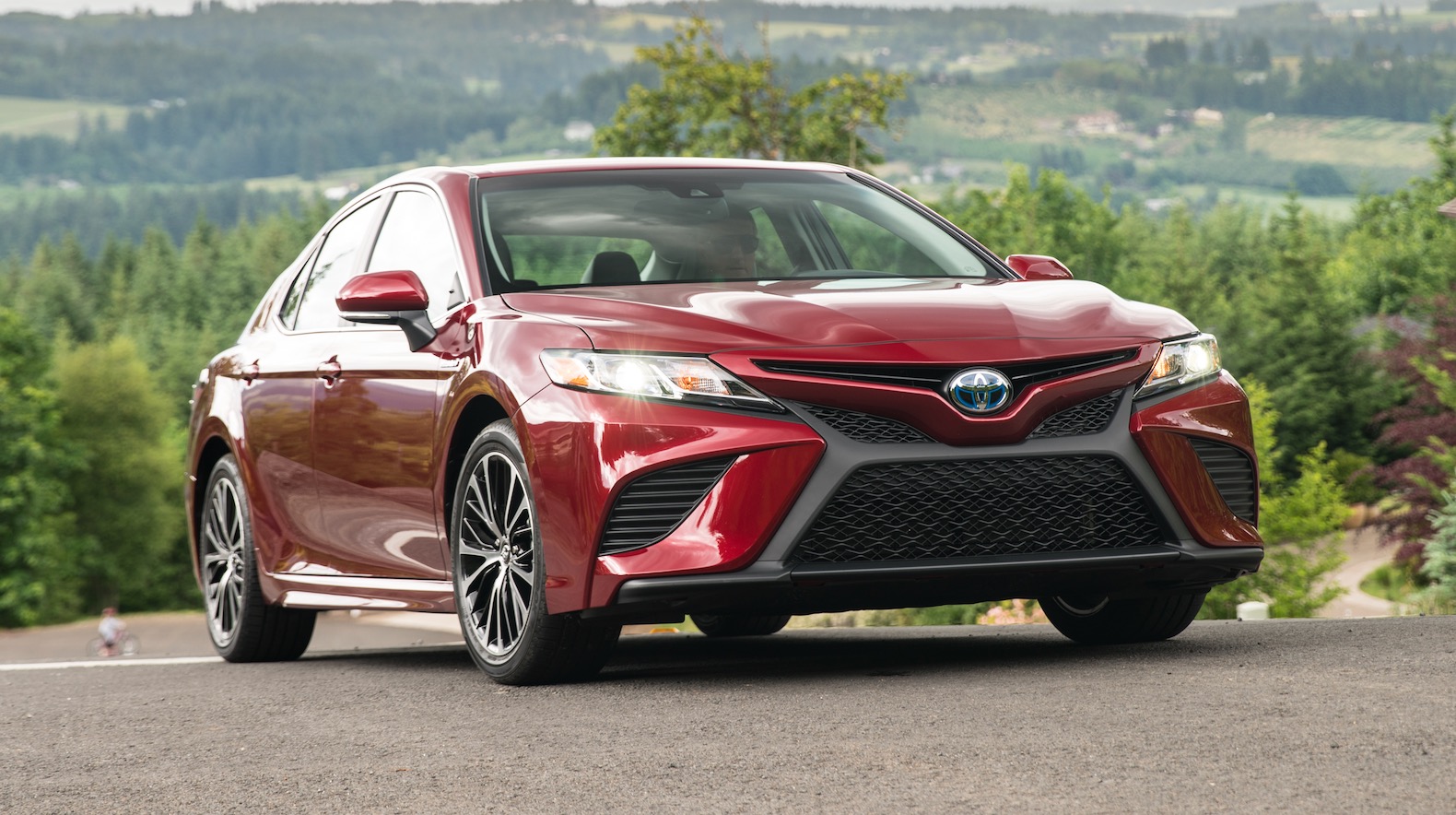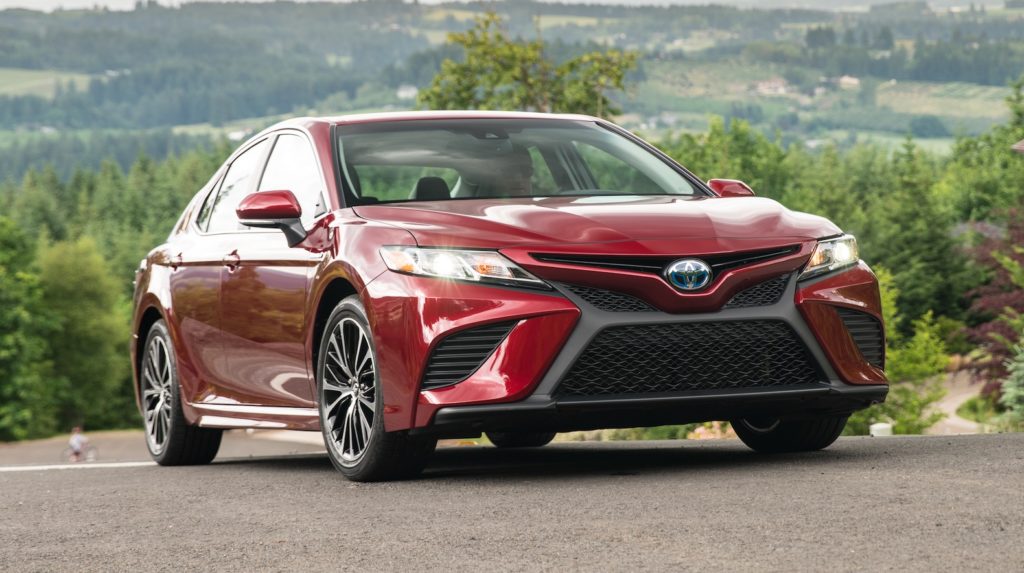 Camrys with an L in their badges have a soft ride paired with light, accurate steering. They roll into corners slightly more than the "S" sporty variants when pushed, though they never feel sloppy. They're great cruisers, in Camry tradition. S and XSE version have a stiffer suspension and a lower ride height, as well as more steering heft. They're not exactly sporty compared to, say, Toyota's own 86 coupe, but they're more entertaining than most mid-size sedans. Hybrids generally perform like their non-hybrid "L" siblings, with a softer ride due in part to the extra heft of their batteries.
The 2020 Toyota Camry is thrifty in most versions, and especially green as a hybrid. Every version of the 2020 Toyota Camry is near the top of its segment when it comes to delivering good fuel economy. Wheel size variations mean that Camrys with the inline-4 will have different fuel economy ratings depending on their trim level. The base Camry L is the thriftiest at 29 mpg city, 41 highway, 35 combined. The LE and SE knock that down to 28/39/32 mpg, while more bling means more gas in the XLE and XSE that are rated at 27/38/31 mpg.

V-6 version Camry XLEs are rated at 22/33/26 mpg and 22/32/26 mpg for the XSE, which isn't bad considering they pump out more than 300 hp. The Camry TRD's aero kit doesn't help fuel economy, which falls to 22/31/25 mpg. Want to save fuel while blending in? The Camry Hybrid LE delivers an inspired 51/53/52 mpg. The lower-tech battery in Hybrid XSE and XLE models drops ratings to just 44/47/46 mpg. Our Hybrid XLE test vehicle average 46mpg in it's week with us, exactly on the EPA's mark.
The 2020 Toyota Camrys safety record is almost perfect. Few new cars score as highly for safety as the 2020 Toyota Camry. Good crash-test scores and an excellent level of collision-avoidance tech on all trim levels all Camry hallmarks. The NHTSA rated the 2020 Camry at five stars in every category, while the IIHS agreed with "Good" ratings in every test, and a Top Safety Pick+ award. Most Camry versions have headlights rated "Acceptable." Only the optional adaptive LED headlights available on the Hybrid XLE rated "Good" according to the IIHS. Every Camry is built with adaptive cruise control, automatic emergency braking with pedestrian detection, and active lane control. Blind-spot monitors, a surround-view camera system, and rear cross-traffic alerts are available on higher-trim versions of the Camry.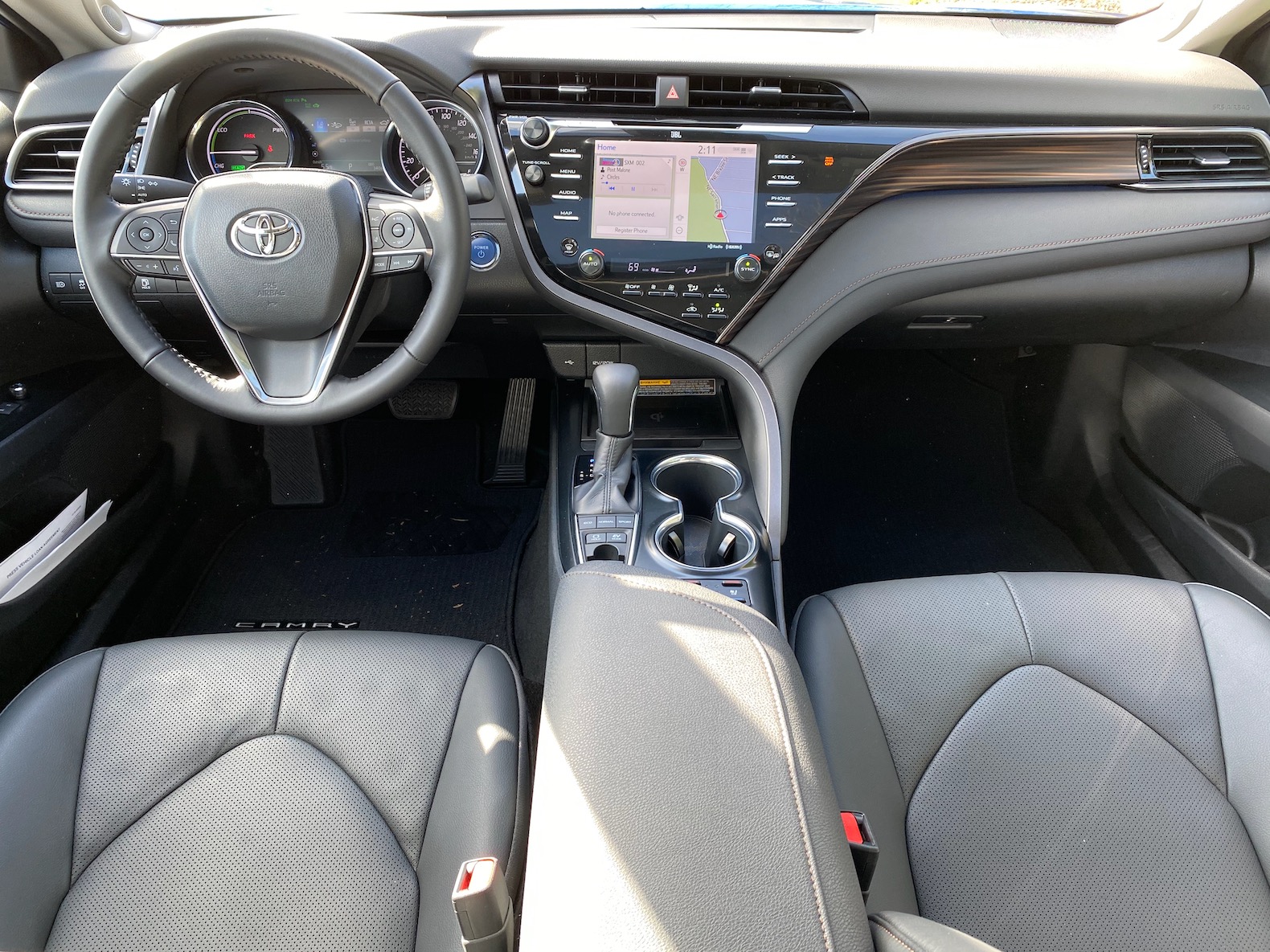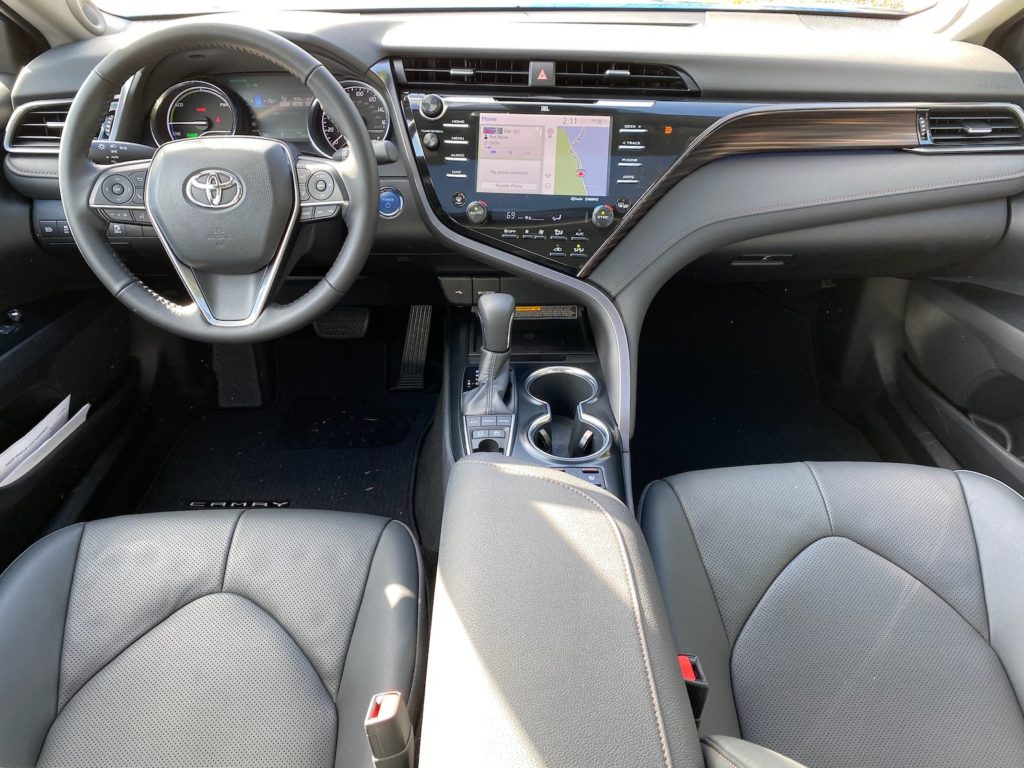 The 2020 Toyota Camry has a spacious interior that offers good front-seat comfort. The front seats are firm and supportive on all versions. The base Camry L has manual front seats, while the LE adds power adjustability. Opt for leather upholstery and Toyota tosses in a power-adjustable passenger seat as well. Rear-seat riders will have to duck a little to crawl in thanks to the car's sloping roofline. Leg room is good for rear-seat riders and most versions of the Camry have rear-seat air vents. Most Camry sedans can lug 15.1 cubic feet of cargo in their trunks, an average figure for a mid-size sedan.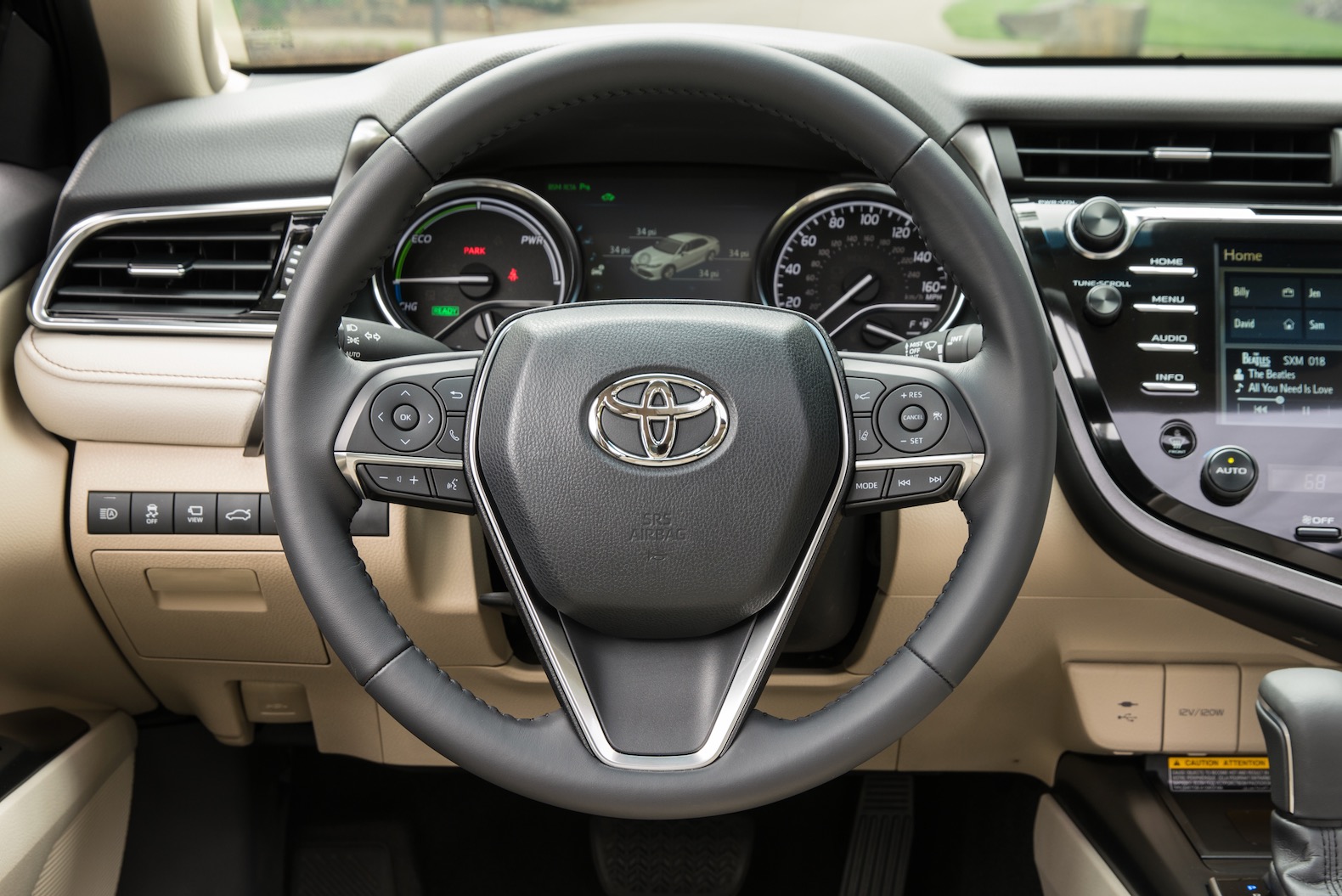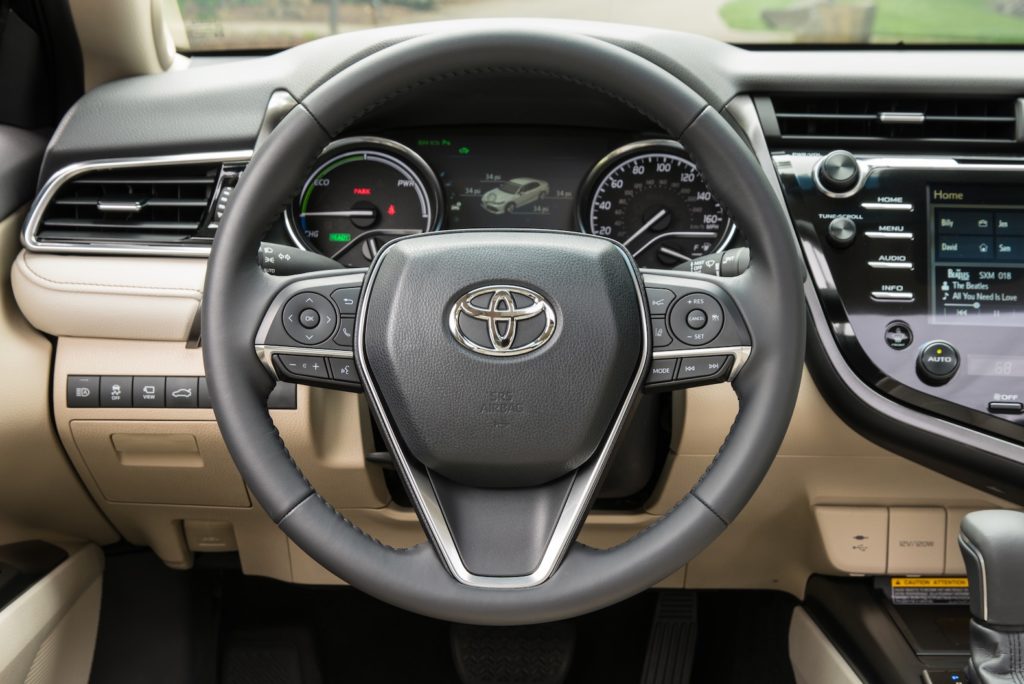 As sedans go, the Camry's dashboard is full of flair. It cants toward the driver, leaving the passenger feeling stranded. The standard 7.0-inch and optional 8.0-inch touchscreen sits high, with climate controls and storage bins below. Interior hues are low-risk grays and tans on most versions, though XSE and TRD versions can be had with bolder red and black trim. The base 7.0-inch touchscreen on most Camrys is adequate but not impressive. The larger 8.0-inch display is brighter and less prone to reflections. Toyota's baked-in software is light on flash which is a good thing with Apple CarPlay and Android Auto compatibility are now standard. Navigation is optional on high-trim models but not worth it unless you're reluctant to plug your phone in. All cars we've driven have shown good attention to assembly quality and have had mostly nice materials.
The 2020 Toyota Camry comes in a wide array of trims and now includes advanced support for Android devices. Toyota offers a dozen versions of the 2020 Camry, meaning there's one to suit just about every need and budget. From L to TRD, every 2020 Toyota Camry is a well-equipped value. The base Camry L runs about $25,250, and covers the basics: a 7.0-inch touchscreen with Apple CarPlay and Android Auto compatibility, active safety tech, LED headlights, and power features. Most buyers will opt for the Camry LE that adds a power driver's seat and alloy wheels for $550 more; it's money well spent.

Full-boat Camrys come in two flavors: XSE and XLE, each with power-adjustable front seats wrapped in leather, JBL audio, keyless ignition, and more. This year's new Camry TRD costs less than V-6-equipped XSE and XLE versions, which makes it an intriguing value for buyers focused on better handling. Our advice? For commuting, we'd be just fine in a Camry Hybrid LE for about $29,200, though the Lexus-lite Camry XLE V6 with optional cooled seats, surround-view camera system, and more delivers luxury-grade features for a reasonable $37,200.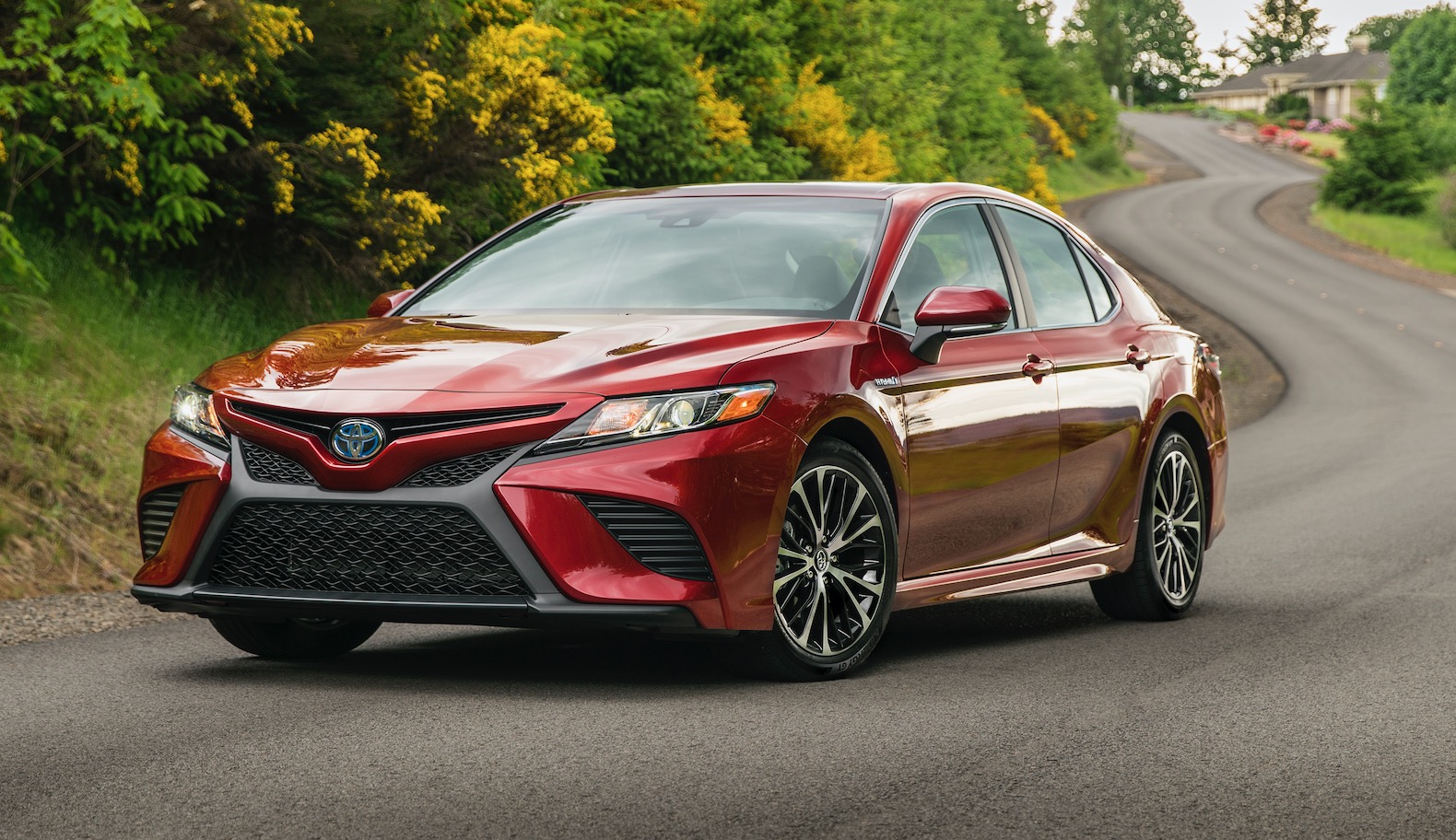 The 2020 Toyota Camry retains all the great hallmarks that make a Camry a Camry. Toyota has done a fine job of adding impressive standard technology, boosting the styling to new levels, and given the Camry new-found road manners all without upsetting the great Camry recipe. In the end, the 2020 Toyota Camry does everything well while being efficient and a great value that should be on everyone's shopping list.
For all your new car shopping needs, check out: drivevise.com Vehicle shopping made simple!