The 2020 Subaru WRX and WRX STI are willing companions that blend accessible performance with edgy good looks and high-tech cabins. The WRX is a familiar friend, and not just because the current model has been around for seven model years. With its sharp reflexes, turbo thrust, spacious interior, and occasional rough edge, the WRX is a go-to flannel shirt that just fits and seems to get better every time it's run through another wash cycle. Or, in the WRX's case, maybe it's a pair of fast light-weight track running shoes.

Base, Premium, and Limited trim levels are on offer, with prices that start around $28,500 and top out about $14,000 later. The base WRX can handle daily-driver duties where its 268-horsepower flat-four barely breaks a sweat. The standard 6-speed manual suits it far better than the optional continuously variable automatic transmission (CVT), though we can't fault you for opting for a CVT WRX if grueling commutes outnumber thrilling curves in your day.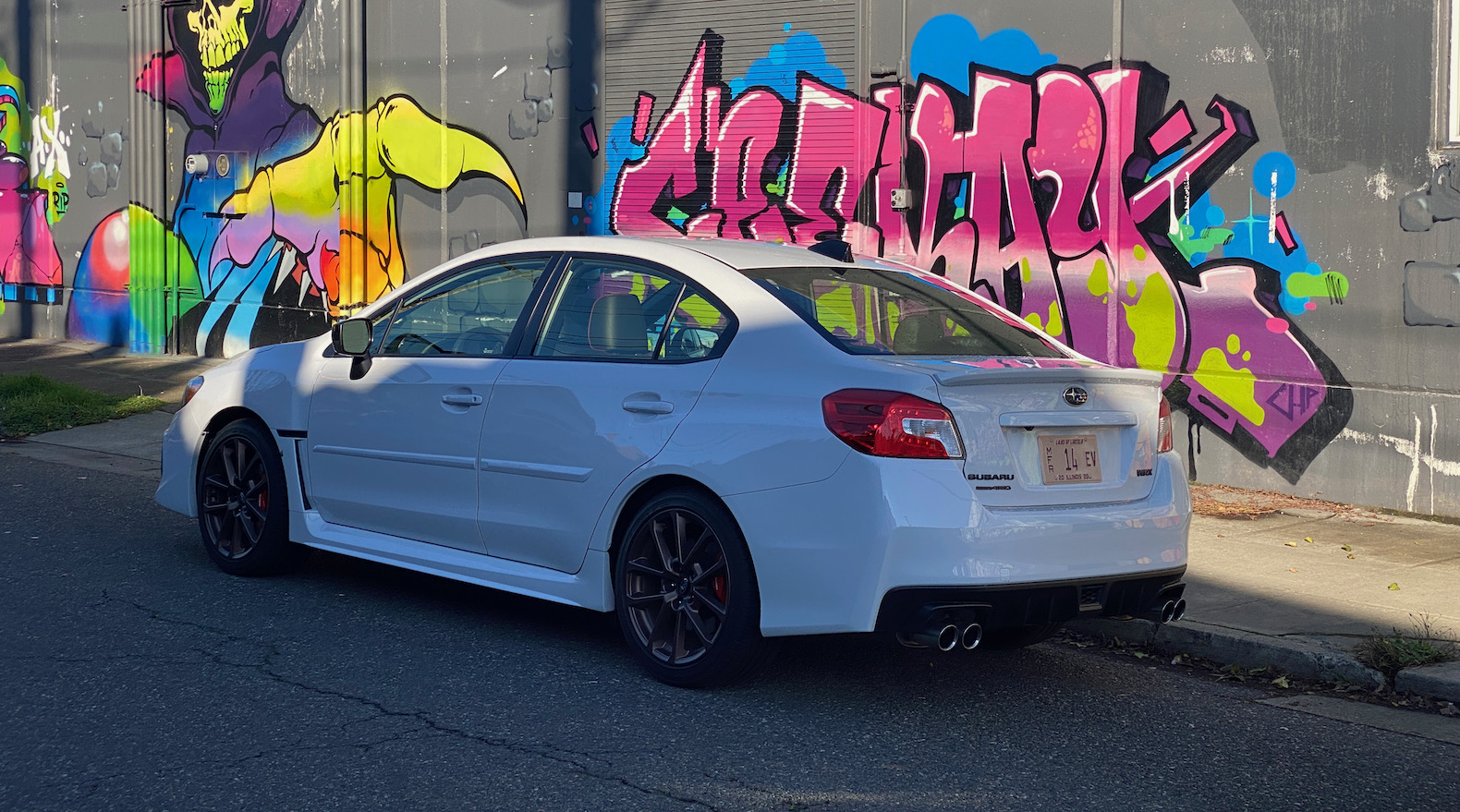 The performance-oriented WRX STIs swap in a different flat-4 rated at 310 horsepower, plus a stiffer suspension, uprated brakes, and an adjustable center differential for their all-wheel-drive systems. They are essentially street-legal rally cars that trade refinement for traction and speed. Drive one and you'll understand the big wing. Few cars offer WRX STI-grade thrills, but that's probably best for our insurance rates. The WRX Premium with a manual can be had with an optional Performance Package, which for a reasonable $2,850 adds supportive Recaro seats and Brembo brakes, as well as deleting the otherwise standard moonroof that would probably get in the way of your race helmet anyway. The WRX's intended use is obvious, and we love it for it.
The 2020 Subaru WRX can blend into a crowd, if you let it. Unless there's a big wing attached to its trunk lid, the 2020 Subaru WRX doesn't make a big statement compared to more outlandish performance cars. It's not subtle, but it won't raise any eyebrows in traffic, either. Both are based on the last-generation Subaru Impreza, which was hardly a trendsetter but it helps it sneak under the radar, which is literally important. They have a standard three-box sedan profile, albeit with big front intakes, pronounced sills, and wide rear diffusers that mark performance cars. STIs swap in larger 19-inch wheels and come standard with a rear wing that can be deleted in favor of the small lip spoiler included with the WRX.
If you're here for the acceleration, grip, handling, and overall balance; there isn't a better vehicle to be reading about, Nobody buys the 2020 Subaru WRX because it looks good or because it can seat four passengers in relative comfort. They buy one because of the quirky thrum under the hood as the turbo spools up and the flat-4 hustles power to all four corners. The WRX earns points in our eyes for its handling, its terrific steering, its grip, and its acceleration. There are faster cars, but few offer this many thrills for this little money.

The WRX uses a 2.0-liter flat-4 rated at 268 hp and 258 lb-ft of torque. Manual gearbox versions use an all-wheel-drive system with a viscous coupling in the center differential that does its best to split power 50:50 in normal driving but can send power rearward or forward as needed. A brake-based torque-vectoring system nabs the inside wheel in hard turns to enhance cornering, too. The 6-speed has relatively long throws, though a short-throw kit can be ordered through Subaru dealers. Clutch engagement is excellent, though the gearbox itself is a little notichy which appeals to us for being able to feel the snick-snick of the throws. Opt for the Performance Package and Subaru upgrades to Brembo brakes that do an excellent job bringing the car to a halt.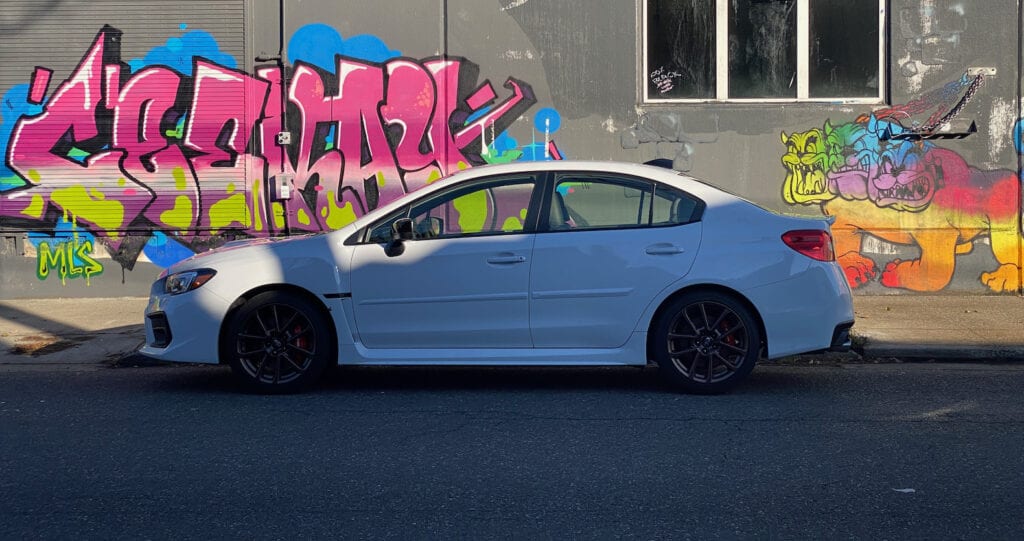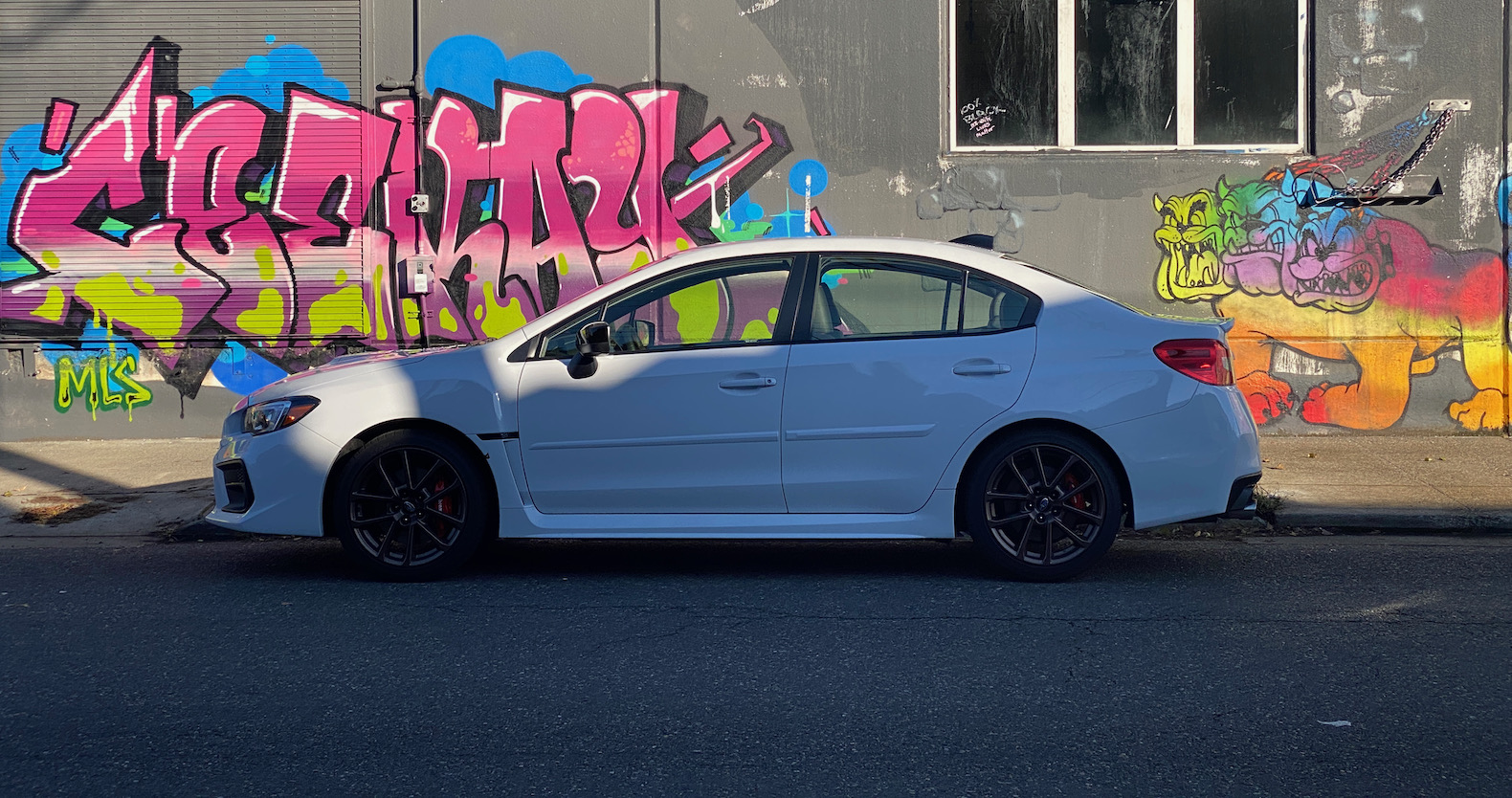 Order the CVT and Subaru swaps in a different center differential with an electronic hydraulic clutch teamed with various sensors to send power between the axles. We like the simplicity of the manual gearbox's all-wheel-drive system for repeated flogging. The CVT itself isn't as unwilling a companion as you might expect since turbocharged cars respond well to gearboxes that like to keep the engine where it makes the most power should they sense enthusiastic driving. Paddle shifters allow drivers to sort through preset gear ratios that simulate a real automatic reasonably well. The manual is our preference, but the CVT isn't the worst choice in the world. Driver-selectable Sport and Sport Sharp modes make the throttle touchier and encourage the transmission to hold revs even longer, too.

Opt for the WRX STI and its big wing is somewhat justified by the latest, and probably final, version of Subaru's long-running 2.5-liter flat-4. With 310 hp and 290 lb-ft of torque, the big 4-cylinder is fairly power-dense. It's noticeably faster than the base car, and its unique 6-speed manual transmission is a hoot to shuffle through the gears. The STI uses a different all-wheel-drive system with a driver-controllable center differential that can adjust torque split from front to rear while on the go, which is useful on a road course or rally cross field. For most, the STI is probably tuned to be too stiff for comfortable daily driving, unless you live where the roads are smooth and curvy.
The 2020 Subaru WRX can be frugal, but only if you stay out of boost. With its relatively small-displacement flat-4, the 2020 Subaru WRX has the potential to be a thrifty cruiser. Once its turbo spools up, though, it'll guzzle premium fuel with typical sports car enthusiasm. Manual gearbox-equipped WRXs are the greenest, and the EPA figures they will use fuel at a rate of 21 mpg city, 27 highway, 23 combined. The automatic transmission dents those figures considerably to 18/24/21 mpg. WRX STIs, with the most power, are rated by the EPA at just 16/22/19 mpg. Surprisingly, in our lead-footed week of testing we actaully averaged right on the EPA's combined mark of 22.8 mpg.
The 2020 Subaru WRX has a good crash-test record. Federal testers gave the small sedan a top five-star score, and the IIHS awarded the 2020 WRX a Top Safety Pick+ award, when equipped with the CVT's automatic emergency braking and optional LED headlights with high-beam assist. Thank the Imprezza's impressive bones for the high carry-over scores. All models have seven airbags, while CVT-equipped WRXs come with automatic emergency braking, adaptive cruise control, and active lane control. Those worthwhile features are, unfortunately, not available with the manual transmission. In IIHS testing, the 2020 WRX earned a Top Safety Pick+ award that applies to cars with automatic emergency braking and the optional LED headlights with automatic high-beams.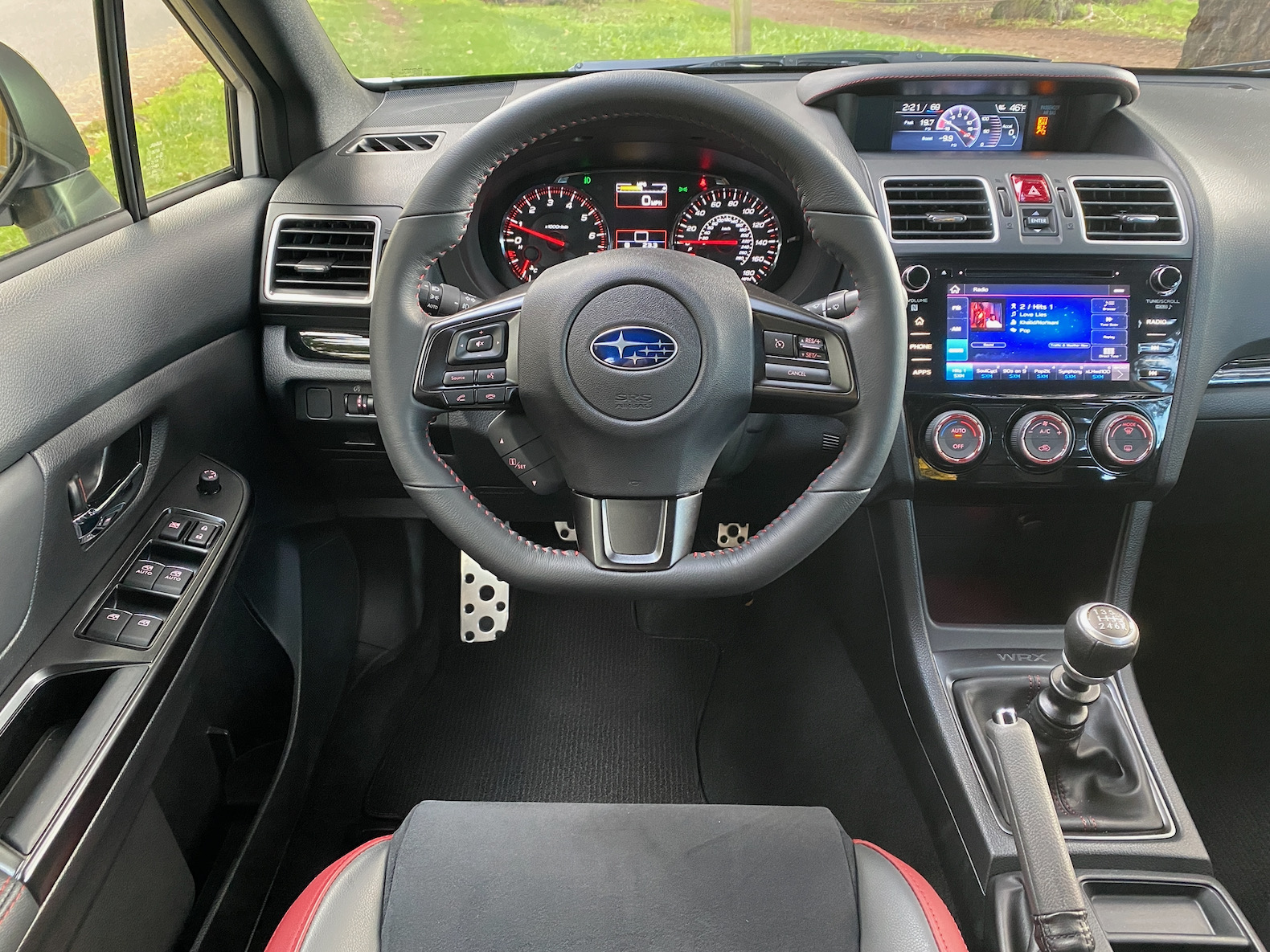 The 2020 Subaru WRX is spacious inside, though hardly fancy. The WRX is based on the last-generation Impreza, which is hardly a high-water mark for interior refinement. Materials are what we'd call serviceable, not luxurious. The carbon fiber-like trim and matte silver finishes are pleasing enough.Though plenty spacious, the cars have a dated, low-buck feel inside offset only slightly by easy-to-use infotainment software and other controls. Apple CarPlay and Android Auto compatibility is standard fare, while CVT-equipped WRXs this year come standard with automatic emergency braking, adaptive cruise control, and active lane control.
Inside, the cars have a virtually symmetrical dash. The beefy three-spoke steering wheel affronts clean, legible instrumentation that gives a hint as to the car's intentions. A digital display is housed under a small hood at the top of the dash, which waterfalls into a standard 6.5-inch touchscreen that is commonly upgraded to a 7.0-inch display. Climate controls sit below and are easy to operate. Cloth is standard and leather included on the Limited trim. If you need a reason to justify the 2020 Subaru WRX as a family car, just hop in its back seat or load up its trunk. Though we still bemoan the loss of the previous generation hatchback version, the 2020 WRX sedan is practical for a sports car.

The standard front seats are good for all-day support and come wrapped in either cloth or, on the WRX Limited, leather upholstery. Optional Recaro buckets are paired with a moonroof delete and upsized brakes as part of the Premium Package. The intention should be obvious to anyone who has tried to wedge a race helmet under a moonroof. The Recaros are excellent, but may be confining for some drivers. You might want to try before you buy. Rear-seat room is very good thanks to wide-opening doors and the upright profile. Even three passengers can sit in the back seat for short around-town jaunts. The WRX's trunk can hold 12 cubic feet of cargo, which is more than sporty coupes but behind typical sedans thanks to the hardware required for the car's standard all-wheel drive.
The 2020 Subaru WRX covers the basics, with a few desirable sporty options worth adding. The WRX range starts at less than $30,000 and the STI Limited climbs into the low-$40,000 range, but the all-wheel-drive performance sedan offers a decent value at every step of the way. The base WRX comes only with the 6-speed manual transmission and includes power features, automatic climate control, and a 6.5-inch touchscreen with Bluetooth connectivity, a USB port, and Apple CarPlay and Android Auto compatibility. For $28,400, it's an excellent deal.

A WRX Limited costs $33,000 and adds leather upholstery, a power driver's seat, heated front seats, a power moonroof, a 7.0-inch touchscreen, and LED lighting. The sweet spot is right in the middle: the WRX Premium for about $30,700 that builds on the base car with the larger screen, the moonroof, and the heated front seats. An extra $2,800 buys the Performance PAck with Recaro front seats, Brembo brakes, and a moonroof delete, making it a track day superstar. WRX Premium and Limited trims can be had with the CVT for $1,900, which is an option that also includes active safety gear. The WRX STI lineup includes base and Limited trims that are more or less aligned with the WRX. $37,900 buys a base WRX STI, and the extra $2,250 Subaru asks for Recaro front seats is probably worth the coin.
The 2020 Subaru WRS is a legend. Few cars give you the ability to be track stars on the weekends and reliable commuters during the week. Subaru has been smart to cater to the hoards of faithful followers, including us. Few cars have aged so gracefully while still being able to put an ear-to-ear grin on your face. For that, and the fact that it has been able to keep it affordable, Subaru should be applauded. The fact that even such a pocket rocket exists should make you rush down to the dealer before they're all gone for good.
For all your new car shopping needs, check out: drivevise.com Vehicle shopping made simple!