The 2020 Subaru Legacy sedan is a stellar value with impressive tech. It's easy to give up on the 2020 Subaru Legacy sedan and head straight for the five-door Outback wagon across the same showroom that's based on the four-door model. You wouldn't be alone either; the wagon outsold the sedan 4-to-1 last year.  That is, it's easy until you look at the Legacy's price. That's because the four-door packs incredible value into a sedan that costs roughly $200 more than last year's version but gives most drivers an 11.6-inch tablet-style touchscreen that's bleeding-edge tech for a sedan that costs well under $30,000 in its most popular configurations. Where the Outback outshines in stellar off-road capability, the Legacy picks up for stellar fuel economy that can tap a tank for more than 600 highway miles. Not many will spot the differences from the outside between the outgoing Legacy and 2020 version. The new 2020 Legacy sedan has a slightly sleeker nose and tamer tail, but the differences are definitely on the subtle evolution side.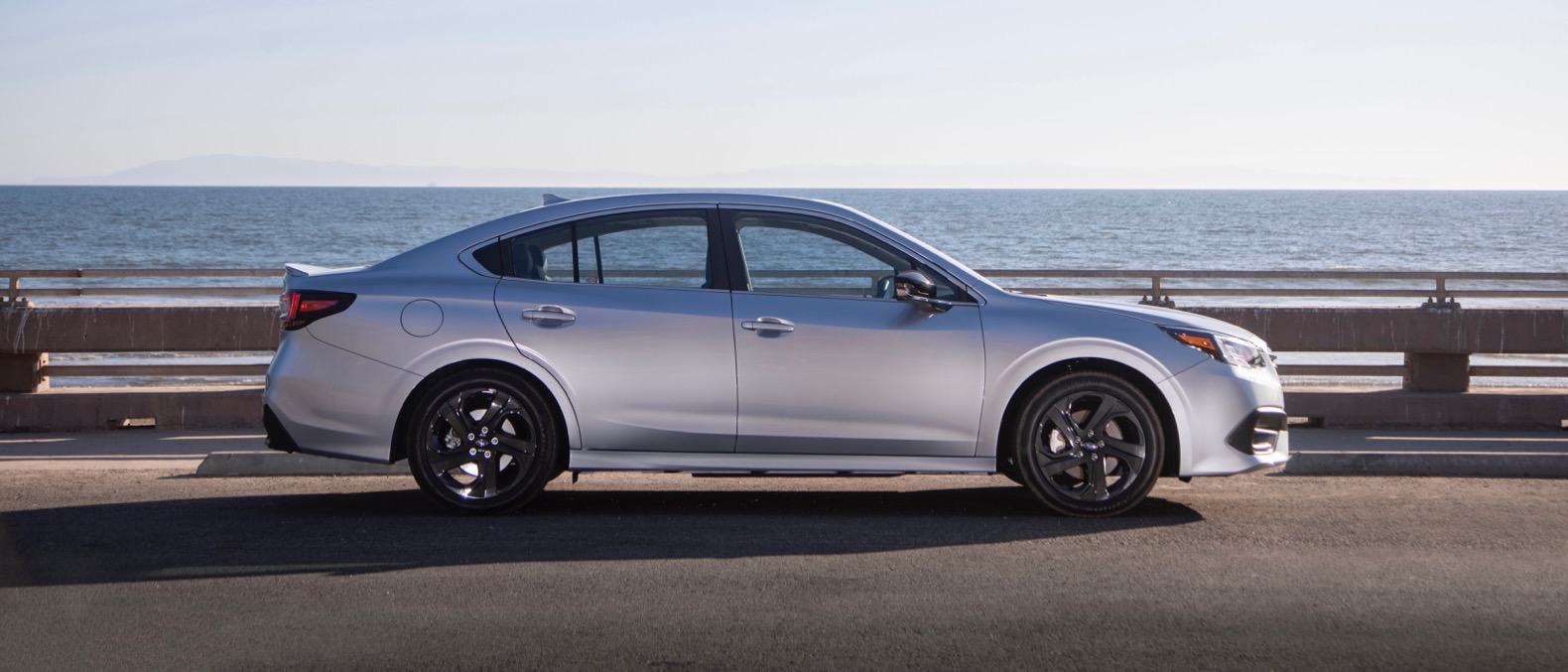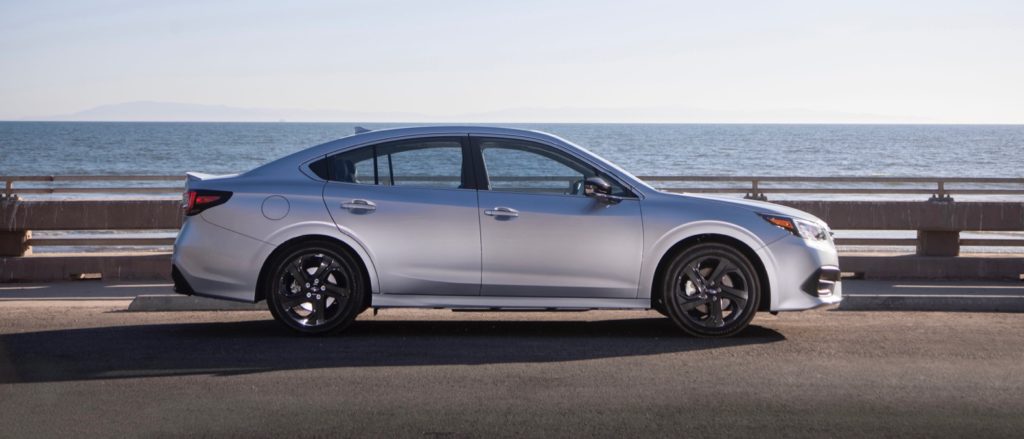 Base Outbacks are powered by a 2.5-liter flat-4 that makes 182 horsepower mated to a continuously variable automatic transmission (CVT) and all-wheel drive. Those numbers largely match the outgoing Legacy's base powerplant, and the feeling is largely the same. The body is stiffer this year, and the handling is competent, although the suspension steers more toward comfort rather than sporty. An uprated 2.4-liter turbocharged flat-4 that makes 260 hp is available in Limited XT and Touring XT sedans and its power reminds us of sporty sedans that are dying faster than newspapers. Roughly one in 10 buyers will opt for the stouter XT, but nearly everyone in a high-altitude state should drive both back-to-back. The downside? The turbo Legacy is thirstier, combined mileage for our drives plummeted from the mid-30s in base Legacy cars down to mid-20s in the turbo sedans.

Five adults will fit comfortably in the Legacy, with nearly 40 inches of leg room for rear-seat riders. There are 15.1 cubic feet of trunk space, which is complemented by a wide opening.  Every Legacy gets standard automatic emergency braking, adaptive cruise control, and active lane control. Blind-spot monitors and rear automatic emergency braking are on the options list. The 2020 Legacy Premium is a sweetheart for features and price for $25,895, including destination. Those sedans get a 11.6-inch touchscreen, 17-inch wheels, cloth upholstery, heated front seats, dual-zone climate control, a leather-wrapped steering wheel, and four USB ports. Keyless ignition, navigation, blind-spot monitors, and a moonroof are extras on the Legacy Premium.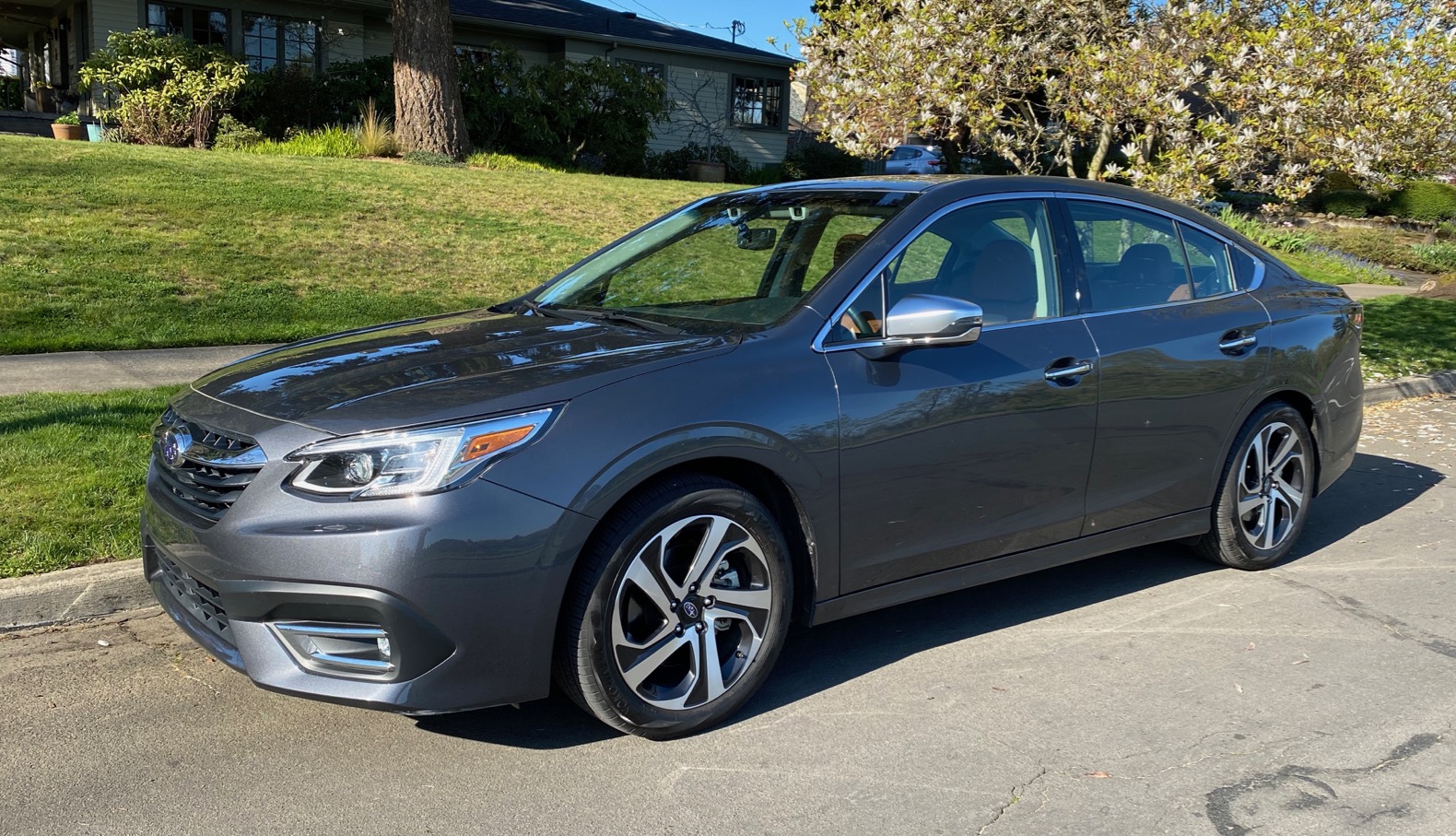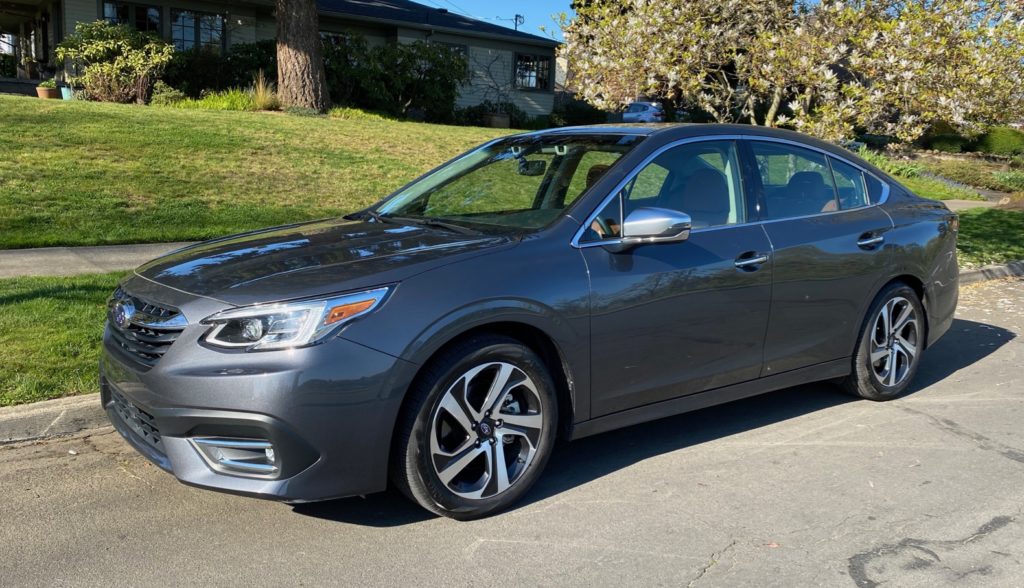 Hardly revolutionary, the 2020 Legacy keeps its tasteful shapes after a redesign. Just in time for back to school, this 2020 Legacy reads like the latest edition of a textbook sedan: four doors, trunk, Subaru snout, you get the idea. It's still handsome even if it's just average. The front end is sleeker with very minor changes to the front bumper and grille surrounds. Along the sides, the only noticeable change from last year's sedan is a steeper roofline that plunges toward the trunk quicker and a straightened character line that's sculpted deeper into the doors. It's easy to spot the similarities between the Legacy and 2020 Outback from the front doors forward; they're essentially the same. From the rear doors back, the Legacy has a racier shape that only sedans can offer, but Subaru skips wider rear haunches or wild creases for a plainer profile compared to other sedans. Ditto for the rear, which has tamer rear decklid spoiler and wider trunk opening.
The ride in the 2020 Legacy is calm and collected, steered more toward comfort than sportiness. The newest Legacy rides atop a structure that's not only stiffer, but also uses two new engines for the sedan that promise more efficiency and more power respectively.  What's left is a capable sedan that belies its pedestrian looks, especially with a turbo-4 under hood. The Legacy handles similarly to the Outback, which was impressive, but is saddled with less weight for a more engaging drive. Both Legacys tap flat-4s for power, although one's strapped with a turbocharger. The base engine is a 2.5-liter flat-4 that makes 182 hp mated to a CVT with paddle shifters and simulated gear steps when drivers stand on the throttle. It saunters up to 60 mph in more than 8 seconds, but the Legacy's perky throttle helps it feel faster than that. The sedan is less eager on the throttle than the base Outback, and we liked the four-door more for easy commutes.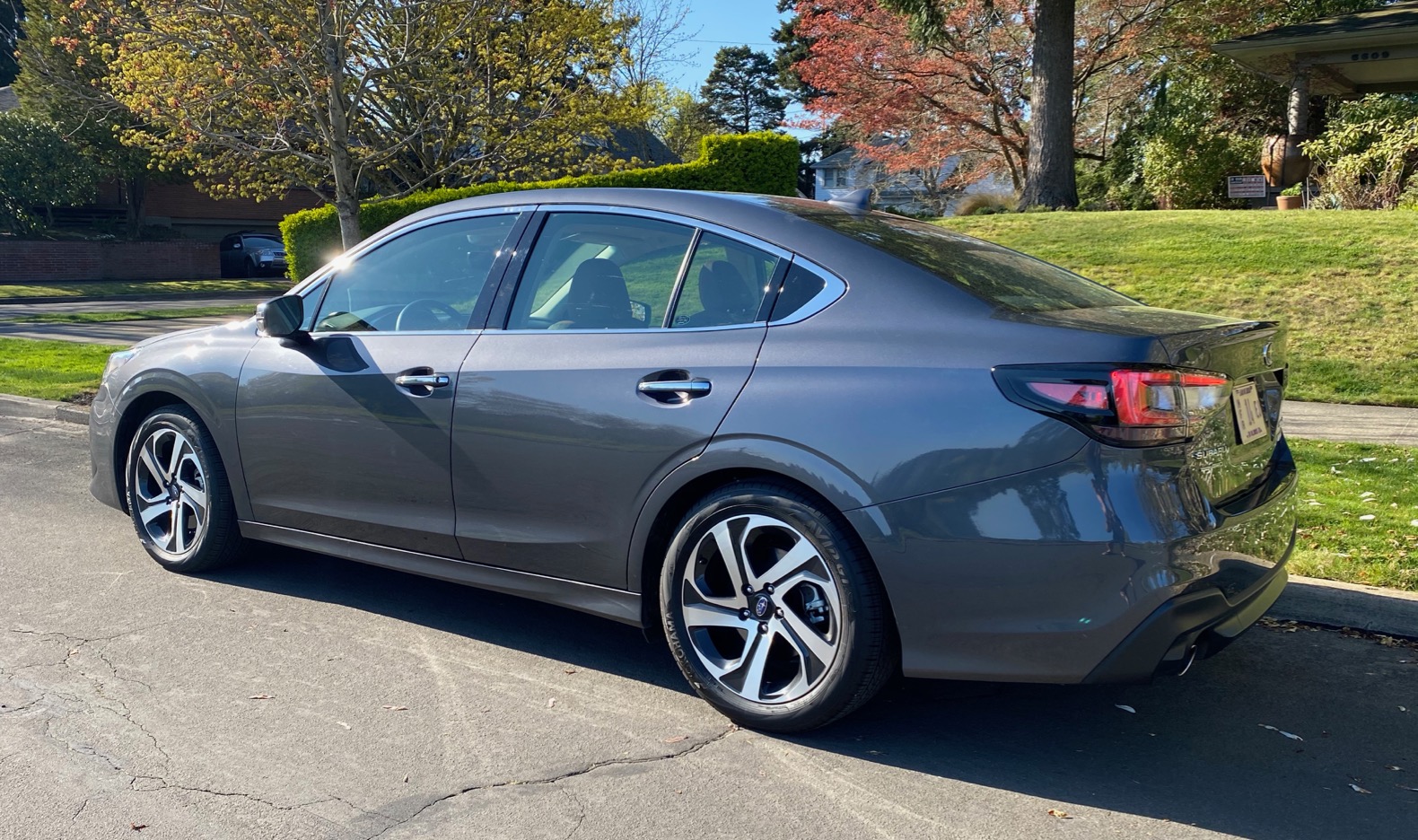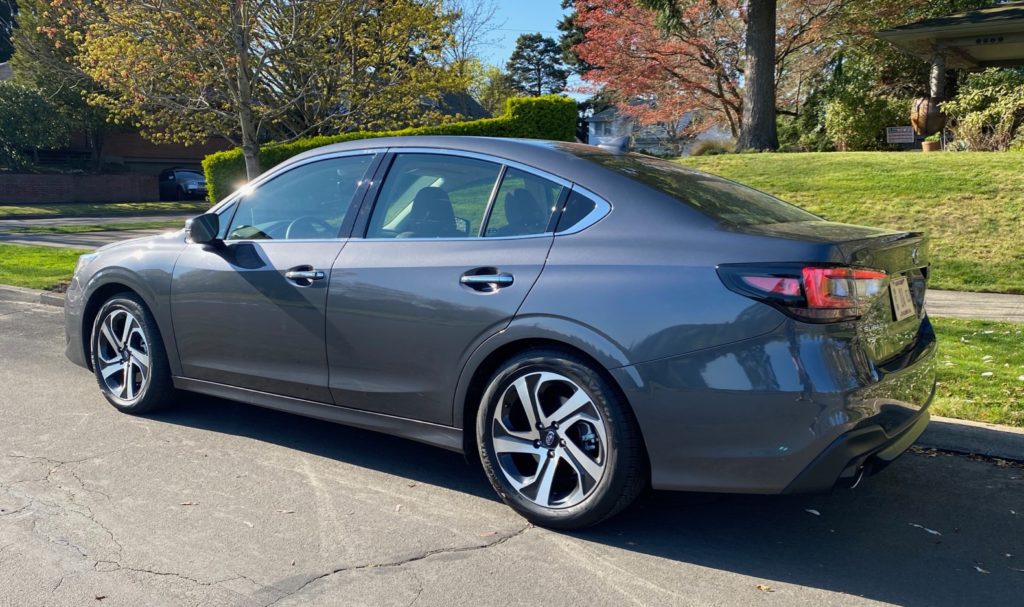 All-wheel drive is standard on all Legacy models and it's a familiar feel behind the wheel. The steering is light, but accurate, with weight in the steering wheel builds up proportionately in some of our more spirited drives. Here's how we know: Engineers said that body roll in the Legacy has been reduced by 45 percent compared to prior years, which helps it feel more confident and planted on the road. We sprinted up nearly empty canyon roads in Southern California in our first drives of the Legacy.  What we also found out: the front struts and rear multi-link suspension are tuned more for comfort with softer dampers. On big bumps at higher speeds, the comfortable sedan glides along the road, and it's more pronounced in turbo-4 versions. The ride is comfortable and sedate, with a little bounding over bumpier roads at high speeds. Bigger wheels and stiffer springs would make the XT a superb sporty sedan.

That turbo-4, borrowed from the bigger Ascent three-row crossover, makes 260 hp in the Legacy XT and slingshots it to 60 mph in about 6 seconds. Its thick power winds up past 3,000 rpm and doesn't stop well into the triple digits on the speedometer. Mountain-state drivers will want to consider the Legacy XT for its passing prowess and climbing ease, although tapping into the turbos sinks the fuel economy from the mid-30s in base Legacy models into the mid-20s in Legacy XT versions. The Legacy XT is hooked to a similar CVT that lacks lag and a rubber-band feeling endemic to the belt-and-pulley CVT transmission type.  Most Legacy sedans will ride on 17-inch wheels, although Sport, Limited, and Touring editions ride on 18-inch tires. 
Most 2020 Legacy sedans will manage more than 30 mpg combined. Standard all-wheel drive and a big body haven't spoiled the 2020 Legacy's fuel economy. According to federal testers, the most popular Legacy rates 27 mpg city, 35 highway, 30 combined. That's what drivers can expect in the real world, too. Over a 100-mile trip, the 2020 Subaru Legacy Premium 2.5i logged 34.2 mpg combined, according to the trip computer. The optional 2.4-liter turbo-4 is rated lower by the EPA. The EPA says it rates 24/32/27 mpg, but in our week of lead-footed driving we managed just 26.7 mpg combined, according to the trip computer.
The 2020 Legacy hits the high safety marks with top crash-test scores and has excellent safety equipment. Like the Ascent, every Legacy is equipped with automatic emergency braking, adaptive cruise control, and active lane control. Blind-spot monitors and rear automatic emergency braking are on the options list for most Legacys. The IIHS calls it a Top Safety Pick+, and the NHTSA awards it five stars overall. The Legacy is equipped with eight airbags, including side curtains for rear passengers, and rides on a frame strengthened by more steel and shared with the Outback. The Legacy has one key advantage: outward vision, particularly toward the rear, is better in the Legacy than it is in the Outback.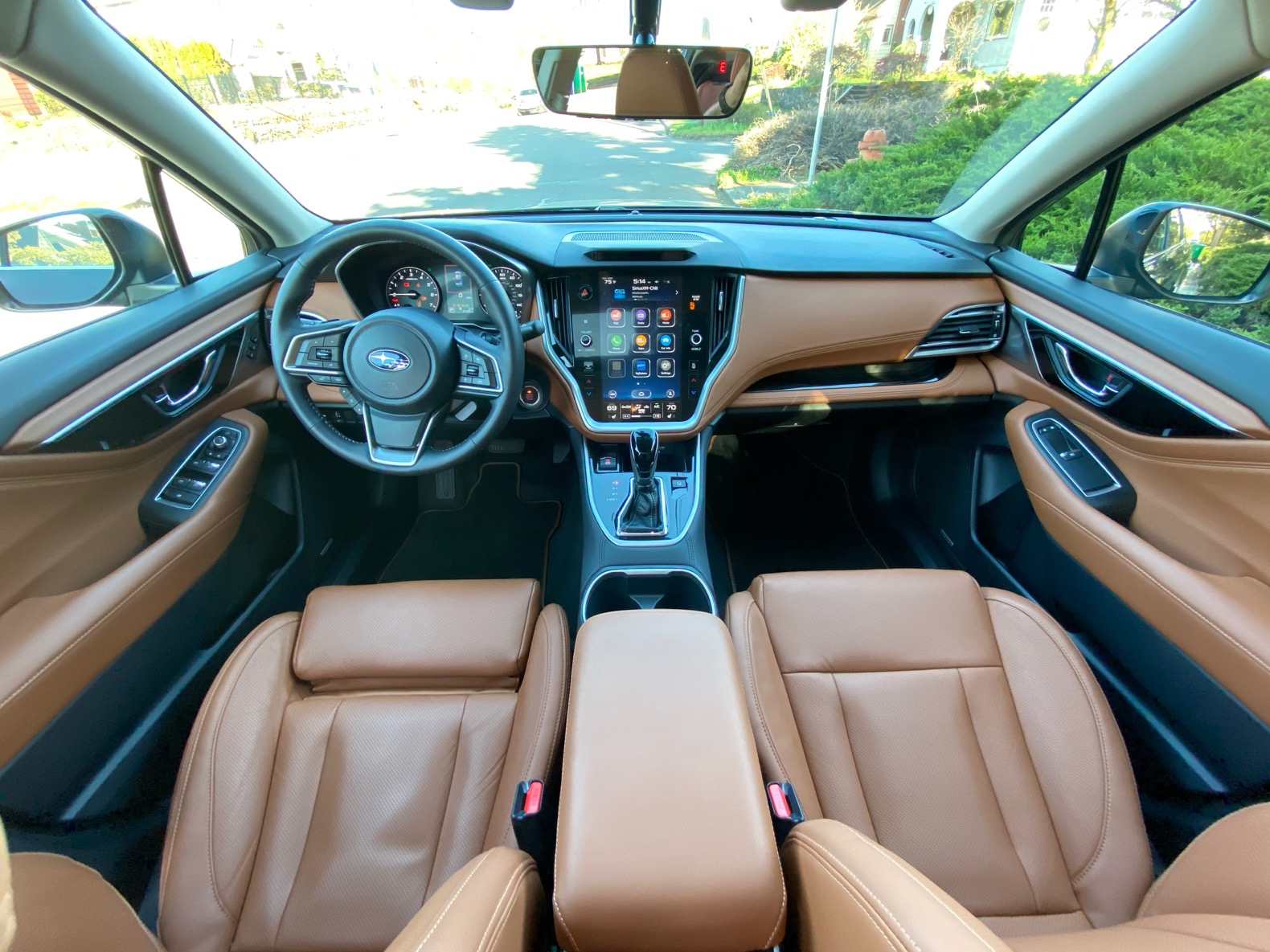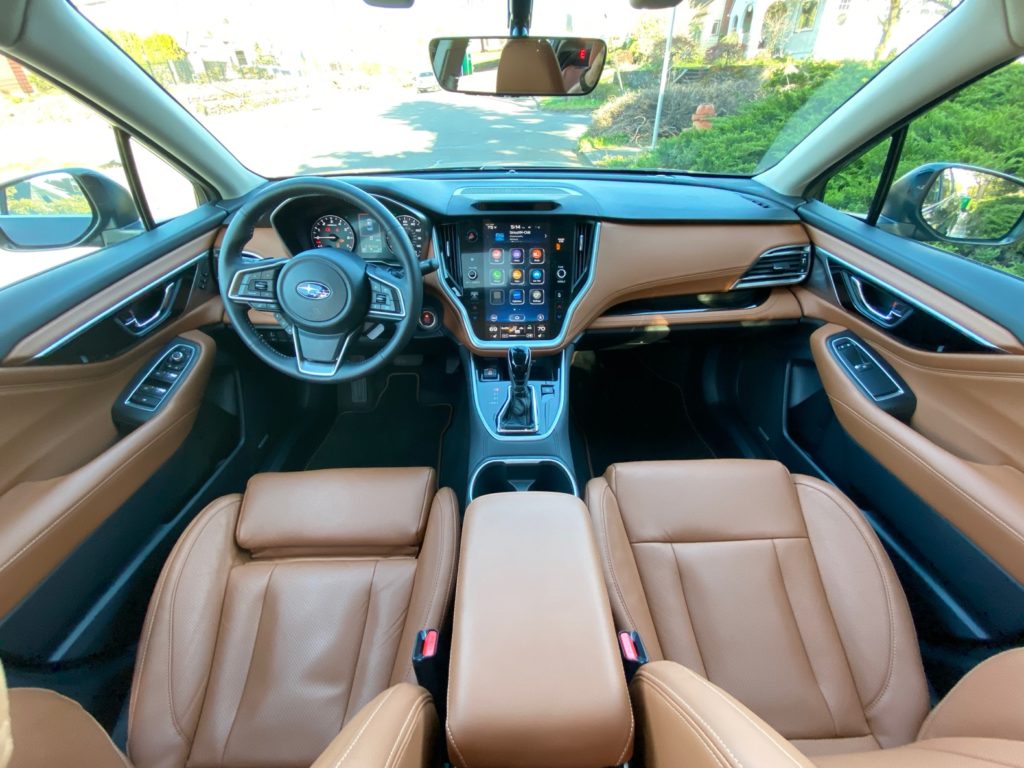 Few sedans are as quiet and comfortable as the 2020 Legacy. This year's tale of the tape reads similarly to the outgoing version; it's nearly the same length and width as last year's car with similar space between the wheels. Subaru exploits that space well for a cabin that's big enough for five adults, with 15.1 cubic feet of room in the back for cargo. The Legacy's more practical kin is called an Outback, but the regular sedan is nearly as spacious. Most Legacys will leave the factory with durable cloth upholstery, although top trims get softer nappa leathers that are a first for the Subaru sedan. The front seats are wide and comfortable, with adequate bolsters and extendable thigh cushions on top models.
It's easy to climb into the rear seats this year thanks to the wide door cutouts and a roomy back seat. Once aboard, three average adults will fit across just fine, with nearly 40 inches of leg room and good stretch out space. Unlike the Outback, the Legacy's sedan roof cuts into head room by just a couple inches, which may be a problem for long torsos or NBA players. The Legacy swallows 15.1 cubic feet of cargo, enough for four full-size suitcases, several bags of mulch, or whatever your weekend requires. The trunk cutout is wider this year and its liftover is relatively low. Every Legacy gets a sound-deadening windshield that cuts out road noise and Limited XT and Touring XT sedans get sound-deadening front windows that effectively cut out most engine noises. Subaru's made the Legacy quieter and calmer this year, a welcome change over prior generations.
Inside, the big 11.6-inch touchscreen dominates attention, but the dash and materials are nicer and softer this time around. The cowl is lower, which is a boon to outward vision, and aside from ergonomic quibbles, the Legacy is a nicer place to be.
Inside the Legacy, the large tablet-style touchscreen dominates attention and headlines the major changes, year over year.
The biggest change for the 2020 Legacy is its tablet-style touchscreen planted in the middle of the car, which is standard on Legacy Limited and higher trims. Its vertical orientation may remind some of Tesla's touchscreen, but Subaru's operates differently. Not every control is channeled through the touchscreen so there are still a few hard buttons for tuning, temperature controls, and volume. The screen is divided into a few regions, with the top bar displaying a customizable set of vehicle, navigation, or climate information. The bottom row is dedicated to climate controls, and the middle real estate is navigation, radio, or entertainment. Some climate controls, such as controls for the heated and cooled seats, are routed through the touchscreen, which may be initially difficult to locate.

The touchscreen operates fairly well with deliberate presses and swipes, although there is a little lagginess in some functions. Using the built-in smartphone software is good, but not ideal. Apple CarPlay and Android Auto are still presented in a horizontal layout that doesn't use all of the vertical screen so the display Is slightly small. Redundant information is displayed below and the screen within a screen can sometimes be hard to see, especially when using navigation apps such as Waze or Google Maps. Subaru has bundled in a few apps with its system, such as a bird-watching app and vehicle information. Overall it's impressive system way ahead of its competitors.
Features and value abound in the 2020 Legacy. Few cars offer its features at a comparable price. Subaru's 11.6-inch touchscreen may get all the attention, but the 2020 Legacy's value is worth a second look. Starting from $23,645 is a value among sedans. Its base price buys all-wheel drive, dual 7.0-inch touchscreens for infotainment and vehicle functions including Apple CarPlay and Android Auto compatibility, LED headlights, cloth upholstery, standard active safety features, two USB ports, 17-inch wheels, Bluetooth connectivity, and automatic climate control. That's impressive base equipment and it's a great value.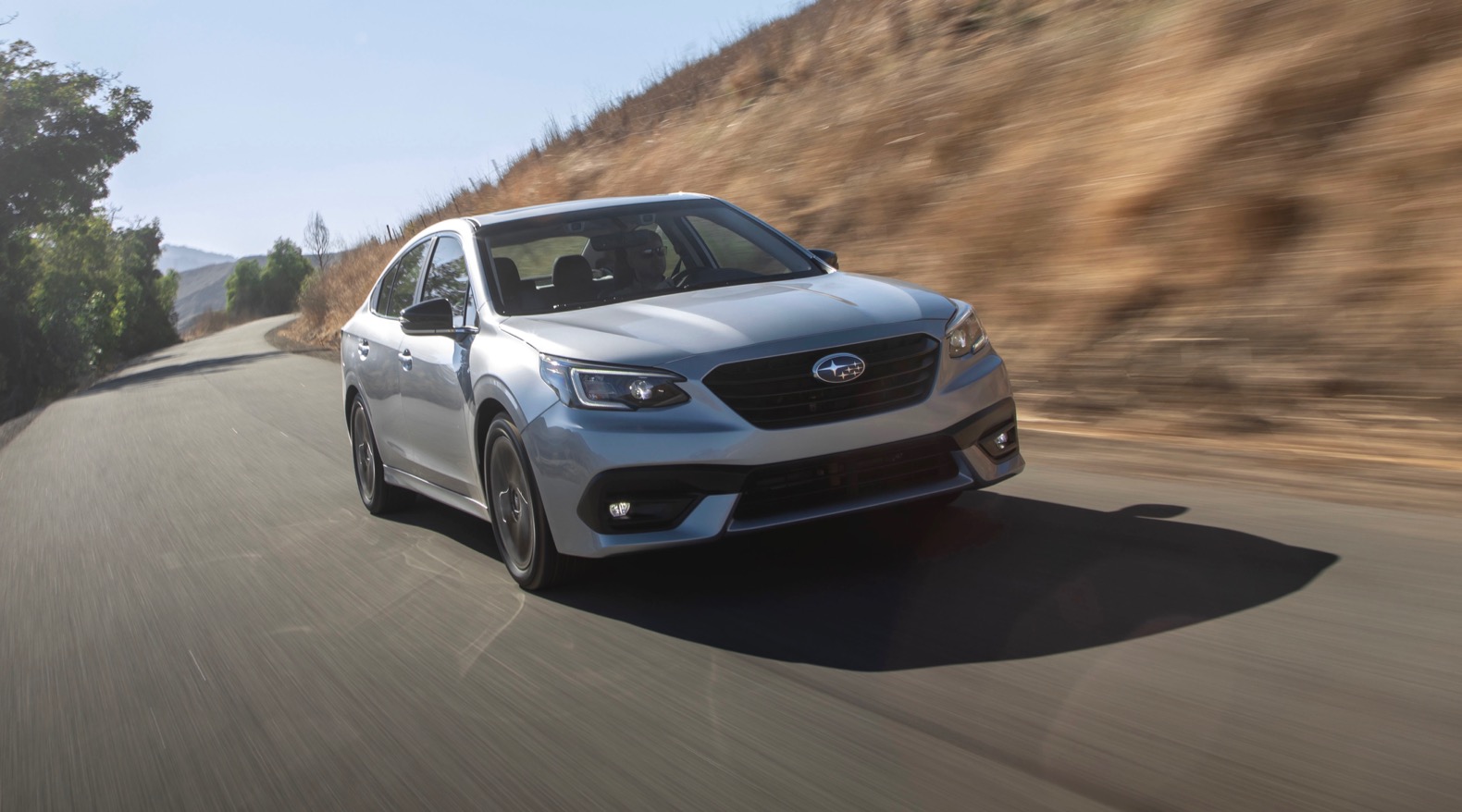 Like the outgoing version, the Legacy is offered in base, Premium, Limited, Sport, and Touring XT configurations. An uprated turbo-4 is available for Legacy Limited sedans for $4,450 more, and the more powerful engine is standard on Touring versions. All-wheel drive is standard equipment across the board. The sweet spot for most shoppers will be the Legacy Premium, which costs $25,895, including destination. Those versions get the same 11.6-inch touchscreen, 17-inch wheels, cloth upholstery, heated front seats, dual-zone climate control, a leather-wrapped steering wheel, and four USB ports. Keyless ignition, navigation, blind-spot monitors, and a moonroof are all on the options list for the Legacy Premium. The Legacy Touring XT fights for near-luxury attention at $36,795, including destination. Those cars dial in softer nappa leathers inside, 18-inch alloy wheels outside, the 11.6-inch touchscreen with navigation, a heated steering wheel, heated and cooled front seats, sound-deadening front windows, a forward-facing camera, a driver-attention monitor, and four USB ports.

The new 2020 Subaru Legacy continues Subaru's… Legacy to new heights. It retains all the Subaru virtues including all-wheel drive, dependability, and timeless styling but updates it with impressive standard safety, segment leading technology, and a more refined driving experience. To that amazing recipe Subaru adds in incredible value making the new Legacy a clear standout in the mid-size sedan market; it definitely deserves a look.
For all your new car shopping needs, check out: drivevise.com Vehicle shopping made simple!