The 2020 Nissan Murano is stylish and sophisticated SUV that started the stylish missive crossover craze. The Murano is a stylish, comfortable mid-size crossover SUV that makes some compromises in the name of coolness. For 2020, the Murano gains more standard safety equipment. Features such as blind-spot monitors now are standard on the SV trim and above. A slight refresh last year updated the Murano's looks, but make no mistake, this is one of the most distinctive mid-size crossovers. Angular LED running lights, a V-shaped grille, a floating roof design, and curves in all the right places give the 2020 Murano a contemporary look, at least from the outside. The interior hasn't received as much attention through the years, and though it features a big and colorful touchscreen, its materials and design feel dated.

All Muranos come with a 3.5-liter V-6 that makes 260 horsepower, and is mated to a continuously variable automatic transmission (CVT). Front-wheel drive is standard and all-wheel drive is optional across the range, but the Murano is neither sporty nor rugged, instead choosing to be about as comfortable as possible for a mass-market SUV. Absorbent ride quality and cushy seats make for a smooth ride making the Murano an excellent highway cruiser. Automatic emergency braking comes standard on every model, and the SV trim and above get a full suite of active safety tech for 2020, including active lane control, rear automatic braking, lane-departure warnings, adaptive cruise control, and more. Coupled with great crash test scores, the 2020 Murano is one of the safest SUVs on the road, though the IIHS still hasn't rated its new headlights.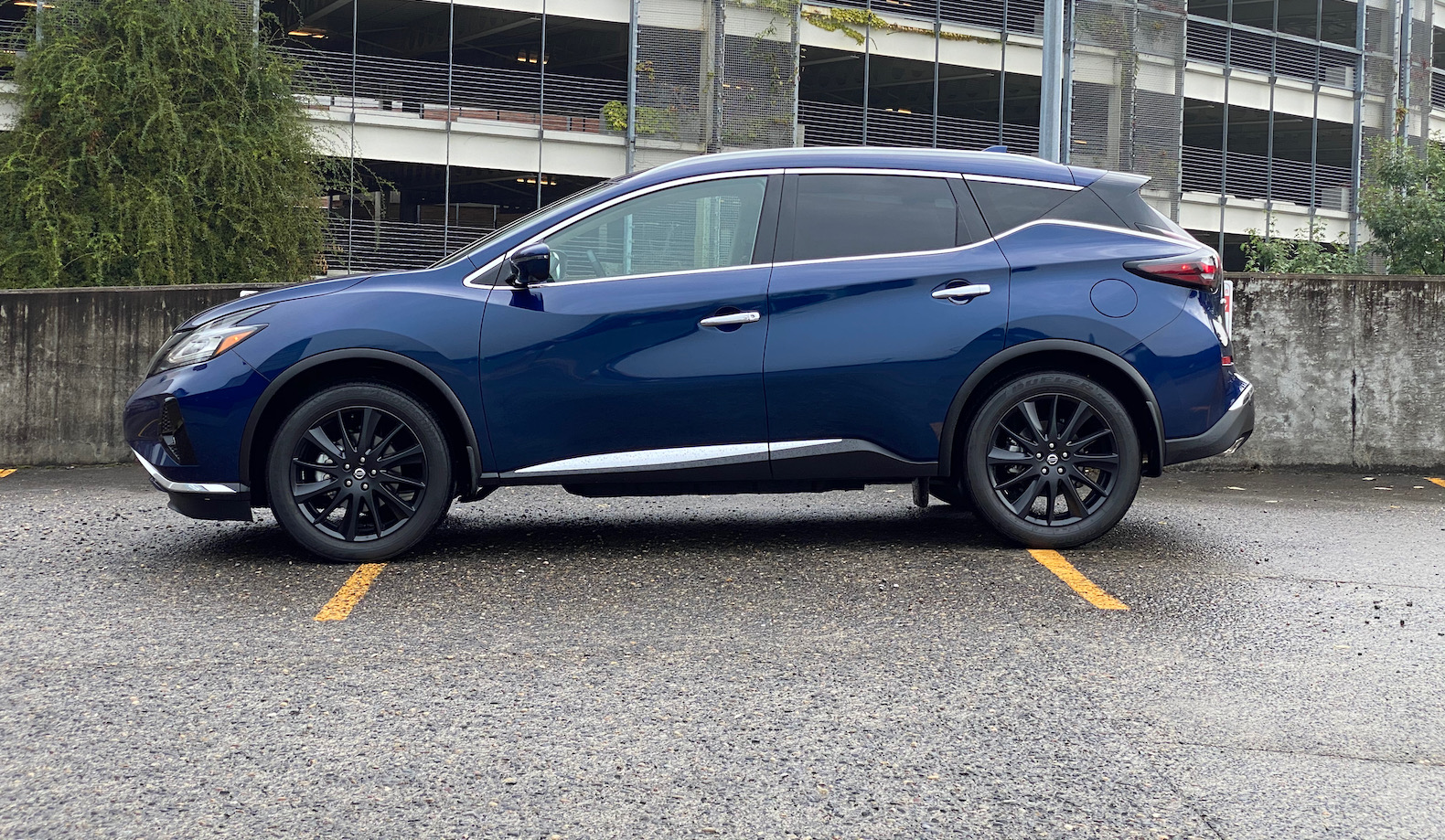 Stylish outside, the 2020 Nissan Murano turns heads like very few crossover SUVs can. The 2020 Nissan Murano has sweeping lines and lots of bright details. It's the stylish crossover SUV that started the whole stylish midsize crossover trend. Last year, the Murano got a modest update including new headlights and taillights, as well as slightly revised front and rear bumpers, so the 2020 model is visually unchanged. That's OK in our book though, as the Murano wears its sleek look confidently, and features clever details like the angled LED running lights and floating roof design on the rear pillar. Higher-trim models add bigger wheel designs and glitzier details inside and out, but every version of the Murano looks upscale and interesting, especially in a strong color like orange or blue.
The 2020 Nissan Murano is not sporty in the least but provides comfort with aplomb. Racy curves and an angular front end would suggest some sportiness, but the 2020 Nissan Murano is all comfort, all the time. Regardless of the model you choose or how much you pay, every Murano gets a 3.5-liter V-6 with 260 hp and a CVT. Front-wheel drive is standard while all-wheel drive is optional. The tried-and-true engine is a smooth operator under most circumstances with its CVT transmission providing smooth linear power.
Whatever semblance of sportiness that lives in the powertrain is cancelled out by a soft and supple suspension, but for long commuters and frequent highway drivers, that's a good thing. The Murano's steering, sound deadening, and suspension damping are all top-notch, and the V-6 gains an aggressive pitch under hard acceleration. Towing capacity stands at only 1,500 pounds, however, so look for more capable SUVs if that's a priority.
The 2020 Nissan Murano is averagely efficient at 23 mpg combined. The Murano leaves something to be desired in terms of fuel economy since no other powertrains are available. The Murano's CVT and V-6 just don't generate high EPA numbers. Front-wheel-drive Muranos get 20 mpg city, 28 highway, 23 combined. According to the EPA there's no penalty in any area for choosing all-wheel drive, which is impressive. By averaging 23.9 mpg over a week with our all-wheel-drive Murano test vehicle it actually beat the EPA ratings.
The 2020 Nissan Murano gets great crash test scores and offers more active safety tech than ever. Nissan's Murano performs well in crash tests and has more active safety tech on most models for 2020. The NHTSA gave the 2020 Murano five stars in every crash test category except for it's four-star rollover, and the IIHS awarded "Good" ratings in every category it tests for, as well as a "Superior" rating for its standard automatic braking. The IIHS tests headlights, too, but hasn't re-tested the Murano's new headlights.

Automatic emergency braking is standard across the range, but other active safety features cost extra on the base Murano S. The good news is that those features now come standard on the SV as well as the SL and Platinum, making blind-spot monitors, rear cross-traffic alerts, lane departure warnings, active lane control, a surround-view camera system, and rear automatic emergency braking available to more buyers. One caveat is the Murano's view to the rear from the driver's seat. It's hampered by thick rear pillars and a sloping roofline; we'd buy the surround-view camera system to help mitigate this.
The 2020 Nissan Murano is spacious and comfortable for four adults, but other crossover SUVs offer more practicality. Besides its comfortable suspension, the 2020 Nissan Murano offers supportive seats and plenty of comfort. Material quality is generally good, and near Infiniti-grade on the Platinum trim. As far as five-seat SUVs go, the Murano is among the most comfortable non-luxury offerings. It has room for adults and supportive front seats regardless of trim, and decent cargo space.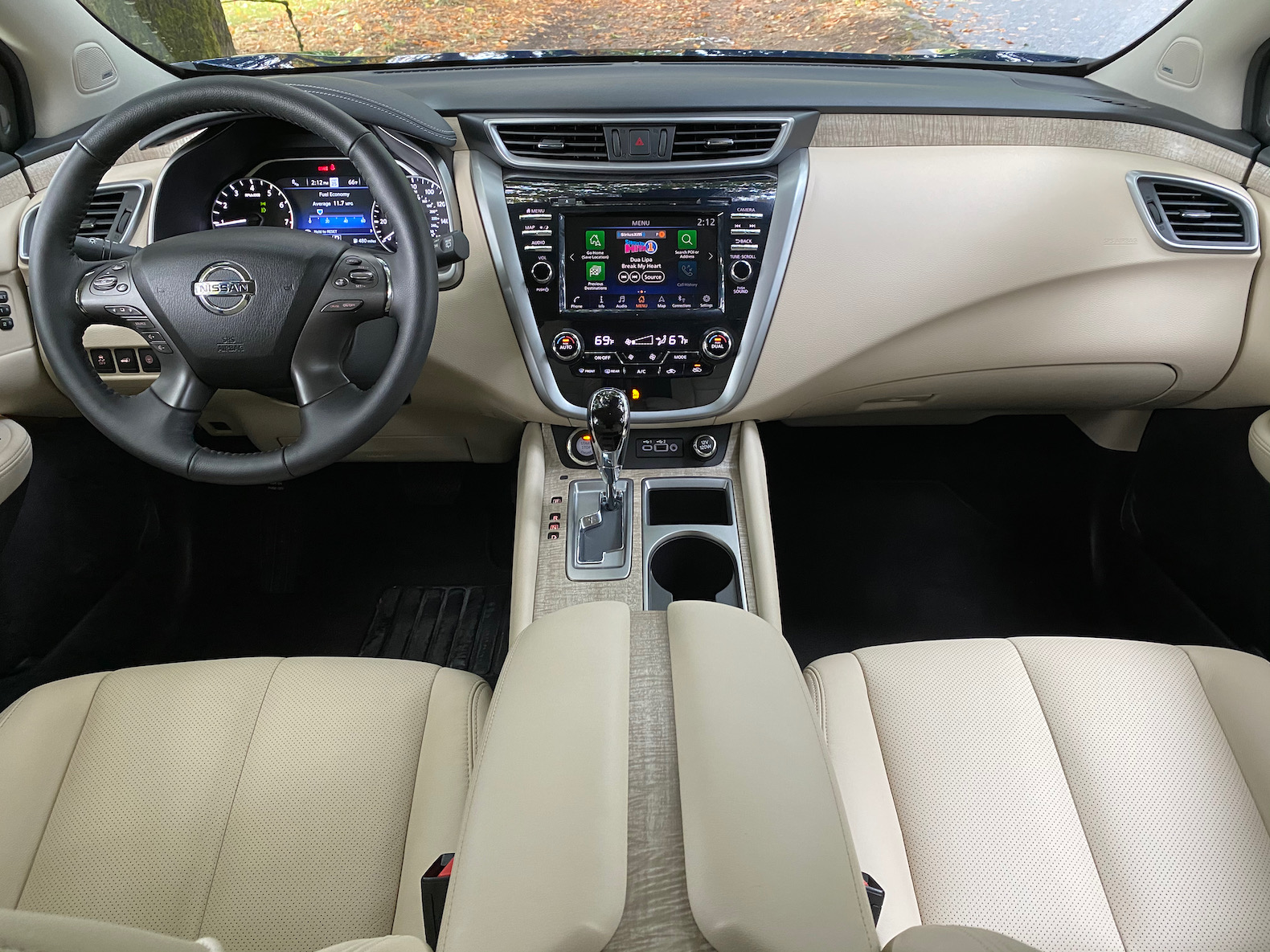 Cloth upholstery is standard and feels durable and soft, while optional leather (semi-aniline on the top-tier Platinum model) graces the most expensive versions. Both front and rear seats are superbly comfortable, and rear seat passengers get 39 inches of leg room and 38 inches of head room (40 inches without the panoramic roof). While 31 cubic feet of cargo space is available behind the second row, the Murano is not as versatile as other SUVs that offer three rows or more cargo space, so consider other options if you intend to often haul large amounts of cargo.
The 2020 Nissan Murano ranges from well-equipped to lavish, but the best value lies towards the middle of the range with the SV trim. While the 2020 Nissan Murano is relatively well-equipped, The Murano range includes four trim levels, including S, SV, SL, and Platinum. The base S model includes 18-inch alloys, cloth upholstery, two front and two rear USB charging points, and an 8.0-inch infotainment system with Apple CarPlay, Android Auto, and Bluetooth compatibility for $32,625 including destination charge. The SV model is our pick, especially as it includes heated mirrors, power front seats, adaptive cruise control, and rear parking assist for $36,255.

Murano SL models provide a bit more luxury, including leather upholstery, Bose audio with 11 speakers, heated front seats, ambient lighting, and 20-inch wheels for a total cost of $40,775. The Platinum trim occupies the top of the range at $44,825 and comes with a panoramic moonroof, unique wheels, cooled front seats, a power adjustable steering wheel, and all the safety features available. It also adds sublime diamond-quilted semi-aniline leather seats which might as well have been pulled straight from an Infiniti. All-wheel drive is available for $1,600 across the range, as are a number of shuffled packages for 2020, pushing the price of a fully loaded 2020 Murano Platinum AWD to nearly $49,000. Nissan's warranty of 3 years/36,000 miles is about average.
Back when stylish midsize crossovers didn't exist, Nissan was the first to the party with the original Murano. Since then the Murano has continued to excel over the years with the current third generation easily representing the best so far. Nissan smartly continues to approve upon it's award-winning recipe of offering a stylish comfortable midsize crossover that won't break the bank. The 2020 Nissan Murano is the original trendsetter and is still a serious contender to this day.
For all your new car shopping needs, check out: drivevise.com Vehicle shopping made simple!