The 2020 Lexus ES charts a sportier, sharper course than before, and it succeeds. As buyers flock toward SUVs, sedans are left out in the cold. The 2020 Lexus ES relishes in its elegant sedan-ness, with sharper moves than we have come to expect from this model and excellent fuel economy, with no dilution of its core Lexus virtues. If you can resist the SUV lure, the 2020 ES is a standout large sedan especially in Hybrid form. Stretching nearly 196 inches between its bumpers, the 2020 ES is spacious and comfortable for passengers with a big trunk to boot.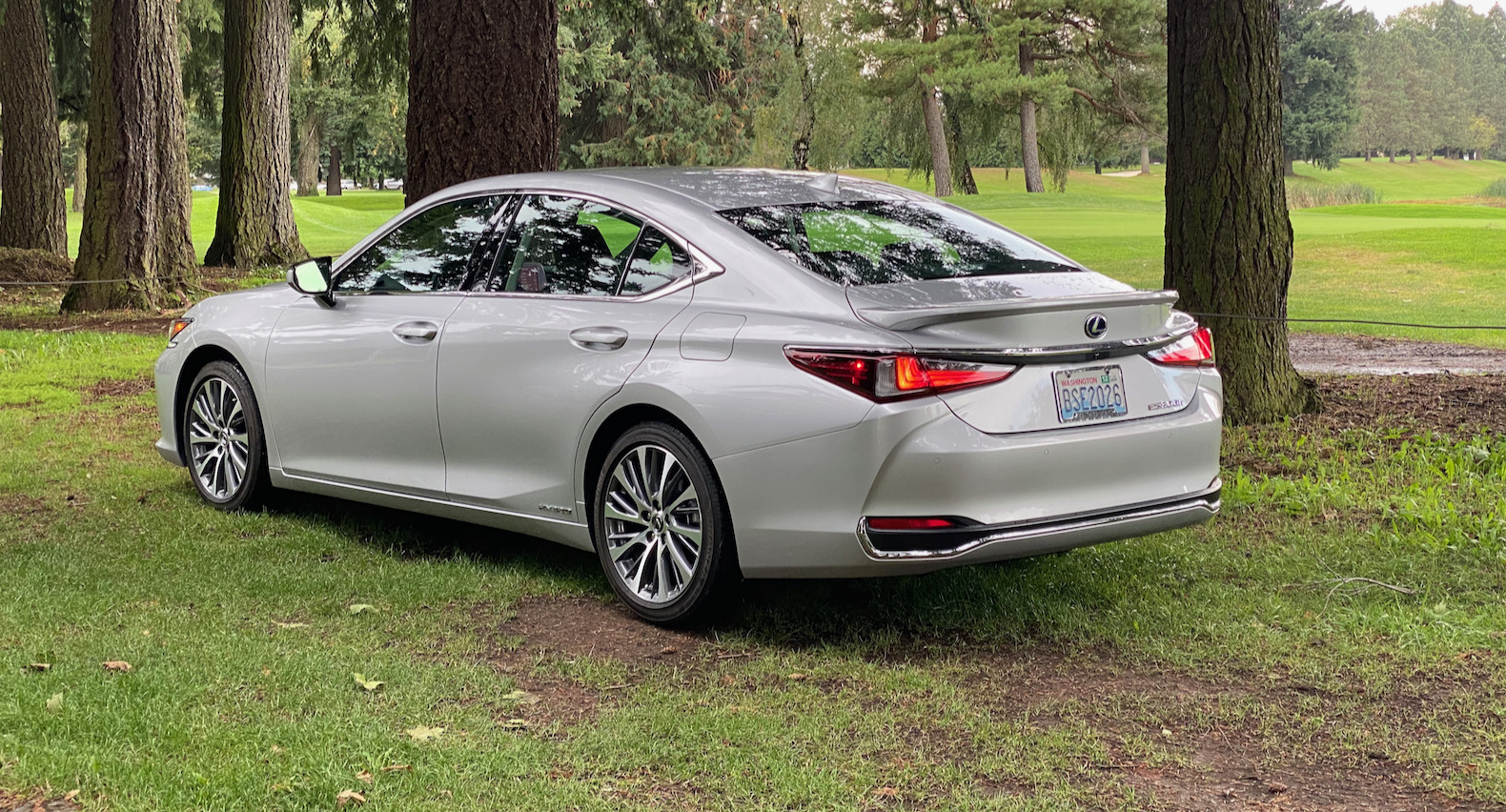 The ES shares some of its platform with the Toyota Avalon and Camry, but it has more styling cohesion than either of those plus far fancier digs inside. Available in ES 350, F Sport, and ES 300h guises, each version of the Lexus has its own personality. ES 350s and F Sports make use of a 302-horsepower 3.5-liter V-6 that hurtles power forward with authority through an 8-speed automatic transmission. F Sports feature adaptive dampers and taller wheels wrapped in sportier rubber plus a special Sport+ mode with more steering heft and sharper throttle response. The gem of the lineup is the ES 300h with its hybrid 2.5-liter inline-4 and nickel-metal hydride battery. The combo is good for 215 hp, but 44 mpg combined is the bigger draw here. 
The 2020 Lexus ES may be the best interpretation of the brand's avante-garde design language. Lexus doesn't do subtle anymore. The 2020 Lexus ES blends its spindle grille and asymmetric dash particularly well, though. The ES channels its bigger LS brother more than it does anything else in the Lexus lineup, and it looks more balanced in the process. The big grille dives back toward the hood and is flanked by sharp lines and brash headlights that wind their way into a sinewy body with little of the bloat we've come to expect from big Lexus cars. F Sport versions have their own detailing and larger wheels, plus different exterior trim. 
Though not a sports sedan, the 2020 Lexus ES makes all the right moves. The 2020 Lexus ES splits the difference between sporty sedan and plush cruiser unusually well. The F Sport has a personality of its own, which is a pleasant surprise during our week with a test vehicle. A comfortable, composed ride and healthy V-6 power help elevate the 2020 ES family. ES 350s, both F Sport and base, use a 302-hp 3.5-liter V-6 with 267 pound-feet of torque, shared with a number of other Toyota and Lexus products. With about 3,700 pounds to move, the V-6 feels more than up to the task. The standard 8-speed automatic transmission fires off quick shifts, too, and the manual shift mode is a delight on a winding road.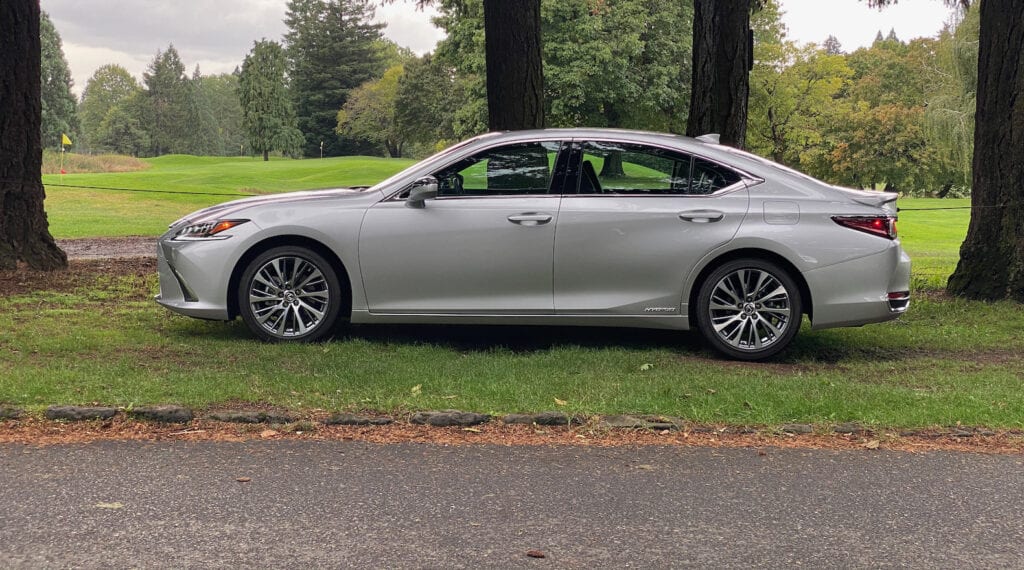 ES 300h hybrids swap in a 2.5-liter inline-4 teamed with a nickel-metal hydride battery and an electric motor for effortless low-speed, low-emissions cruising. With 215 hp on tap, the hybrid won't win a drag race, but it merges onto highways well enough, and it can handle the 0-60 mph sprint in 8.1 seconds. For the way most drivers will enjoy their ES sedans, the hybrid is probably the way to go. It also seems to fit the demeanor of the avant-garde ES the best making it our recommendation.

All versions have confident handling with good steering effort and a ride that's just the right side of plush. Opt for the F Sport and the adaptive dampers firm up at the tap of a button for more spirited driving. A Sport+ drive mode holds shifts longer and tightens up steering heft, too. Lexus makes sportier sedans, but the ES F Sport is a nice balance between day-to-day usability and winding road fun.
V-6-powered Lexus ES sedans are a little above average, but the ES 300h hybrid is impressively frugal. The former version of the 2020 Lexus ES will use about half as much fuel as the latter, so consider your commute before buying. The ES 350 is rated at a so-so 22/32/26 mpg, while larger wheels on the ES 350 F Sport drop its figures to 22/31/25 mpg. Meanwhile the 2020 ES 300h, which nets an impressive 43 mpg city, 44 highway, 44 combined from the EPA. Lexus only requires regular fuel, too, which helps lessen the burden at the pump. Our week of driving an ES Hybrid netted us a 43.7 average, impressive for such a large sedan.
The 2020 Lexus ES is an exceptionally safe choice and it's crash-testing shows. This big sedan comes with a full complement of collision-avoidance gear, has good outward vision, and it nearly aced both federal and independent testing. All sedans come with a slew of airbags, automatic emergency braking, active lane control, adaptive cruise control, and more. The ES doesn't offer the same degree of hands-off driving that some costlier luxury sedans do, but it's more than in line with our expectations. The IIHS rates the car a Top Safety Pick+ when fitted with the costliest LED headlights in the lineup. Those triple-beam LEDs earn a "Good" score, while the standard LEDs earn a still-decent Acceptable. Federal testers rate the ES at five stars overall, albeit with four stars for front and rollover crash protection.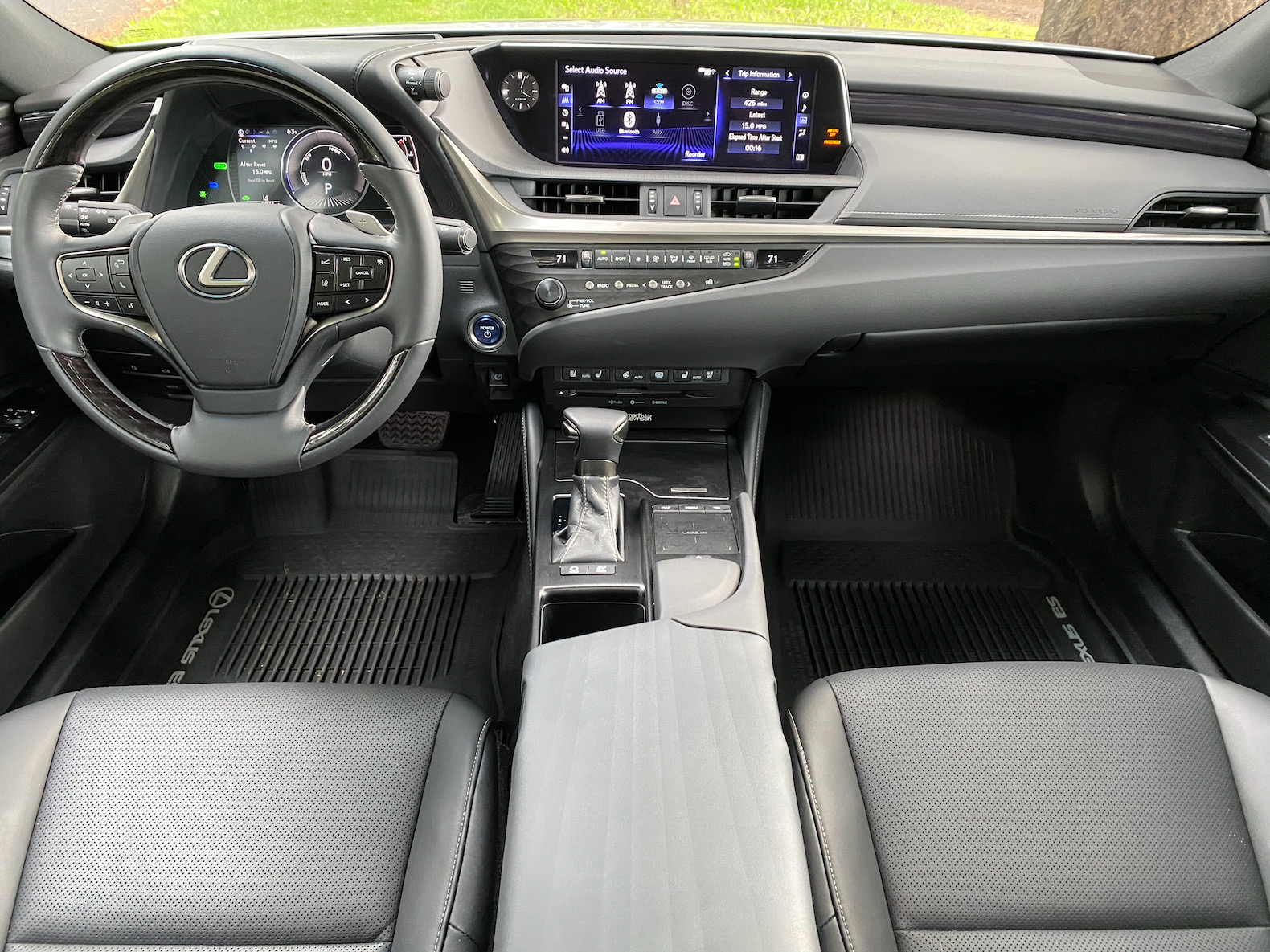 A spacious, well-wrought interior makes the 2020 Lexus ES feel worth its weight, and its price. The 2020 Lexus ES is a big car at nearly 196 inches long, and it's a nice place to spend some time. We give it extra points for its comfy front and rear seats, its luxurious trim, and its cargo space. Front-seat riders have excellent seats at their disposal, wrapped in either synthetic or real leather, and with the option of heating and cooling. The ES offers an impressive 39 inches of rear-seat leg room, which should be enough for tall passengers to fill up the entire cabin. Additionally, both large- and small-item storage is above average in the cabin. Trunk space is just shy of 17 cubic feet, accessed through a wide opening. Hybrids have the same trunk room as non-hybrids, still a relative rarity since batteries can take up lots of space.

Interior trim is luxurious, and looks at the forefront of its competition. Wood and aluminum trim, soft leather, and convincing synthetics elevate the ambience. Lexus offers a number of interior hues, so spend some time picking your favorite before buying one. A modern interior design puts the standard 8.0-inch or optional 12.3-inch display up high with climate controls clustered below, and standard Apple CarPlay compatibility. Regardless the optional Mark Levinson audio system is worth every penny when cranked up.
You'll spend nearly $41,00 to buy the least expensive 2020 Lexus ES, but at least it feels worth the money. For that money you get great standard and optional equipment and the automaker's sterling warranty and dealer experience. Base ES 350s include synthetic leather on the seats, power adjustment up front, a power moonroof, an 8.0-inch screen, Apple CarPlay compatibility, a trio of USB ports, and streaming Bluetooth. Add in the collision-avoidance tech and we're impressed with its standard features.

Hybrids cost about $1,800 more and come with about the same equipment, though they don't offer the F Sport package. For about $4,500 on top of the ES 350, it adds adaptive dampers, 19-inch wheels, and a host of styling changes. We think the $42,785 ES 300h hybrid is the best bet, with features like those in the base ES 300 and the super fuel-economy advantage of its hybrid system. Options are grouped into packages and some are available as stand-alone items. Those worth noting include a 12.3-inch screen that includes navigation, a heated steering wheel, adaptive headlights, and Mark Levinson audio. An ES with that gear would be our choice, though upsized wheels and a panoramic roof are also available. Every Lexus comes with a 4-year/50,000-mile warranty—which extends to 6 years and 72,000 miles for the powertrain.
The 2020 Lexus ES is the most impressive ES to date. With the 2020 ES, Lexus builds upon a long legacy of leadership by embracing it's core values and bestowing stunning styling, refined driving dynamics that won't disappoint, and cutting-edge technology. The 2020 Lexus ES is the best ES ever, there's nothing it doesn't do well, and with the Hybrid gets fabulous fuel economy.
For all your new car shopping needs, check out: drivevise.com Vehicle shopping made simple!