The 2020 Jeep Wrangler is an American icon and off-road wonder. For 2020, the Wrangler gets multiple powertrain updates thanks to mild-hybrid and stop/start technology. Even the 3.0-liter turbodiesel V-6 available in other Jeeps and Rams was featured on our test vehicle. Willys and Freedom Editions return with throwback and military-themed styling cues, and LED headlights are now available on the base Sport model. The 2020 Wrangler is one of the most recognizable vehicles on the road, and though it's been recently redesigned, there's no mistaking it for anything else. The interior has seen the biggest design evolution, and that's a welcome change over the bargain basement cabin from the previous model. Fit and finish is improved, sound deadening increased, and the dash is lowered for a more pleasant experience all around.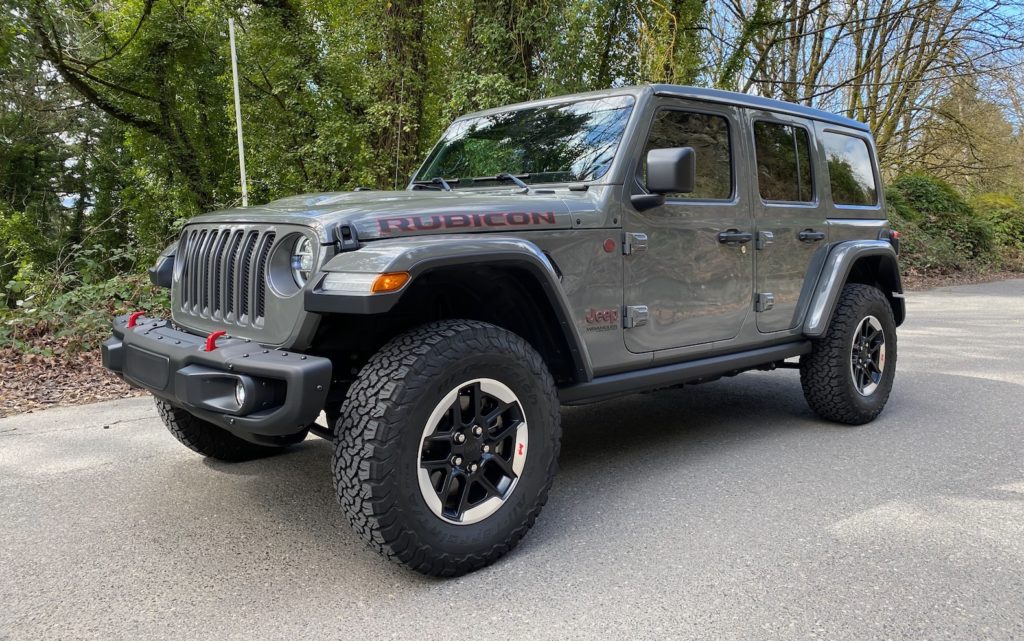 A 3.6-liter V-6 comes standard, as does a 6-speed manual transmission and four-wheel drive. Off-road enthusiasts will likely choose this tried-and-true combination, but a great 8-speed automatic is also available for those who don't want to row their own. A 2.0-liter turbo-4 is also available for those looking for improved efficiency, and the new 3.0-liter turbodiesel V-6 has great torque and fuel economy. All engines get an automatic stop/start system, while Sahara models add a mild-hybrid powertrain on the two gas engines; the "eTorque" system uses batteries to help with low-speed acceleration and smoother stop/start operation.
From bare-bones toy to fully-fledged family SUV, the Jeep Wrangler is available in a variety of trim levels with many options, though the base Sport is as spartan as SUVs come. Two-door models are still available in Sport, Sport S, and Rubicon form, but most buyers choose the four-door Wrangler Unlimited. The Rubicon is the most capable Wrangler model yet again with beefier suspension components, bigger tires, locking differentials and disconnecting sway bars, a part-time transfer case, and taller fender flares for even larger tires.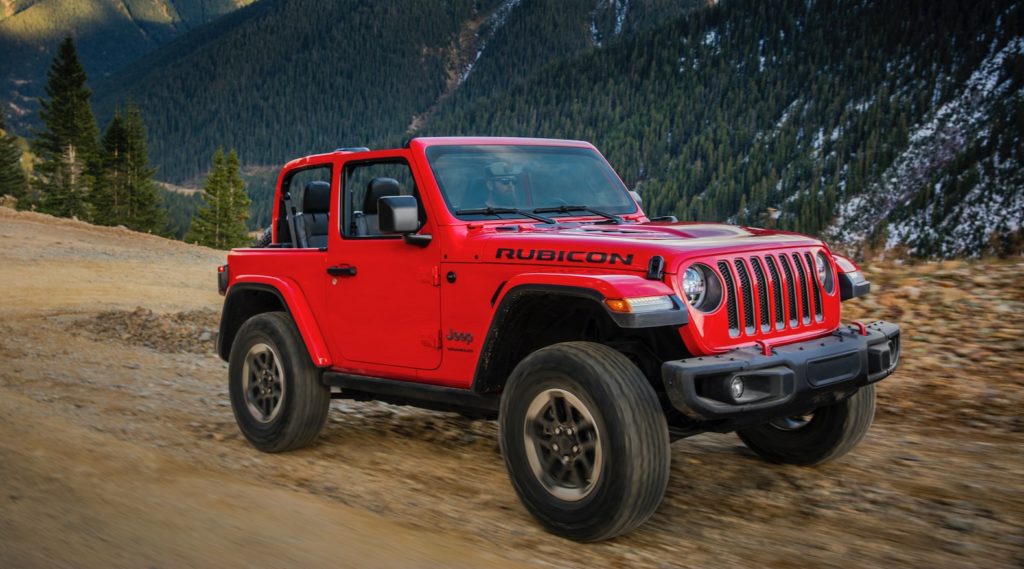 The 2020 Jeep Wrangler occupies a special place in American lore, and a lot of that has to do with its styling homage to wartime Jeeps. One could call the Wrangler retro, but only because the general design hasn't changed much in decades. That's a good thing in our eyes, as the Wrangler is sharper and more cohesive than ever from the outside. You still get an iconic Jeep standard 7-slot grill up front, fairly tall straight sides now with fender vents and integrated turn signals in the front fenders, squared off rear end with a tailgate mounted spare tire, and available LED headlights and taillights.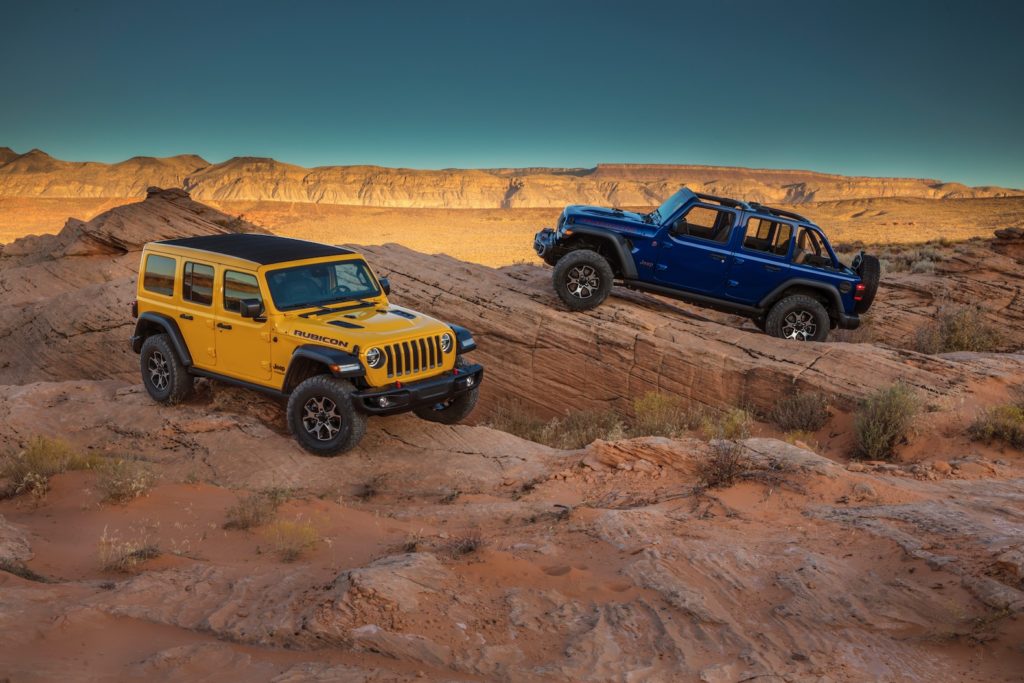 The 2020 Jeep Wrangler remains a seriously capable off-roader and now drives even better on the road. It's off-road prowess was never in doubt, but its on-road manners have improved significantly, especially with the addition of a long-awaited diesel engine this year. Most Wranglers will roll off the line with the tried-and-true 3.6-liter V-6 and 8-speed automatic transmission as well as standard four-wheel drive, though a 6-speed manual is the standard transmission option and the default for many off-road enthusiasts. This powertrain offers 285 horsepower, which is enough to putter around town easily, but lacks some low-end torque that's preferable off-road.
An optional 2.0-liter turbo-4 is available and improves low-end power but loses 15 horsepower compared to the V-6 and comes exclusively with the automatic transmission. Also for 2020, the mild-hybrid eTorque system that improves the standard stop/start functionality and power delivery at low speeds is available as an option for the gas V-6 and turbo-4 on Sahara models only. This year, a killer 3.0-liter turbodiesel V-6 is newly available, and it's a welcome addition for those who take their Wranglers off the beaten path regularly. We found the diesel in our test vehicle to be a perfect powertrain for the Wrangler, smooth and efficient around town with stump pulling torque for conquering the wild outdoors.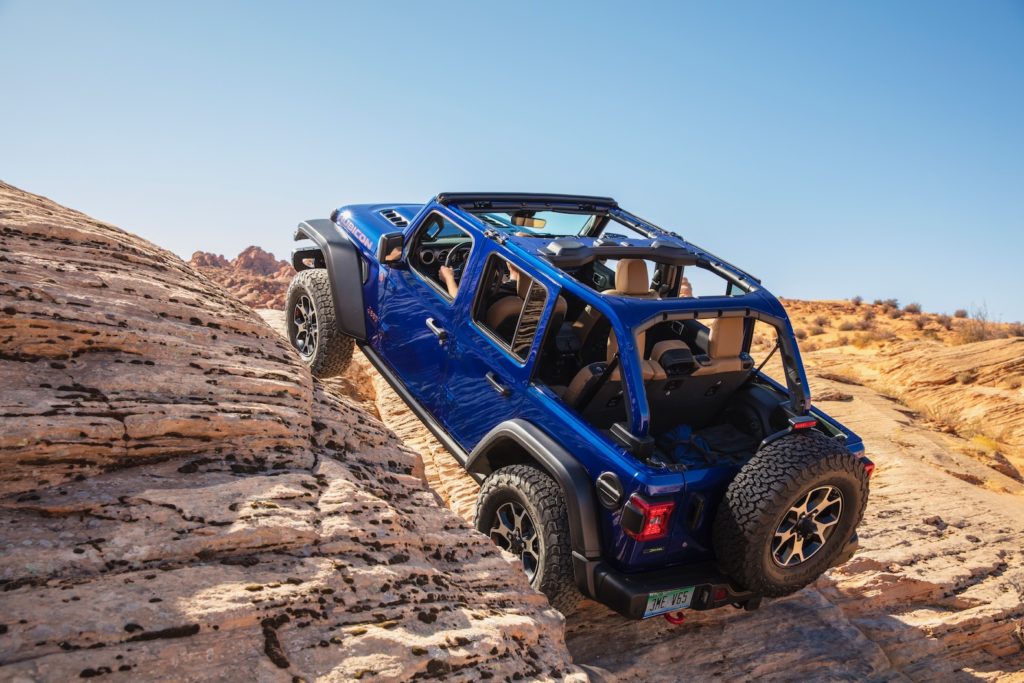 Base models are plenty capable off-road with solid axles and a ladder frame, but the Rubicon model offers the most capability with its 33-inch tires, beefed-up suspension, locking differentials, and disconnecting sway bars. The Rubicon also comes in 2-door form, giving it a shorter wheelbase that makes it superior off-road to the 4-door. Crucially, the new Wrangler is more comfortable on pavement than the outgoing model, with improvements to the suspension, sound deadening, and steering that take it from downright unpleasant at high speeds to fairly livable.
The 2020 Jeep Wrangler gets the benefit of a new diesel engine, but manages average fuel economy otherwise. The new turbodiesel Wrangler unsurprisingly provides the best fuel economy of the bunch. With standard the automatic transmission, the super smooth diesel manages 22 mpg city, 29 highway, 25 combined and is only available on the 4-door. Gas V6 2-door models with a manual transmission get 17 mpg city, 25 highway, 20 combined, while the 4-door model with the same powertrain drops to 17/23/19 mpg. Choosing the automatic transmission actually comes with a penalty, dropping 2-door fuel economy to 18/23/20 mpg while the 4-door gets 18/22/20 mpg. Turbo-4 Wranglers improve overall mileage slightly to 22/24/23 mpg for 2-door models and 21/22/21 mpg for 4-door models. Both come only with the automatic transmission. The e-Torque system, available only on 4-doors with the automatic, ups city fuel economy on the V6 by one to 19mpg but remains unchanged with the Turbo-4.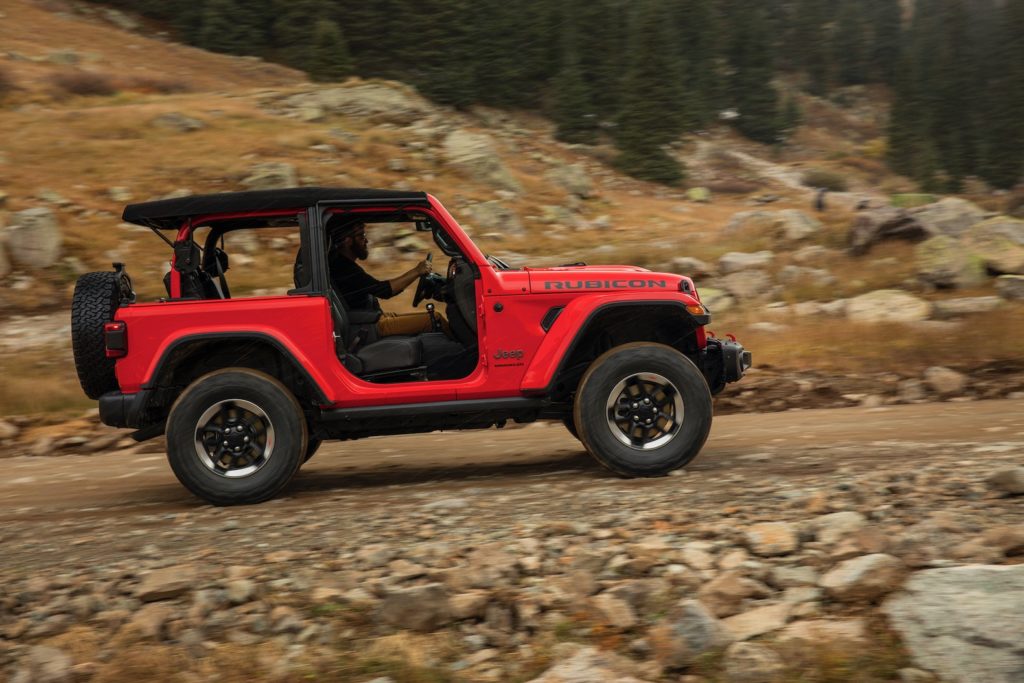 The 2020 Jeep Wrangler has yet to be fully crash-tested. The NHTSA gives the four-door model four stars for frontal crash tests and three stars for rollover protection. The IIHS is in the process of testing the latest Wrangler. The prior JK Wrangler had decent ratings so we expect the new JL to be even better once tested. The Wrangler does offer active safety technologies on nearly every trim, however, including optional automatic emergency braking, adaptive cruise control, and blind-spot monitors.
The 2020 Jeep Wrangler is improved in terms of comfort and quality but it's still no luxury SUV. Inside, the Wrangler has improved dramatically from a style and quality standpoint over the previous generation, featuring a lower dash with a handsome center console design, and neat trim touches on higher-spec models. The dash is low, wide, and straight for better outward visibility, and both material quality and sound deadening are improved on the new generation. A 5.0-inch screen is standard, but opt for the 7.0- or 8.4-inch instead for better tech and looks.
The front seats are supportive enough and include standard adjustable lumbar support. Finished in cloth or optional leather, they're not as cushy as other Jeep seats, but they do the trick.Despite its utilitarian character, the Wrangler doesn't have a lot of interior storage. The four-door model is more accessible for rear passengers although it isn't a place we'd want to spend longer than a short journey in the two-door version. We suspect that's why the four-door model has easily eclipsed its shorter counterpart in terms of sales.
Cargo room is decent at 32 cubic feet behind the rear seats in either model, with infinite vertical storage capability if you pop off the roof. With the second row down, that number jumps to 72.4 cubic feet on the four-door Unlimited model. Those somehow needing more would be wise to consider the new Gladiator, a Wrangler with a pickup truck bed.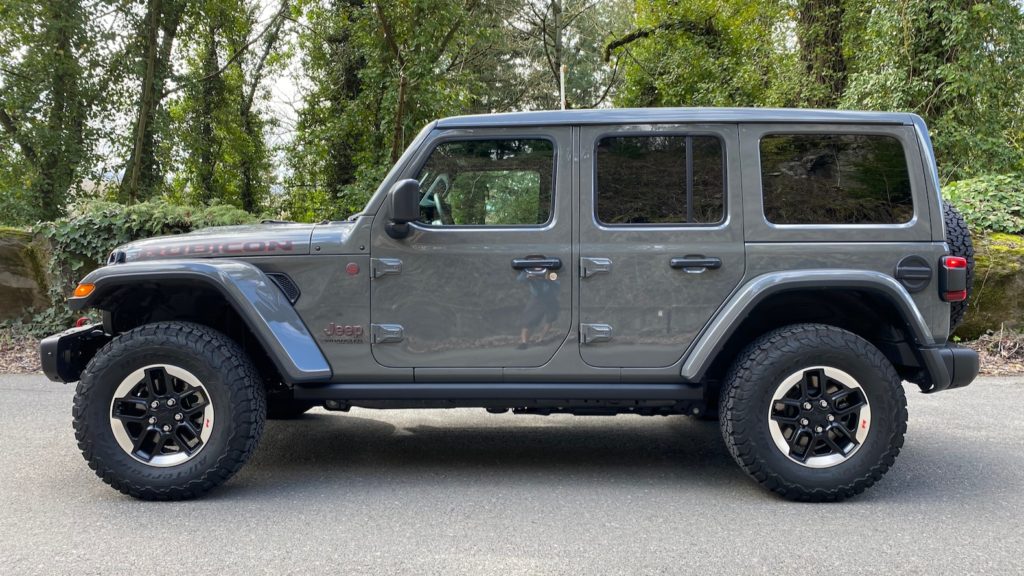 The 2020 Jeep Wrangler comes in a variety of flavors and capability, ripe with features that are both kitschy and useful, but its best feature is its ruggedness. When it comes to the Wrangler lineup, there's literally something for everyone including the impressive Sky Power Top, a power canvas roof that opens up the entire roof. Within the Wrangler lineup, three distinctly different SUVs exist: base Sport and Sport S models represent a bare-bones, throwback SUV experience; posh Sahara models are as close to a luxury off-roader you can find for the price; and the Rubicon is for hardcore rock crawlers and adventure seekers only.
The Sport model is truly as basic as a new vehicle gets, with hand crank windows, no air conditioning, and cheap cloth seats, but USB charging ports and keyless ignition are standard. Stepping up to the Sport S adds what equipment the Sport should have included, like alloy wheels and power windows, but its 5.0-inch infotainment display is too small for modern needs, so spend a bit extra to get the 7.0-inch unit with Apple CarPlay and Android Auto. Sahara models are the luxury-oriented option and available in four-door only, featuring nicer cloth seats and interior trim, the mid-tier infotainment system, a 115-volt power outlet in the center console, two rear USB ports, and more. An 8.4-inch infotainment screen is available which is faster and smoother, but the 7.0-inch unit is plenty for most users.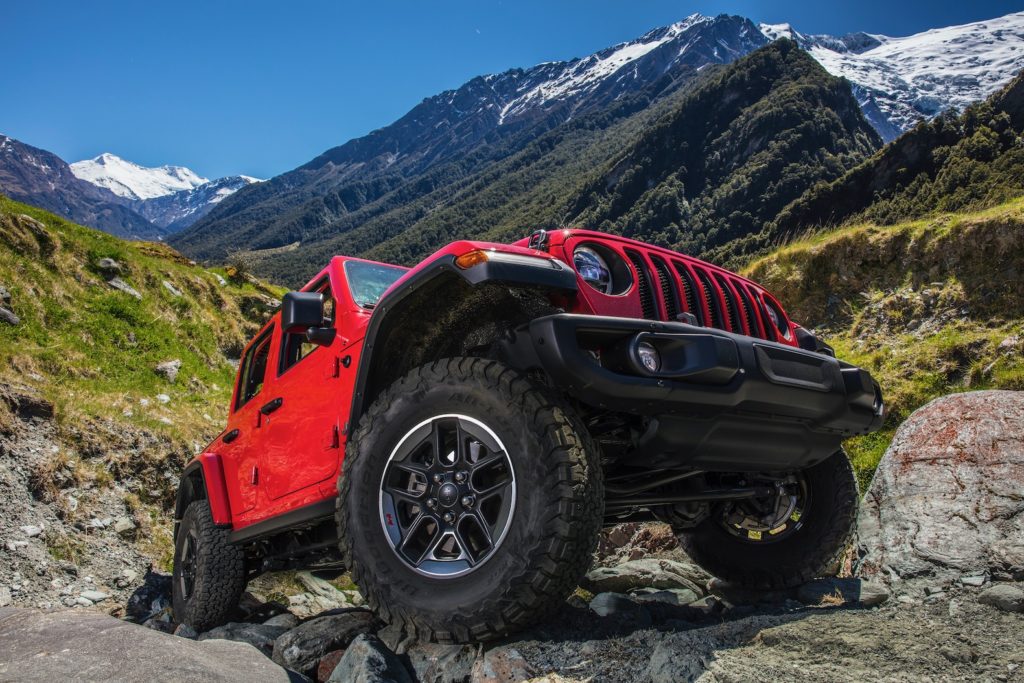 Rubicon models are for off-road enthusiasts only, and feature plenty of standard features to go along with the upgraded suspension and powertrain components such as locking differentials, a power winch, and disconnecting sway bars. At over $40,000 and well into the $50,000 range with options, it's worth considering if you really need all that extra capability. For 2020, the Willys and Freedom Edition models return with special graphics and options packages that celebrate American troops, both those from today and 1944.
The 2020 Jeep Wrangler is incredibly impressive and capable, not only in its ability to climb boulders but in the fact that's taken those strengths and refined them over the years to the point where the Wrangler is also great around town. If it we're our money, we'd go for a mid-grade 4-door model and include the amazing Diesel and panoramic Sky Power Top options. With that build, you end up with a powerful Wrangler that can convert to a convertible on the fly, go off-road on a whim, and still manage to get almost 30mpg on the highway. The 2020 Wrangler is a winner.
For all your new car shopping needs, check out: drivevise.com Vehicle shopping made simple!