The 2020 Hyundai Palisade is an impressive new comer in burgeoning three-row crossover segment. Forget the cramped wagons and box vans with church-pew seats plowing from one family vacation to the next. Family vehicles today like the 2020 Hyundai Palisade crossovers are plush rides with space for up to eight and nearly as many USB ports and cupholders for nonstop distraction. With the Palisade, Hyundai has its biggest vehicle to date and perhaps its most comfortable.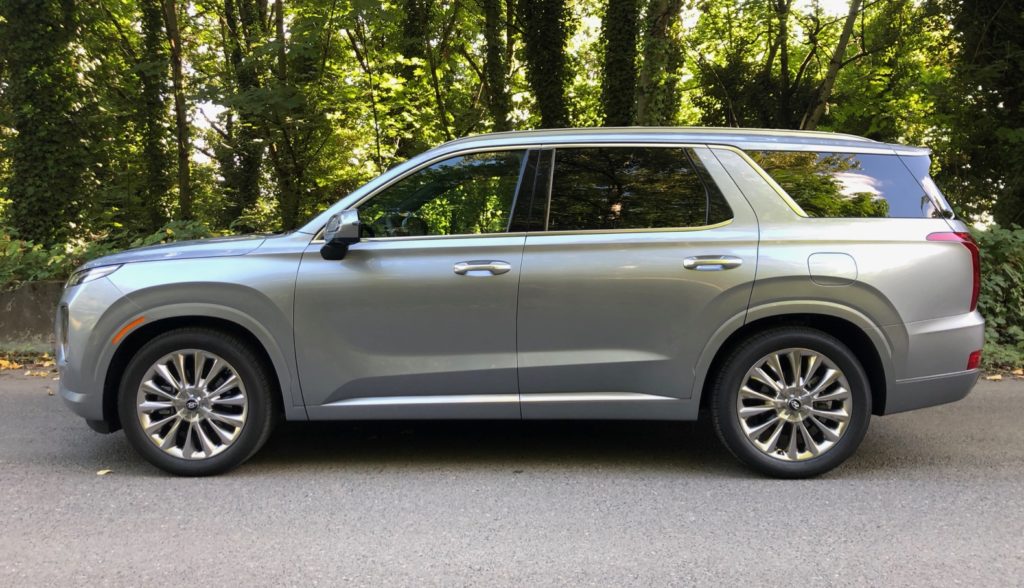 The Palisade is big outside and big inside, too. All three rows can accommodate full-size adults, although the first two are better suited for the task. Base models carry up to eight, although SEL versions can sub in captain's chairs for free—Limited versions only roll with seven. The Palisade punches up in material quality on all versions, but top trims do reasonable luxury impressions.
The 2020 Palisade is the top of the food chain for Hyundai's set of crossovers and SUVs. With the Palisade, Hyundai begins a new design era, migrating away from the blandness of their previous crossovers. Up front, the Palisade's unique face has a reptilian quality—and we don't mean our deep-seated collective unconscious. The vertical, bracketed LED daytime headlights that push away from the grille are distinctive (perhaps divisive, too), and Hyundai designers call them the car's "crocodile eyes."
The Palisade's grille is imposing and upright, a honeycomb pattern framed by a silver-painted material that's more durable than it sounds, engineers even developed a "liquid silver" paint process that imparts the finish with a matte, durable look that's supposedly resistant to chipping. Split headlights, top to bottom, push the Palisade's signature toward the corners. In the dark, it reads even wider than the crossover's 77.8-inch width would indicate.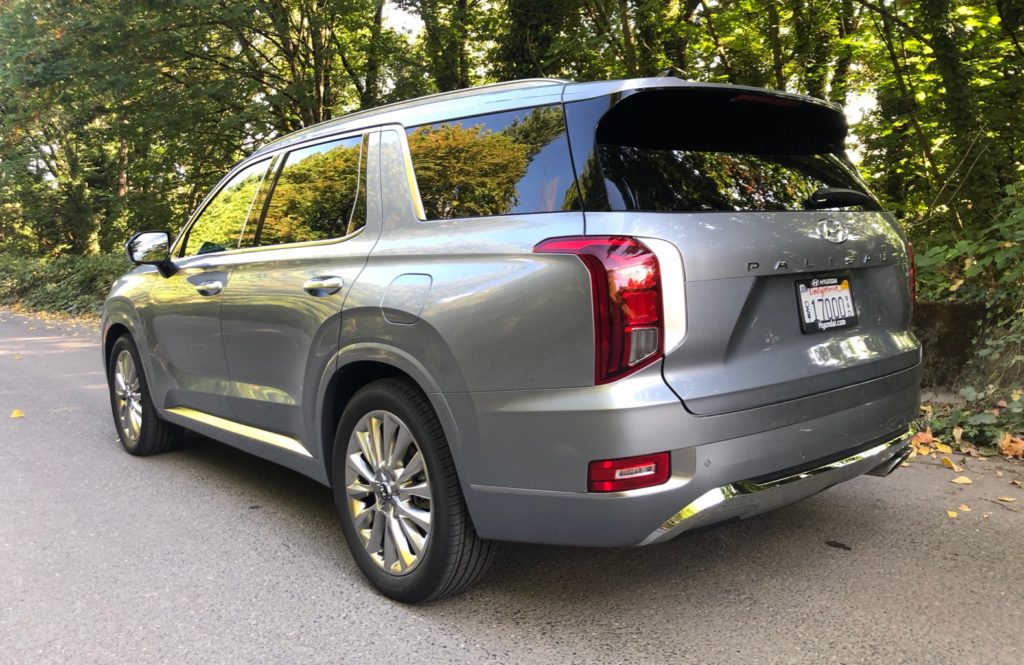 Along the body sides, chrome trim skips the norm; instead of outlining the windows, the chrome trim dips sharply toward the rear wheel. Along with black near the edges of the rear passenger doors, the chrome's contribution is a visual trick meant to make the roof pillar look bigger and stronger. Hyundai's designers: The Palisade is tough. Around back, the same vertical elements from the front frame the rear taillights. A large, block "Palisade" badge spans the wide liftgate above a short rear bumper and exposed exhaust. It's one of the most expressive designs from Hyundai to date, and that says a lot. The Hyundai is softer, with more elegant touches, evidenced by its satin finished grille and chrome kickup on the body sides.

Soft enough to be a bona fide sleep machine, the 2020 Palisade is just right for a family vehicle. Not every family vehicle needs to be a sports car and vice versa. The Palisade is exclusively powered by a 3.8-liter V-6 and 8-speed automatic that drives the front or all four wheels, depending on your needs and depth of pockets. The trusty 291-hp V-6 shuttles the Palisade around town and at highway speeds confidently and has surprising mid-range punch for passes between 60 and 80 mph once the transmission kicks down a gear or two.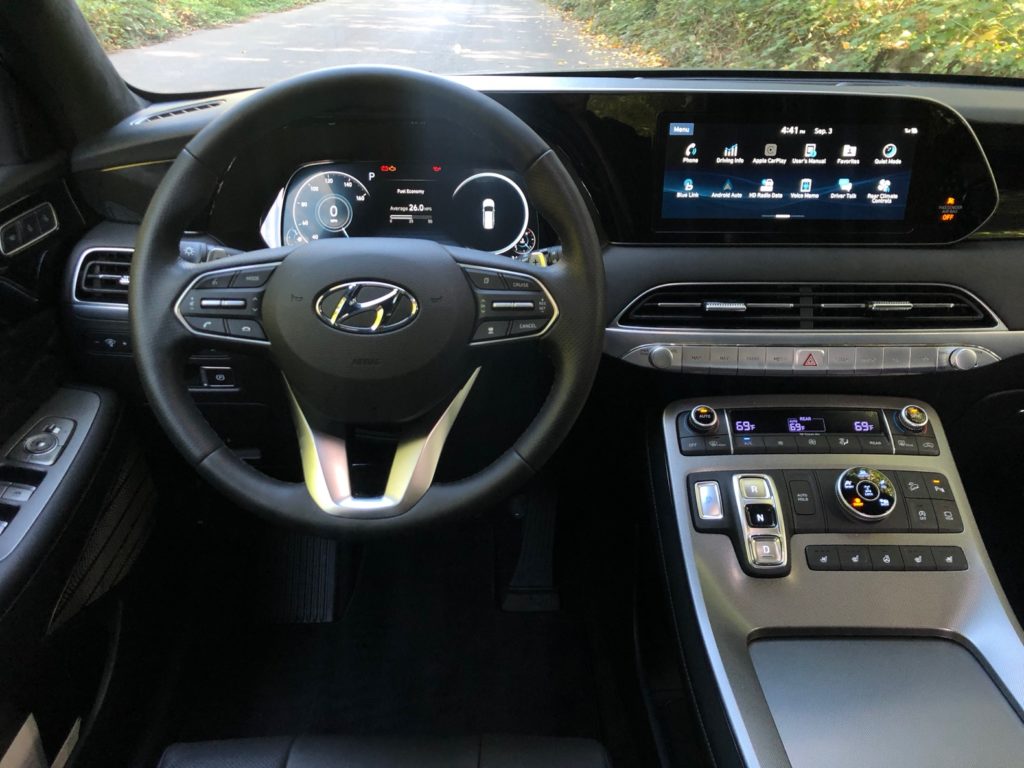 That transmission is an 8-speed automatic that's more than up to the challenge. In the Palisade's multiple drive modes (Comfort, Eco, Sport, Snow, and Smart) the transmission behaves appropriately and steering wheel-mounted paddle shifters riffle through gears for climbs or descents. When equipped with all-wheel drive, which is a $1,700 option, the Palisade is surefooted, although its long and wide dimensions aren't necessarily off-road friendly. An AWD Lock mode can force torque to the rear wheels, up to 40 mph. The AWD system splits torque front to back, up to 50 percent toward the rear, and helps the Palisade scramble up dusty roads or snowy driveways.
The 2020 Palisade's secret sauce is its cushy ride. Although it shares many components with the Kia Telluride, the Palisade's dampers and wheels aren't among them. The Palisade's ride is more pillowy—with plenty of lean around corners—and insulated. Standard 18-inch tires are soft, although the Limited version (optional on SEL) gets 20-inchers that are just as forgiving. The Palisade is rated to tow up to 5,000 pounds, which is enough for a small trailer or boat. A standard load-leveling rear suspension helps the Hyundai drag more confidently, with less squat.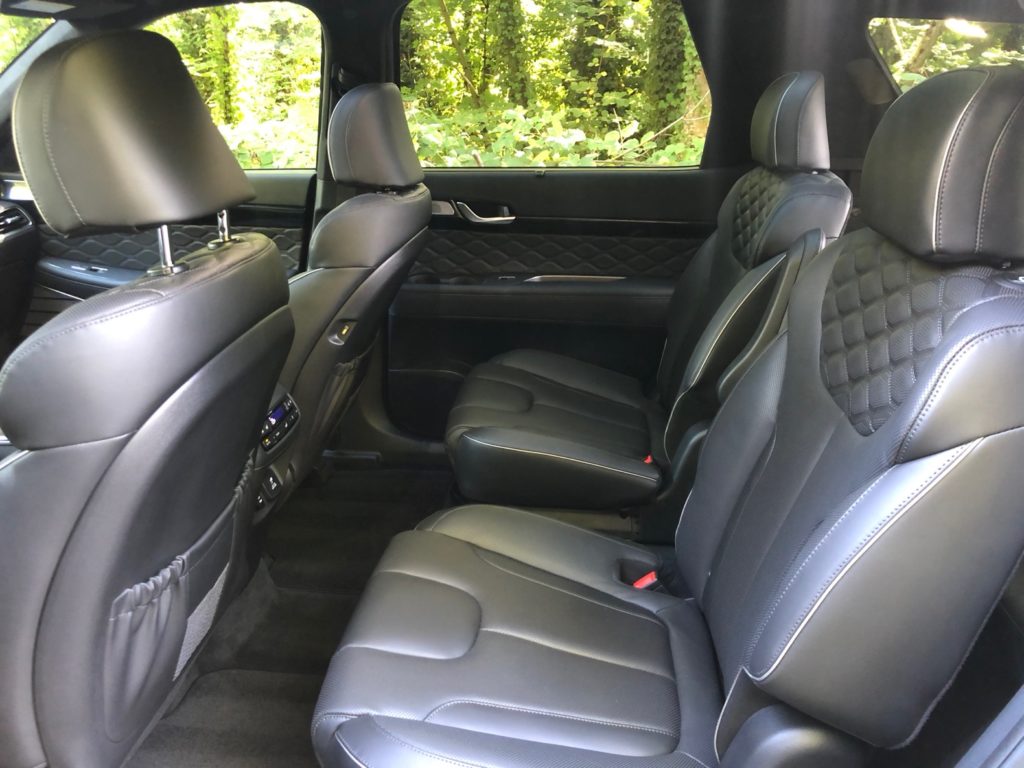 The 2020 Palisade can't outrun math. The big three-row family crossover weighs more than two tons and its standard V-6 engine is tasked with carrying all of it without help from hybrid batteries.The EPA rates front-wheel drive models at 19 mpg city, 26 highway, 22 combined. Opting for all-wheel drive, which costs $1,700 more than a front-drive version, drops those figures to 19/24/21 mpg. Compared to its rivals, the Palisade threads into the mid-pack. The Honda Pilot rates 23 mpg combined in its most efficient configuration with front-wheel drive, according to the EPA. With standard all-wheel drive, the Subaru Ascent rates 23 mpg combined with a smaller turbo-4. Hybrid versions of the Toyota Highlander and Ford Explorer likely will top both but will be more expensive than the Palisade. In our week with a AWD Limited we average 23 mpg in mixed driving.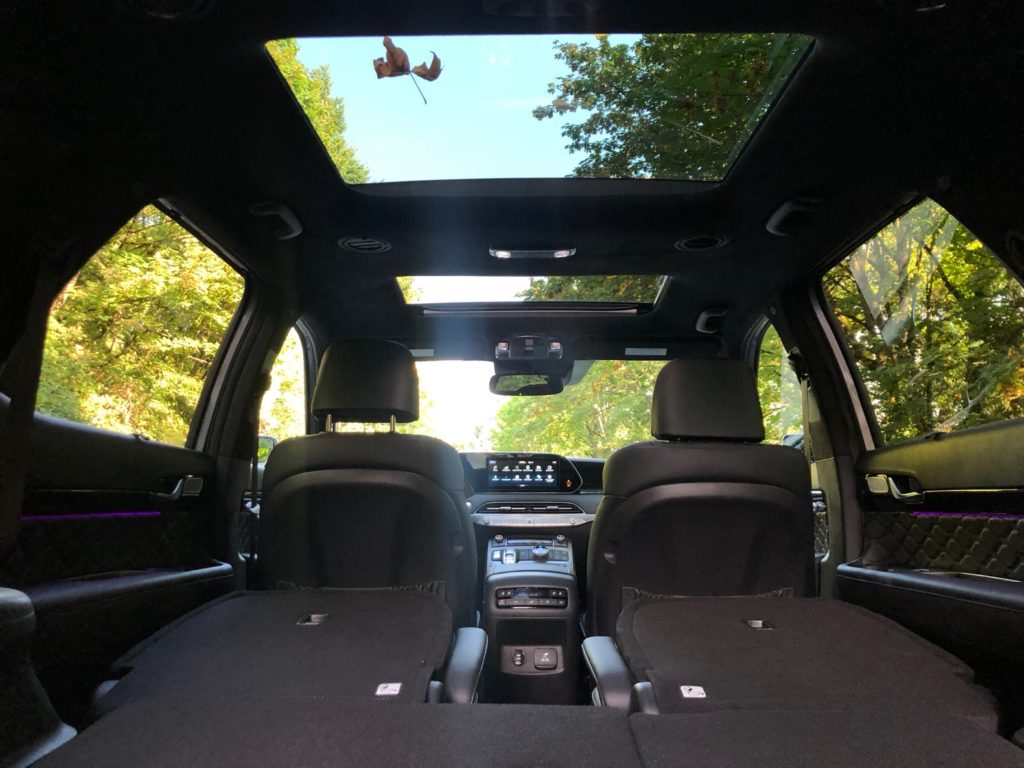 The IIHS crash-test experts have already ruined a 2020 Hyundai Palisade and the Palisade came out with flying colors, even winning the Top Safety Pick+ Award. Even beyond the coveted award, the Palisade is stuffed with safety tech that should be reassuring to family buyers. All Palisades are equipped with automatic emergency braking, rear parking sensors, and active lane control. The latter is equipped on many competitors, although it's hardly common among most new cars.
Higher-end trim levels add blind-spot monitors, a surround-view camera system, head-up display, front parking sensors, and trick blind-spot cameras that display video in the instrument cluster. Hyundai offers an automatic speed limiter on top trims that can adjust the Palisade's speed based on GPS speed-limit information, provided the driver is traveling on an interstate and sets the cruise control for the posted speed limit.

The interior of the Palisade is equally as elegant as the exterior. Using a still rare shift-by-wire transmission, it afforded the Palisade designers more room in the center armrest for storage and design. Four buttons for P, R, N, and D tuck nicely near the driver underneath climate control knobs and alongside a rotary terrain selector. The Palisade's dashboard and trim layout are horizontal and largely linear. The driver's instruments, with an optional a 12.3-inch digital display, flow neatly to the large 8.0-inch touchscreen for infotainment, also with an optional 10.3-inch screen. Both touchscreens offer seamless Apple CarPlay and Android Auto compatibility that spans the entire screens and connects to the car's wired USB port.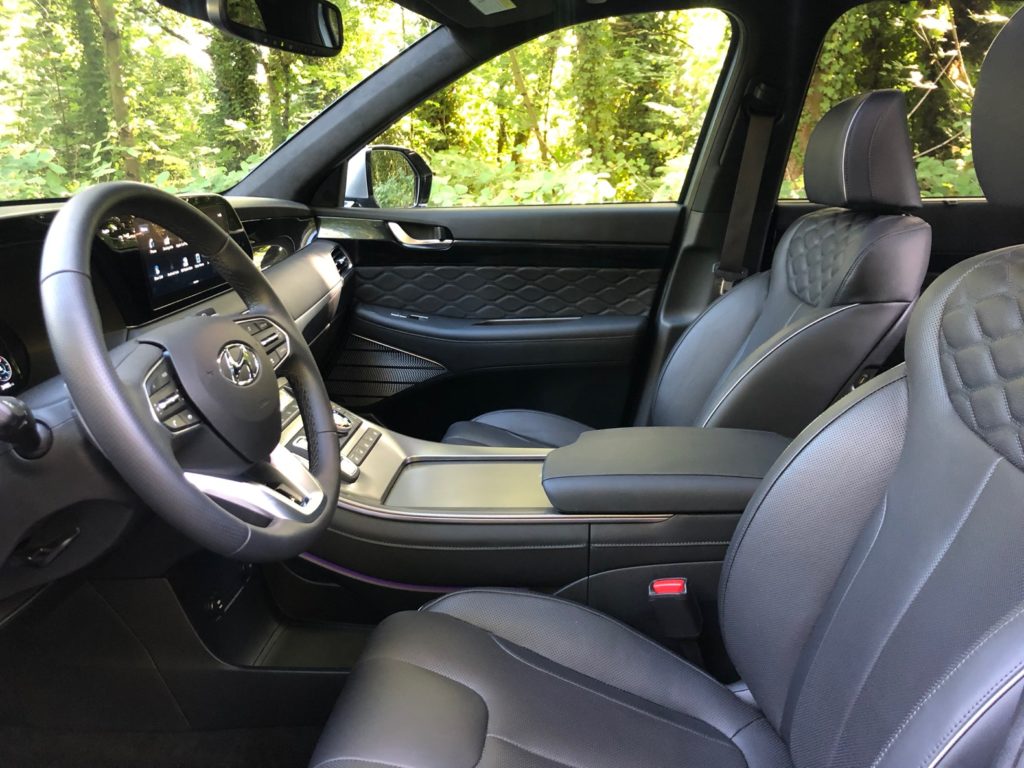 Hyundai's native infotainment system is richer, with more common-sense software for families than either smartphone-based systems, but requires some learning. We've extensively used the 10.3-inch touchscreen with navigation and it's responsive. Swiping through the menus and icons is quick, but changing vehicle settings can be confusing at first, buried a few menus down to find what you need. Hyundai offers three years of its smartphone service on Limited (optional on SEL) versions that can start the car, condition the cabin, send directions to the navigation, among other tasks.
A "quiet mode" that silences rear-seat speakers for sleeping passengers is standard on all models and was effective in our tests. Top trims get a voice-projection system that uses the Bluetooth microphone in the front seats to project the front-seat riders' voices through speakers to yelling children in the rear. Both features work well in practice being intuitive and impressive.

Kids today have it easy; the 2020 Hyundai Palisade is a wildly comfortable family hauler. Hyundai's biggest crossover to date is comfortable for friends, families, frenemies, and everyone else you may want to tote around. It's spacious in all three rows with room for cargo, too. By the numbers, it measures 196.1 inches from bumper to bumper, with 114.2 inches between the wheel hubs, and 77.8 inches from side to side. Only the Ford Explorer is measurably bigger in its class. With all three rows of seats in place, the Palisade holds 18 cubic feet of cargo. With the second row folded, that grows to 45.8 cubes with up to 86.4 cubic feet available behind the first row.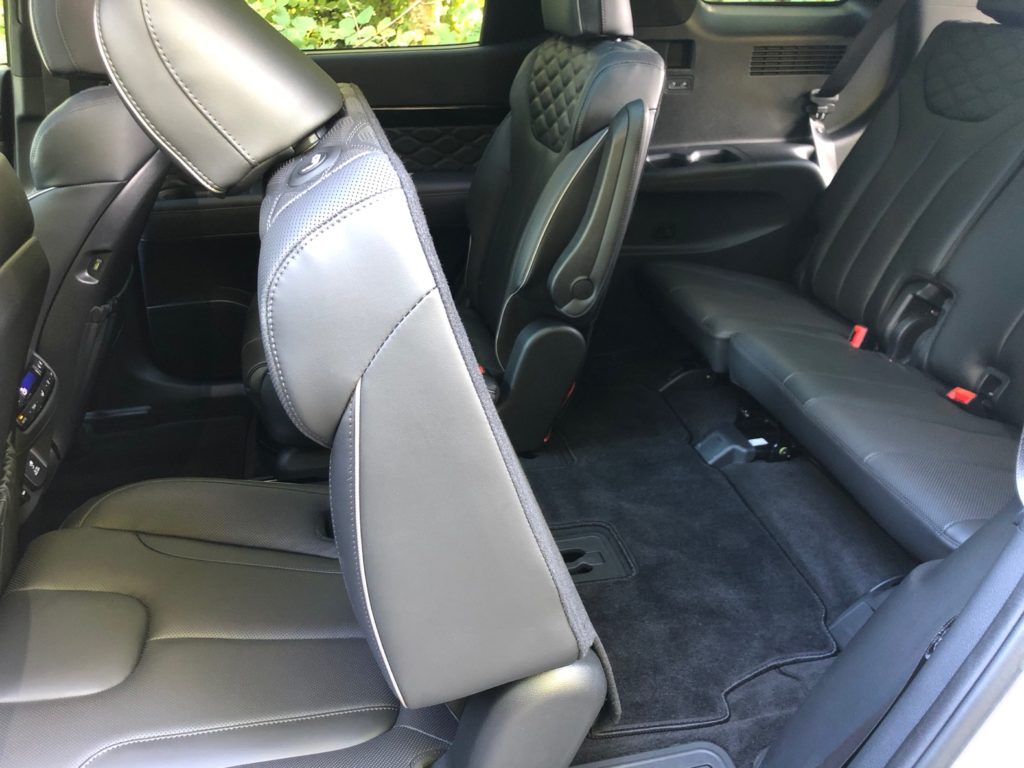 Although the front-seat riders get the most comfortable chairs, we wouldn't begrudge riding in the back. The second-row seats slide fore and aft for more leg room in the second or third rows, maxed out the second row gets more than 40 inches of leg room. All Palisades, regardless of trim level, get a one-touch power sliding second row that makes entry into the third row easier—even more so with the molded grab handles. Once aboard, third-row riders get relatively generous space for their legs, so much so that a 6-foot-3 editor could sit behind someone of equal size in the second row, behind someone of equal size in the first row, no less. The third-row seating position is knees-up more than the first two rows, but there's just enough head room to fit most. Three across the third row is generous and works great even for big kids.

Hyundai charges about $32,500 for a base SE with front-wheel drive and includes 18-inch wheels, automatic emergency braking, active lane control, seats for eight, cloth upholstery, and an 8.0-inch touchscreen for infotainment. Adding all-wheel drive adds $1,700 to the bottom line of any Palisade. We say there's better value in the SEL trim level that adds blind-spot monitors, keyless ignition, and captain's chairs for a no-cost option for less than $35,000. Options packages on the SEL go further with bigger, 20-inch wheels, a wireless phone charger, parking sensors, a load-leveling rear suspension, power rear liftgate, and second-row USB power ports for $2,200. More options for Palisade can add leather upholstery, power folding second and third rows, a 10.3-inch touchscreen, and dual-panel sunroofs for more money.
At the top, the Palisade Limited costs nearly $46,000 and adds all of the above, including Harman Kardon audio, heated and cooled first- and second-row seats, seven USB ports for all three rows, nappa leather, a 12.3-inch digital instrument cluster, an automatic speed limiter for highways, a surround-view camera system, and a head-up display. Regardless of trim, all Palisades are covered by Hyundai's 5-year/60,000-mile comprehensive warranty, which is generous among competitors, and a 10-year/100,000-mile powertrain warranty.
Even if the 2020 Hyundai Palisade's best feature is its available space, none of the big crossovers are poorly equipped. Hyundai offers the Palisade in multiple varieties with top models piling on impressive luxury features. All are equipped with at least an 8.0-inch touchscreen with Apple CarPlay and Android Auto compatibility, active safety features that we cover above, superlative warranty, and good features for its relatively low price. Add in refined driving dynamics and the 2020 Hyundai Palisade should be on top of every families shopping list.