The 2020 Honda CR-V hits right at the heart of many buyers' needs: comfortable, spacious, quiet, and efficient. Boring didn't kill the family sedan, compact crossovers like the 2020 Honda CR-V did. It's hard not to be impressed by the CR-V small SUV; it's comfortable, spacious, and in the case of the popular Honda, relatively fuel efficient too. The 2020 CR-V is updated this year and a new CR-V Hybrid joins the fray; we cover the Hybrid in a separate review. This year the CR-V is available in LX, EX, EX-L, and Touring trims. The base 2020 CR-V LX costs $26,145 while fully loaded versions run up the tab to more than $36,000. All-wheel drive is a $1,500 option on all trims. The CR-V Hybrid is offered in similar trim levels, and only with all-wheel drive. It costs $1,200 more than a similarly equipped CR-V, and it's more refined to drive.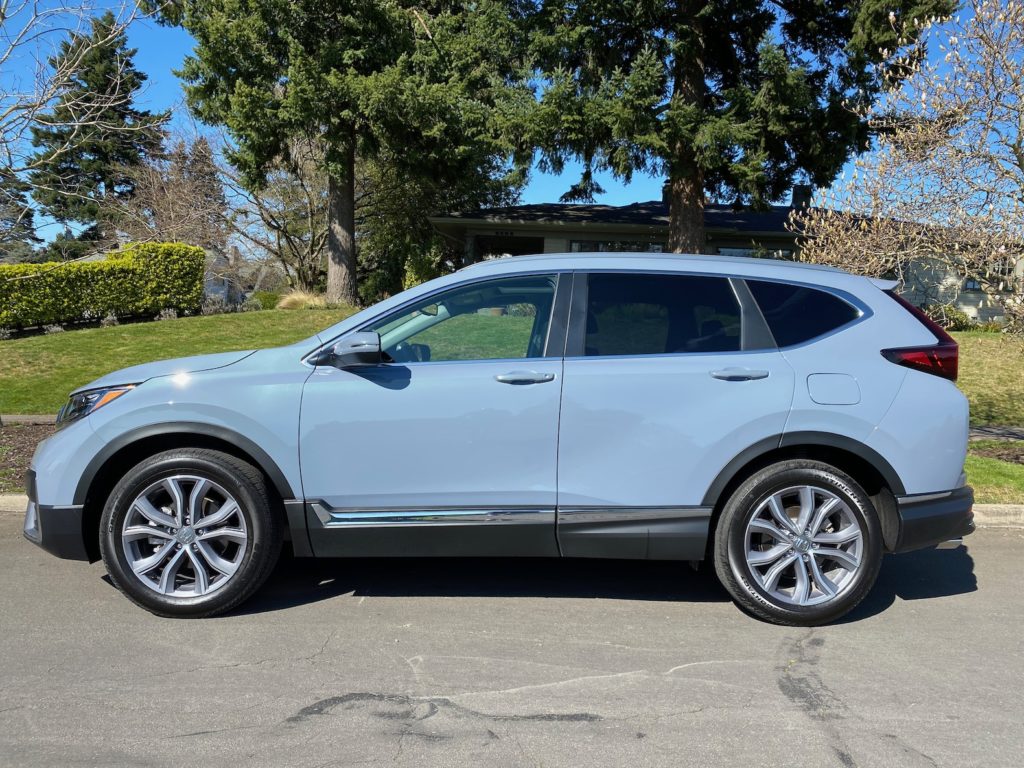 What the CR-V lacks in extroverted attitude it makes up for in practicality. The interior is spacious and comfortable for up to five adults, with more than 40 inches of rear seat leg room. Under the hood of the CR-V is a small turbo-4 that delivers up to 30 mpg combined, according to the EPA. Rather than outright power, the CR-V's best attribute is a composed ride that isn't made harsh by tall wheels in some trims. The CR-V Hybrid uses a 2.0-liter inline-4, hybrid batteries, and electric motors for propulsion. The EPA rates the combo at 38 mpg combined. In back with all the seats up, the CR-V carries nearly 40 cubic feet of cargo; with the seats down, it grows to more than 75 cubes with a low load floor and wide hatch; challenging some pickup trucks.

The IIHS called the CR-V a Top Safety Pick and federal testers had good things to say, too. All CR-Vs get life-saving active safety equipment including automatic emergency braking. Base CR-Vs make do with a 5.0-inch display for audio that's out of fashion already and one (1!) USB port. Our pick is the EX trim, with or without leather. It includes a 7.0-inch touchscreen for infotainment with Apple CarPlay and Android Auto compatibility, 18-inch wheels, blind-spot monitors, keyless ignition, power-adjustable driver's seat, heated front seats, uprated audio and faster USB charging ports—more than one.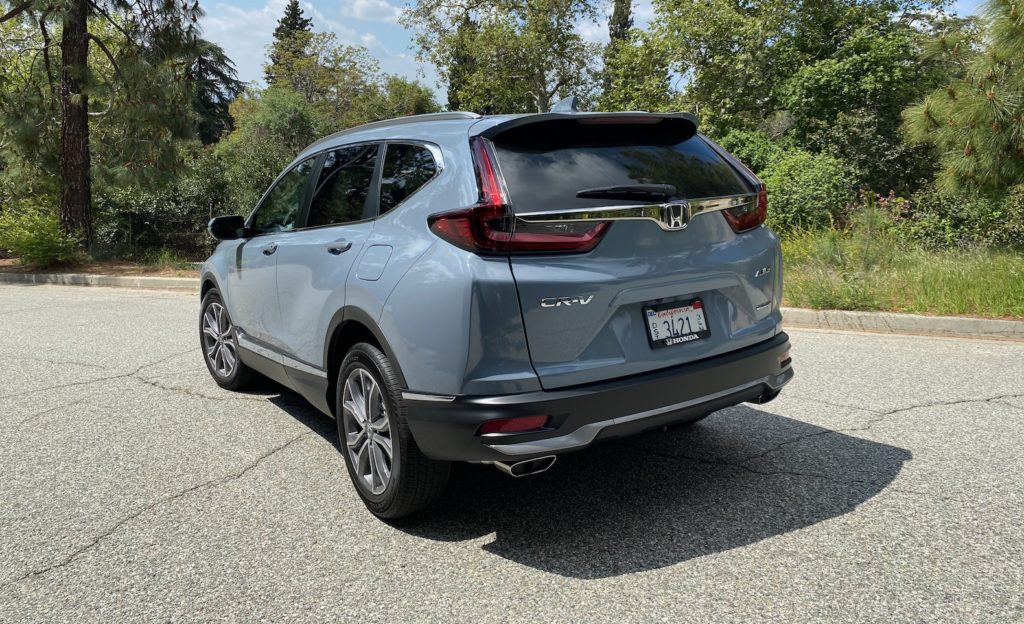 The restyled 2020 CR-V favors mass appeal over outward style, although the CR-V is still conservatively handsome. Not many people will notice this year's styling changes over last year's version. The lower front bumper was very lightly changed and the rear bumper changed even less. For better or worse, the CR-V's exterior represents a conservative, group-studied and non-offensive look. This year's CR-V goes lighter on the chrome in front. The lower front is cleaner and less adorned; same goes for the rear above the exhaust tips. From the side, the CR-V gives its best look but it's far more reserved compared to the Toyota RAV4 and even the Mazda CX-5. The Honda has a nice character line that swoops up and plays into a line on the rear hatch with good effect. Big 18-inch wheels in most trims fill up the available space in the wheel arches, and Touring trims add new 19s that look positively premium. 
The 2020 CR-V's powertrain options range from efficient to even more efficient. The base 1.5-liter turbo-4 has good power but its gift is fuel efficiency. A CR-V Hybrid is even more fuel-efficient and slightly more powerful. The gas-only powertrain is a 1.5-liter turbo-4 that makes 190 horsepower and 179 pound-feet of torque that shifts through a continuously variable automatic transmission (CVT) to power the front or all four wheels, when optionally equipped. The available power comes on quick, low in the rev range, which helps around-town jaunts. The CVT does its best to keep the CR-V efficient and it works well, most models manage about 30 mpg combined. The turbo-4 is rated to tow up to 1,500 pounds, when properly equipped.

The CR-V's 7.8 inches of ground clearance will suit nearly any all-weather situation, snow storms and torrential rains look out. We'd stop short of taking the CR-V to the boulder field, but the small Honda crossover is far more capable than many buyers will ever ask it to be. Light steering has a generously sized on-center spot, which helps the CR-V stay calmer in straight lines and especially at highway speeds. The CR-V's ride is a boon, too. Even on the 18- and 19-inch wheels, the CR-V absorbs rutted pavement well and the small crossover gives us confidence behind the wheel that we wouldn't necessarily find in other cars that cost less than $30,000. Honda's steering and suspension tuning couldn't be more on point for the CR-V.
The 2020 Honda CR-V offers two powertrains: an efficient gas one, and a very efficient hybrid. This year, the sole gas-powered engine is a 1.5-liter turbo-4 that is very frugal. In front-drive configuration, the CR-V is rated by the EPA at 28 mpg city, 34 highway, 30 combined. With all-wheel drive, the CR-V is rated at 27/33/29 mpg by the EPA, which is a small penalty for all-weather traction. The CR-V Hybrid, which is all-wheel drive only, is rated by the EPA at 40/35/38 mpg. Honda's hybrid powertrain is more efficient in the city than it is on the highway, which explains the flip-flopped figures. You can check out our separate review of the Hybrid. Compared to its rivals, the CR-V fares well for efficiency. The Toyota RAV4 is rated identically at 30 mpg combined in front-wheel drive, 29 mpg with all-wheel drive. The 2020 Ford Escape manages similar numbers to the two, and the Chevy Equinox isn't far behind with combined ratings of 27 mpg combined in most configurations.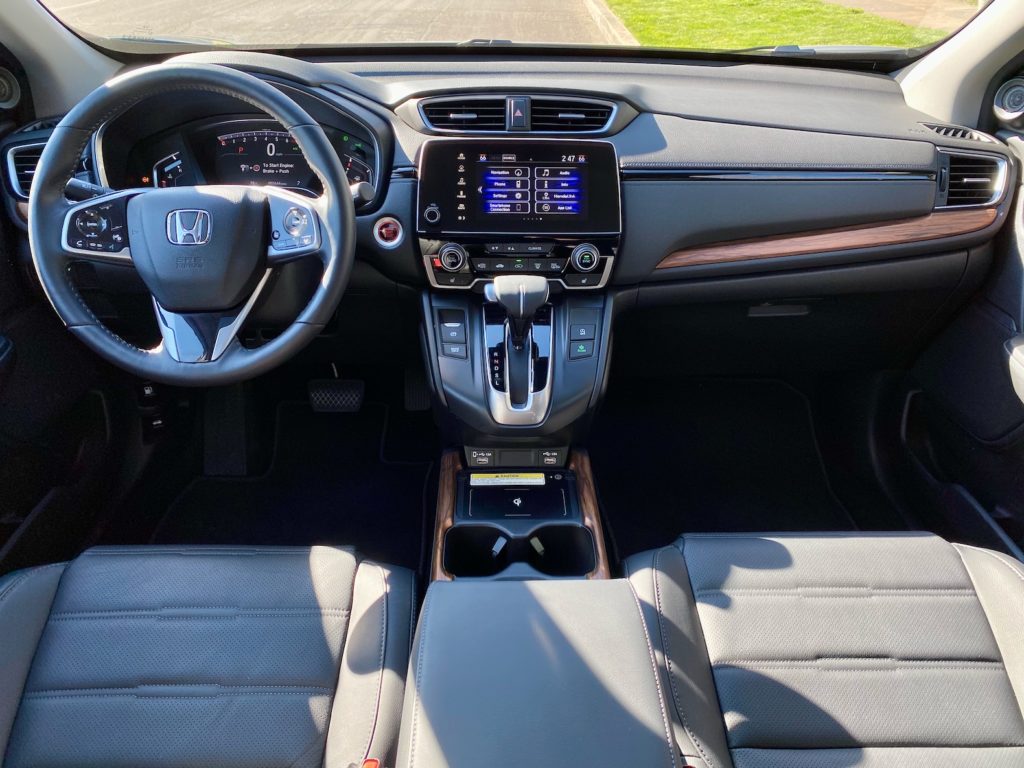 Great crash-test scores are complemented by exceptional outward vision in the 2020 Honda CR-V. The 2020 Honda CR-V pairs good crash-test scores with great standard active safety features. Federal testers gave the CR-V a five-star overall score, including five stars in front- and side-crash safety. The IIHS called the CR-V a Top Safety Pick thanks to top "Good" scores in all its crash tests, and a "Superior" score for its front-crash prevention. The TSP award applies to the LED reflectors standard on top Touring trim. In its newest test, the IIHS also rated the CR-V's ability to prevent a forward crash with a pedestrian as "Superior." The system is standard on all models for 2020. Blind-spot monitors are equipped on EX trims and higher. The CR-V's headlights only rank as "Acceptable" in Touring trims, or "Marginal" on all other trims. In addition to good scores and standard equipment, the CR-V's outward vision is exceptional. The low window line and narrow roof pillars make looking out of the Honda crossover easier than competitors such as the Toyota RAV4.
The 2020 CR-V excels in hauling people and cargo. Not many vehicles carry cargo and up to five adults as comfortably; those that do are usually much bigger. The CR-V gets points for its spacious front and rear seats, people-carrying abilities, and another for cargo space. The front seats are excellent and feature 12-way power adjustment in EX models and higher. The view from the front seats is relatively unfettered and clean, thin roof pillars intrude far less than in-laws. Similarly, the low dashboard, high seating position, and tall ride height are especially useful in cities. CR-V LX and EX versions wear hard-wearing cloth, EX-L and Touring trims get sturdy leather. All models get a deep center console and copious cupholders, all of which come in handy every time we visit a convenience store.

The second row is no sin bin either. The seats are easily accessible with wide door cutouts; once aboard rear passengers get more than 40 inches of leg room. Three abreast are welcome too, just check the broadest shoulders at the door please. Behind the second row is 39.2 cubic feet of cargo room with a wide and relatively low load floor. With the rear seats folded down, that space grows to 75.8 cubic feet, and a carpeted floor panel pulls up for hidden-item storage. Every CR-V is built with high-quality plastics and soft-touch materials, which feel appropriate for its price. Touring trims fall temptingly short of luxury-car grade, but we wouldn't begrudge the pick against premium-car competitors such as Buick or Volvo.
We appreciate the ease of the 2020 Honda CR-V's lineup: any trim is a great choice. With a newly standard turbo engine, good base features, and standard active safety features across the board, all 2020 CR-V excel in value. Like last year, the CR-V is available in LX, EX, EX-L, and Touring trims. Front-wheel drive comes standard and all-wheel drive adds $1,500 to the cost of all trims. The 2020 CR-V LX costs $26,145, including destination, and an all-wheel-drive 2020 CR-V Touring closes in on $36,000, before options.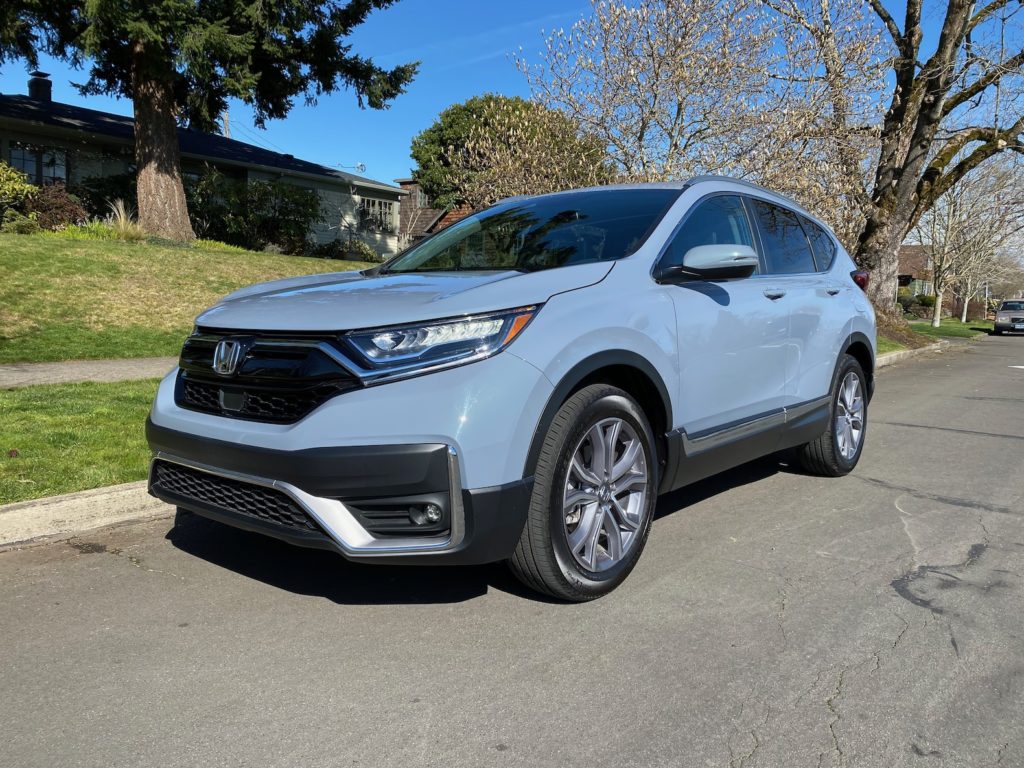 The base CR-V LX is well-equipped, but lacks a touchscreen that other trim levels make standard. The 2020 CR-V LX includes 17-inch wheels, cloth upholstery, power features, a 5.0-inch display for infotainment, one USB port, and Bluetooth connectivity. Our pick for value and everyday usability is the EX trim level that adds a 7.0-inch touchscreen for infotainment with Apple CarPlay and Android Auto compatibility, 18-inch wheels, blind-spot monitors, keyless ignition, power-adjustable driver's seat, heated front seats, power moonroof, uprated audio and faster USB charging ports. The EX trim level costs $28,655 for a front-wheel-drive version, including destination, but the EX-L, adds leather and a power tailgate to the EX trim for $30,050.The Touring trim gets upgraded headlights, a leather-wrapped steering wheel, leather upholstery, wireless smartphone charger, premium audio, and 19-inch wheels. At nearly $36,000, it starts to get pricey but still less than some of its competitors.
The 2020 Honda CR-V is a standout; it does everything well without breaking the bank. Efficient powertrains, adept handling, plenty of space for people and cargo, and strong safety ratings are just some of the CR-V's strong points. Adding in Honda reliability and value gives you the top of the pack in small SUV class; one drive and you'll agree.
For all your new car shopping needs, check out: drivevise.com Vehicle shopping made simple!