The 2020 Ford Escape takes a more refined tack, and brings its hybrid edition back into vogue. The Escape crossover SUV whistles into a new model year with three distinct personalities. There's the thrifty turbo-3 model, an engaging turbo-4 hustler, and a hybrid or plug-in hybrid. This Escape goes back to its roots bringing the hybrid back, better than the steering, and an overall package is better than the sum of its parts. The 2020 Escape arrives in S, SE, SE Sport, SEL, and Titanium trim levels, and if counted in just the right way, comes in seven different configurations, between its turbo and hybrid drivetrains and choice of front- or all-wheel drive. With the latest Escape, Ford's softened the hot-hatchback lines of the most recent version into something more organic and more friendly. Some very Porsche moments echo in the exterior with a little Mazda thrown in for good measure.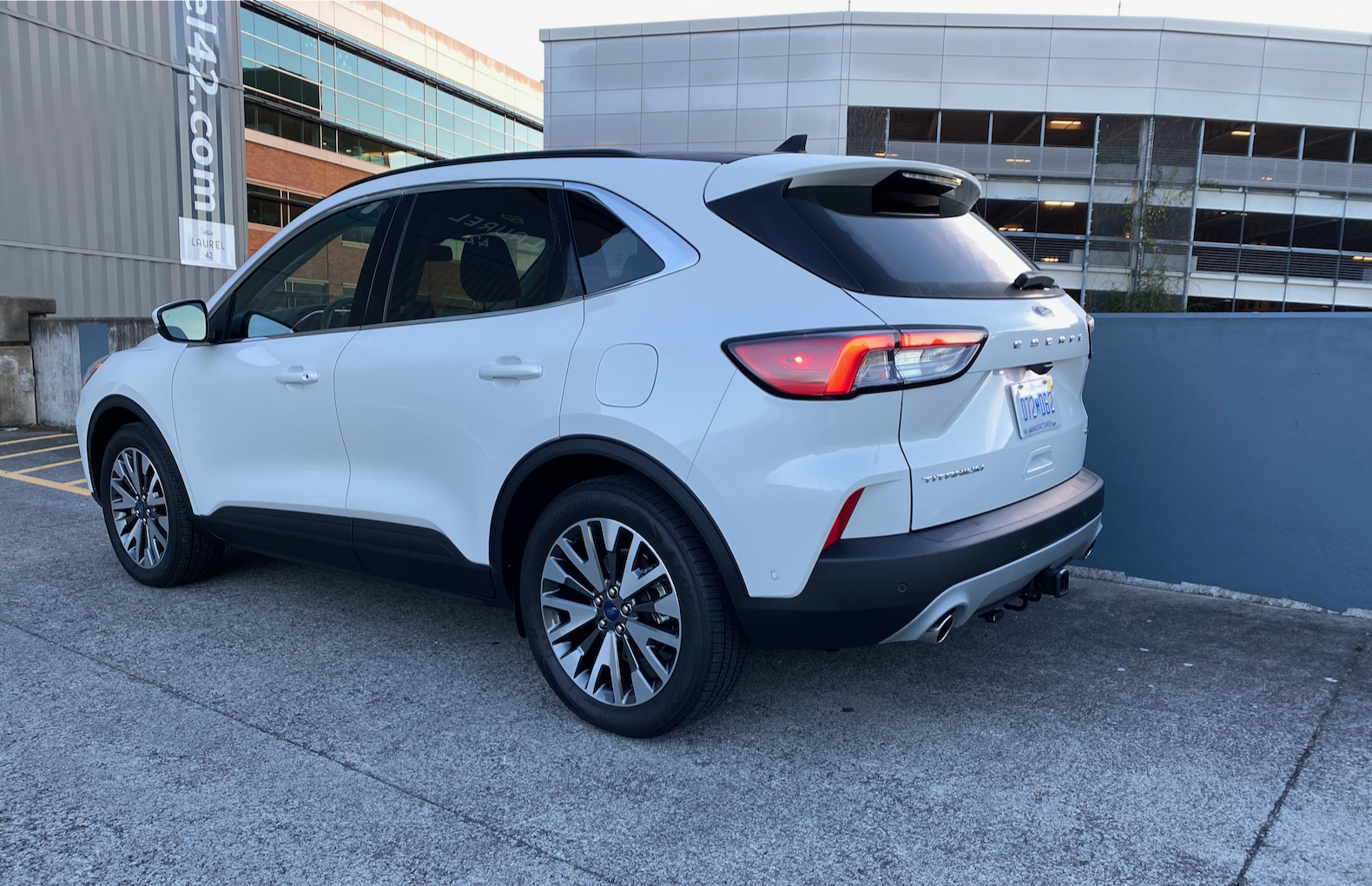 Base models pair a turbo-3 and an 8-speed automatic, while upper trims cars get a much stronger turbo-4 and all-wheel drive. This Escape's less tuned for carving up two-lane roads than its predecessor, but a redesigned suspension endows it with ride control beyond its size, even with 19-inch wheels. It's a fluid, energetic performer that's traded some sizzle for finer moves. The Escape Hybrid's back, and so much better, too. With a hybrid drivetrain that can tap its lithium-ion battery to maximize efficiency, it doles out better-than-average acceleration while actually improving the fine ride. We saw sky-high fuel-economy numbers on a controlled test route; Ford's estimates put it higher than Toyota's RAV4 hybrid, even before the plug-in Escape arrives next year with about 30 miles of electric range on tap.

Every Escape comes with automatic emergency braking and top crash-test results but also offers blind-spot monitors, a head-up display, adaptive cruise control and automatic parking assist. The base $26,080 2020 Escape S lacks Apple CarPlay and Android Auto, but has power features and Bluetooth. The $28,290 Escape SE, gets a power driver seat, an 8.0-inch touchscreen and satellite radio, and CarPlay/Android compatibility. The $29,450 SE Sport Hybrid adds a power tailgate, navigation, a panoramic roof, and adaptive cruise control. Beyond those, the more expensive Escapes add B&O audio, turbo-4 power, a power passenger seat, and leather upholstery; topping out just over $40k.
The 2020 Ford Escape looks the part of an everyones best friend, all bubbly and svelte and adorned with just the right amount of jewelry. No matter what's underhood, the new Escape has a clean, soft shape with gentle headlights and a low grille that gives it a carlike appearance that stands in contrast to the decidedly trucky Toyota RAV4. The new Escape's front end channels the Tesla Model 3, albeit with a wide grille and a perky nose where a blank stare would otherwise reside. It's more distinctive in front; toward its tail the Escape echoes other crossovers. Specifically, there are some very Porsche design elements in the new Escape, especially in the complex curves at its rear quarters and in its profile.
The 2020 Escape asks you to choose your warrior: turbo-3, turbo-4, or hybrid. Ford brings three different 2020 Escape powertrains to its crossover game, and any of them provide efficient and brisk transportation. Buy an Escape S, SE, or SEL, and the 3,299-pound front-drive Escape comes with a 1.5-liter turbo-3 pegged at 181 horsepower and 190 pound-feet of torque. The turbo-3 has an encouraging note as it works to deliver reasonable acceleration. We haven't spent much time in this version, just a short day of mixed driving that revealed moderate thrust and no sense that the turbo-3's engine was shutting off a cylinder to save fuel under light loads. It's coupled to an 8-speed automatic and can be fitted with a simple all-wheel-drive system that raises its curb weight and sends power to the rear wheels when the fronts begin to slip.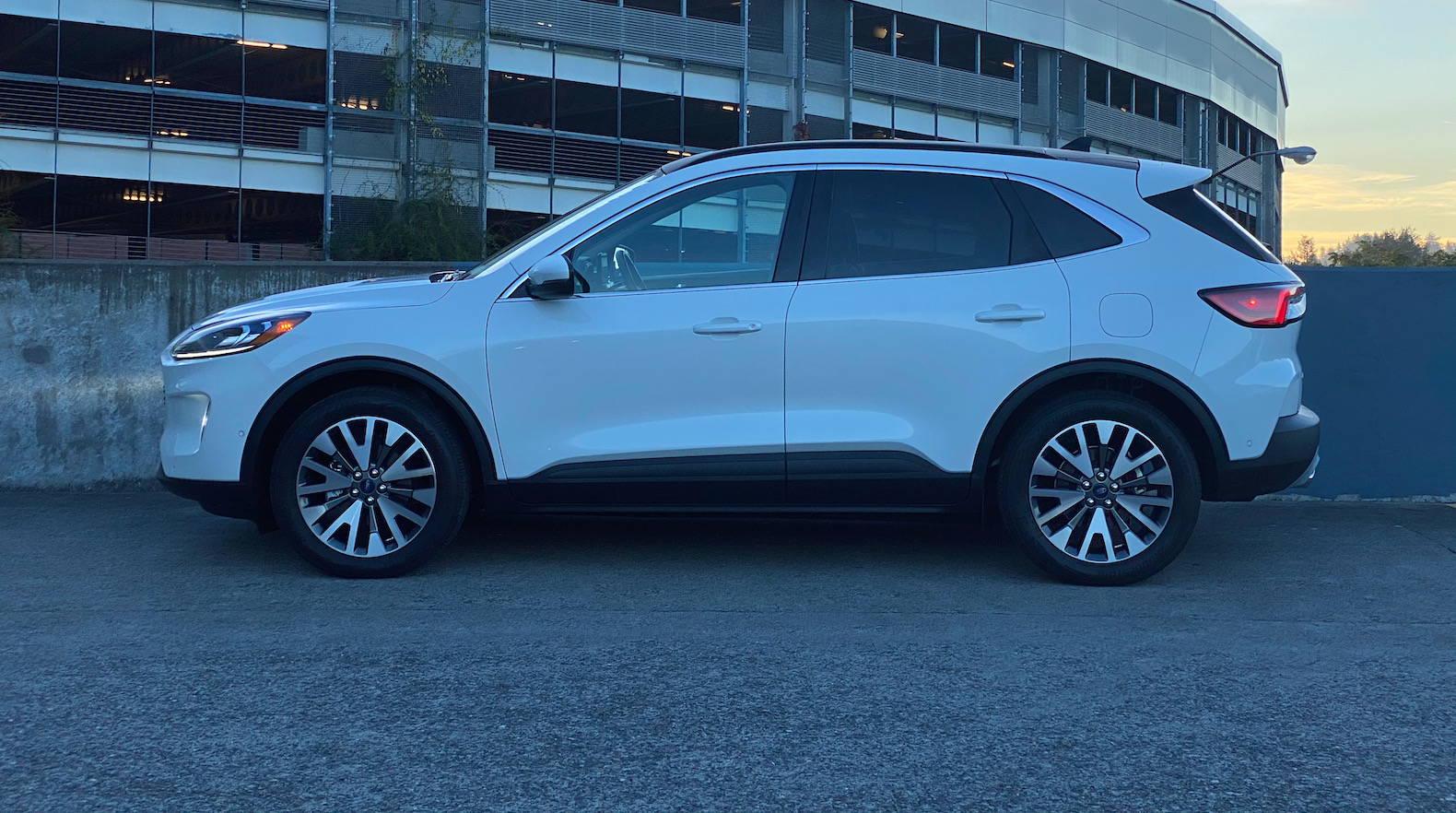 Our test vehicle was the Escape Titanium outfitted with a 2.0-liter turbo-4 rated at 250 hp and 280 lb-ft of torque, coupled to the 8-speed automatic and all-wheel drive, and outfitted with the same drive modes found on other models (Normal, Eco, Sport, Slippery, Snow/Sand). This is the engaging, quick-witted Escape, the one with acceleration to match its vivacious grip. Ford says both turbo engines are faster than the cars they replace, but doesn't publish acceleration estimates; we guess the turbo-4 at below seven seconds in the 60-mph sprint. In the Titanium, which comes with thicker acoustic glass, the turbo-4's sounds were well-muted, and Ford's new shift programming permits more manual shift control; click a paddle and the Escape now holds a gear until it nears redline. The 8-speed can shift quick with its energetic turbo singing and its frenetic turbo spooling, but fluid acceleration still sits a fingertip click away, from nearly any point in its rev range.

In sharp contrast to the previous crossover, the 2020 Escape rides better than it steers. Both attributes are standouts in a class that counts the Forester and CR-V as its leaders. Even on the 19-inch wheels and tires that come with the Titanium and turbo-4, the steady slaps and thuds of the old Escape's tires have been subdueded. Even on 19-inch wheels the 2020 Escape snubs harsh impacts by smothering them with suspension travel and tire rubber. The gains in ride quality have smoothed over its hot-hatch persona, but the steering still firms up in sport mode while the whole car remains composed over moderately sized bumps. It's no longer a rattler or a thumper. We'll need more time with the base car and its 17-inch wheels and tires before we can judge its trade-offs properly. The base turbo-3 is rated to tow up to 2,000 pounds, while the 2.0-liter turbo-4 is rated to lug up to 3,500 pounds when properly equipped.

Ford hasn't offered an Escape hybrid since 2012, but the new model shares little with its blocky predecessor. For one, it's fun to drive. The Escape SE Sport and Titanium come standard with a gasoline-electric hybrid powertrain that pairs a 2.5-liter inline-4 to an electric motor and a 1.1-kwh lithium-ion battery pack. A continuously variable automatic transmission (CVT) sends power to the front or all-wheel wheels and the setup is good for 200 hp combined and 209 lb-ft. Ford said that the hybrid crossover SUV will be capable of hitting 85 mph on electric power alone. Ford blots out this powertrain's noise with lots of sound deadening and active noise cancellation. With its emphasis on battery power and its unique transmission (a set of motors that couple and uncouple with engine power to act like a CVT), but it's responsive in the way that matters most.
We were able to boost regeneration by putting it its transmission into L as often as low speeds and winding roads permitted. It's one of the few ways the Escape Hybrid feels and acts like a hybrid; in steering feel and ride control it's nearly the equal of the non-hybrid car, and that's one thing Ford hopes will drive more shoppers toward it. A 200-hp Ford Escape plug-in hybrid with an upsized 14.4-kwh lithium-ion battery is available. It can be charged in 3.5 hours on a Level 2 240-volt charging station for about 30 miles of electric-only range. The plug-in hybrid powertrain is only available with front-wheel drive. Both hybrid versions can be run in full-electric mode given enough battery charge in reserve and an EV Charge mode tops off the battery during driving for electric-only use later in the plug-in Escape.
The 2020 Escape is more fuel-efficient than many of its rivals and hybrid models do better than most rivals. The front-drive turbo-3 is estimated at 27 mpg city, 33 highway, 30 combined. With all-wheel drive, the numbers sink to 26/31/28 mpg. With the turbo-4, the Escape's estimated at 23/31/26 mpg. Hybrid versions are very fuel-efficient. With front-wheel drive, the Escape Hybrid rates 44/37/41 mpg. With all-wheel drive, that drops to 43/37/40 mpg. The plug-in hybrid Escape is rated at 41 mpg combined when operating as a regular hybrid and can travel up to 38 miles on electricity alone. We averaged 26.3 mpg in our week with a all-wheel-drive Titanium test vehicle.
The 2020 Escape has crash-test scores at the top of its class. The NHTSA gives the 2020 Ford Escape five stars overall, and the IIHS says it's a Top Safety Pick, but only in Titanium trim, where its LED headlights earn an "Acceptable" rating. Other trims, including our the SE Sport Hybrid, have standard halogen headlights rated "Marginal." Every 2020 Escape comes with automatic emergency braking, active lane control, automatic high-beam headlights, and blind-spot monitors. The forward-collision warning system relies on cameras and can mitigate accidents at speeds of up to 75 mph. With the available adaptive cruise control, Ford adds more sensors and also adds lane-centering control, which prevents the boomerang action of that more basic setup; the Escape keeps to the middle of its lane with much better control. The Escape can be fitted with a head-up display with a fold-down visor-style screen and a surround-view camera system also sits on the options list.
The 2020 Escape has plenty of room, but some of the materials leave room for improvement. The Escape's cabin suffers from some plasticky trim; while they're at it, designers need to spec out new front seats. Sized for smaller passengers, the Escape's front buckets have short bottom cushions without much leg support. The second-row seat's better and it slides on a track to flex passenger and cargo space. Adults slip easily into the back seat and have excellent leg room, even while the Escape maintains nearly 40 cubic feet of cargo space. It's a bit smaller than CR-V and Forester, but it's extremely useful. The latest Escape measures 180.5 inches long, and rides on a wheelbase of 106.7 inches, which puts it about two inches longer than the outgoing version. It ekes out even more space by clever packaging and more efficient design.

The swoopy Escape dash of the past has yielded to a shallower, more straightforward design that frees up lots of knee room. Head room's fine, and the center-console storage under elbows and ahead of the rotary shift control is deep and useful. Row two benefits more from the total redesign. Ford says there's more leg room, about 38.8 inches; 1.8 inches less on hybrids, and we're inclined to believe it and reclined, since the second-row Escape bench slides and lays back for better comfort. The rear seats also fold nearly flat to open up the Escape's cargo bin, but it's already sizable. When the back seat's moved forward, the 2020 Escape has 37.5 cubic feet of storage space, losing about 4 cubic feet when the bench is set further back, and another 3 cubic feet on hybrids, due to the location of their battery pack. With the rear seats down, the Escape can hold up to 65.4 cubic feet of cargo (60.8 cubes on hybrids), which totals about 10 fewer cubes than either the Subaru Forester or Honda CR-V.
The 2020 Ford Escape runs the gamut from cloth seats to active lane control and automatic parallel parking. The Escape crossover has a strong list of standard safety features, a good infotainment interface on most models, and it makes a strong case for value as a sub-$30,000 Escape SE or SE Sport Hybrid. The redesigned 2020 Ford Escape costs at least $26,080 including destination charges. That base Escape S has automatic emergency braking, drive modes, LED taillights, a sliding second-row seat, Bluetooth, two USB ports, and a 4.2-inch LCD screen for its AM/FM radio.

The $28,290 Escape SE adds heated front seats, a 10-way power driver seat, keyless ignition, automatic climate control, and heated mirrors. It also gains an 8.0-inch touchscreen and satellite radio, with options for a 12.3-inch digital instrument cluster and a B&O 10-speaker audio system. It's our value pick for the lineup, with front- or all-wheel drive. We'd recommend the SE Sport Hybrid, which for $29,450 gains a power tailgate, a panoramic roof, navigation, adaptive cruise control, 19-inch wheels, the 12.3-inch digital gauge cluster, and black trim.

Above $30,000, the 2020 Escape heads for the performance end of the spectrum. The $30,450 Escape SEL comes with the turbo-3 engine and gets the hands-free power tailgate, 18-inch wheels, a power front passenger seat, remote start, and reverse parking sensors. It can be configured with all-wheel drive, the turbo-4 engine or the hybrid drivetrain. The turbo-4/AWD option raises the price by $2,285. The $34,595 Escape Titanium comes with the hybrid drivetrain standard, and adds 19-inch wheels, the digital instrument panel, B&O sound system, navigation, acoustic glass, leather upholstery, ambient lighting, and a 110-volt AC power outlet. It also gets active lane control and active park assist with front and rear parking sensors. For $2,885, Ford will swap in the 2.0-liter turbo-4 with standard all-wheel drive.
The 2020 Ford Escape is all grown up and just in time to become a formidable player in the hotly contested small crossover segment. Luckily Ford has done it's homework by imbuing the all-new Escape with some seriously refined manners. Multiple powertrains, a flexible interior, and an upscale driving demeanor all combine to make the Escape greater than the sum of its parts at the head of its game. The fact that all the attributes are available without breaking the bank further show why the new 2020 is a winner.
For all your new car shopping needs, check out: drivevise.com Vehicle shopping made simple!