The new entry-level 2020 Cadillac CT4 sedan has impressive new styling and presents a strong value. The CT4 is an entry-level compact luxury sedan meant to entice a new generation of buyers into GM's luxury brand. It succeeds the ATS but comes at a time when automakers are pulling back on sedans in favor of crossover SUVs. Lincoln no longer offers a sedan, yet Cadillac launched the CT4 and more stylish CT5 for 2020. Longer than the ATS but without much more room, the CT4 speaks Cadillac's current design language with vertical boomerang lights at all four corners and a grille designed in the shape of the Cadillac crest.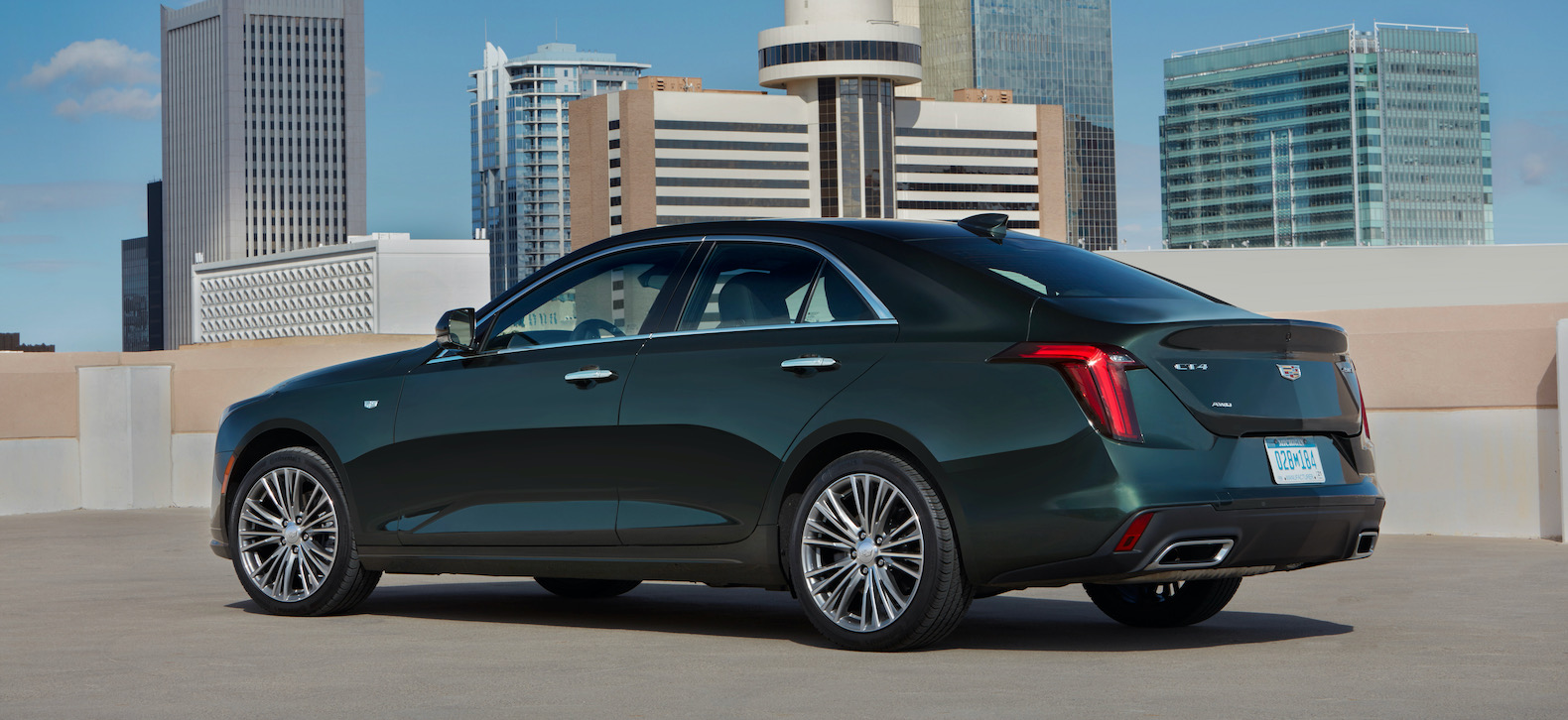 The highlight of the rear-wheel drive CT4 is an available 2.7-liter turbo-4 that can make either 310 horsepower or 325 hp in the CT4-V. It's paired to a smooth 10-speed automatic transmission and is superior to the standard 237-hp 2.0-liter turbo-4 with an 8-speed automatic. All-wheel drive is extra, but might only be worth it on the CT4-V or in northern states. Even though the compact sedan cramps rear seat passengers and doesn't offer much cargo space in the trunk, it comes fairly well-equipped, except for th lack of automatic emergency braking on the base Luxury model. Standard equipment includes LED lighting, synthetic leather seats, an 8.0-inch touchscreen for infotainment with Apple CarPlay and Android Auto compatibility, and keyless entry and starting. Cadillac's driver-assistance feature, Super Cruise, will be available in 2021 models.
Distinct inside and out, the 2020 Cadillac CT4 feels like a dark sport jacket in that it goes with anything. The CT4 carries a more traditional look than the fastback shape of the similar but larger CT5. The CT4 is more than four inches longer than its ATS predecessor but has the same wheelbase, making the rear chunkier and the front less pronounced with what appears to be a smaller dash-to-axle ratio. A creased hood dips dramatically at the front, and rectangular LED headlights stretch the face into the corners, where boomerang LED DRLs project motion down the side of the sedan.
The largest turbo-4 engine produced today is complemented by an effortless 10-speed automatic transmission. Two engine choices make all the difference in the 2020 CT4. The rear-wheel drive sedan comes with a 237-hp 2.0-liter turbo-4 and an 8-speed automatic transmission standard on Luxury, Premium Luxury, and Sport trims. We tested the 2.7-liter turbo-4 with a 10-speed automatic that is optional in the Premium Luxury for an extra $2,500 and standard on the CT4-V. With its potent but efficient turbo-4, it can hit 60 mph in under 5 seconds, according to Car and Driver. In Premium Luxury, the 2.7-liter turbo-4 is tuned to make 310 hp and 350 pound-feet of torque; in the more performance-oriented V-Series, it makes 325 hp and 380 lb-ft starting at 1,800 rpm.

Even though it's the largest gas turbo-4 on the market, it still delivers gobs of power while still remaining fuel efficient thanks in part to a fuel management system that shuts down two of the four cylinders during highway cruising. This massive turbo-4, which is also used in the Chevy Silverado, features a dual-volute turbocharger that's even more responsive at lower engine speeds than other twin-scroll turbos on the market. At cruising speeds and in need of a quick move to jump ahead of a merge, nearly all of the torque is delivered in less than two seconds, according to GM. In short, this engine makes the CT4 quicker without compromising efficiency around town.

The 10-speed automatic paired to this engine is equally impressive. Under normal acceleration it flicks between gears imperceptibly but predictably, staying comfortably in the 2000-3000 rpm range. A happy, seemingly chipper turbo whir accompanies the engine noise. At cruising speed, it quiets and can drop to just above 1,000 rpm, with 9th and 10th gears for long-range cruising. Put it into Sport mode and jump on the throttle,  and the rpm needle stays vertical between the 4,000-5,800 rpm range until you lay off the gas. The ability to accelerate is ever present, with massive torque on demand at any point. It tempts you to make passing moves without passing anything except triple digits on the speedometer.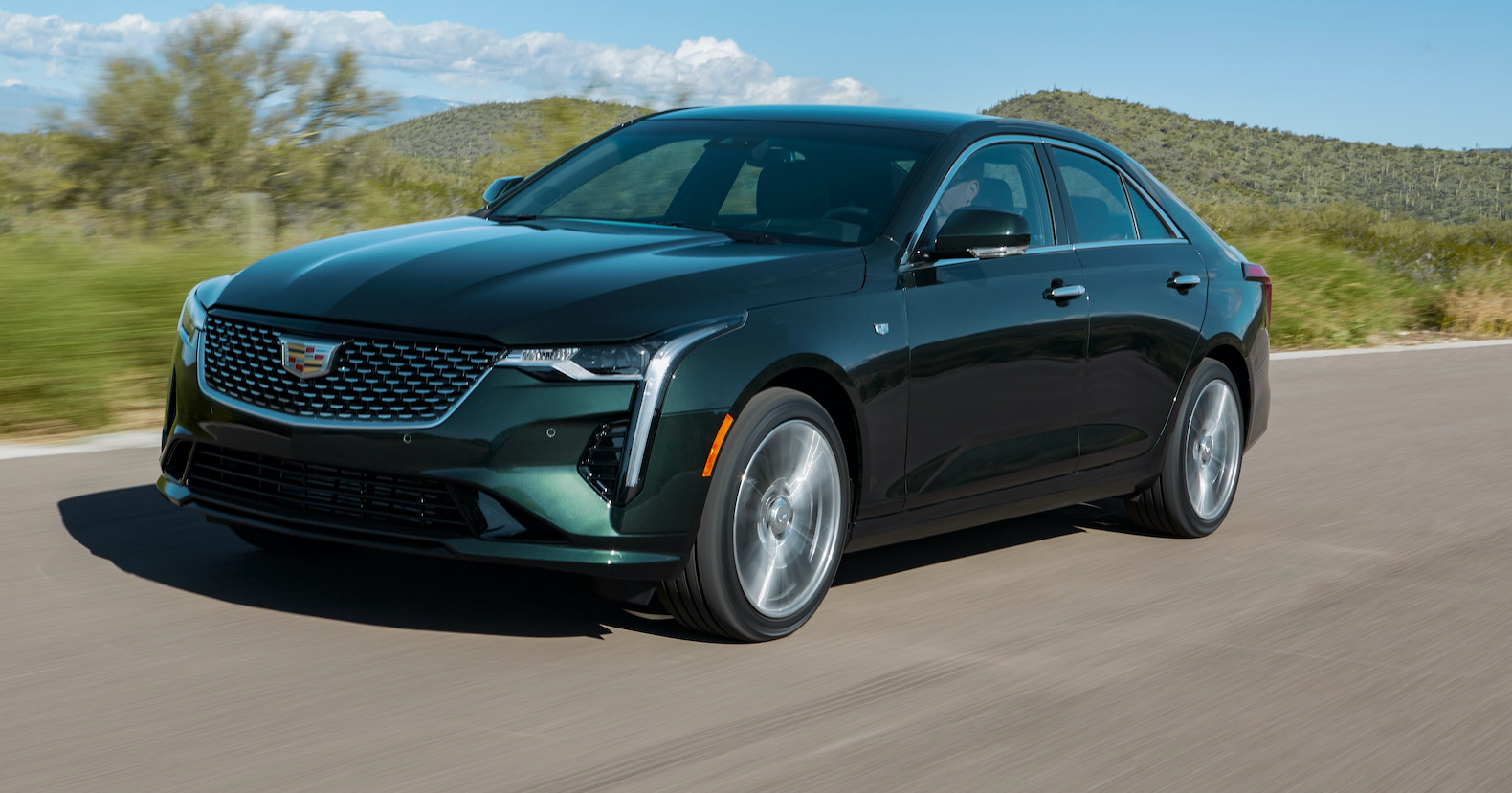 Surely the handling is optimized in the V-Series with the adjustable and adaptive suspension GM calls Magnetic Ride Control, but the MacPherson front struts and independent rear suspension do a good job of cushioning the ride from highway imperfections in other CT4s. There is some roll on exit ramps that made us long for the V-Series. Feedback from the electronic steering is decent, with inputs leading to corresponding reactions from the wheels, and the chunky, leather-wrapped steering wheel has a good heft. All-wheel drive is an option on all trims. All-wheel drive is $2,600 more on Luxury or Sport trims, and $3,200 on Premium Luxury with the 2.7-liter. It's only $1,100 more on the CT4-V. At that point, if AWD is a must, the CT4-V is the bargain.
The 2020 Cadillac CT4 is more efficient than its predecessor. A pair of turbo-4 engines and a more-efficient 10-speed transmission improve fuel economy ratings over the Cadillac ATS, and make the CT4 more competitive with other luxury compact sedans despite the absence of an electrified powertrain option. With the more-efficient 2.0-liter turbo-4 with an 8-speed automatic in rear-wheel drive, it gets an EPA-rated 23 mpg city, 34 highway, 27 combined. The 2020 CT4 with the 2.7-liter turbo-4 and 10-speed automatic gets 20/30/24 mpg. All-wheel drive lowers fuel economy by 1 mpg combined across the board with either engine. Averaged over our week of testing, our all-wheel-drive premium luxury with the 2.7 netted us 23.1 mpg, right on the mark.

The 2020 Cadillac CT4 lacks official crash-test data but has respectable standard safety features. The CT4 hasn't been crash-tested by the NHTSA or the IIHS, but the lack of standard safety features such as automatic emergency braking will preclude it from any Top Safety Pick possibilities. The base Luxury model defies its name when it comes to standard driver-assist systems. Aside from mandatory airbags and a backup camera, there are none, and shoppers don't have the choice to option them. CT4 Premium Luxury and Sport come with the basics, such as automatic emergency braking with pedestrian detection, and a vibrating seat when potential trouble is detected, but Cadillac expects you to pony up for features most luxury automakers include as standard, such as adaptive cruise control and active lane control.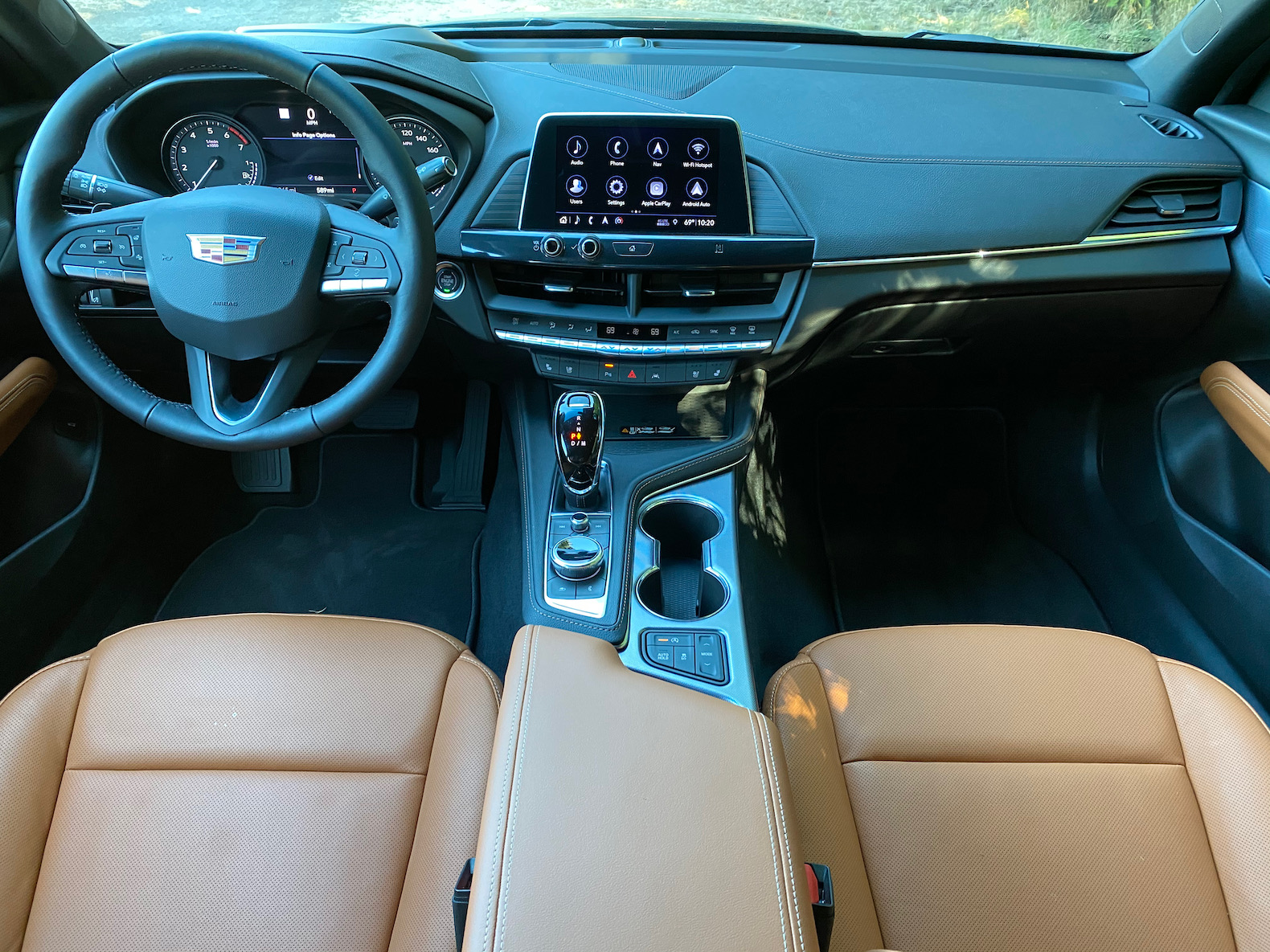 The cabin is dominated by soft-touch materials clad in black on black on black, from the synthetic leather seats to the leather-wrapped steering wheel to the dash and door panels. The black is broken up only by chrome trim bands and subtle but stylish accent stitching. The lower half and the seats can be lightened to beige at no charge on base Luxury models, and possible upgrades on other trims include red or a rich looking Cinnamon from our Premium Luxury tester. The 8.0-inch touchscreen commands the uncluttered dash, and a controller dial and drive mode switch panel lead the center console. The console is relatively narrow providing more space, thanks in part to an electronic gear shifter.
A spacious front seat gives way to tighter confines in back and in the trunk. Skip the misnamed Luxury trim to get eight-way power adjustable front seats on the Premium Luxury trim with two-way lumbar support in firm but comfy sport bucket seats. The 60/40-split rear folding seats open up some much needed room to expand upon the trunk's tiny 10.7-cubic feet of cargo volume. A 6-foot-1 passenger squeezed into the rear seat behind the 5-foot-10 passenger riding shotgun, who moved the seat up to its furthest position. Hauling passengers is not the CT4's forte. But the cockpit is spacious enough, and the sleek black finish is sharp without being flashy. Soft touch materials on the dash, doors, seats, steering wheel, and armrest provide an understated sense of luxury.
Starting under $34,000, the 2020 Cadillac CT4 is a relative luxury bargain. Cadillac learned from the mistakes of the ATS and CTS by equipping the 2020 CT4 with plenty of standard features at an impressive starting price of $33,990. No fool, Cadillac takes a separate page from the Germans by offering options and packages that can easily total more than $50,000 in the top CT4-V. The CT4 is a good value with plenty of standard features and an easy-to-use 8.0-inch touchscreen infotainment system.

Available in Luxury, Premium Luxury, Sport, or V-Series, the CT4 starts off fairly well-finished, with synthetic leather seats, a leather-wrapped steering wheel, a digital instrument cluster, an 8-inch touchscreen, two USB ports, Apple CarPlay and Android Auto compatibility, keyless entry and starting, and remote starting. On the outside, it has 17-inch alloy wheels and LED headlights and taillights. Yet, as pointed out in the Safety paragraph, basic safety features such as automatic emergency braking can't even be optioned on the base Luxury trim so we'd recommend skipping that trim.
But the 310-hp 2.7-liter turbo-4 with the 10-speed available on the Premium Luxury compels us to think twice. It's not available on the Sport, and is only a $2,500 upgrade over the 2.0-liter turbo-4 to start at $38,490. That combo is our recommended pick. Standard equipment on Premium Luxury includes leather upholstery, 8-way power-adjustable front seats, and automatic emergency braking with pedestrian detection. Bizarrely, there is a gap indicator that appears on the instrument cluster, as well as a steering wheel button to activate it. That is the exact same gap indicator GM puts on vehicles with adaptive cruise control, which is extra. Cadillac says it's to set the sensitivity for the forward-collision alert warning. Confusion comes free.

The top of the 2020 CT4 lineup is the CT4-V for $45,490. It doesn't come standard with heated seats, either, unless you opt up for all-wheel drive, then Caddy throws in heated seats and a heated steering wheel. Otherwise the upgrades are performance-based, with more thickly bolstered sport seats with 18-way power adjustments, a thicker steering wheel, 18-inch wheels with summer performance tires, a rear spoiler, Brembo front brakes, an electronic limited-slip rear differential, launch control, and GM's Magnetic Ride Control adaptive and adjustable suspension. Pick any color other than black or white, add a package, and the 2020 CT4-V eclipses $50,000. The CT4 has a 4-year/50,000-mile comprehensive warranty with a complimentary first scheduled maintenance.
The 2020 Cadillac CT4 has some big shoes to fill as the ATS was one of the funnest and most rewarding Cadillac's to drive in recent years. Luckily the CT4 fills those big shoes and more with svelte new styling and efficient yet powerful powertrains. The fact that all-wheel-drive is available across the board is also a boon to buyers. After all luxury is all about choice, and that's exactly what new 2020 Cadillac CT4 has to offer.
For all your new car shopping needs, check out: drivevise.com Vehicle shopping made simple!