The 2020 Alfa Romeo Stelvio delivers the full Italian experience in an SUV. It's charming, engaging, beautiful, and quick. The 2020 Stelvio successfully adapts the brand's sexy design and sporty dynamics to a crossover SUV for the first time. It's luxurious, powerful, and charming, though it doesn't match competitors for interior space. Essentially a raised Giulia sedan with a crossover body, the Stelvio raids its little brother's parts bin for its architecture, engines, suspension, brakes, and steering. It also translates the Giulia's lines to the SUV format, giving it a body with curves that won't quit, the brand's signature triangular grille, and a fast rear roof shape. Stylistically, it fits with the Stelvio's sporty mission but saps its interior space.

The mechanical similarities to the Giulia translate to the same sporty character. The steering is quick, the responses agile, the firm but comfortable ride, and the willing power. The Stelvio model lineup consists of base, Ti, and Quadrifoglio trims. The base engine, used in all but the Quadrifoglio, is a 280-horsepower 2.0-liter turbo-4 mated to an 8-speed automatic transmission with paddle shifters. It provides brisk acceleration with decent fuel economy of 24 mpg combined with all-wheel drive. Rear-drive ups the fuel economy to 25 mpg combined and adds an even sportier flair, though it trades away the Stelvio's all-weather confidence. The Stelvio Quadrifoglio is a full-on performance monster with a Ferrari-sourced 2.9-liter twin-turbo V-6 that wrings out 505 hp, 3.6-second 0-60 mph times, and a top speed of 176 mph. It also has the equipment for track driving, including better cooling, upgraded brakes, a torque-vectoring rear differential, and wide 20-inch tires on forged alloy wheels.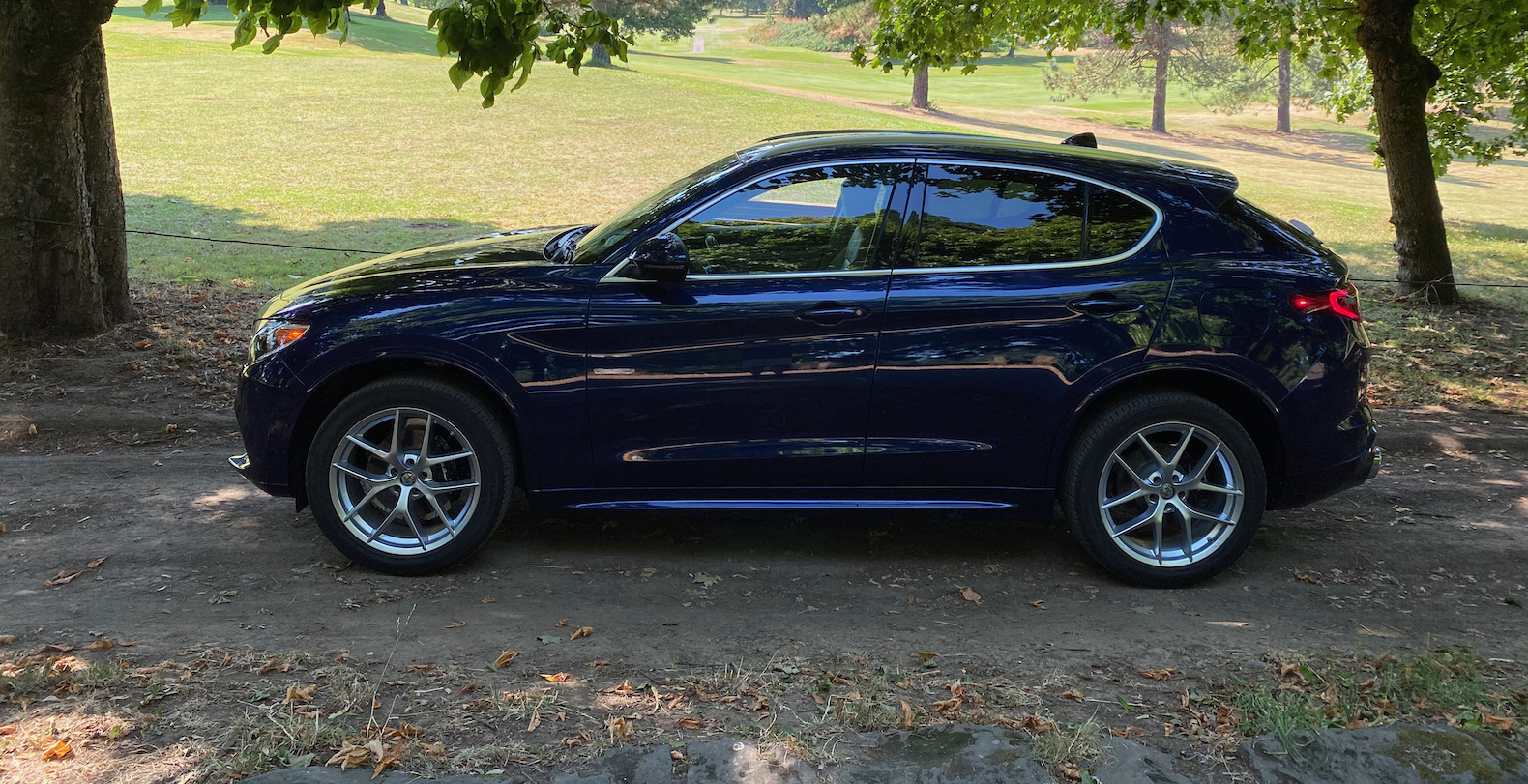 For 2020, Alfa Romeo updates the infotainment system with a standard 8.8-inch touchscreen, a quicker processor, and an easier-to-use interface. The 2020 model year also brings more safety equipment. Automatic emergency braking becomes standard and a variety of active safety features are added to the options list. Prices start around $41,000 for the base model. That includes a healthy feature set with such equipment as leather upholstery, dual-zone automatic climate control, a 7.0-inch configurable driver information center, the 8.8-inch infotainment touchscreen with Apple CarPlay and Android Auto compatibility, satellite radio, Brembo 4-piston front brakes, and 18-inch alloy wheels. We recommend opting for the Ti model, which adds heated seats, a heated steering wheel, front park assist, 19-inch wheels, and the ability to choose the active safety features.
Curved and sensuous, the 2020 Alfa Romeo Stelvio translates the brand's traditional design flair to the crossover SUV. Alfa Romeo has a history of building beautiful cars. Clearly, even SUVs. The Stelvio and Giulia sedan share a platform and a design theme. Up front, they both have the triangular "scudetto" (Italian for "little shield") grille flanked by large air intakes down low and eye-slit headlights up high. The body features curves where other automakers opt for angles. The rear end isn't boxy like other SUVs, either. It angles down sharply, which imparts the look of a sport wagon rather than an SUV. Fender flares and big wheels reinforce the sporty look.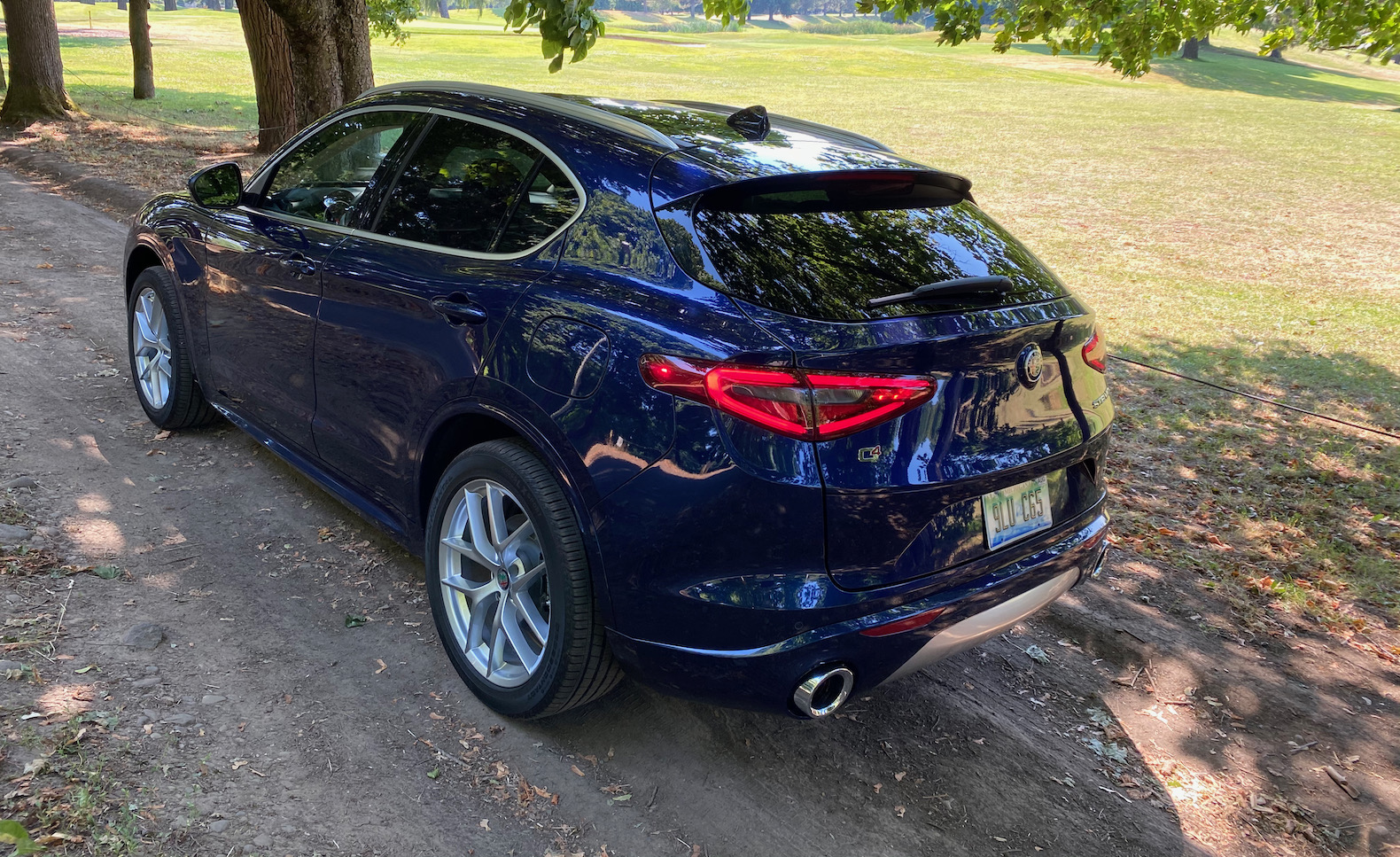 The 2020 Alfa Romeo Stelvio offers sport sedan handling to go with its pair of strong engines. Few crossover SUVs deliver handling on par with a sport sedan. The 2020 Alfa Romeo Stelvio is one of them. The Stelvio serves its purpose as a five-passenger people mover, though the rear seat is a little small, but it comes alive when the road turns twisty and there's no particular place to go. Its combination of a stiff structure, a perfect 50/50 weight distribution, and a fairly short wheelbase, hence the small rear seat, conspire to create sport sedan moves. The Sport versions and especially the Quadrifoglio are even more agile.

It's good that the structure is capable of being so athletic because the Stelvio's ultra-quick 12:1 steering ratio is faster than what's found in most sports cars. It means the SUV reacts right now to steering inputs with just a taste of body lean. The Stelvio is engaging to drive in every way. The brakes are quite capable, and the Quadrifoglio's six-piston front and four-piston rear Bembos are up to the punishment of a racetrack. Even the Stelvio's base engine is strong. Its 2.0-liter turbo-4 produces 280 hp and 306 pound-feet of torque that flows through an 8-speed automatic transmission with available shift paddles. The turbo-4 launches the Stelvio from 0-60 mph in a spirited 5.4 seconds and pushes it to 144 mph.

The Stelvio Quadrifoglio's twin-turbo 2.9-liter V-6 turns up the wick to 505 hp and reduces the 0-60-mph time to just 3.6 seconds. Together with such high-performance features as improved cooling, wide tires, a two-mode sport exhaust, a torque-vectoring rear differential, and available carbon-ceramic brakes, the V-6 made the Stelvio Quadrifoglio the fastest SUV around the Nürburgring in 2017, a record that has since been bested by the Audi RS Q8 and the Mercedes-AMG GLC 63. Drivers can change the Stelvio's driving character via the DNA drive-mode selector. DNA stands for Dynamic, Natural, and All-Weather, and the Quadrifoglio has a fourth mode called Race. Opt for Natural, and the Stelvio is happy to cruise. Go for Dynamic or especially Race and it bristles with eagerness.
The 2020 Alfa Romeo Stelvio returns 24 mpg combined, which is about average for a sporty luxury SUV. The 2020 Stelvio delivers the fuel economy ratings buyers would expect for a sporty luxury SUV. Fuel economy comes in at 22 mpg city, 28 highway, 24 combined ratings for the all-wheel-drive version with the base engine. Opt for rear drive, and the EPA ratings rise to 22/29/25 mpg. With the 505-hp Quadrifoglio comes reduced fuel economy. It is rated at 17/23/19 mpg. Unfortunately, all Stelvios require premium fuel. In our week of testing an all-wheel-drive Stelvio Ti Lusso we average 24.7 mpg, respectable for our lead feet.
The 2020 Alfa Romeo Stelvio lacks crash-test ratings, but more active safety features are now available, including standard automatic emergency braking. Alfa Romeo improves the Stelvio's safety equipment for 2020 but unfortunately neither the IIHS or NHTSA has thrown one into a barrier yet, although IIHS ratings for a 2017 Giulia were good. For 2020, Alfa Romeo makes forward-collision warnings with automatic emergency braking standard and introduces a variety of new active safety features. They include blind-spot monitors, active lane control, traffic sign recognition, intelligent speed control that changes speed when the speed limit changes, and a driver-attention monitor. Also available are adaptive cruise control with stop-and-go capability, front park assist (rear park assist is standard), and lane-departure warnings. Some of these features are standard on the Quadrifoglio, and all are available in a variety of driver-assist packages.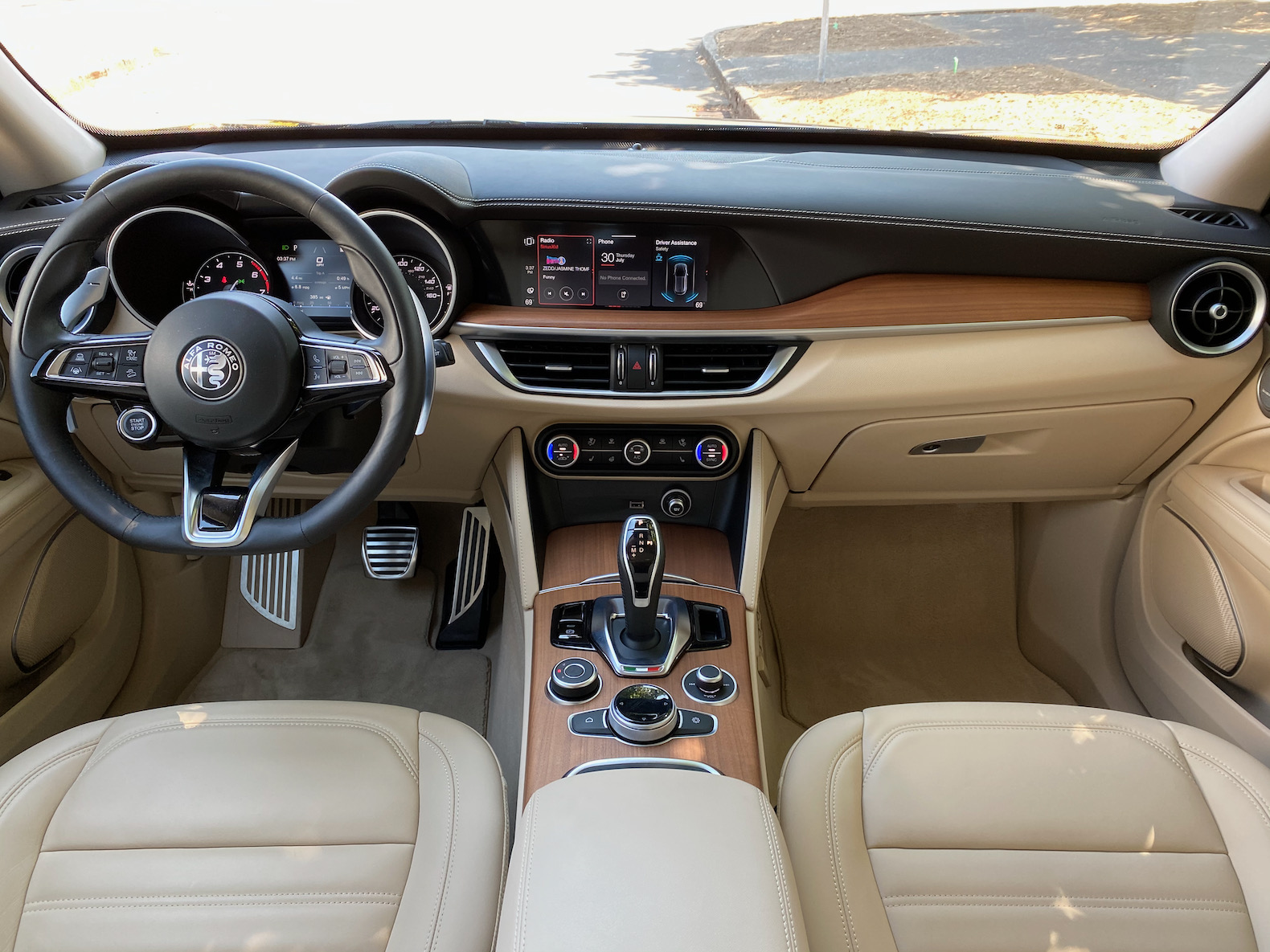 The 2020 Alfa Romeo Stelvio benefits from the space of an SUV layout, but it's on the small side in terms of both cargo room and rear seat leg room. The cockpit is simpler but still appealing. A thin flat-bottom steering wheel with shift paddles and an ignition button sits in front a pair of prominent gauge pods that straddle a 7.0-inch digital information screen. The dash features a new 8.8-inch touchscreen that can also be controlled via a rotary dial on the center console. The Stelvio's infotainment system is much improved for 2020. It now has a center touchscreen as well as the center console-mounted rotary controller. It reacts quicker, and is easier to understand, making a strength out of what was a weakness. Improvements to the switchgear for 2020 make the cabin feel more in line with luxury competitors. Alfa Romeo adds some warmth and visual interest with real-wood, aluminum, and carbon-fiber trim as well as a variety of interior colors.

Materials quality is now up to snuff for the luxury class thanks to 2020 updates that improve the plastics and provide better, more solid dials. Leather upholstery comes standard, and additional leather-covered surfaces adorn the Quadrifgolio. Stelvio passengers will either want to drive or call shotgun because the first row is roomier than the second. That first row also features well bolstered bucket seats with plentiful headroom and legroom. The rear seat, on the other hand, has just 31.9 inches of legroom so the rear seat is better for small adults and kids. Cargo space is also on the small side. The Stelvio has 18.5 cubic feet of room behind the second row and 56.5 cubic feet with the rear row folded down, numbers that are compromised by the slope of the rear hatch. The figures for the BMW X3 are 28.7 and 62.7 cubic feet, and others have more room. 
The 2020 Alfa Romeo Stelvio comes well equipped, and it offers a range of options, as well as the high-performance Quadrifoglio model. The 2020 Stelvio is loaded up with features even in its base model and it offers a wide variety of options for buyers to pick what works best for them. Alfa Romeo offers the Stelvio in three basic models, base, Ti, and Quadrifoglio. However, option packages for the base and Ti models create submodels called Sport, Ti Lusso, Ti Sport, and Ti Sport Carbon trims. For about $41,000, the base Stelvio comes standard with leather upholstery, 10-way power-adjustable front seats, a 40/20/40-split rear seat, dual-zone automatic climate control, a 7.0-inch configurable driver information center in the instrument panel, an 8.8-inch infotainment touchscreen with Apple CarPlay and Android Auto compatibility, satellite radio, three front and two rear USB ports, an eight-speaker audio system, ambient interior lighting, adaptive headlights, a rear spoiler, Brembo four-piston front brakes, and 18-inch alloy wheels.

We recommend going for the $47,000 Ti trim, which includes heated seats, a heated steering wheel, wood trim, front park assist, and 19-inch wheels. More importantly, it opens up the full active safety menu as options. The Quadrifoglio starts around $81,000 and aims for track-ready performance with six-piston front and four-piston rear Brembo brakes, additional cooling, a torque-vectoring rear differential, a two-mode exhaust, performance tuned active dampers, 20-inch wheels on summer performance tires, 14-way power-adjustable leather and Alcantara sport seats, shift paddles, carbon-fiber interior trim, and aluminum pedals. It also features such amenities as headlight washers, extended interior leather, heated front seats, a heated steering wheel, navigation, and a 14-speaker Harman Kardon audio system. All Stelvios get a standard good warranty: 4 years, 50,000 miles for the whole vehicle and 5 years, 100,000 miles for the powertrain, including the first engine service. Still, other luxury brands have better warranties.
The 2020 Alfa Romeo Stelvio is an amazingly athletic crossover that just wants to run and play. Sure it may not be quite as roomy as other competitors but it's still more than capable for what most people think they need. What people don't realize they need are the grins and smiles that come with the Stelvio. From its curvaceous styling, potent power, and ravenous roadholding; the Stelvio happy inducing SUV. With a good warranty and updated technology, the 2020 Alfa Romeo Stelvio deserves to be on every buyer's list.
For all your new car shopping needs, check out: drivevise.com Vehicle shopping made simple!