Acura's RDX underwent a complete redesign last year for its 3rd generation. With that it brought class leading style and performance, as well as value in a sharp looking package quickly catapulting it to the top of the small luxury SUV class. While the Audi Q5, Mercedes-Benz GLC, and Volvo XC60 remain at the top of the class, the RDX is easily in the running if not outpacing some of renowned leaders. It's a crowded competitive class with players from every luxury brand so we spent a week with Acura's RDX to see how it stacks against the competition.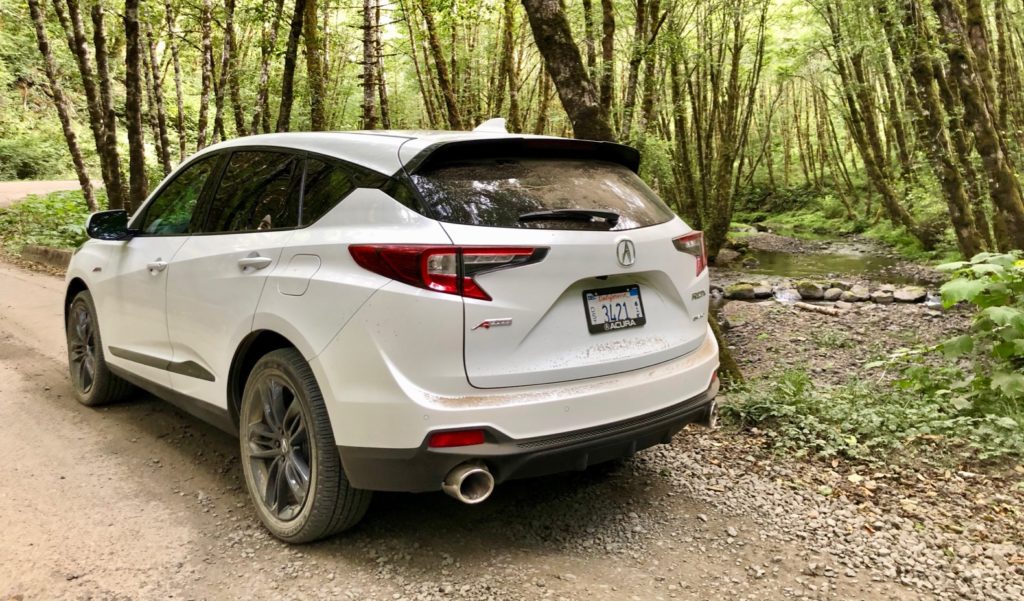 The exterior is probably one of the RDX's most captivating traits, it's probably more of a love or hate it design. We tend to love it especially with the A-Spec sport package. It begins with Acura's now signature grille flanked by jewel headlamps imparting it with a very chiseled beak. Further done the sculpted sides with either bright or black trim depending on trim line that also extends to the wheels. In our case, being a handsome A-Spec, everything was blacked out with 20″ wheels and tires. Around back is a tailored rear-end sporting the current vehicular trend of "crab claw" taillights finishing off a very cohesive design that pushes the envelope without alienating to many potential buyers.
The RDX's interior harmoniously blends brushed aluminum, stainless steel, and wood trim with buttery leather seats. A 10.2-inch display sits high on the dash with controls organized reasonably well below. RDX A-Spec models discard soft wood tones and soothing hues for relentless black trim with red accents. A big control knob in the center console links the RDX to the Acura NSX sports car, at least to a point. Comfort, Sport, and Sport+ modes tell the drivetrain when to cruise and when to hustle. A snow mode reworks things for winter traction.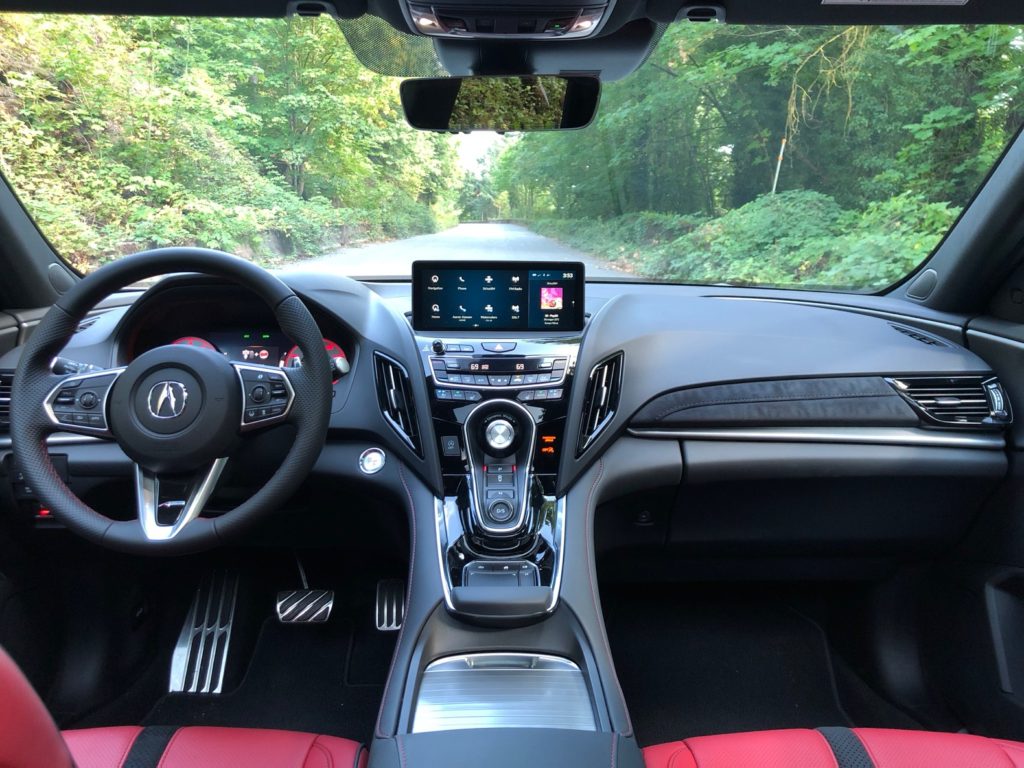 Below that however, is Acura's first implementation of their new True Touchpad interface. It's unique in the industry because it offers a true 1:1 experience between the touch pad and the screen. Where you touch on the pad directly correlates to what is highlighted on the screen. We found the system to work well and way more intuitive than other manufacturers systems. It offers Apple CarPlay standard but wish it included haptic feedback to know when you've selected something without taking your eyes off the road.
Acura looked to its Honda parent for the RDX's 2.0-liter turbo-4, which is largely shared with the energetic Civic Type R. Here, the engine is rated at 272 horsepower and 280 pound-feet of torque, with that torque being spread across a broad range that begins at just 1,600 rpm. Acceleration is brisk from any speed. The 10-speed automatic transmission snaps to attention and can shift down four gears at once if called upon. Acura doesn't publish 0-60 mph times, but we've seen multiple test results in the mid 6 second range.
The RDX remains composed on curvy roads, with the 19-inch wheels standard on most versions doing their best to balance ride quality with grip. RDX A-Spec trims ride on 20-inch wheels that do little change its character, the A-Spec really just being a sprtst appearance package. Range-topping RDX Advance crossovers come with adaptive shock absorbers that improves its compliant, absorbent ride. Even the base RDX takes on ruffled pavement with confidence. We do wish Acura would offer the adaptable dampers on the A-Spec which is supposed to be the sportiest version. Regardless, the optional all-wheel-drive system can send up to 70 percent of power rearward. A torque-vectoring system shuttles power between the rear wheels up to 100 percent which you can really feel in tight turns. With 8.2 inches of ground clearance, the RDX is ready for winter, but it's not meant to be a real off-roader.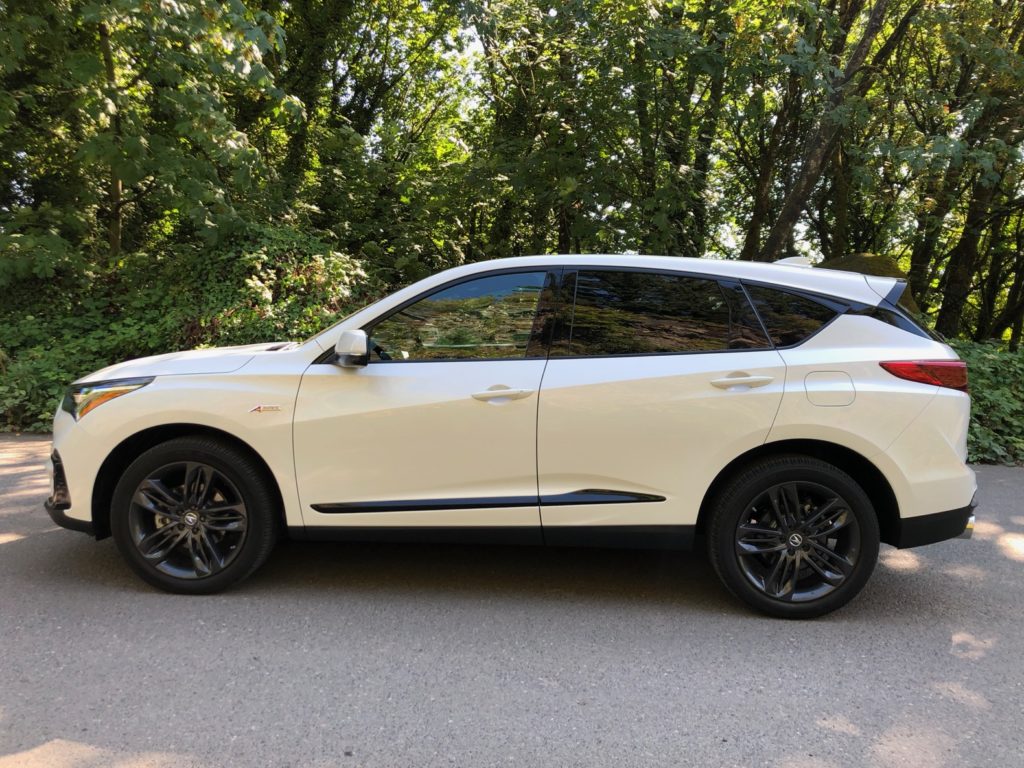 The 2020 Acura RDX is relatively thrifty by compact crossover SUV standards, although a hybrid option would be nice. With front-wheel drive, most versions are rated at 22 mpg city, 28 highway, 24 combined. The A-Spec lops 1 mpg off of the highway figure due to its larger wheels. All-wheel-drive models come in at 21/27/23 mpg, with a 1 mpg hit again for the A-Spec. We averaged 22 mpg for the week in our all-wheel drive A-Spec model.
The latest Acura RDX is a strong performer when it comes to its crash-test scores. Every 2020 Acura RDX leaves the factory equipped with an armada of airbags and collision-avoidance tech, as we'd expect for a crossover SUV priced in the $40,000 range. Adjustable headrests offer a wide range of bodies the ability to position themselves safely and comfortably, too. Outward vision is good forward due to narrow roof pillars, though over-the-shoulder can be a challenge because of the wide rear roof pillars. Blind-spot monitors come on all but the base model and a surround-view camera system is fitted to the Advance.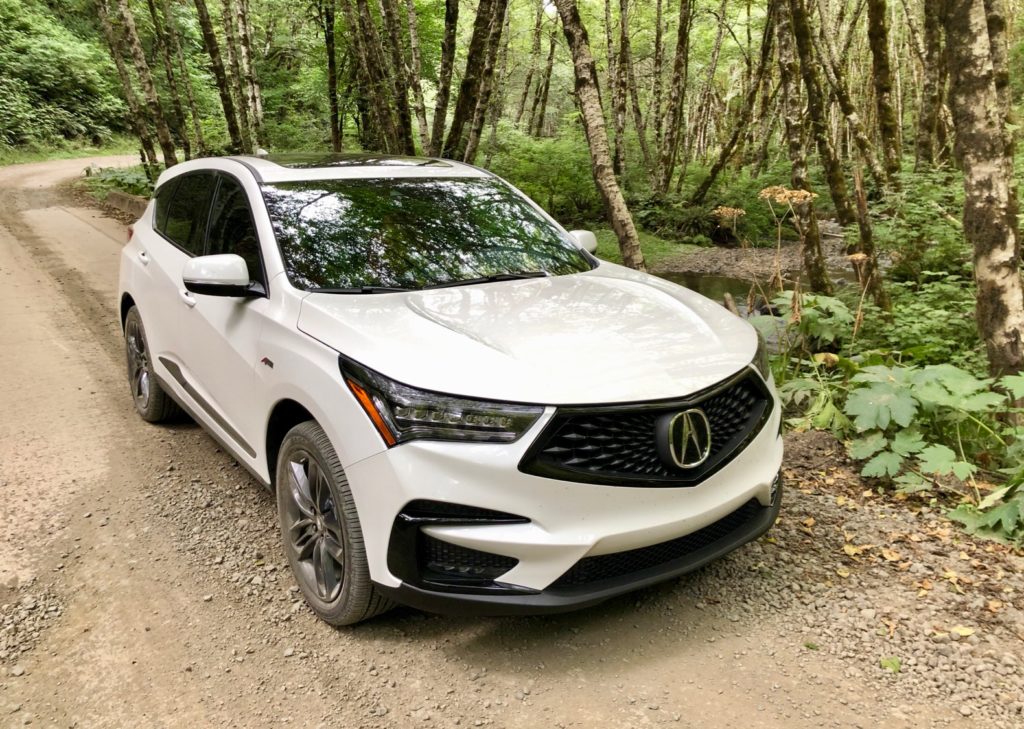 The base RDX costs about $38,600, plus $2,000 with all-wheel drive. With its synthetic leather seats that are power adjustable up front, 10.2-inch display, and Apple CarPlay, it's a good value among luxury crossover SUVs. Spend $3,200 more and you get the Technology Package, which adds navigation, upgraded audio, leather seats, parking sensors, automatic high-beam headlights, blind-spot monitors, and a few other features. We'd rather skip the navigation since Apple CarPlay works so well, but an RDX Technology is a lot of crossover SUV for less than $44,000 with all-wheel drive. The range-topping RDX Advance is still reasonably priced at about $48,700 with its cooled front seats, wood trim, ELS audio system, head-up display, and adaptive dampers. The sporty A-Spec package that slots between Technology and Advance strikes us as less of a value, but it still our favorite.
At the end of the day, the RDX is a standout in its class offering great performance, impressive features, and surprising value; not to mention Acura reliability. That's a bold statement consider the formidable players such as the Audi Q5 and BMW X3. If you're looking at Small Luxury crossovers, the Acura RDX should definitely be on your list, if not at the top.