The 2019 Lexus UX is the automaker's first foray into the smallest niche of crossover SUVs, and it's late to the game. Rivals from the BMW X1 to the Mercedes-Benz GLA-Class have been around for years, and the Volvo XC40 presents a formidable new challenge. With the 2019 UX, Lexus has made it worth the wait for anyone with more monthly income than garage space.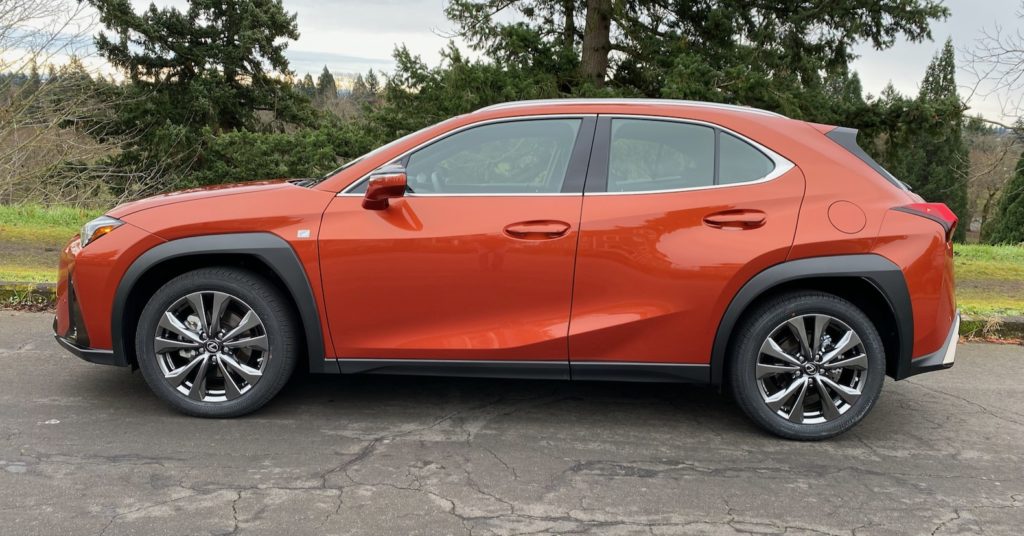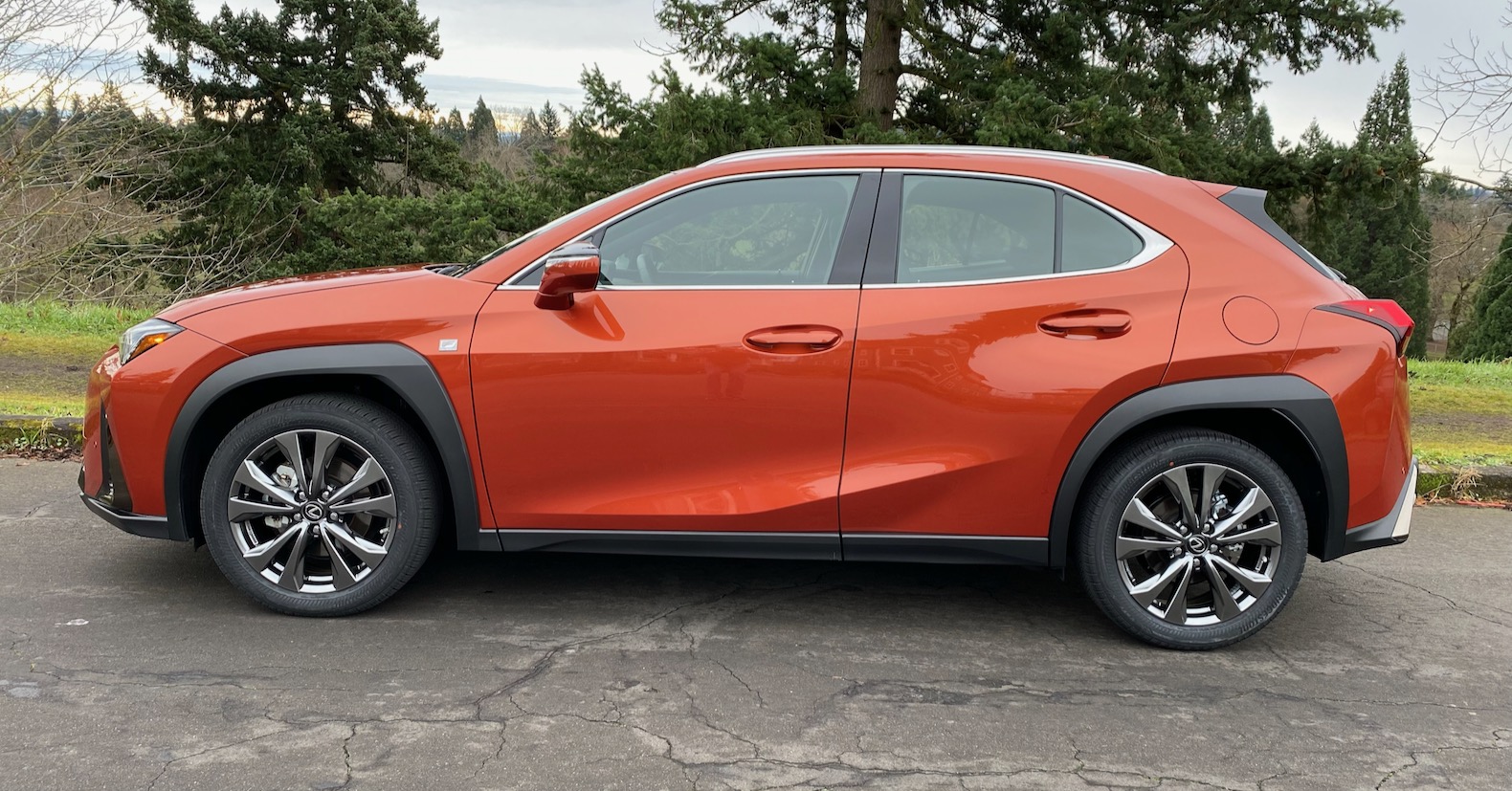 The UX has a more pleasant ride and more rear-seat space than all its named rivals. The 2019 UX sports dramatic styling that still forces bystanders to choose sides, though the same themes have been put to work on other Lexus vehicles for a few years. The big spindle grille, the dewlaps at the front end, the finned taillights all cut a distinctive path through the air, a path we think will be compelling for some time. The cabin's offset dash and color choices step smartly into a fashion-forward arena. The UX comports itself best, perhaps, in rear-seat space. Among these pricey, teensy crossover SUVs, it's the UX that has the grippy front seats and six-footer-ready rear seats. Cargo room isn't awe-inspiring in hybrids, because of battery packaging, but the fold-down rear seats telegraph the UX's intent: it's likely to be a two-seater most of the time, with the storage area crammed with weekend finds or weekend bags.
The Lexus UX goes all fierce in the front end, and friendly inside. Put a then brand-new 1990 Lexus next to a Lexus UX circa 2019 next to each other, and it hardly looks like they could come from the same company. Today's Lexus cars and crossovers brandish huge hourglass grilles, creases, and slits by the bucketful. On the UX, the current styling theme's playful and adventurous in a way its European competition is not, and that's a positive development for a brand that has followed more than it's led in styling.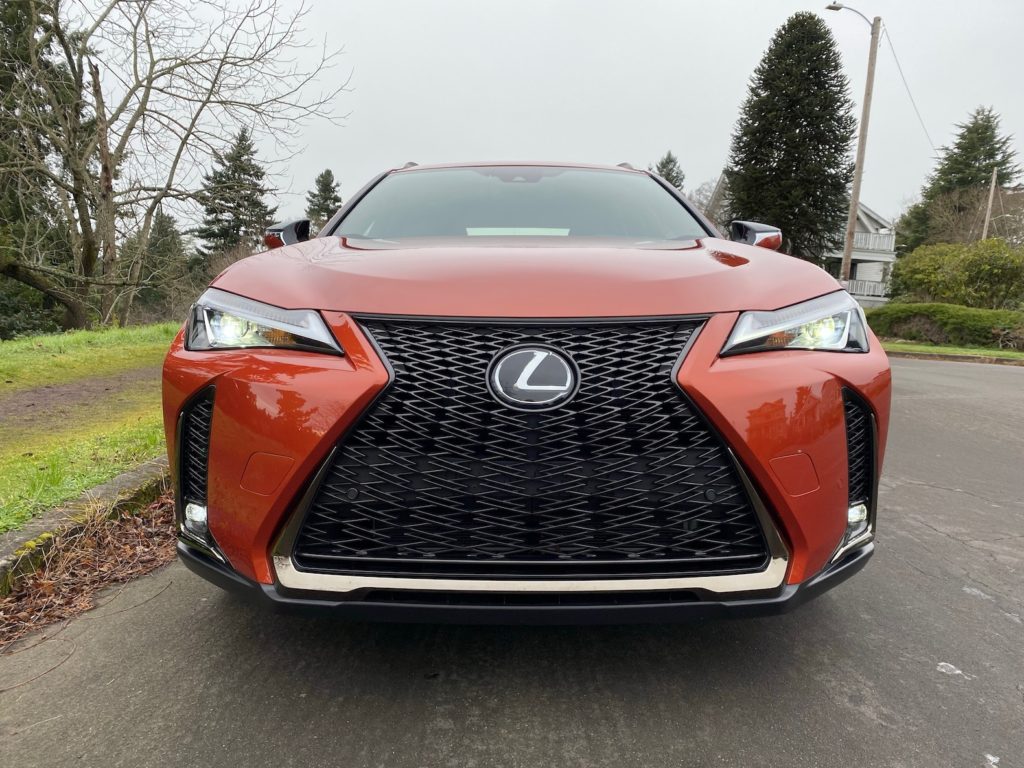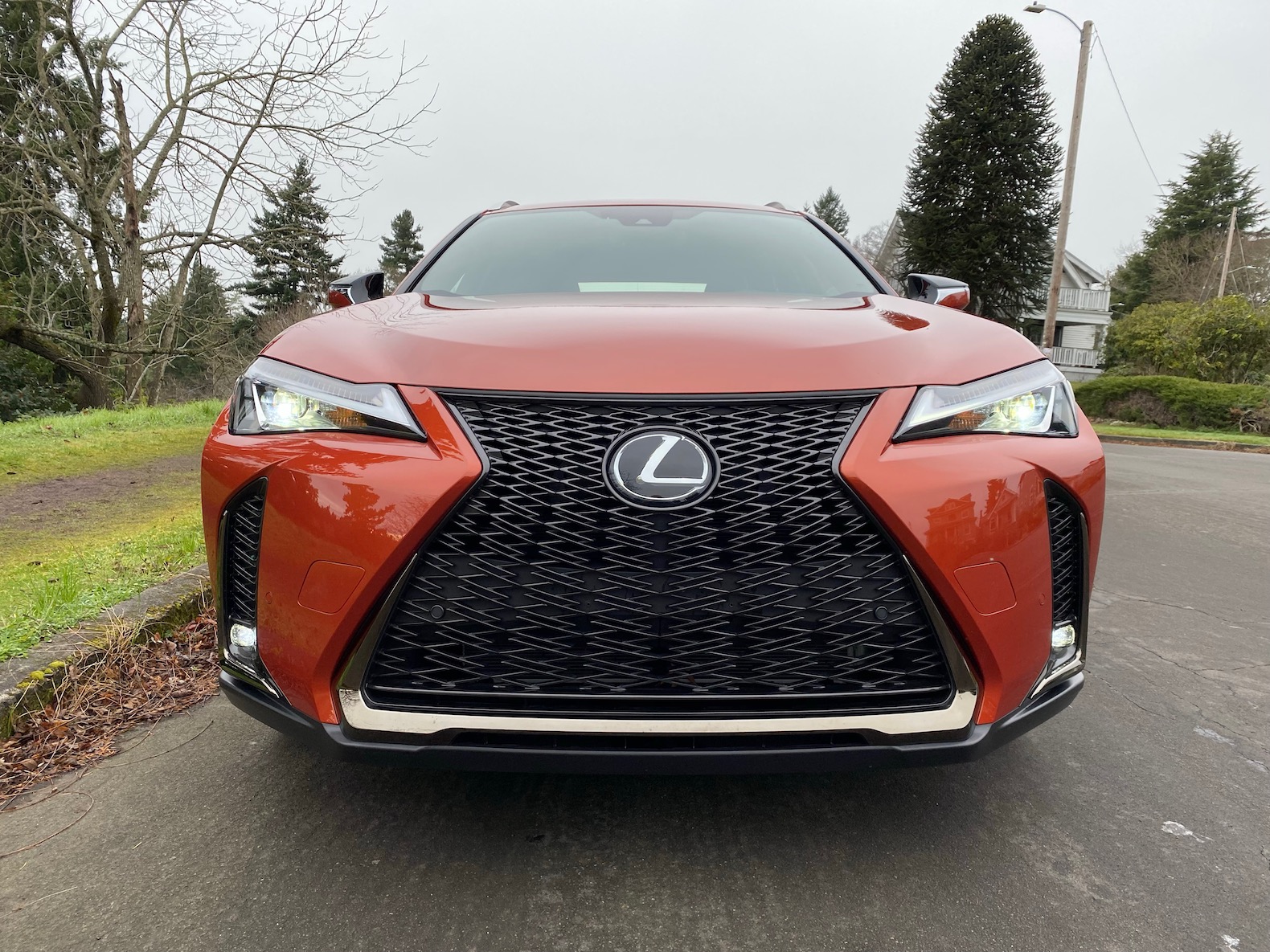 The 2019 UX has dramatic styling that starts with an hourglass-shaped spindle grille with a lovely texture. It pairs with a hood that gives more illusion of length than is really there. The lightning-bolt LED headlights stand out, but it's the tail end that garners the strongest reactions. Its LED light bar runs the width of the tailgate and culminates in either end with delicate fins faintly reminiscent of 1950s Cadillac's. An optional F Sport package adds a body kit with revised front and rear bumpers and distinct 18-inch wheels, as well as fog lamps, badges, and its own mesh grille.
In front- or all-wheel-drive form, the 2019 Lexus UX colors inside the compact-crossover lines. Lexus doesn't attempt to imbue the UX crossover with performance wizardry. It spends its engineering might on the car's powertrains, with a gas-mileage payoff in mind. It gets there, and pulls off a nice party trick: The 2019 UX rides well given its short wheelbase and comes in two configurations. The UX 200 found in our test vehicle, uses a 169-horsepower 2.0-liter inline-4. Torque output of 151 pound-feet at 4,800 rpm means the base UX doesn't generate a lot of off-the-line grunt, but it builds power evenly and without much audible drama.
Lexus moves power to the front wheels of the UX 200 via a continuously variable transmission (CVT). The unusual transmission lets a single fixed gear handle launches from a stop, then switches to the CVT, which as a result of the design, can be packaged in a smaller space, with smaller pulleys and belts. The net is better and quicker responses through a set of 10 transmission ratios, all but one simulated by clever programming. The combination in the 3,307-pound UX2 00 yields a 0-60 mph time of 8.9 seconds, according to Lexus, and a top speed of 118 mph. Strictly pedestrian numbers, not awful, but nothing like the crazy 375 hp powering the Mercedes-Benz GLA 45.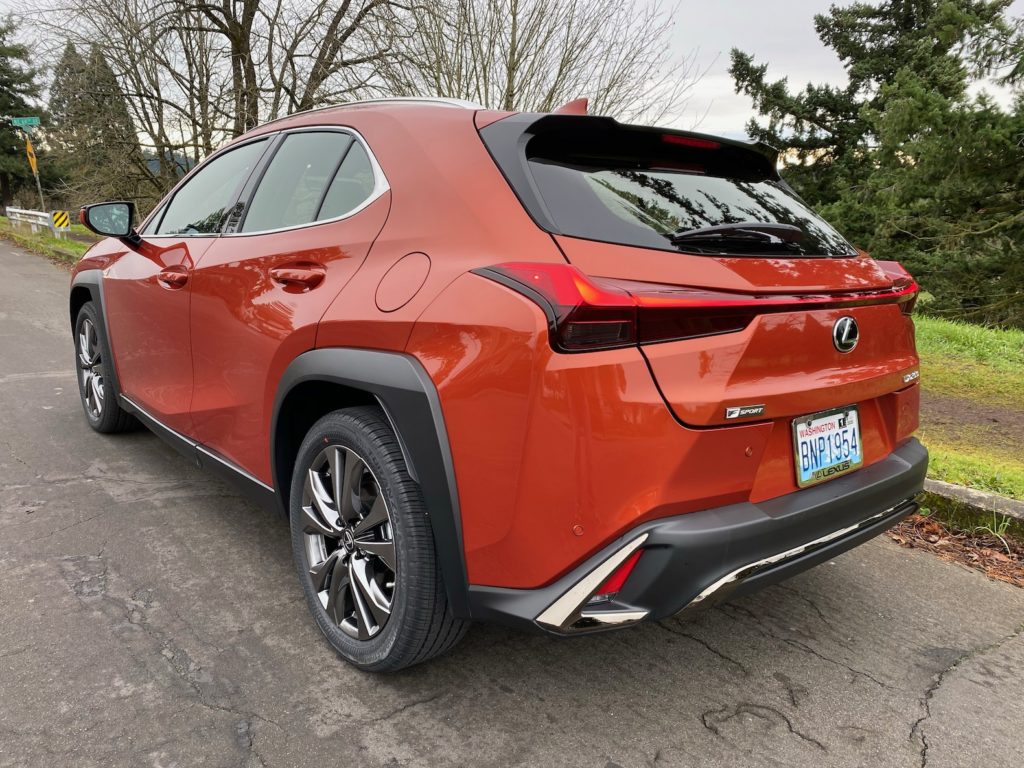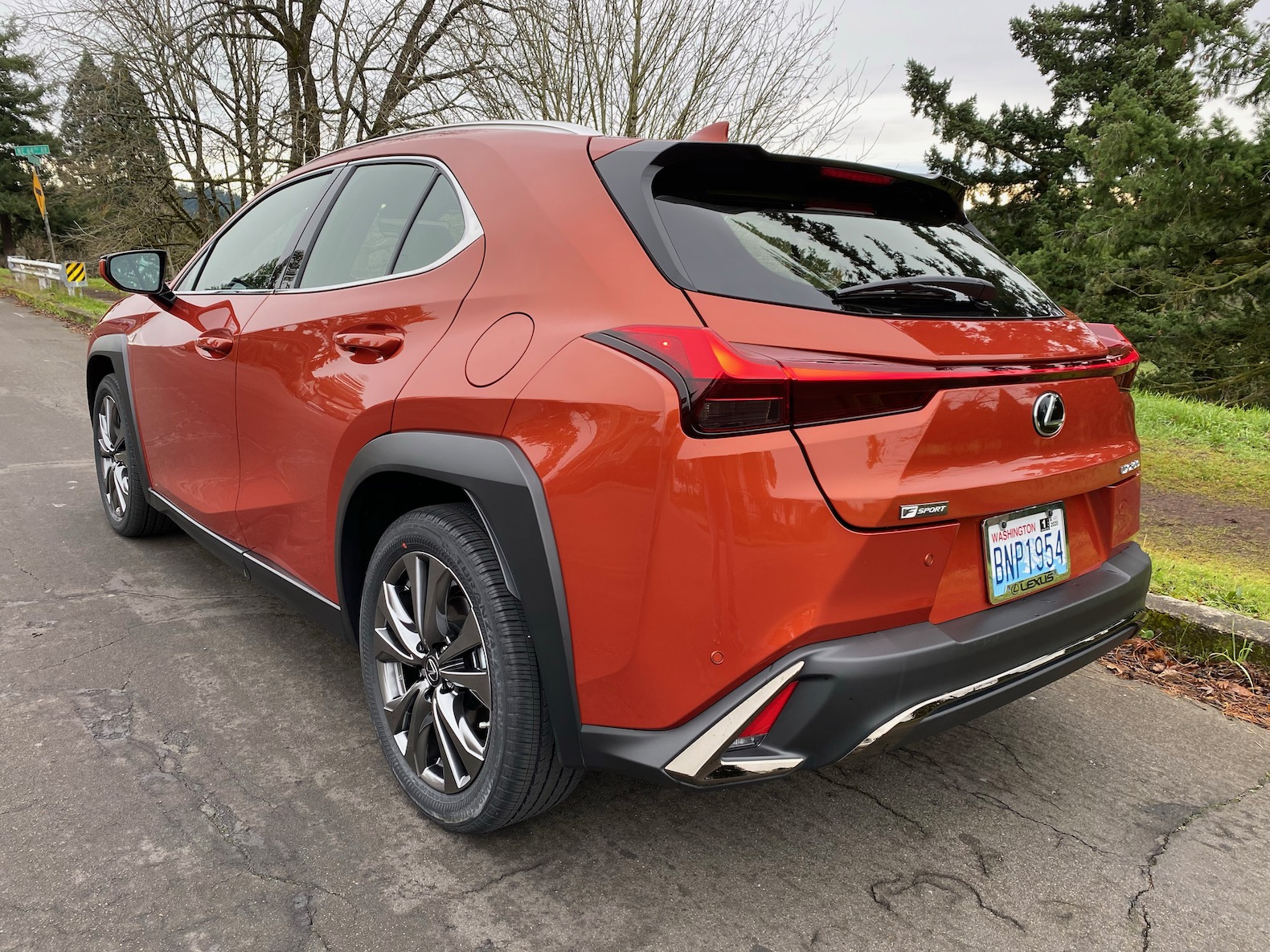 Opt for the UX 250h and it's an entirely different setup, with a 2.0-liter inline-4 run on the Atkinson lean-burn cycle for optimum efficiency, a complex electronically controlled CVT, and a nickel-metal hydride battery that sits under the rear seat. In the hybrid UX, power goes to all four corners thanks to dual electric motors, one located on the rear axle and unconnected to the front. The rear motor provides all-wheel-drive traction at speeds of up to 44 mph, where it ceases power delivery and the UX250h then begins to operate in front-drive mode.
Check Out: 2019 Lexus UX 250h Hybrid Review: Perfect for the City
Total system horsepower for the 3,605-pound UX 250h grows to 176 hp, which is still on the low end for a pint-size crossover with a luxury badge on its hood. Lexus pegs its 0-60 mph times at 8.6 seconds, on its way to a top speed of 110 mph.The UX still delivers Lexus level ride and handling. With electric power steering, front struts and a compact multi-link rear suspension design, the Lexus UX doesn't overpromise on exotic handling, though it delivers a very smooth ride for such a small car.
It's a fairly entertaining piece in urban environments, with good, even-tempered steering feel. Dial it between its Normal, Sport, and Eco drive modes, and the UX alters its throttle mapping and its steering weight, but nothing more. Hybrids are heavier, of course, and don't feel exactly precise, but can be hustled through urban obstacle courses with confidence. All models run on run-flat tires–225/50RF-18 all-season treads–but the UX doesn't suffer from a stinging ride in the city. It moves through bumps, rather than crashing through them. Credit a more relaxed set of run-flat sidewalls, and less stiff coils in the UX's suspension, for the absorbent ride, arguably its best performance trait. The U.S.-spec UX doesn't get the adaptive dampers sold in other markets, though. Lexus doesn't want to run the price up any closer to that of the bigger NX crossover. On the UX F Sport models, paddle shift controls allow drivers to flip through the simulated gear ratios. F Sports also get stiffer springs and stabilizer bars for a sure-footed but still gentle sense of control.Lexus delivers excellent fuel economy with the 2019 UX crossover.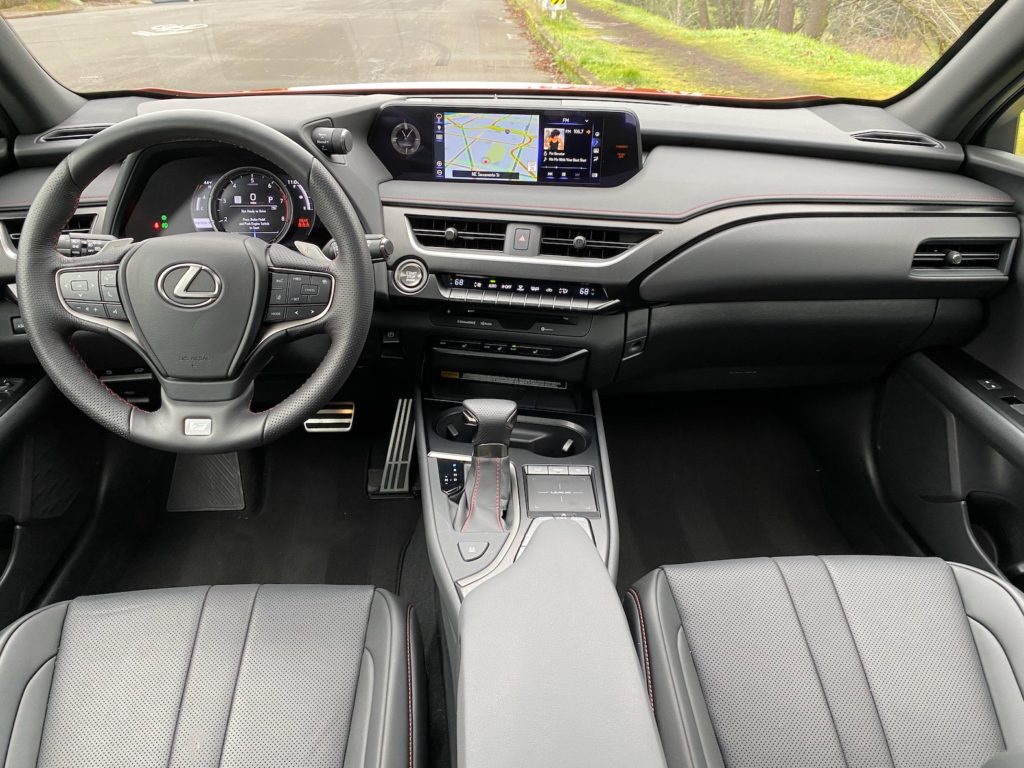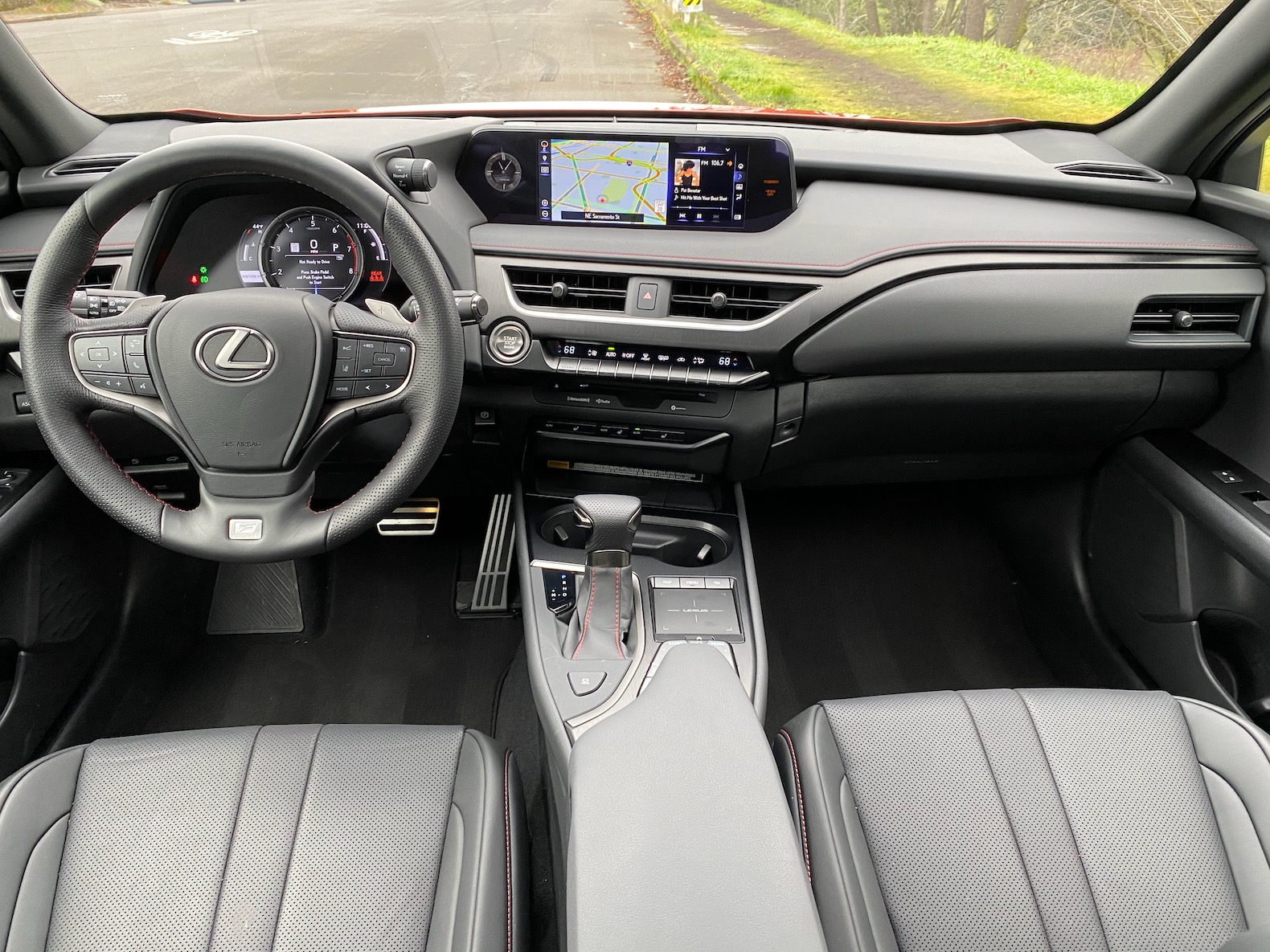 The EPA rates the 2019 UX 200 at 29 mpg city, 37 highway, 33 combined, while the UX 250h get 43 mpg city, 41 highway, and 42 combined; impressive figures for a pint-size crossover. Both run on regular unleaded; the 250h hybrid shuts off its electric add-on power above 44 mph, as doing so actually saves fuel. When equipped with navigation, the UX250h can increase its fuel economy beyond the usual direct-injection and stop/start benefits. It can be set to learn some of its driver's habits, such as where they slow down and accelerate on regular commutes. In turn, the small crossover can start to regenerative-brake and to charge its nickel metal-hydride battery pack earlier, if it knows that the vehicle is likely to come to a stop. The system can also work with the built-in navigation to predict hills and traffic to activate regenerative braking earlier and more aggressively. Lexus does point out that these systems can be turned off, and that they're only available on navigation-equipped UX crossovers. Impressive technology in such a pint-sized package.
Both the NHTSA nor the IIHS have crash-tested the 2019 UX crossover giving it rave reviews. The NHTSA rates it 5-stars while the IIHS give it a Top Safety Pick+ Rating; when euipped with the optional Triple-Beam LED Headlights. Lexus equips the UX crossovers with a slew of safety gear, much of which is extra-cost on its rivals. The UX has forward-collision warnings with automatic emergency braking, automatic high beams, and adaptive cruise control, as well as active lane control and road-sign recognition. A head-up display with info from the park assist and navigation is an option, as are blind-spot monitors. Outward vision in the 2019 UX is middle of the pack considering the upward tick in it's hind quarters.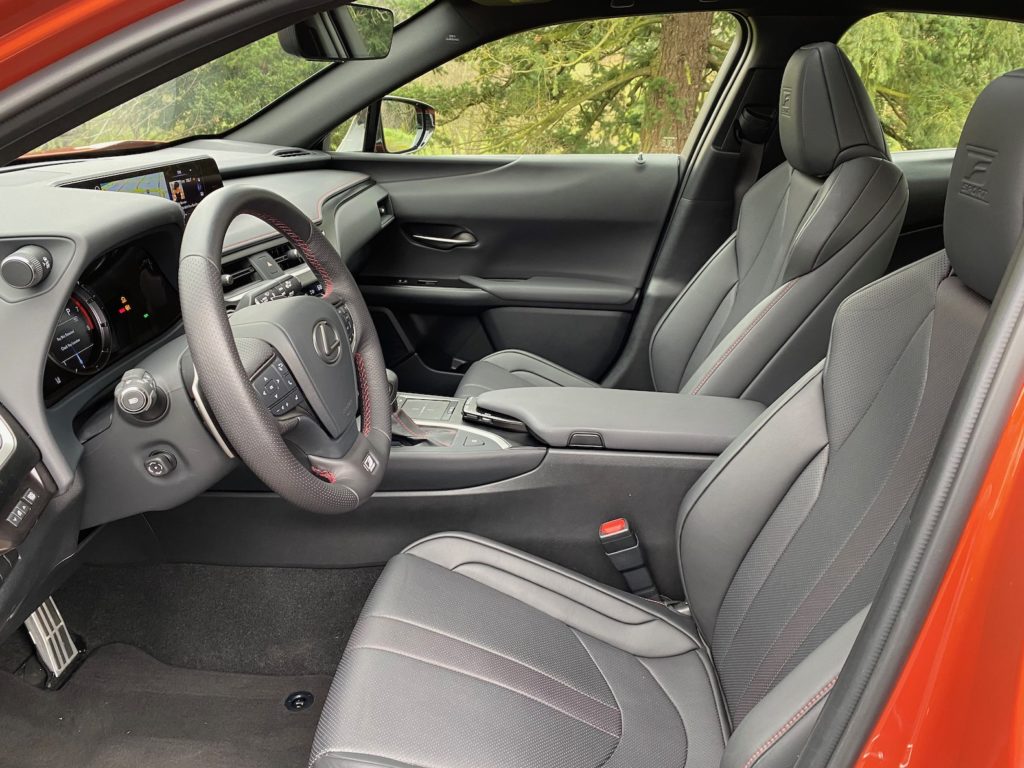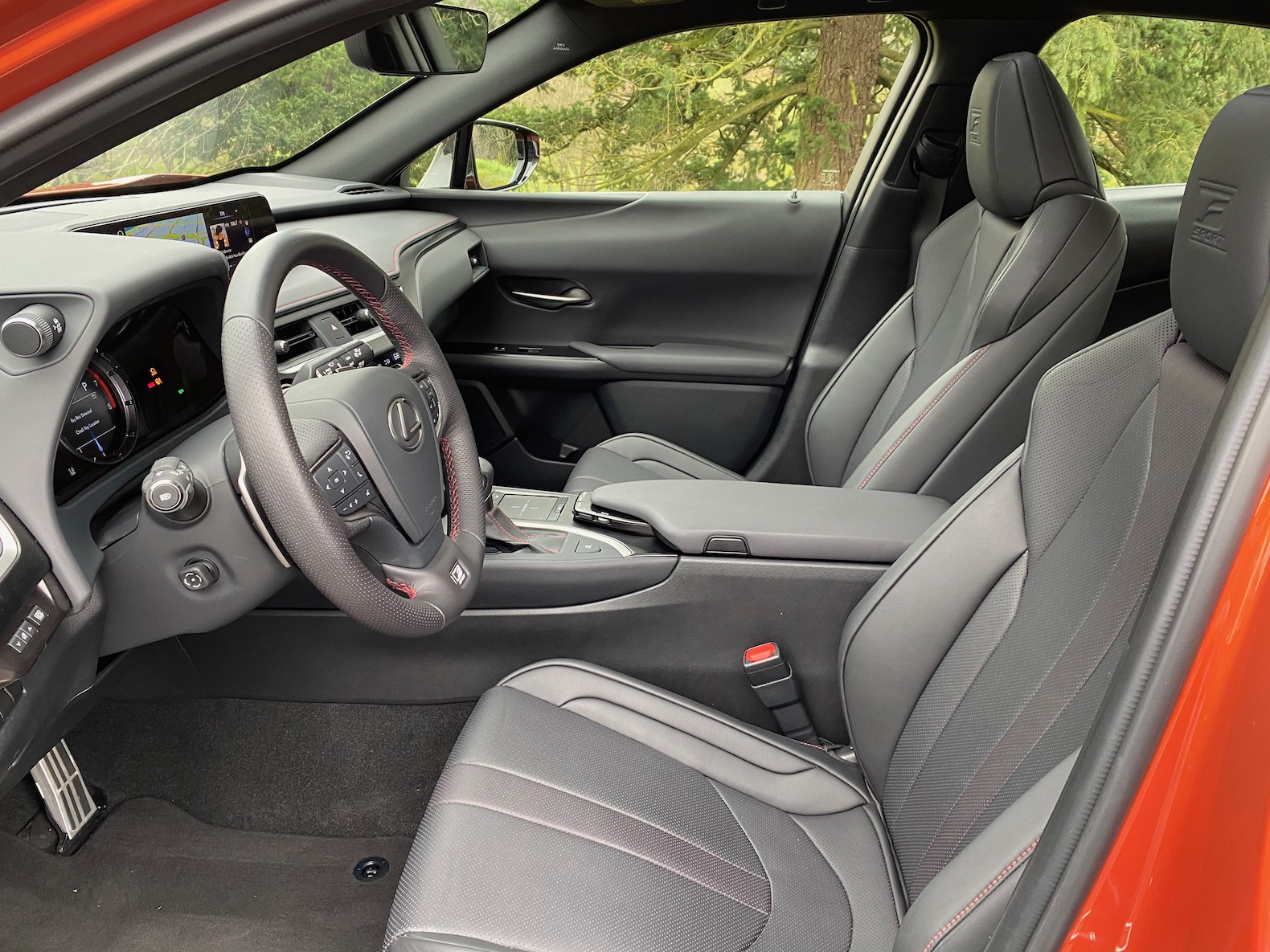 The Lexus UX is small for a crossover, but it's a couple of inches longer than the X1 and GLA, and that bulk translates into a better package for passengers. Inside, the UX is more business as usual for Lexus, which is to say that it's busy yet harmonious. The crossover's deep dashboard appears to connect to its hood, providing a unique view out from the driver's seat. At 177.0 inches from head to toe, the 2019 UX rides on a 103.9-inch wheelbase. The UX shares its platform with the Toyota C-HR, although the luxury brand's model is a couple of inches longer overall. Interior space strikes us as a notable step up from the likes of the GLA-Class and QX30. Front passengers get 8-way power front seats on all models. The base seats wear cloth upholstery, and some versions can wear a pretty two-tone blue-and-grey interior with a grippy texture pressed into the material. On the UX F Sport, thickly bolstered port seats wrap snugly around front passengers, perhaps a bit too cozy for wide bodies. A decently roomy center console splits the front seats. A smartphone tray with wireless charging sits ahead of the shift lever.
For rear-seat passengers, the biggest hurdle comes at the feet. The rear doors aren't so wide at their bases, and it can take some finessing to slide in size 12 shoes. Once inside, tall passengers get treated to very good leg and head room for adults. Lexus claims 33.1 inches of rear leg room; in real-world terms, it puts the UX crossover a good margin ahead in physical space and people-carrying utility. Lexus even fits a fold-down armrest with 2 cupholders and puts 2 USB ports in back, so everyone can rest and recharge.
High and somewhat shallow, the cargo bin in the UX 250h hybrid has 17.1 cubic feet of storage space, on the smaller end of useful. Non-hybrid UX 200 hatchbacks have 21.7 cubic feet, which translates into another roll-aboard, perhaps. In Sport mode, Lexus pipes in some added powertrain noise to give the UX more aural character. We'd prefer more of the other appeals to the senses: the UX wears a washi-textured material on the dash of all models save for those with a gray interior, and it's a subtle touch of waxed-cloth feel that wakes up the dash. F Sports wear black or red interiors. The vivid orange and green shades underscore its eager style and personality.
The 2019 UX comes in two configurations in the U.S. The $33,025 Lexus UX 200 has front-wheel drive, and the $35,025 Lexus UX 250h has all-wheel drive. Each version comes in three trim levels: Premium, Luxury, and F Sport. All 2019 Lexus UX crossover SUVs get power features, cruise control, air conditioning, satellite radio, power front seats, LED headlights, keyless ignition, and a 7.0-inch wide display screen. Base audio comes in the form of a 6-speaker system with Bluetooth streaming and USB ports for front and rear passengers. An optional sound system has 8 speakers. Premium models have a power sunroof, the washi textured dash, synthetic leather seats with heating and cooling. No Lexus UX can be ordered with leather upholstery; Vegans should be pleased. Luxury versions add to that a power tilt/telescope steering, blind-spot monitors, and the hands-free tailgate. F Sport models have active sound control (it adds on a more sporty exhaust note), sport seats, F Sport badging and suspension tuning, and a bigger gauge display screen.
Navigation is available with a 10.3-inch display screen. An available wireless charge mat ahead of shifter can be turned off to preserve battery life. Apple CarPlay comes standard, but Android Auto is still in development. Through the car's infotainment app environment, the Lexus UX driver can use Alexa while they drive to order stuff from Amazon, because it's 2020 and every iteration of technology ends in either social-media or a purchase. Lexus' infotainment system, dubbed Remote Touch, could still be better. Via a touchpad on the console, the system accepts writing, swipe, and touch input; all out of sight, at hip height. Imagine holding your phone inside your pocket and writing a text message to get instructions to get to the coffee shop. Voice commands work, but they work better through the standard CarPlay override setup. Not only that, but some functions are tucked under a palm rest: hidden rollers adjust volume, stations, and audio source. It's a whole new way of thinking, but takes some getting used to.
For those looking for a luxury urban crossover the 2019 Lexus UX is an admirable choice. It drives like a proper Lexus, keeping the outside world at bay, is easy on the eyes and senses with its avante styling, all while delivering a fuel saving safe and reliable ride. In the end the UX is truely a Lexus and deserves a look.
For all your new car shopping needs, check out: drivevise.com Vehicle shopping made simple!