Luxury compact crossovers like the 2019 Audi Q5 are automotive smartphones now: they do it all, store it all, and are seemingly everywhere. Nowadays sedans are like old school pagers. It's easy to see why buyers increasingly pick luxury compact crossovers like the 2019 Audi Q5; it's comfortable and quick with plenty of room. We're constantly reminded how wrong we are, and it only took 20 years and thousands of luxury crossovers on the road to do it.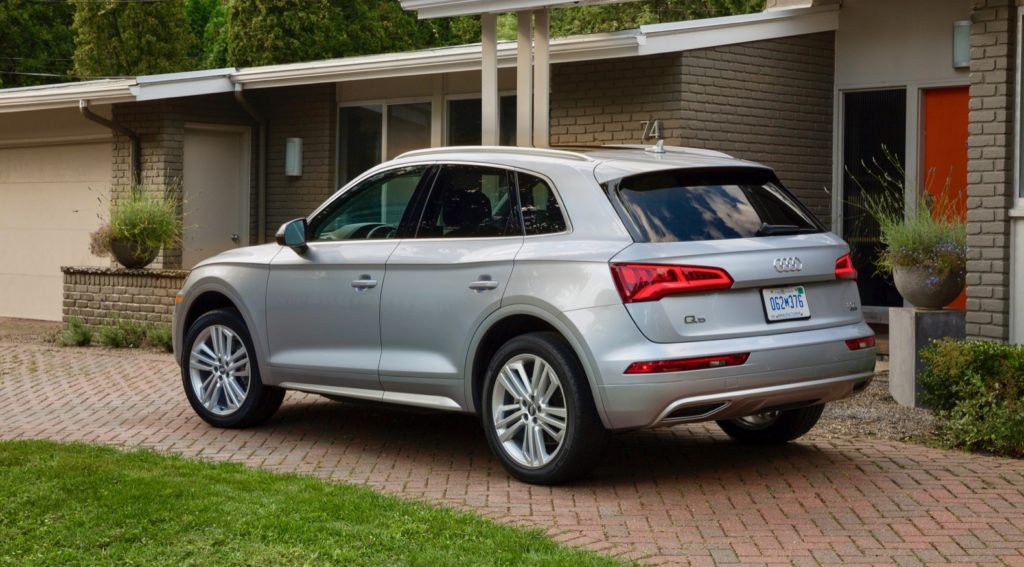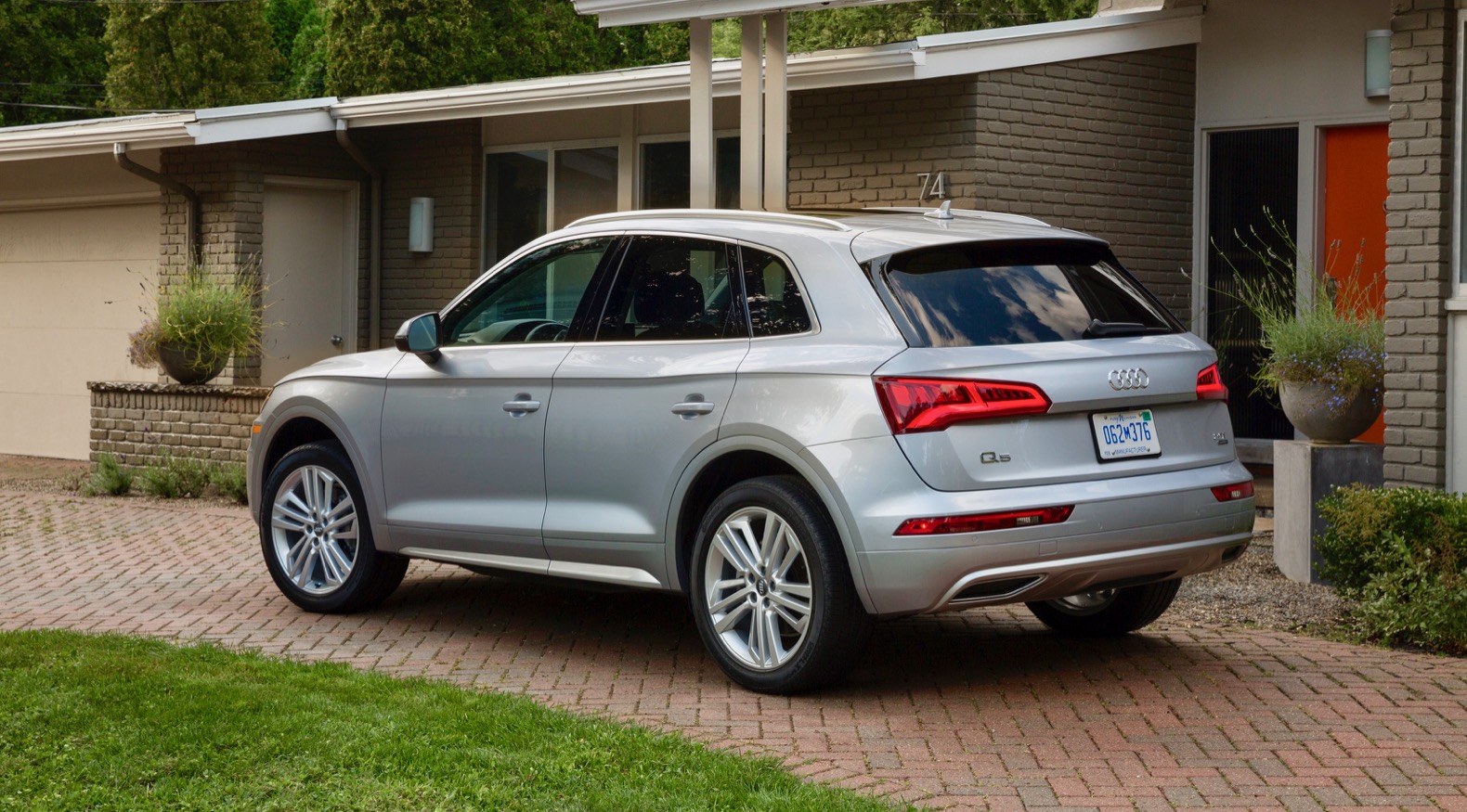 We could say the same about the exterior, except it hasn't changed much in this decade. Despite being new last year, the Q5 is largely indistinguishable from the prior generation. This version is a little sharper on the corners, the nose is a little longer, and the grille is a little bigger, but it's largely conservative. The interior is straight-shooting us like Judge Judy. Compared to the Mercedes-Benz GLC or even the BMW X3, the Audi Q5 is a starched shirt and khakis. It's the stable one you'd settle down with, not the wild one you'd have a fling with.
Ditto for the interior, which is just as clean-cut as the exterior. Leather hides are standard on all trim levels, some competitors use synthetic materials on their base versions. The interior is a little smarter in the Q5 with a logical layout for controls and infotainment. A large touchpad near the shifter handles inputs, there's no touchscreen in the Q5. In higher-spec versions you can get a digital instrument cluster that heaps on tech, but it's not overwhelming. Overall everything is very refined and in it's proper place, it's just so tranquil nothing stands out.

The standard powertrain is a 2.0-liter turbo-4 that makes 252 horsepower mated to a 7-speed dual-clutch transmission with all-wheel drive, an evolved version of Audi's famed quattro system. The setup is competent and brisk, we like its soft ride and effortless pickup and the Q5 makes the most of its turbo-4 and all-wheel-drive powertrain. It's a familiar tune for Audi, which has sold some derivative of this powertrain for while. The duo launches the relatively heavy Q5 to 60 mph in less than six seconds. Not bad for a 4-cylinder so Audi's magic over the years is paying off.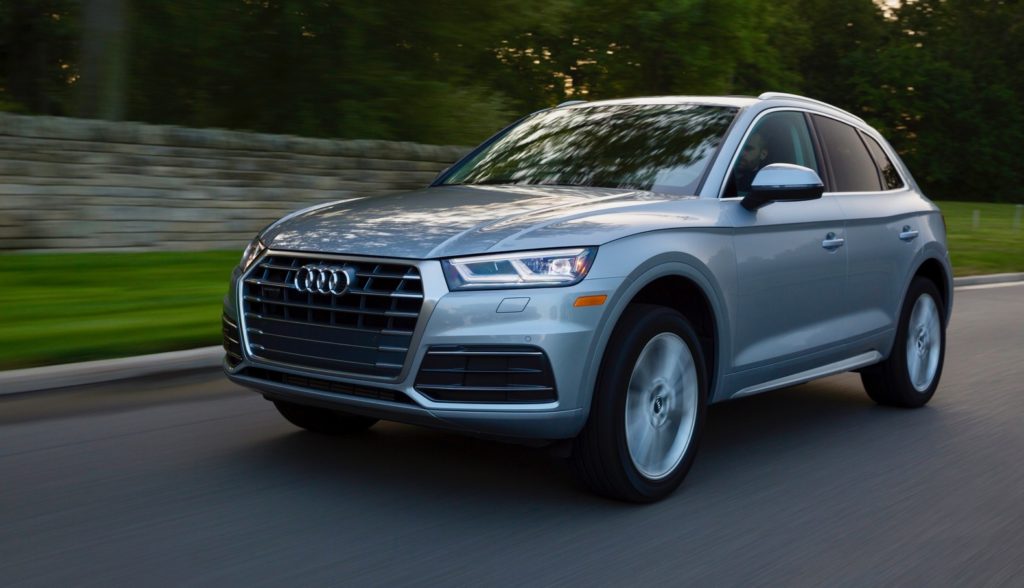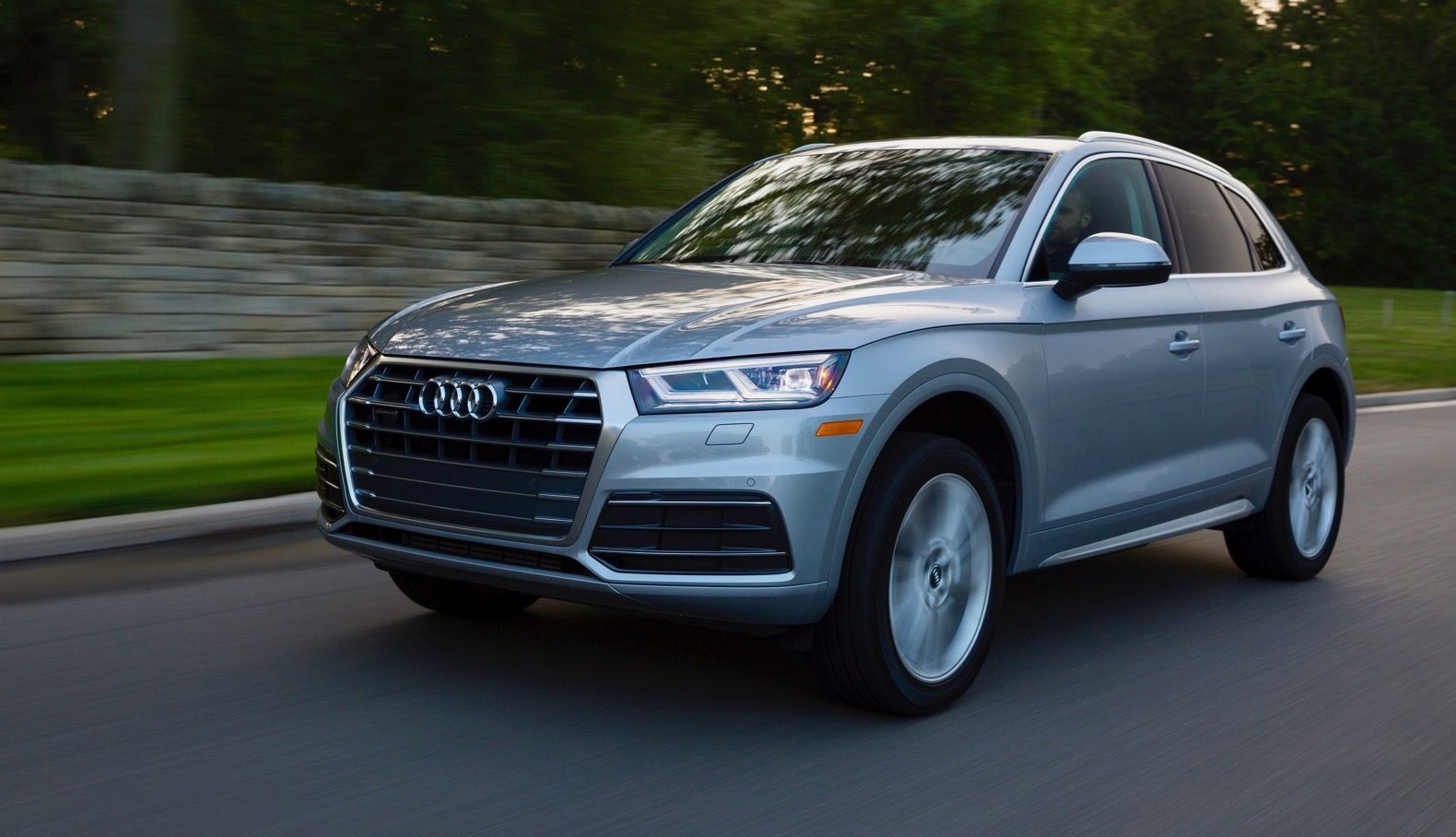 Audi's all-wheel-drive system now can fully disconnect the rear axle for better efficiency or hook up the rears for a sportier drive. Called quattro ultra, the new system works imperceptibly in the background, shuttling power among all four wheels for better grip or to carve a tighter line. We've driven it now through snow, ice, washboard roads, and dirt without a complaint. For the soccer mom set, this will be way more than enough to get the kids home safely and give reassuring peace of mind in inclement weather.
The Q5 most recently was overhauled last year and borrowed a stiffer structure from the A4 for the crossover's bones. Riding atop the 18-inch standard wheels, or even the 20-inchers on higher end trims, the ride remains fairly tranquil. The Q5 is quiet, calm, and comfortable, regardless of road condition. Credit equally goes to the supple five-link front and rear suspension that soaks in road imperfections and to the stiffer chassis that gave engineers a more solid platform from which to dial in its creamy ride.
Aside from federally mandated belts and bags, the Q5 is equipped with low-speed automatic emergency braking that can avoid, or mitigate, forward collisions. The IIHS rated the system as "Advanced" and noted that the basic system avoided a crash at 12 mph and slowed the car by 21 mph in the 25-mph forward crash test. A higher end optional system avoided the higher-speed crash altogether; itadds a suite of advanced safety features that can help keep the Q5 centered in its lane for short distances without driver input and follow cars to a halt in heavy, stop-and-go traffic. Audi's system is better than others we've tested, its lane centering keeps it from pin-balling between the lines. Outward vision in the Q5 is better than in some competitors thanks to thin roof pillars, a low dashboard, and rear seats that don't obstruct rearward glances.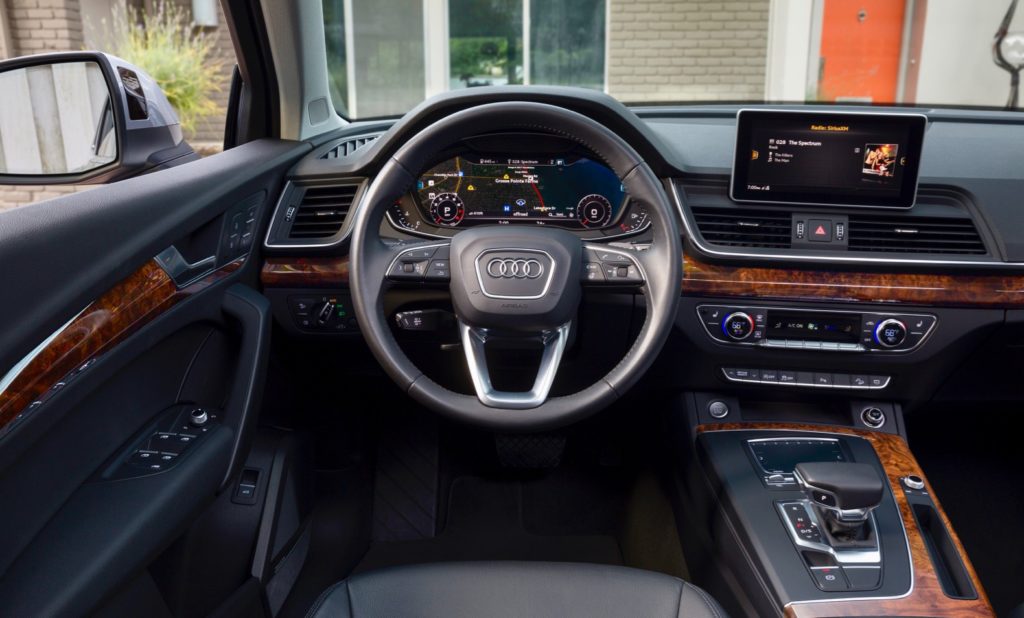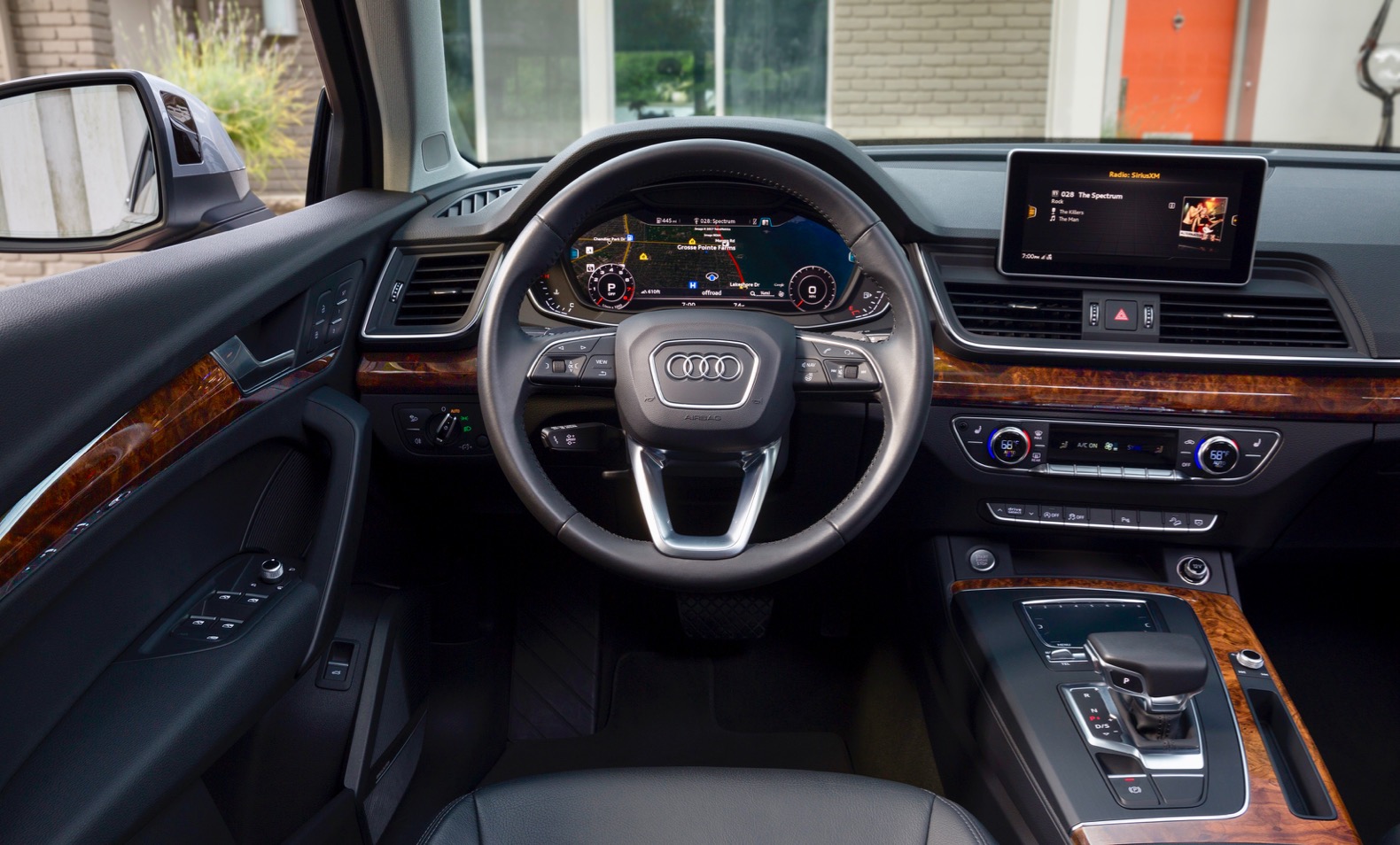 The Q5 is comfortable for four adults with just about any body type, five if you're feeling cozy. Behind the second row of seats, the Q5 offers 26.8 cubic feet of cargo room, which is made better by a low load floor. With the second row tumbled forward, mostly but not completely flat, the cargo area expands to more than 60 cubic feet. It's enough for most of the shopping we could throw at the Q5.
Audi offers the Q5 in Premium, Premium Plus, and Prestige trim levels. For $44,000 even premium models include leather upholstery, 18-inch wheels, two USB ports, xenon headlights, power-adjustable front seats, a 7.0-inch digital instrument cluster, low-speed automatic emergency braking, and a 7.0-inch screen for infotainment with Apple CarPlay and Android Auto compatibility. It's good base equipment, including the infotainment screen, which nets two points above average. Audi offers considerable options on the Q5 that can make it more luxurious and ritzier.

We wouldn't fuss with the Premium level's base equipment; we couldn't ask for much more. But if we did, we'd hardly argue with the Premium Plus trim level, which Audi says is the most popular with Q5 buyers. The Premium Plus trim level adds an 8.3-inch infotainment screen with navigation, two more USB charge ports for rear-seat passengers, sport seats, keyless ignition, panoramic sunroof, real wood trim, blind-spot monitors, and wireless smartphone charger for more than $50,000. The Prestige trim level adds a 12.3-inch digital instrument cluster (Audi calls it "Virtual Cockpit"), 20-inch wheels, premium audio from Bang & Olufsen, and available adaptive dampers.The 2019 Audi Q5 costs nearly $44,000 to start and vaults past $62,000 for a fully loaded version. It's a wide span for a crossover that features an impressive array of optional features. If it were our money we'd probably opt for a Premium Plus for the big sunroof and larger screen, but that's a healthy step up price-wise. So even with the base and its comprehensive list of standard equipment you can't go wrong which combined with its superior driving dynamics and handsome good looks, makes it a clear top choice in the luxury compact crossover segment.