The all-new 2020 Nissan Sentra is sportier and better equipped but is still a great value. The redesigned 2020 Sentra comes to market at a time when fewer people are buying compact sedans and fewer automakers are making them. Yet, the 2020 Sentra is an important entry-level vehicle for Nissan, as it has been since it was first launched for 1982. In that span, it has become the best-selling nameplate over time for the Japanese brand, and the 2020 redesign grows from a basic budget car to a balanced value buy loaded with standard features and toned with some athletic muscle. The eighth-generation Sentra rides on a new platform and is lower, wider, and comes available with two-tone roof options. The wheelbase is a bit longer, and a new independent rear suspension and more powerful powertrain combine with the lower center of gravity to add more sport and better handling than in past Sentras.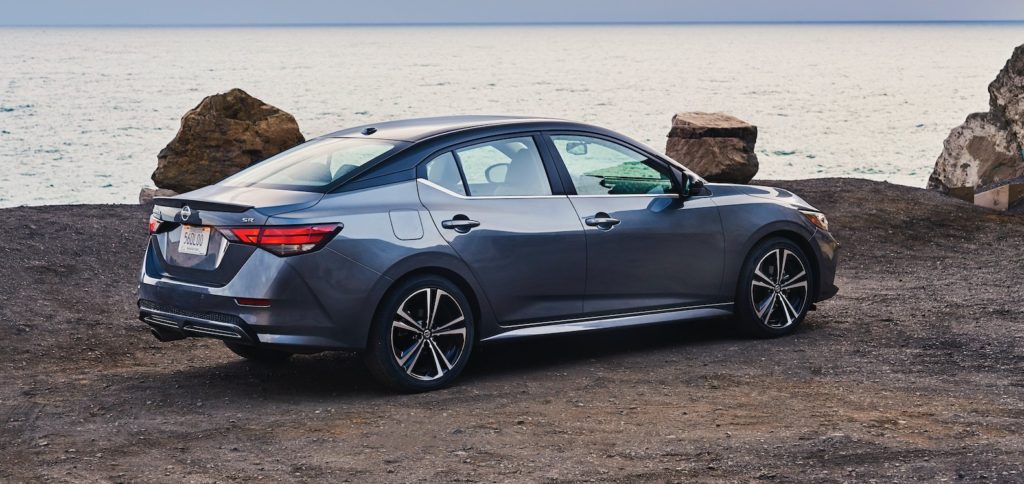 The simplified trim levels of S, SV, and SR all come with a flat-bottomed steering wheel and circular air vents inspired by the GT-R supercar. There's only one Premium package option, available on SR and SV, which enhances the sportier look with thinner and longer LED headlights, and up to 18-inch alloy wheels. The 2020 Sentra is powered by a 149-horsepower 2.0-liter inline-4 with a much improved continuously variable automatic transmission (CVT). The front-drive sedan rides lower to the ground and has an independent rear suspension that can soak up road imperfections while cruising, yet provide more responsive low-speed handling. The electric power steering unit provides more feedback the more you turn, giving it a decidedly sportier feel when you want it.
The 2020 Nissan Sentra is lower, wider and more athletic looking than the outgoing model. For 2020, the redesigned Sentra compact sedan rides on a new platform not yet shared with any other Nissan vehicles. In one of the two-tone paint schemes with a black roof, it looks more like a small Maxima. It is nearly two inches lower and two inches wider, with a slightly longer wheelbase so it looks more athletic. The sporty aspirations under the sheet metal are also reflected in the sheet metal. The redesigned Sentra wears a more angular style than the flowing one of its predecessor. The hood dips further down, and the face stretches horizontally, with deeply recessed available fog lights in the lower grille. Long narrow headlights, which can be upgraded to even longer, narrower LED lights, wrap over the front wheel arches. The two-tone black roof option has a slimming effect with the lines running over the hood and down the sides giving it a smoother wedgelike look. The lower roofline tucks in nicely at the rear, which used to be blockish.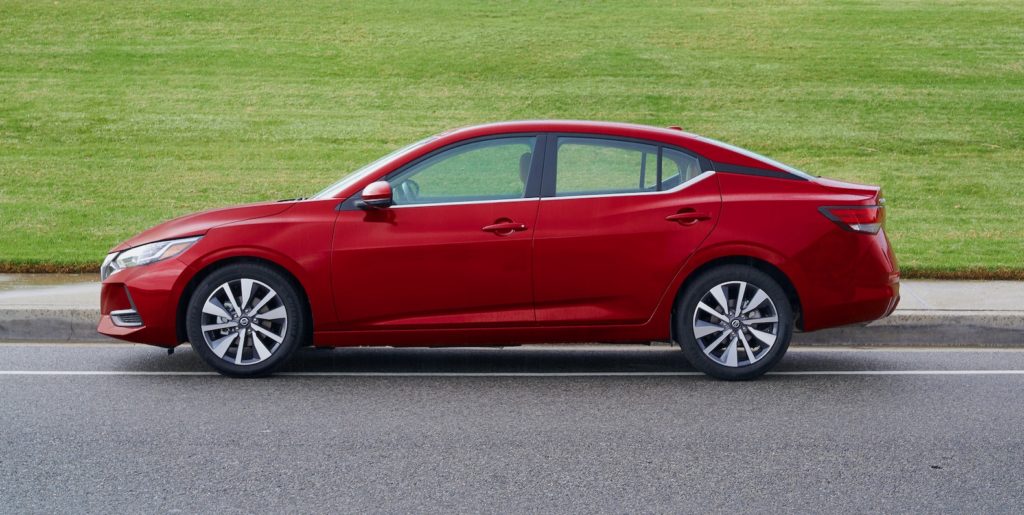 The most significant upgrades to the 2020 Nissan Sentra are performance based, highlighted by a stronger engine and independent rear suspension. In form and in function, the Sentra aspires to have better handling than it did with the past couple generations. The lower center of gravity, punchier powertrain, independent rear suspension, and responsive electric power steering definitely remind us of past auto cross Sentra's. The 149-horsepower 2.0-liter inline-4 with a continuously variable automatic transmission (CVT) produces 146 pound-feet of torque, which represent respective improvements of 20% and 17% over the outgoing model. Fuel economy improves from 32 mpg combined to 33 mpg combined in S and SV trims. It's neither quick nor fast, though the power delivery is fairly linear.

It'll run to nearly 6,000 rpm when hammered, before the CVT finds a proper mid-range rpm. Above 3,000 rpm, the Sentra is punchy enough to execute any reasonable passing move. Nissan has been using CVTs for a while, and if you've driven one, you probably have an opinion of the CVT. Leave that behind. On anything other than full throttle, the CVT in the 2020 Sentra approximates shift points pretty much where you'd expect it with an automatic. It doesn't rev too high or drone too long. Halfway down on the throttle and the CVT will change "gears" between 4,000 and 5,000 rpm. A lighter touch makes it almost impossible to notice the CVT at all, which makes it one of the best CVTs we've driven.

The cabin is relatively quiet, with engine noise only present when pushed. In most normal driving the Sentra's suspension was compliant and composed but without being too soft. Overall, the suspension is tuned more for comfort than cornering, but still welcomes a twisty road. More notable is the electric power steering. There is heft from the wheel on twisting roads, and not just from the Sentra's chunky flat-bottomed steering wheel that's typically found on sportier cars. The dual pinion rack-mounted electric power steering provides more resistance the more you turn, so cruising is soft and easy, while more spirited driving in canyon roads has greater feedback. Combine this with an independent rear suspension and the Sentra is no longer just something to get you someplace. It's no track car, but the lower center of gravity, independent rear suspension, and punchier powertrain lets you push the front-wheel-drive compact more than expected.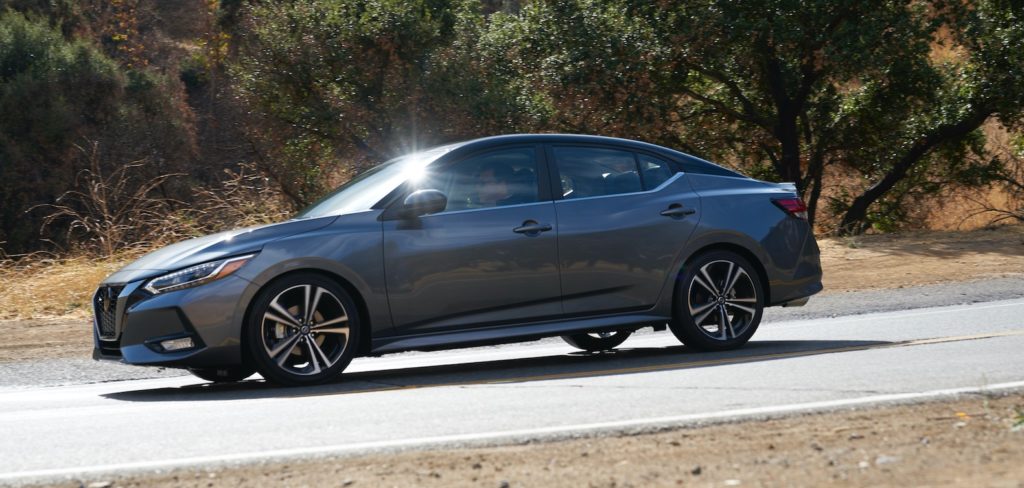 The 2020 Nissan Sentra more powerful powertrain is also more fuel efficient. Despite a larger 149-hp 2.0-liter inline-4 engine, the 2020 Nissan Sentra gains 1 mpg combined over the outgoing model to get 29 mpg city, 39 highway, 33 combined in S and SV trims. The heavier SR trim gets 28/37/32 mpg. The Sentra's CVT has an infinite number of gears, which helps to optimize fuel economy based on how you drive. Like in other cars, a light throttle will mean fewer trips to the gas station. In our week with our SR test vehicle we averaged a respectable 33.8 mpg.
The redesigned 2020 Sentra has not been crash tested but what's in is encouraging. The 2020 Sentra has good scores in the crash tests it's completed so far. Federal testers gave the small car a five-star overall score.. In limited testing, the IIHS gave the Sentra top "Good" scores for its small-overlap front crash protection for driver and passenger sides, which simulates a crash with a smaller object such as a tree or light pole. The Sentra includes a suite of standard active safety features called Nissan Safety Shield 360 that bode well for all shoppers. The 2020 Nissan Sentra comes loaded with six standard active safety features, including automatic emergency braking front and rear, blind-spot monitors and lane-departure warnings, rear cross-traffic alerts, high beam assist, and a driver alertness warning. In addition, the Sentra has good outward vision thanks to its big windshield and narrow front roof pillar.
The sporty vibe carries over to the interior of the 2020 Nissan Sentra, which borrows style from the GT-R. Even base S trims get a flat-bottomed steering wheel, and the three circular air vents in the center stack pay dues to the Nissan GT-R. A 4.2-inch vehicle information display is standard, as is a 7.0-inch touchscreen and a USB port. It does not look or feel like the budget car disposition of the past. Cloth-covered front bucket seats with six-way manual adjustments are standard, while six-way power and two-way power lumbar seats are part of the Premium Package. The driver's seat is comfy, with good thigh and side support. Quilted leather seats are available with the Premium Package, as are heated seats and a heated steering wheel. The rear seat was roomy enough for my 6-foot-3 passenger to sit behind me in comfort. There's plenty of toe room under the front seats, too, which is a big improvement and a USB port for rear passengers. The trunk is wide and deep, providing 14.3 cubic feet, which is larger than the Mazda 3 and Volkswagen Jetta sedans.
The sporty flourishes on the outside and under the hood of the redesigned 2020 Sentra carry over to the inside, which is offered in three simplified trim levels. Even base S trims get a flat-bottomed steering wheel, and the three circular air vents in the center stack pay dues to the Nissan GT-R. A 4.2-inch vehicle information display is standard, as is a 7.0-inch touchscreen, Bluetooth, a USB port, cruise control, remote keyless entry, push-button start, and power windows and locks. For the nicer conveniences, you'll have to step up to the $21,195 SV trim, but at $1,180 more than the base model, it isn't much of a step. The Sentra SV comes with three USB ports, including one USB-C, an 8.0-inch touchscreen, Apple CarPlay and Android Auto compatibility, adaptive cruise control, upgraded cloth seats, and a 7.0-inch digital vehicle info display. It's clear and easy to use with steering wheel controls to toggle through trip meters or changing audio, so you don't need to fuss with the touchscreen.

The SR upgrades are mostly cosmetic, with 18-inch alloy wheels, LED headlights, fog lights, and DRLs, rear spoiler, and sport cloth black interior with orange stitching. Aside from the lower profile tires, there isn't much performance difference, but at $22,355, it is only $1,160 more than the SV. Nissan offers the Premium package in the SV or SR for a little more than $2,000 based on trim. It comes with thinner LED headlights with LED daytime running lights, quilted leather seats, power moonroof, heated front seats, 6-way power driver's seat with lumbar support. The SV Premium ($2,460) upgrades to 17-inch alloy wheels and a leather shift knob. The SR Premium ($2,170) adds heated steering wheel, synthetic leather seats front and back, 8-speaker Bose audio system, and a surround-view camera system.

At the end of the day, the 2020 Sentra is an impressive step forward for Nissan. The new Sentra no longer is relegated to rental car lots and can once again easily hold its own against formidable players in the crowded small car segment. With sophisticated styling, upgraded driving dynamics, and impressive standard technology the Sentra is once again a player. Add in great value with renowned Nissan reliability and you can quickly see why the Sentra deserves to be on everyone's small car shopping list.
For all your new car shopping needs, check out: drivevise.com Vehicle shopping made simple!