When you build the S-Class of sedans, like Mercedes-Benz does, you also must build the S-Class of SUVs. In this case, SUV's that are supremely capable both on and off road. On the road it needs to feel like the company's big sedan, but off road they need to be able to conquer sand dunes and climb mountain hillsides with aplomb. Automakers remain engaged in a relentless battle to tame SUV's for civilian duty while maintaining a degree of off-road ability. Mercedes-Benz has long led the charge to skillfully blend these attributes. Will anyone take the them to the Sleeping Bear Dunes in Michigan or Oregon Dunes in Oregon? Probably not, but rest assured, they could.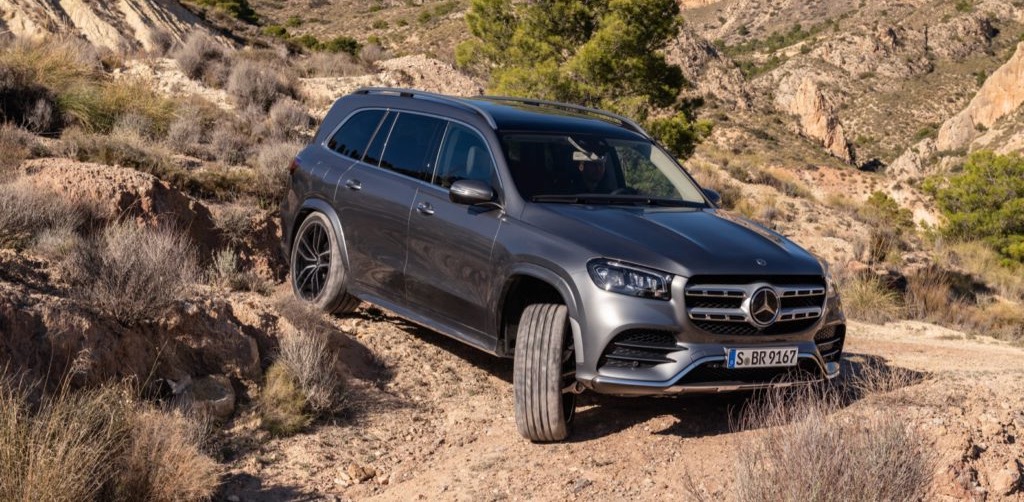 While the usual path to off-road supremacy involves lifting suspensions and locking differentials, that's not practical for most mainstream applications where buyers want the vehicles to drive like cars when on the road. Mercedes believes that delivering the capability implied by the SUV moniker is still crucial to its integrity. To that end, Mercedes takes a different tact, including utilizing air-spring suspensions that offers a versatile set of driving parameters as well as a few out-of-character and some crazy party tricks. It can enable three-wheel motion, hop out of ruts, and lean into corners.

On the GLE and GLS, the driveline is composed of a nine-speed automatic transmission mated to a variable center differential, which directs torque forward as needed. Teamed with brake-based torque vectoring on both axles, this setup focuses on providing cool and confident traction by using brains over brawn. With the Off-Road Package the suspension utilizes an air spring at each corner, which not only replaces the steel coil springs but also eliminates the front and rear anti-roll bars. Models without the off-road suspension package will retain steel springs and be fitted with anti-roll bars. Inspired by the Magic Body Control system introduced on the 2012 S-class, the E-ABC (Active Body Control) suspension system is an air-spring setup features numerous properties intended to improve off-road chops.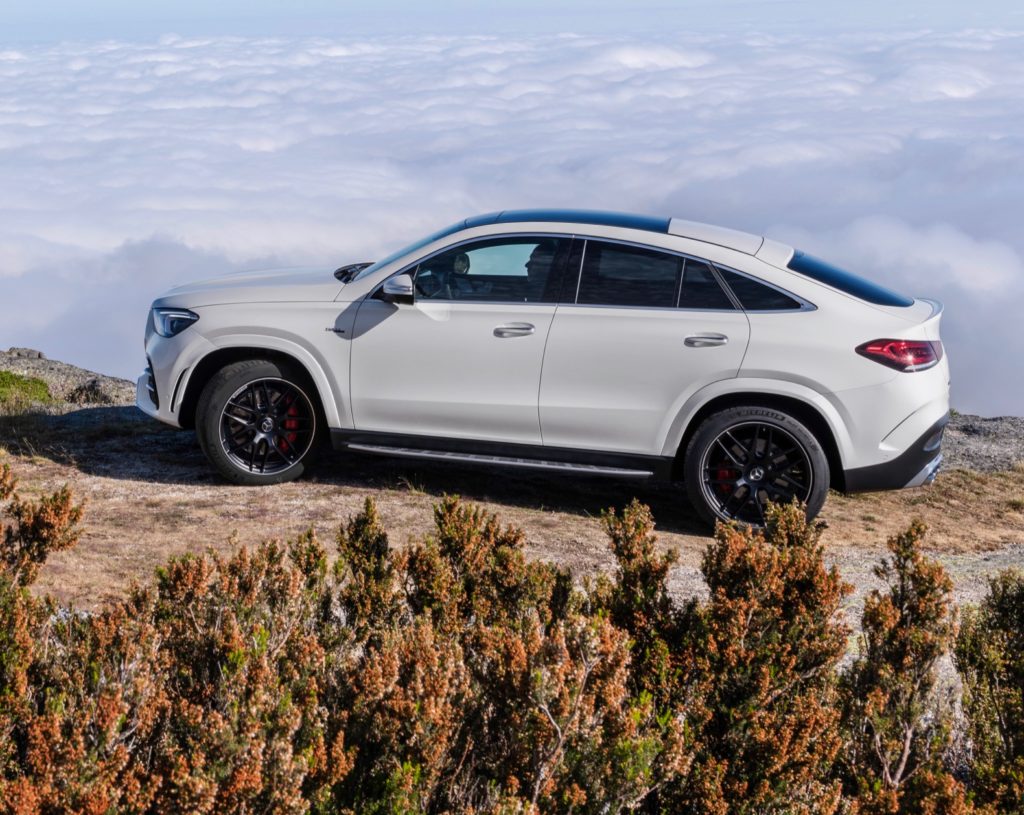 With the Mercedes setup, wheel hop and spin are virtually absent. Whether ascending an incline as steep as 54 degrees or performing tight turns in off-camber situations with the vehicle tilted at armrest-gripping angles, there is zero kickback at the steering wheel and virtually no slip of the tires. The advantages of the system is that it can instantaneously adjust to the conditions at hand by repeatedly making full-lock turns. It drives with the traction of a system with front, rear, and center locking differentials, but can still able to make tight turns without kickback. Several driving modes similar to those of current Mercedes-Benz products are offered, as is a low range.

The traction systems are abetted by the air-spring suspension, which can provide approximately 11 inches of maximum ground clearance. If that's still now enough, factory skid plates come with the off-road suspension package. In addition to the preset driving modes, a "Free Mode" allows the driver to raise or lower a wheel individually, to the point of dangling a hanging wheel if need be, it demonstrates the fully integrated and well-balanced nature of the off-road air-spring suspension. Equally fascinating is a mode that automatically bounces the vehicle to help free it when stuck in deep sand. Watch it here!
By constantly adjusting their firmness based on a number of parameters including information supplied by the Road Surface Scan camera, a bit of tech shared with the system in the S-class, the air springs manage to deliver a real-time adaptability not available with steel springs. The real trick here is the way the vehicle mitigates roll control by firming or softening individual air bladders to alter body roll, and it goes without conventional anti-roll bars, active or otherwise. Firmly controlled body motions and an all-wheel-drive system biased slightly to the rear allow for tight maneuvering, with a smidge of controllable rotation. The front springs firm up at high speeds for increased stability.
It also comes with a special control panel in the center console and two additional driving modes: off-road and off-road-plus. Off-road is for light terrain like sand while off-road-plus is steep and difficult terrain like rocks and stones. Interestingly, the system permits the user to preselect among three levels of body lean to fit circumstances or personal preference. These are tangibly evident on-road when the driver cycles through them to alternate between the first setting, which provides nearly flat cornering, and the more lenient third setting, which actually tilts the body into the direction of the turn; this is an odd sensation at first, but with additional exposure it feels more natural. Particularly noticeable on long, sweeping corners taken at speed, its effect is more visible when watching the vehicle from the outside.

Currently the extraordinary E-Active Body Control package which includes the AIRMATIC suspension, underguard and E-ABC, is available on the GLE and GLS classes. The G-Class wonder wagon, already being the pinnacle of off-road ability, is capable of similar functionality, but doesn't offer the E-ABC suspension that makes all the technological wizardry possible. Although we've barely begun to unwrap our heads around Mercedes impressive system, it shows that while being everything to everyone might be an impossible task, Mercedes isn't going to stop trying to achieve that any time soon.