The 2020 Mazda CX-9 is a crossover SUV that rewards drivers. The 2020 Mazda CX-9 may be the most stylish crossover SUV on the market, but its appearance overshadows a lack of space in the rear. Great SUV handling and a luxurious interior make the CX-9 a lovely place to spend time. We can't ignore that the biggest Mazda is tight inside for passengers and their cargo.
Considered as a five-passenger crossover, the Mazda CX-9 is a great choice. Its interior is composed of nice materials and boasts an attractive design, while power from the 250-horsepower 2.5-liter turbo-4 is powerful. Ride and handling are above average, especially with the 18-inch wheels standard on base and Touring trims. Newly standard this year is a suite of active safety features that can help prevent a collision. That's something we can applaud, especially when combined with the crossover's good crash-test ratings. The IIHS rates versions with the optional adaptive LED headlights a Top Safety Pick+.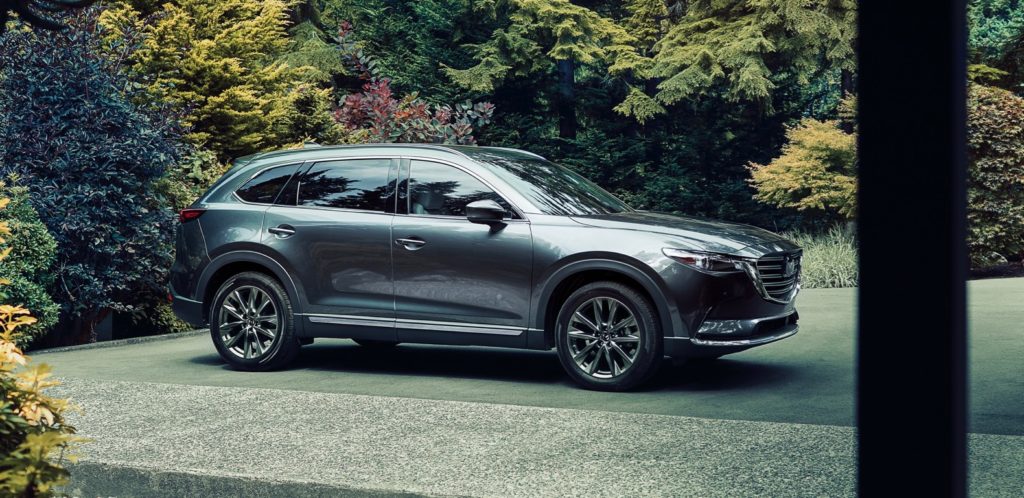 Crossover SUVs shouldn't be as stylish as the 2020 Mazda CX-9. The CX-9 looks like it could have come from one of Europe's best design houses. It marries the two-box profile of a crossover SUV with svelte lines and sumptuous curves that make it look smaller than it actually is. It's one of the best-looking crossovers around, and that's just the exterior. The CX-9 has few straight lines. Its body relies instead on subtle curves that add the appearance of motion with big wheels that fill its wheel wells.

Mazda tends to build cars that are fun to drive, and the 2020 CX-9 is no exception. It doesn't quite deliver on a sports car in an SUV package, but it comes reasonably close. Under the hood sits a 250-hp 2.5-liter turbo-4 (rated at just 227 hp using regular fuel, so pump accordingly). Power is sent to the front or all four wheels through a 6-speed automatic transmission, which is down a couple of gears versus most contemporary rival. An extra cog or two would open up a wider range for more responsive acceleration, especially on the highway.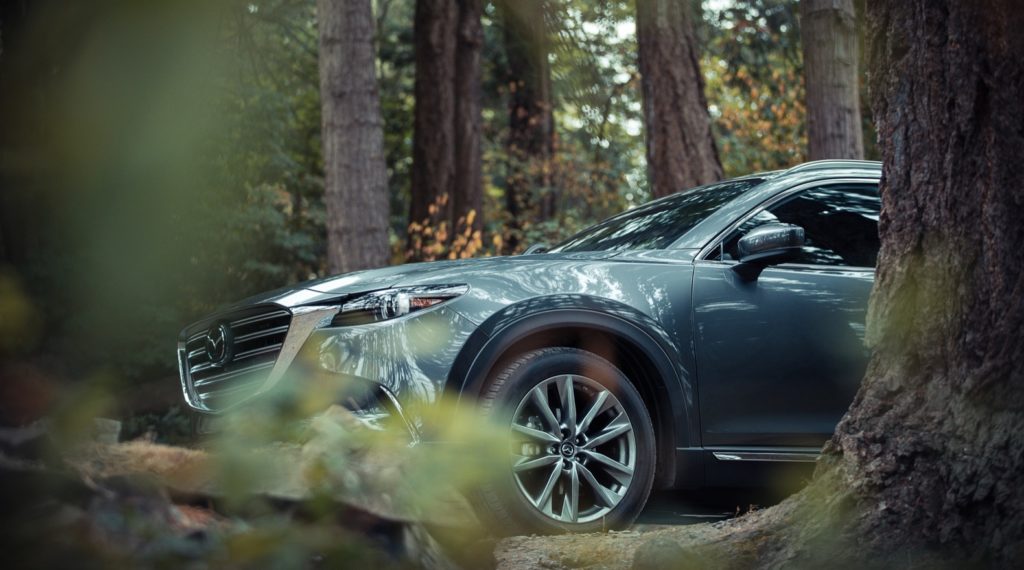 Handling is this crossover's forte and it drives like a much smaller vehicle. The CX-9 feels like Mazda did its best to combat the high center of gravity inherent in a crossover. Steering effort is good, turn-in off center is sharp, and the crossover grips pavement well. Body motions are largely kept in check, making the CX-9 a hoot to shuttle down a curvy road. Ride comfort is best with the standard 18-inch wheels. The optional 20s fitted to most versions also ride well despite having low-profile sidewalls. Don't let that road turn to dirt, however. With its sporty tires, the CX-9 is no off-roader.

The 2020 Mazda CX-9 lineup would benefit from a hybrid option like its Ford and Toyota competitors. For now, its turbo-4 delivers adequate fuel economy an prefers premium fuel. Front-wheel-drive versions are rated by the EPA at 22 mpg city, 28 highway, 24 combined. Opt for all-wheel drive and those figures slide to 20/26/23 mpg. The EPA rates the CX-9 lineup using regular, but Mazda says that maximum power from the turbo-4 requires premium fuel.
The 2020 Mazda CX-9 now comes with collision-avoidance tech on every trim level. Mazda no longer charges extra for crash-avoidance gear we consider essential on the CX-9, which is a boon for families. The 2020 Mazda CX-9 comes with automatic emergency braking, active lane control, adaptive cruise control, blind-spot monitors, and rear cross-traffic alerts. That's a great compliment of standard gear to keep every family safe. A five-star overall rating from the NHTSA is an asset, too. The IIHS offers more praise: a Top Safety Pick+ award for high-trim CX-9s with adaptive LED lights.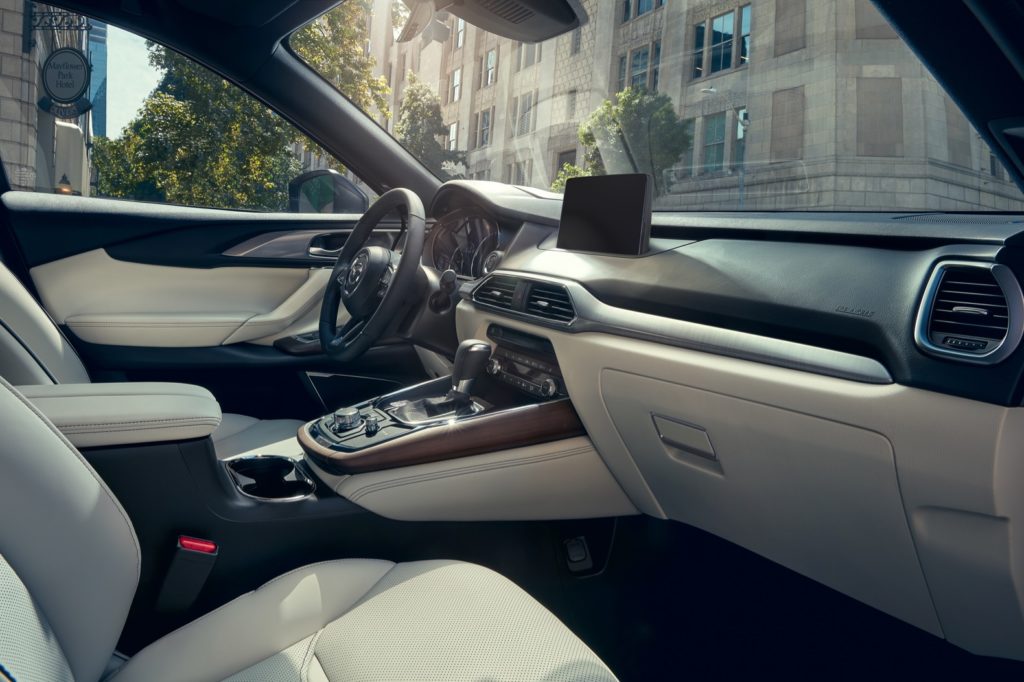 The 2020 CX-9 has good room up front, decent space in row two, and can barely accommodate short adults in the third row. Nearly every rival makes better use of interior space, though few do so with nicer materials and design. Up front, the standard cloth thrones are supportive but not especially plush. The optional leather has a nice feel, especially the ultra-soft hides fitted to the Signature. Row two is accessed via wide-opening doors, and the bench itself sits high enough with a convenient recline feature. Second-row Captain's Chairs are a new option for 2020. The third row is tough to access and offers limited space.
Cargo space isn't great for a three-row crossover SUV, but it's still impressive. Behind row three, the CX-9 can lug around 14 cubic feet of cargo, with much of that above the window line. That figure balloons to 38 cubes with the second row folded, which is how we'd keep our CX-9 most of the time anyway.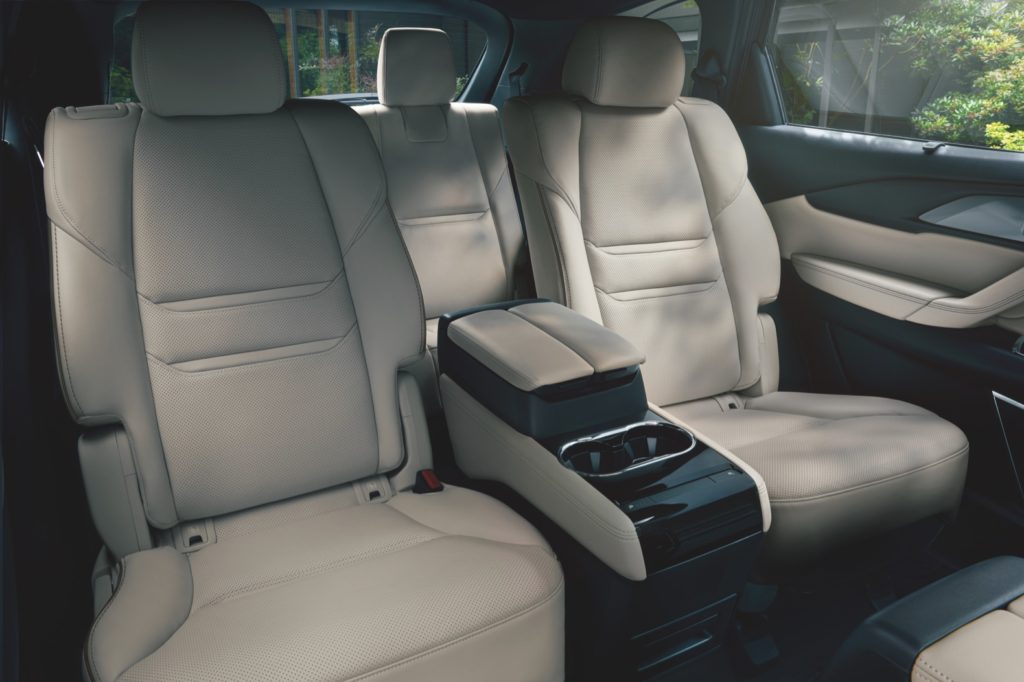 Inside, the CX-9 has a low dash and an infotainment screen that sticks up like a tablet. Small-item storage is good, but the finishes are attractive and the overall appearance looks more like Audi than a dressed-up Toyota. Pop for the CX-9 Signature and Mazda swaps in softer leather and open-pore wood trim that looks divine and would look at home in many upscale rivals.
The 2020 Mazda CX-9 can be outfitted like a luxury crossover. The automaker added active safety gear to the solid standard features offered in the 2020 Mazda CX-9. The CX-9 comes in Sport, Touring, Grand Touring, and Signature trims. The lineup starts at around $35,000, which is about the same as direct rivals. For that money, though, the Sport comes well-equipped with a 7.0-inch screen, heated front seats, a power-adjustable driver's seat, collision-avoidance tech, and adaptive cruise control. For about $2,000 more the Touring adds a power liftgate, Apple CarPlay and Android Auto compatibility, a power passenger's seat, and leather upholstery. Go all in and the CX-9 Signature pampers for around $47,000 with premium audio, softer brown leather, real wood trim, a moonroof, and more.
If you're looking for a three-row crossover that knows how to dance on road and you're not always hauling people in all seven seats, the 2020 Mazda CX-9 is a great choice. Our advice would be to get the Grand Touring which gives you almost all the options of the Signature without the price. In any trim level though, you'll still get a great driving SUV that's family safe with Mazda proven reliability all wrapped in an incredibly stylish SUV.

For all your new car shopping needs, check out: drivevise.com Vehicle shopping made simple!