The 2020 Lexus RC is a stylish, sporty coupe that makes a worthwhile rival to German stalwarts. Sporty, stylish, and with a wild option that's ready for a racetrack, the 2020 Lexus RC is a reminder that coupes can be compelling choices. This year, the lineup includes RC 300, RC 350, and RC F versions powered by turbo-4, V-6, and V-8 engines. Base RC 300s make use of a mild, 2.0-liter turbo-4 that won't excite, though the slightly more powerful V-6 included with the all-wheel drive RC 300 is more entertaining. RC 350s live up to the car's brash, unapologetic styling with a 311-horsepower V-6 that shuttles power either rearward or to all four corners. In F Sport guise with the standard adaptive suspension and optional limited-slip rear differential, the RC 350 can prove a proper thoroughbred.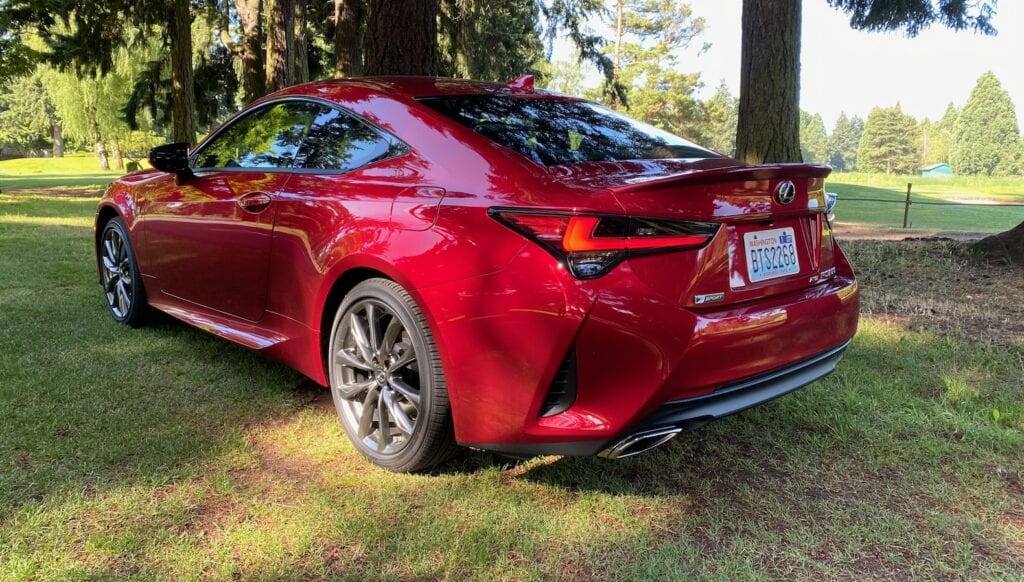 The real muscle machine here is the RC F and its screaming 472-hp V-8 engine, which gets a boost of 5-hp over the 2019 model. The rear-drive design and sporty tires won't be for everyone. Neither will the RC F Track Edition, which gets a carbon fiber hood, Brembo carbon ceramic brakes, titanium muffler, and more performance upgrades for sustained track days. (You can see our RC F review here) The RC F Sport's adaptive suspension takes big bumps in stride, largely negating its sportier tires and larger wheels. Base cars ride a little softer but aren't cushy cruisers by any stretch.

The four-seat coupe's interior isn't a spacious place for the family, but you probably knew that if you were looking to buy a coupe. Front-seat riders are treated to comfortable, multi-adjustable seats, and a good view out. Materials are excellent, and the RC can be had in a wide array of interior and exterior hues that help ensure buyers that they probably won't see an identical RC. The RC has done well in crash tests and comes with the expected array of collision-avoidance tech. Fuel economy is about average for the class based on powertrain.
Neat detailing and a clean overall profile elevate the 2020 Lexus RC. The RC is anything but staid, especially in RC F and F Sport configurations. Like the rest of the Lexus lineup, the RC's sharp "spindle" grille commands attention, not to mention a lot of real estate on the front end. Sharp headlights dig deep into the front fenders, and the angles are echoed with a chrome detail on the rearmost roof pillar. Taillights that could have been plucked from the Toyota 86 sports car bring the rear end together. There a lot of angles and curves on the RC, and yet they nearly all come together cohesively. The design may be a few years old, but it still looks fresh.

The 2020 Lexus RC offers an arsenal of performance bits that work well together. The 2020 RC isn't as dedicated a performance car as the fire-breathing RC F suggests, but it works well in most configurations as a grand-touring car. Let's start with the base turbo-4, a 2.0-liter unit that spins out 241 hp delivered rearward through an 8-speed automatic transmission. Sure, 241 hp would have been flagship-grade a decade or two ago, but the RC tickles 3,800 pounds in its most svelte configuration. That's not a lot of twist for all that weight.

The stronger choice here is the 3.5-liter V-6, which is bizarrely offered in two choices of tune. All-wheel-drive RC 300s, like our test vehicle, use a 260-hp version of the V-6, while RC 350s thrum to the tune of 311 hp. Trust us, the 350 is worth the extra cash. Its V-6 is strong, smooth, and makes all the right noises. A 6-speed automatic transmission is the sole choice with all-wheel drive, while rear-drive versions use an 8-speed automatic.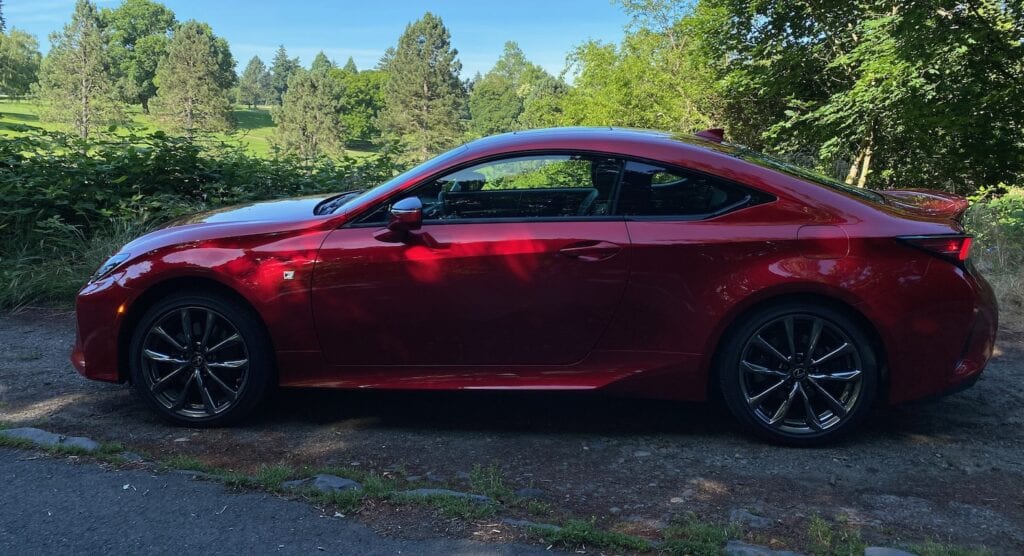 Around town, the RC is docile and comfortable. Throw in the stiffer suspension included with the RC F Sport and it attacks corners with more verve without a major ride-quality penalty. The car's steering is crisp in any configuration. Certain F-Sports offer a limited-slip rear differential as an option we recommend and rear-wheel steering. An adaptive suspension is standard on the RC F Sport.

Opt for the RC F and Lexus throws in a 472-hp 5.0-liter V-8, an engine that feels like it could have come from Detroit and not Japan. The RC F screams its way to redline, and its specially tuned 8-speed automatic rips off ultra-fast shifts. A standard limited-slip rear differential helps put power to the pavement, but you'll want to spend for winter tires, or an all-wheel-drive second car, if you live where the snow hits the road. New for 2020 is even more RC F with the RC F Track Edition, which gets a carbon fiber hood, fixed carbon fiber wing, Brembo carbon ceramic brakes, titanium muffler, new 19-inch ultralight BBS wheels, and Alcantara interior trim. The performance upgrades promise more sustained track days.
Some versions of the 2020 Lexus RC are miserly, but not all. If fuel economy is a primary point for you, the 2020 Lexus RC isn't the best choice. The greenest of the bunch is the RC 300 with the base turbo-4 and rear-wheel-drive. It's rated at 21 mpg city, 30 highway, 24 combined. Grab the RC 300 all-wheel drive and the V-6 Lexus sneaks under its hood is rated at just 18/24/21 mpg. The RC 350 uses the same engine, tuned for more performance, and it shares the 18/24/21 mpg rating with all-wheel drive. Stick with the smile-state ready, rear-wheel-drive coupe and fuel economy climbs to 20/28/23 mpg. What may surprise is the RC F's relatively decent figures: 16/24/19 mpg. It's more powerful than V-6 models by more than 150 hp but barely takes a hit.
Crash testers haven't finished smacking the 2020 Lexus RC into walls. The 2020 Lexus RC has aced what crash tests have been performed, and it comes well-equipped with collision-avoidance tech. The NHTSA has yet to crash test one, but the IIHS said the car earned top "Good" marks in its crash tests and its evaluation of the car's collision-avoidance features, though it hasn't tested the coupe's headlights and thus withholds its Top Safety Pick award. Every RC comes equipped with automatic emergency braking with pedestrian detection, adaptive cruise control, blind-spot monitors, and active lane control.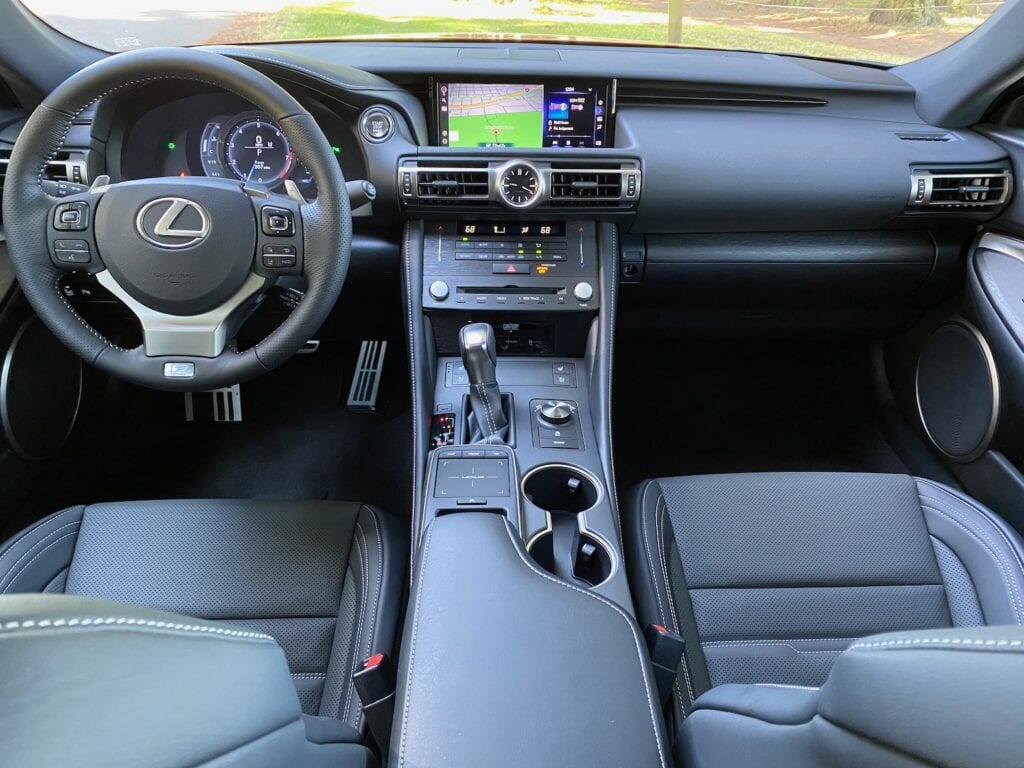 Inside, the RC delights with a low, horizontal dash trimmed in nice materials. Base interior hues are dull, but brighter shades bland all-black or beige can be had. We like the optional wood trim, but we can't fault you for picking the stylish aluminum inlays. The 2020 Lexus RC delivers on its luxury-sport mission. Keep your expectations in check, this is a coupe, after all, and the 2020 Lexus RC is a comfortable way to motor around.

The standard front seats are power-adjustable and wrapped in either synthetic or real leather, depending on how wide your pocketbook opens. Heated and cooled seats are available. F Sports add more bolstering but are wide enough to suit a range of drivers. The rear seats are hard to access, though reasonably spacious once you've wedged your way back there. A better bet is to fold the back seats flat to expand the modest 10.4 cubic-foot trunk into something more useful.

The 2020 Lexus RC is a feature-laden coupe. A generous roster of standard equipment makes the 2020 Lexus RC feel like a reasonable buy for around $42,300 to start. The lineup begins with the rear-wheel-drive RC 300, which includes synthetic leather seats that are power-adjustable up front, 18-inch wheels, a 12.3-inch infotainment screen, and attractive wood trim. Standard Apple CarPlay and Amazon Alexa compatibility are joined this year by Android Auto. All-wheel drive runs about $2,700 more, though it brings with it a throatier V-6 engine.
Our choice is the RC 350 in either base or F Sport guise, depending on how sporty you choose to go. For around $53,000, an RC 350 F Sport with a few options strikes us a good deal for a sporty two-door. The RC F costs about $66,000, which sounds like a lot but actually looks like a bargain given its muscular V-8, sports seats, and a number of additional features. Keep working through the options and Lexus will ask upward of $81,000 for a loaded RC F. The extremely limited RC F Track Edition finishes just under six figures.

The 2020 Lexus RC is either a wonderful grand-touring coupe or racetrack-ready rocket depending on configuration. Sensuous styling, a good value, and above-average reliability continue the high Lexus standards. The RC is definitely worth a look since it draws attention both on and off the track.
For all your new car shopping needs, check out: drivevise.com Vehicle shopping made simple!