From its lofty perch at the top of its lineup, the 2019 Lexus LS sedan can see the future coming. The world of leather-lined four-doors snaking their way up driveways of the well-heeled is coming to an end, with crossover SUVs ready to take over. Even Lexus has a new flagship crossover SUV on the way, which will almost certainly relegate the model that vaulted Lexus over Mercedes and BMW in 1990 to the back corner of showrooms. But the 2019 Lexus LS is prepared for what's to come here. It's ready for another market, a flashy four-door that feels more at home in Beijing than in Baltimore. It's supremely comfortable, built to a standard rarely seen, and can be fitted with luxury features unimaginable even a few years ago. This year, the LS gains new wheel designs and finally gets Apple CarPlay compatibility paired with Amazon Alexa.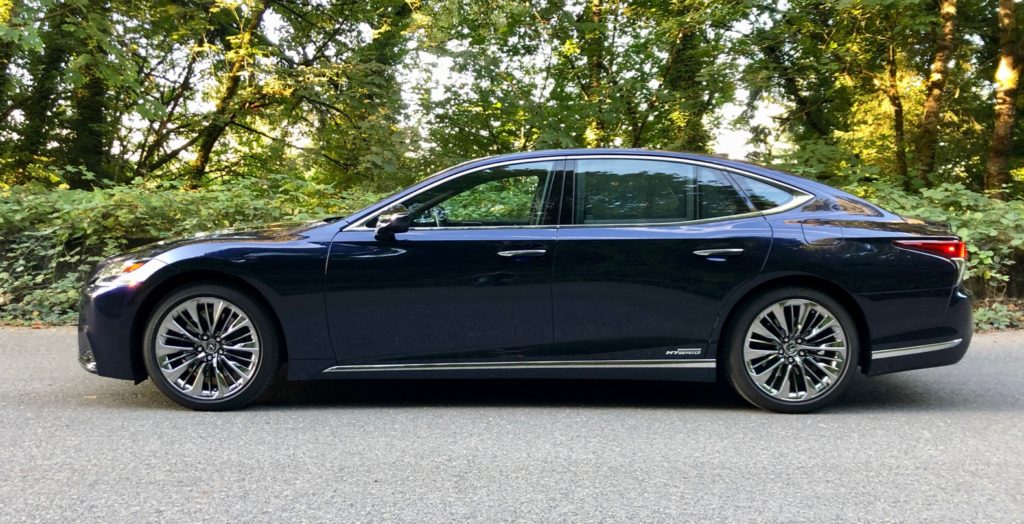 Compared to the devilish Lexus LC coupe, the 2019 LS 500's charms are subtle. Its exterior pushes the envelope in some ways, but peddles restraint in others. It's far more compelling inside, with a horizontal, asymmetrical dashboard design that emphasizes the car's width. Outside, the LS is elegant, with Z-styled headlights carved around its wide grille. Depending on the model, the LS' grille is finished in a handful of textures that help distinguish performance from luxury or (relative) frugality. Given how rare the LS is, however, that differentiation is more about style than practicality. You're not likely to find two LS sedans parked next to one another. The LS' long roofline covers a trio of side windows on each side that give it a gentle, elongated look. There's just one wheelbase on offer, in contrast to many of its competitors that offer short- and long-wheelbase configurations. At the rear, the LED taillights give the LS a signature look that works well. Whatever the LS says now, it's certainly in contrast to its staid, conservative past.
The 2019 Lexus LS reflects the brand's renewed emphasis on performance despite twin-turbo power. While the flagship LC coupe is geared to take on the best sports cars and grand tourers Europe has to offer, the 2019 Lexus LS is aimed at a much different competitive set. Despite the brand's renewed commitment to performance, the LS can best be described as exceedingly plush. The ride quality and strong powertrains make it a strong stand-out.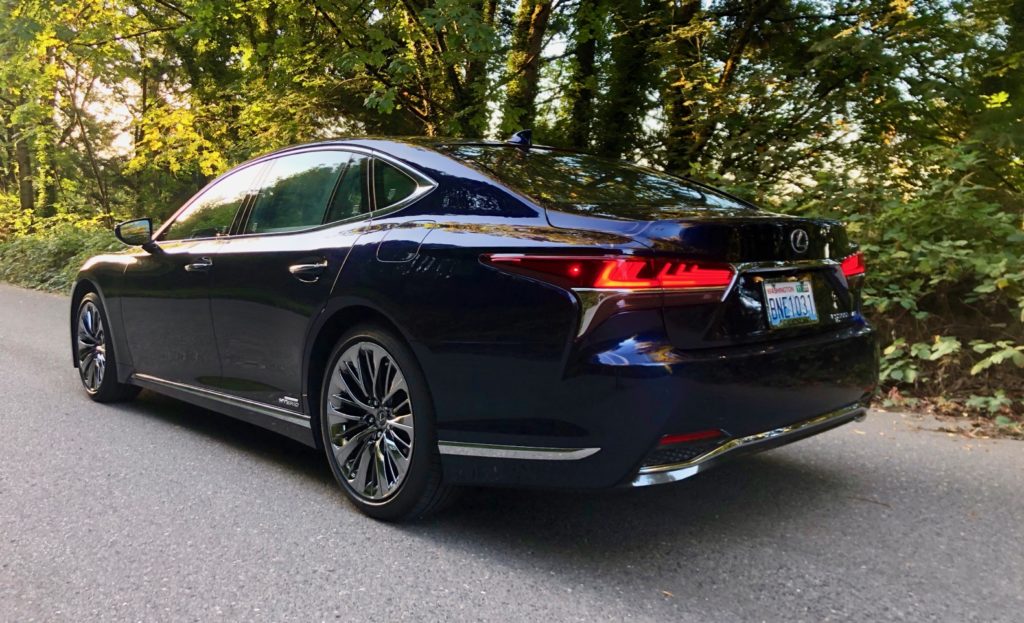 The LS lineup is broken down into two powertrains and two and a half models: the standard LS 500, sharpened LS 500 F Sport, and hybrid LS 500h which is what we tested.
Lexus LS 500 and F Sport
With a new twin-turbocharged V-6, the LS 500 leaps forward in engineering sophistication to keep pace with its European rivals, and on paper it's got the guts. The boosted 3.5-liter V-6 makes 416 horsepower and 442 pound-feet of torque, enabling a run to 60 mph in just 4.6 seconds and a top speed of 136 mph. Rear-wheel drive is standard and all-wheel drive is available, while all LS 500s get a 10-speed automatic transmission that boasts quick, smooth shifts.
Lexus LS 500h hybrid
In the past, hybrid Lexus models took a big hit in the performance department for big gains in fuel economy, but the new generation has leveled the playing field substantially. The LS 500h is powered by a 3.5-liter V-6 with two electric motors, a 44-kwh lithium-ion battery, and a trick 4-speed automatic transmission made solely for hybrid functionality. One motor is in use at low speeds, and the gas and second electric motors kick in for more power at a higher rate of speed. On the other hand, this powertrain makes a combined 354 horsepower and manages an average highway fuel economy of 33 mpg. The list of vehicles that hit that figure and can also reach 60 mph in just 5.1 seconds is exceedingly thin making the LS 500h truly rare and a surprising choice for sleeper performance car.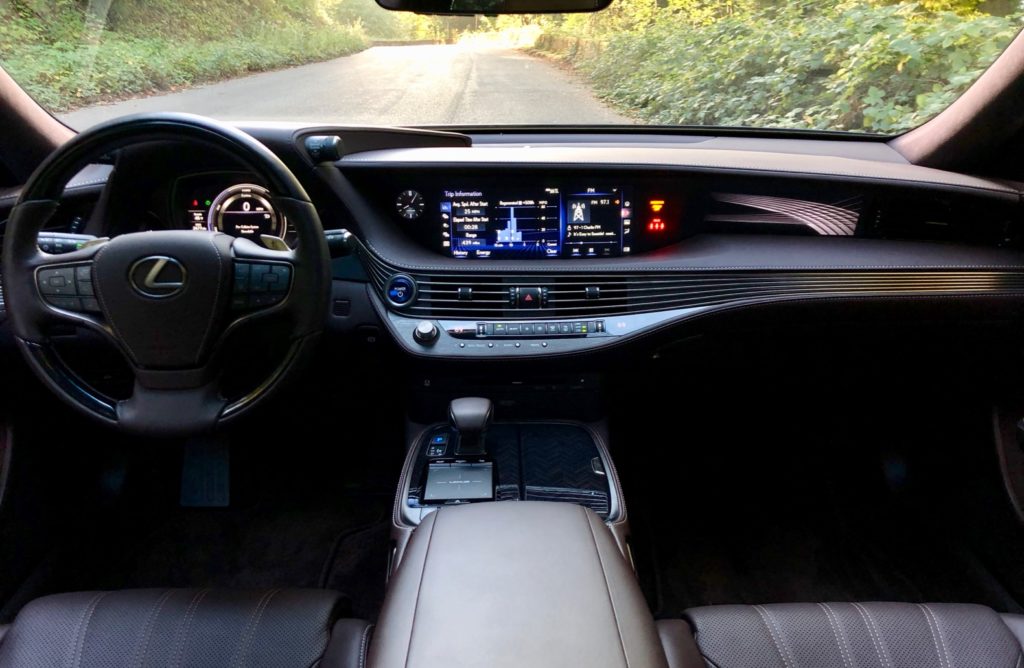 With standard coil springs and optional adjustable air suspension, the LS's ride can best be described as coddling, and no matter the spec, this car is built for comfort over sport-sedan bona fides. Even selecting the F Sport trim, which adds a bit more engine growl, some improved handling components, and additional Sport drive select modes, doesn't transform the experience, making this trim more a visual effort than anything else. Despite its leisurely manners the LS feels like a much smaller car than it is on the road, largely thanks to a small steering wheel with a tight turning ratio and rear-wheel steering.
The 2019 Lexus LS benefits from both forced induction and hybrid technology in the fuel economy department, posting impressive numbers for a full-size luxury sedan. The EPA rates the LS 500 sedan at 19 city, 30 highway, and 23 combined mpg for rear-wheel-drive models, while opting for all-wheel drive drops those numbers to 18/27/21 mpg. The rear-drive hybrid LS 500h does much better at 25/33/28 mpg, while all-wheel drive still comes with a slight penalty for 23/31/26 mpg. All versions of the 2019 LS require premium fuel.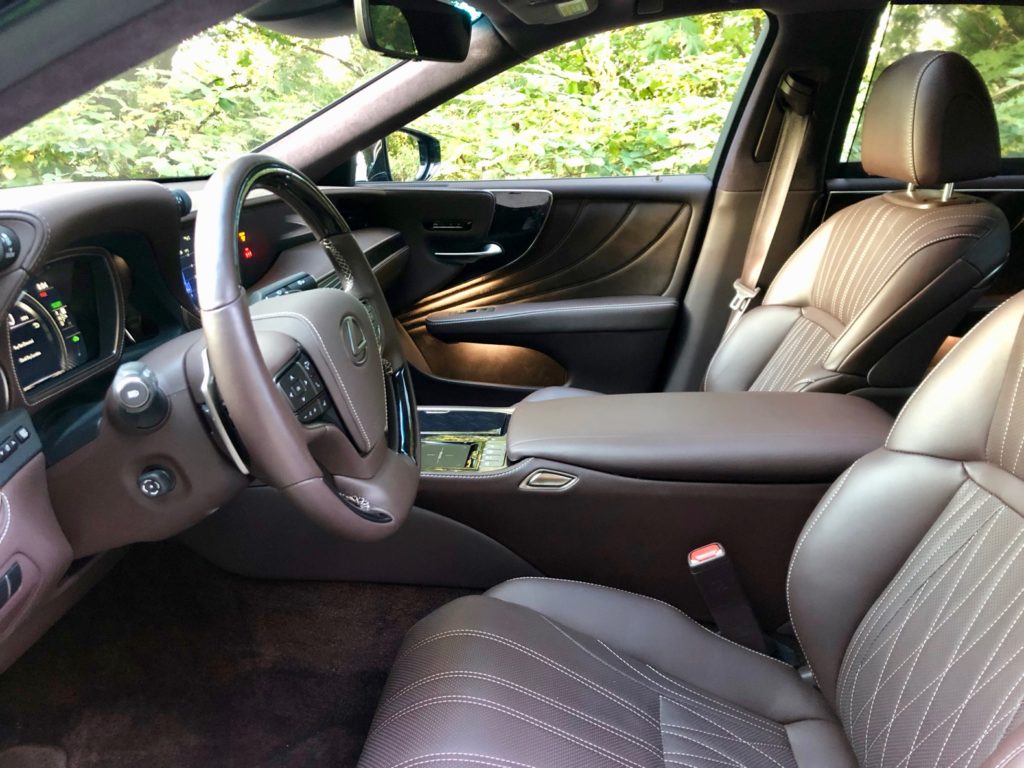 While no crash test scores are available, the 2019 Lexus LS boasts an impressive suite of active safety tech. For its relatively low sales volume, neither the NHTSA nor the IIHS have crash-tested the 2019 Lexus LS and likely will not do so. The 2019 LS includes a full suite of safety features as standard, including forward-collision warnings with automatic emergency braking, lane-departure warnings, automatic high-beam headlights, and adaptive cruise control. While it's not "self-driving," the LS can also keep you in the lane on the highway with minimal input from the driver and can follow the car in front no matter the speed. Beyond what's included, an Advanced Safety package adds a pedestrian detection system with active steering that can steer around obstacles at low speeds; for 2019 the optional head-up display can be had without this package, displaying huge amounts of information across the bottom of the windshield.
Trunk space is decent at 17 cubic feet of space for LS 500 models and 15.2 cubic feet on the LS 500h to account for the additional battery power. A surprising number of storage cubbies can be found throughout the interior, making for a car that's both useful and exceedingly well-crafted, albeit with more interesting drivetrain sounds than the Lexus sedans of the recent past.

The 2019 Lexus LS is a cut or three above when it comes to its gorgeous interior. Inside, the LS' interior charms with its real wood, leather, and metal trim. Ambient lighting keeps even dark hues from feeling confining. The dashboard's wide infotainment display sits front and center, while the passenger stares at a panel of etched glass that might be the 21st century equivalent of a blank canvas for what's to come. The best part of the LS might be its tremendous degree of customizability. Buyers of big sedans have migrated strongly toward SUVs, so it's quite possible that no two LS sedans will leave the automaker's factory with the same appointments. Black and red are startlingly cohesive together, but our money would be on either the cut glass trim or the bamboo band blond leather. Semi-aniline hides add to the luxurious look and feel.

In the 2019 Lexus LS, the car that shook up luxury sedans over two decades ago is at its best quality level ever, with an opulent interior and more space than ever. No long-wheelbase model needed here, the 2019 LS has a wheelbase that is 1.3 inches longer than the extended version of the previous generation, making for a cavernous interior with incredible room for four occupants. A lowered ride may make ingress seem more difficult, but models equipped with air suspension can rise more than an inch to greet you.
The LS's supple thrones are adjustable 28 ways in the front, can be heated or cooled, and have multiple massage settings. Models equipped with the Executive package get four-zone automatic climate control, 22-way heated and cooled rear seats, a right-side rear seat with a raised ottoman, multiple massage styles, a 48-degree backrest recline, and the ability to push the front passenger seat forward more than 40 inches. A touchscreen panel on the rear center armrest controls climate, entertainment, and lighting.

The 2019 Lexus LS has no shortage of options. With a wealth of standard and optional luxury and tech features, the 2019 Lexus LS is one of the most impressive vehicles on the road.  As standard, the 2019 LS 500 includes power adjustable leather seats, dual-zone automatic climate control, navigation, a 12-speaker audio system with Bluetooth and USB, active noise cancellation, and 19-inch wheels. Options include a 2,400-watt Mark Levinson audio system with 23 speakers, one of our absolute favorite stereos on any vehicle. The Executive package adds the royal treatment to the rear seat, and for 2019 new wheel designs are available that measure up to 20 inches. Opting for the F Sport trim adds distinct styling features, unique 20-inch wheels, 28-way power sport seats, a gauge cluster with a nifty movable center gauge and digital display, suede-like headliner, and aluminum trim and pedals.
Each LS sedan comes with a 12.3-inch infotainment display with a touchpad interface, and while it is improved over previous Lexus systems, it still feels behind the times compared to highly advanced systems from Lexus's chief German rivals. Part of this is due to the inherent problem of operating a touchpad while driving, but much is down to slow responses and questionable ergonomics. Thankfully, the system now includes Apple CarPlay, Android Auto, and Amazon Echo functionality, which lets you bypass the Lexus system for most functions.
The 2019 Lexus LS can be had in a few configurations, though it lacks the astounding personalization potential of some German competitors. The main criticism of the LS is the infotainment system: it is a chore to operate even with standard Apple CarPlay and Android Auto compatibility. Features we expect to see at this price point are included: power-adjustable seats wrapped in leather, a 12-speaker sound system with Bluetooth and USB inputs, a moonroof, and navigation displayed on a 12.3-inch screen.
Base sedans start at around $75,000, while all-wheel drive adds a hair over $3,000. The hybrid comes with either rear- or all-wheel drive and stickers for about $4,500 more than the base car. Options we'd suggest include the 2,400-watt Mark Levinson audio system, it's among the best available at any price, and perhaps the Executive package with its 22-way rear seats. Realistically, you may spend about as much time working your way through the available trim combinations to pick between various wood and glass interior trims. Though Lexus doesn't allow as much mixing and matching as some competitors, there are still a lot of choices. Most fancier interior hues require a $3,700 interior upgrade package that includes softer leather trim and a synthetic suede headliner.
At the end of the day the 2019 Lexus LS is an astounding vehicle at any price. With the hybrid version turning a great sedan into an amazing one. It drives well, rides great, and pampers it's occupants in supreme comfort. If you're looking to be coddled and arrive more rejuvenated to your destination, there is no better choice than the Lexus LS.