The Kia Stinger is the brand's answer to other sleek four-door coupes, like the Audi A7 and Porsche Panamera, but at a fraction of the cost. The last time we drove the Stinger GT with its 3.3L turbocharged V6 we praised it for its athletic driving experience and sexy styling. Would we feel the same about the four-cylinder powered Stinger? After a week we can say that we love the Stinger no matter which engine you choose.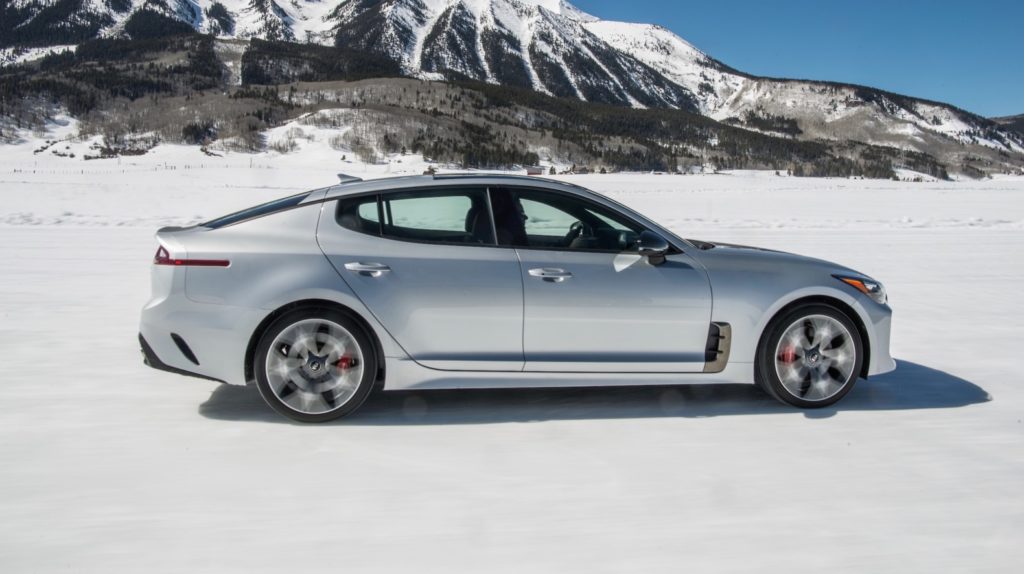 The four-cylinder is a 2.0L turbocharged engine with 255 horsepower and 260 lb-ft. of torque that's mated to an eight-speed automatic transmission. That power is sent to the rear wheels, but all-wheel drive is optional. While the 365-hp V6 is a marvel, the four-cylinder isn't a slug. The engine powers up fast without any turbo lag. Yes the extra 100 horsepower difference is noticeable, but the four-cylinder is fun once you rev it up.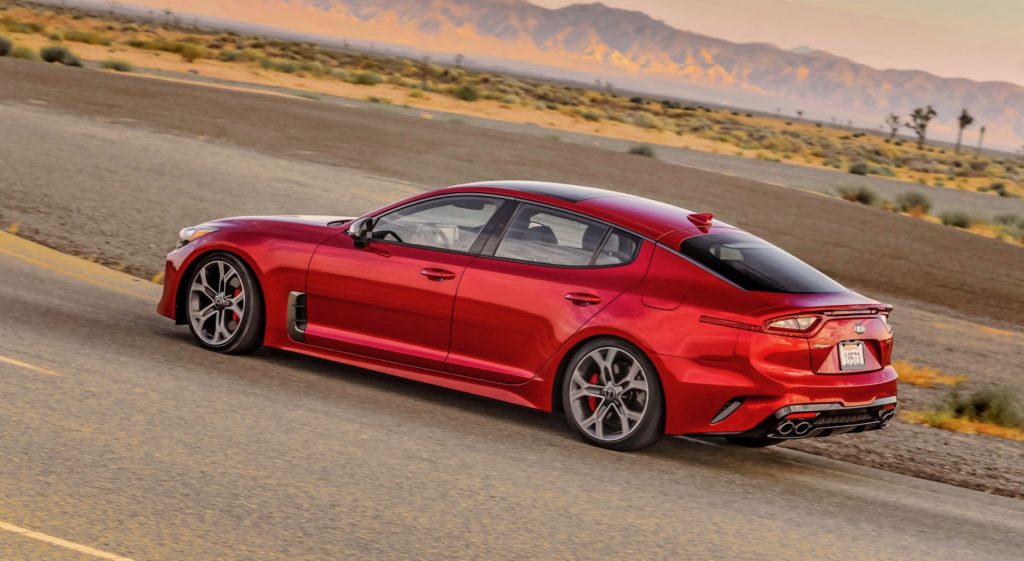 On the road, the Stinger is agile and fun to throw around corners. It helps that the four-cylinder cuts a few hundreds pounds off the Stinger's weight, which gives it near 50/50 weight distribution. The eight-speed transmission is geared more towards efficiency, since it is a bit too eager to upshift and a bit slow when you want to go down a gear or two. Lastly the Stinger's steering is responsive, but a bit more feedback wouldn't hurt.
No matter which engine you choose, the Stinger looks nearly identical on the outside. That means that you get a sleek four-door with a practical hatchback. The Stinger is so stylish that it got lots of positive feedback from passers-by.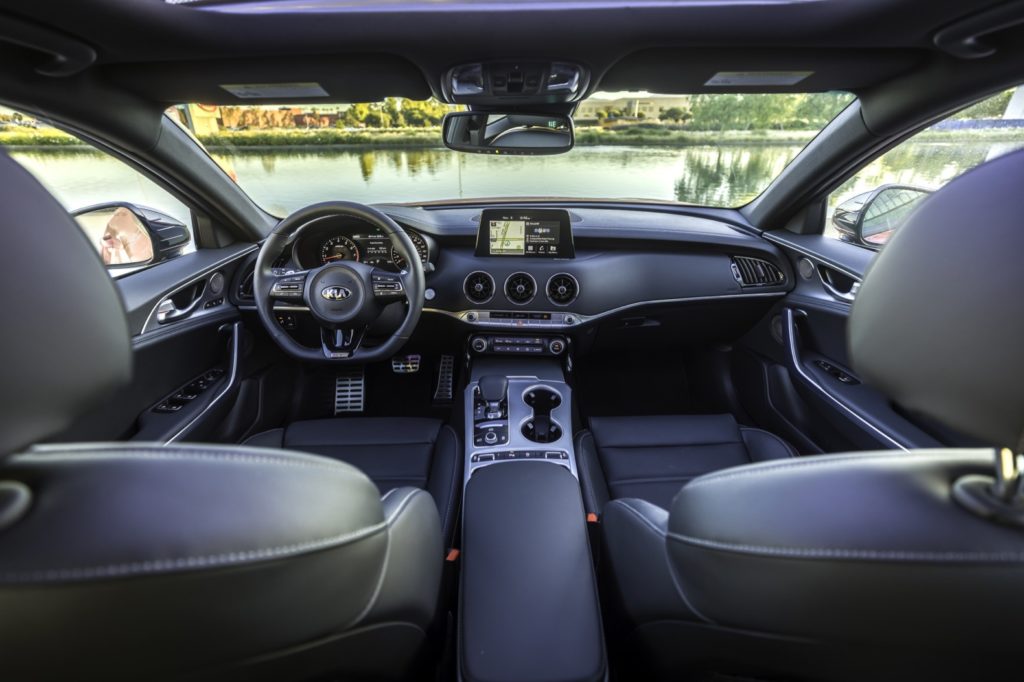 Inside the style continues with ample space and features. The materials aren't what you'd get with an Audi or any other luxury brand, but don't forget that the Stinger costs thousands less than an A7 or Panamera. The Stinger is packed with features, like Apple CarPlay, Android Auto, a 7-inch touchscreen, leather seats, heated front seats and dual-zone climate control. Thanks to its big hatch, the Stinger is also practical, since it has up to 23 cubic feet of space with the rear seat up.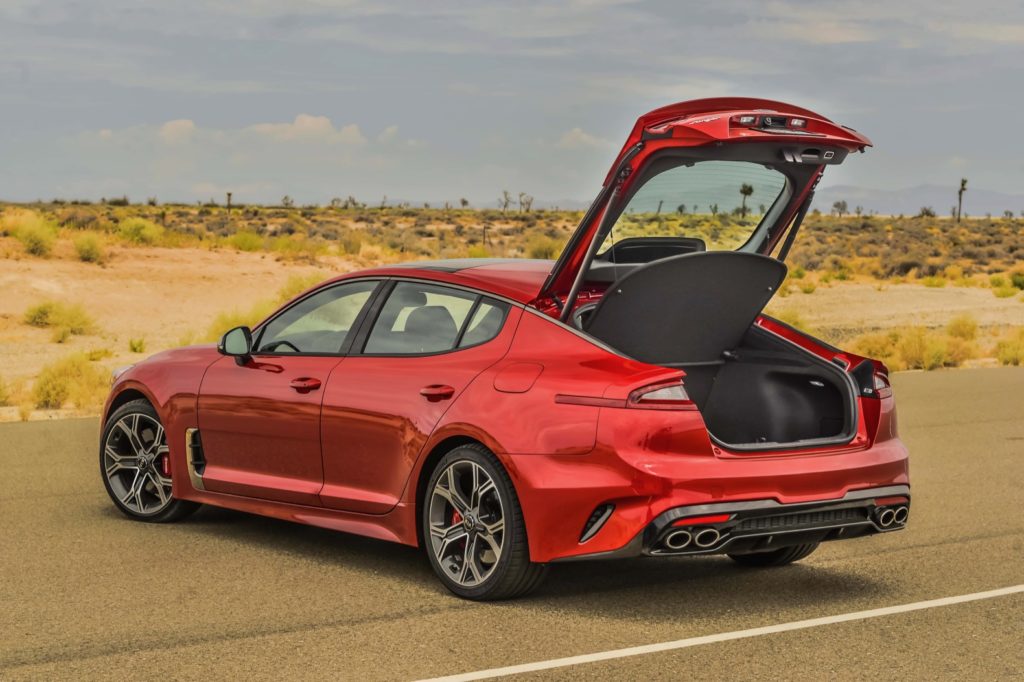 At the end of the day we can't help but fully love the Stinger GT with its 365-hp engine, but that doesn't mean you should ignore the base Stinger. On the outside it's just as sexy as the GT and the best part is that it's about $6k cheaper.