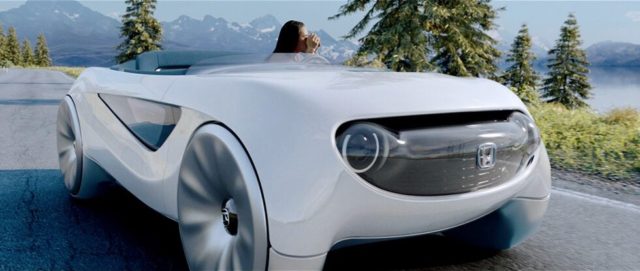 Honda is going to show off a cute futuristic roadster concept called the Augmented Driving Concept next month at the Consumer Electronics Show in Las Vegas. The concept is meant to showcase how easy it is to switch back and forth from a manually driven car to an autonomous car.
The concept features a fully self-driving system, which can quickly take over when the driver wants to stop controlling the vehicle or if a crash is imminent. The driver can also choose from up to eight different self-driving levels, between fully autonomous and semi-autonomous.
In addition to featuring autonomous driving tech, the Augmented Driving Concept also features a new steering wheel that controls the ignition, acceleration and braking. The driver simply pats the steering wheel twice to start the roadster. To move the driver pushes on the wheel and to brake the driver simply pulls the steering wheel back.
CES 2020 kicks off on January 7.