The 2020 Genesis G90 drops the silly luxury-car pretenses, and puts its smart money down on features and service. The 2020 Genesis G90 takes on some of the world's best cars; the Mercedes-Benz S-Class, BMW 7-Series, and Audi A8 among them, but does it at a lower price. An update for 2020 gives the G90 new body panels aside for the roof and doors, and a new polished silver shield grille that stands out. That mesh grille, along with matrix-style optional 19-inch wheels are the styling stand outs of an otherwise understated large luxury car.

The look is updated inside as well, where the ambience embraces premium materials and a new dash design emphasizes horizontal lines. Chrome plating is applied to the switches, leather swathes the center console as well as the seats, double stitching and piping decorate that leather, and open-pore wood accents the high-end look. Interior technology is also impressively updated.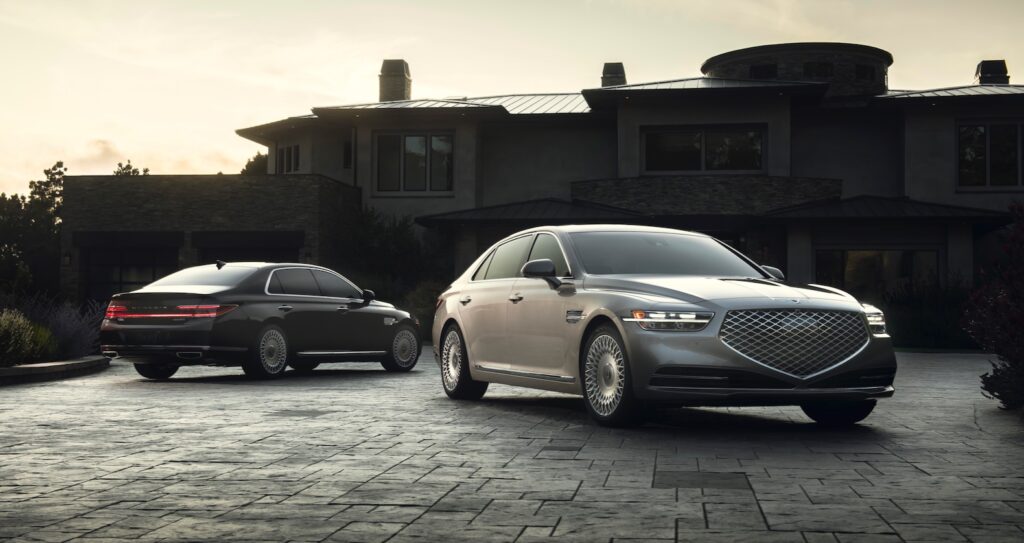 What doesn't change are the two powertrains that define its trim levels. The 3.3T features a turbocharged 3.3-liter V-6 that makes 365 horsepower and 376 pound-feet of torque. The 5.0 is motivated by a 5.0-liter V-8 that produces 420 hp and 383 lb-ft of torque. Like the 2019 model, there isn't much of a power difference between the engines, but the V-8 is more refined and simply sounds better. Buyers will pay extra for that sound, both at the dealer and at the pump. The V-8 is EPA-rated at 19 mpg combined with rear-drive and 18 mpg with all-wheel drive, while the V-6 gets slightly better 20 mpg combined ratings with rear- or all-wheel drive.

Active noise cancellation and Genesis' adaptive electronic dampers conspire to create a pleasant ride, and the big Genesis sedan still delivers big-car comfort for four, including a 22-way driver seat, heated and cooled outboard rear seats, and wireless smartphone charging. The 2020 Genesis G90 comes standard with a wide range of active-safety features, including forward-collision warnings with automatic emergency braking that can detect bicycles, rear cross-traffic alerts with automatic braking, active lane control that can keep the car centered in its lane when following another car or driving on the highway, and a system to warn occupants not to exit the vehicle when an object is approaching too closely.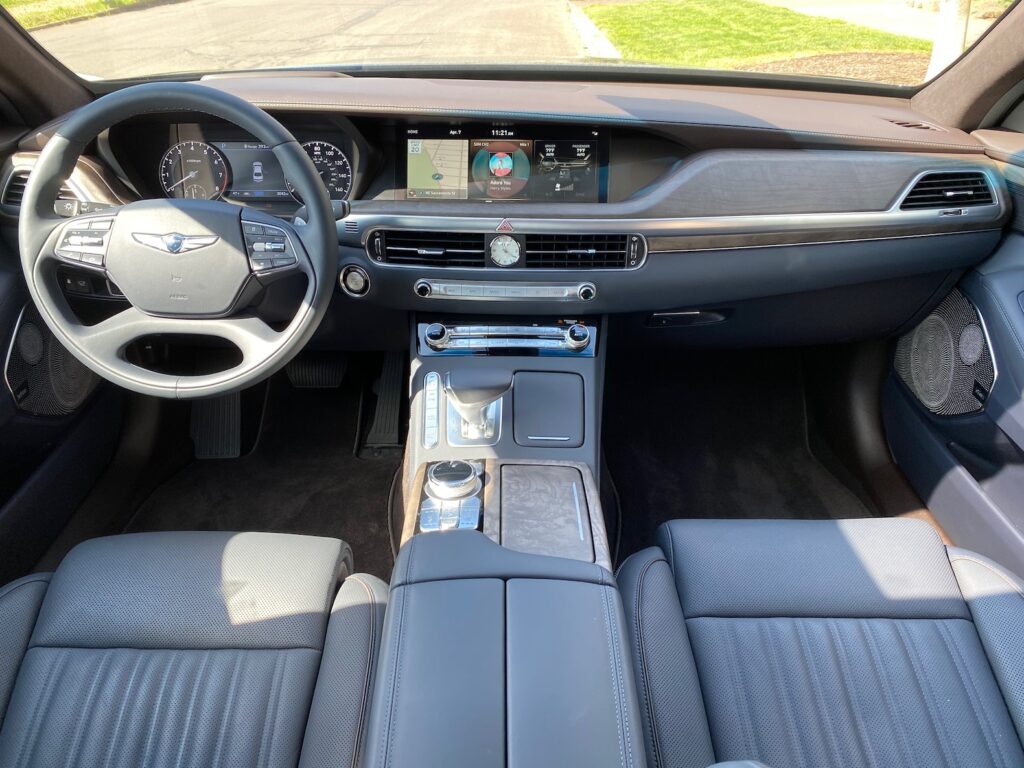 The G90's central 12.3-inch infotainment screen now incorporates touch controls and offers split screens with copper-colored highlights. Standard Apple CarPlay and Android Auto compatibility carry over. Genesis also gives owners a valuable perk in its 5-year/60,000-mile warranty that comes standard three years or 36,000 miles of concierge service; they'll pick up and drop off the car after routine service.

Big grilles are the rage right now and the 2020 G90 doesn't disappoint. Genesis delivered the G90 with cautious styling back in 2017. For 2020 it's throwing some of its caution to the wind, with a resculpted nose. The new, big grille gives the G90 some character. It's gigantic, in a good way, with a shield shape and an emphatic presence lacking in the predecessor. It's paired with reshaped front fenders, thin new double LED headlights, and a lower front bumper. From other angles, the G90 remains conservative. The scalloped sides, brushed-back fenders, and the rear roofline are country-club apparel compared to the nose bling and the new basket-weave 19-inch wheels with the "Genesis" embroidered across the rear decklid.

The G90 excels with its sublime ride and relaxed attitude. It can cruise along effortlessly with the best luxury sedans, but the Genesis G90 leaves lap times and high-speed handling to others. Genesis fits the standard G90 with a 3.3-liter turbocharged V-6. It puts out 365 hp and 376 lb-ft of torque, and shifts via an 8-speed automatic. While the standard car also comes with rear-wheel drive, all-wheel drive is an option. The V-6's acceleration is more than ample for a car of its size, especially one that doesn't make pretense about heady performance.


Still, Genesis sells a V-8 that accompanies its muscular sound with 420 hp and 383 lb-ft of torque. The sound works the trick; acceleration feels stronger than the V-6, but not jarringly so. It's smoother in city driving by a slight margin, but that's a hard thing to justify its extra cost. Like the V6, the V-8 also can be paired with all-wheel drive.

With either engine, the G90 delivers a supple ride that drivers can choose via electronically controlled shocks. The front and rear suspensions are both five-link setups, aided by electronic shocks that filter out fussy stretches of road. There's a Sport mode, which feels a little out of place, though the G90 always has a surefooted air about it; it boosts steering weight and snugs the seat bolsters around the driver. We'd leave it in either of its Comfort modes and let the G90's cushy ride and light steering soak up our commute and chew through the ride home to arrive relaxed.
The 2020 Genesis G90 gets mediocre gas mileage. Based on the EPA ratings applied to its base V-6 engine; it checks in at 17 mpg city, 25 highway, 20 combined, whether it has all-wheel drive or not. V-8 G90s drop slightly to 16/24/19 mpg with rear-wheel drive and 15/23/18 mpg with all-wheel drive. In our week with a V8 rear-wheel-drive test vehicle we average slightly better than EPA estimates at 21 mpg.
Incomplete crash-test scores don't phase the Genesis G90. The NHTSA hasn't checked in with its report yet, but the IIHS strongly supports the G90. The IIHS called the G90 a Top Safety Pick+, thanks to excellent headlights and faultless crash-test scores. Every G90 sedan has automatic emergency braking, active lane control, blind-spot monitors and cameras, adaptive cruise control, and a surround-view camera system. New for 2020, it's added lane-centering control, automatic emergency braking for reverse gear, and a safe-exit system that beeps if the car detects vehicles approaching in the blind spots. Outward vision is good for a large sedan, and the G90's standard parking sensors help with parking maneuvers.

The interior's sedate appeal lies in a horizontal design, where nothing gets in the way of a relaxed cruise. A 12.3-inch touchscreen rules the dash, where it's not smothered in leather or open-pore wood. For risk-takers, Genesis sells a navy shade of leather that's serenely impressive. The G90 succeeds by not bowing to overwrought style. The G90 coddles four adults in leather, wood, and silence.

The G90's serene interior wears its luxurious wood and leather trim with all the authenticity of something you'd see on the autobahn. It sets the same pace as a Lexus LS with its impressive finishes, its storage, its cushy front and rear seats. The heated and cooled front seats adjust up to 22 ways for the driver, so it's a snap to find an excellent long-distance driving position. Passengers will have to settle for 16-way adjustment. The G90 doesn't embarrass with too much shoulder or knee room, but it's just about right.

In back the Genesis provides more than 37 inches of leg room from a 124.4-inch wheelbase. It's shy of the longer-wheelbase sedans that hail from Germany, but the difference is hard to notice when the rear seat heaters and coolers are running, and the Lexicon audio system downs you with its dulcet tones. Two adults can nap back there easily; a third in the middle won't be uncomfortable for short jaunts.

The G90 sports 15.7 cubic feet of trunk space, but the rear seat back doesn't fold down to expand its capacity. The sedan does have lots of cubbies and small-item storage but includes rich leather and wood trim that signifies status for a certain kind of driver. There's nothing exotic about the cabin's metallic trim, suedes, low-gloss wood and nappa leather, and there's nothing out of step. The Genesis interior in one word: tranquil.

Genesis includes nearly every luxury feature in the 2020 G90. Every Genesis comes with exceptional standard features, great infotainment, and strong warranty coverage. Base $73,195 G90 sedans come with a 12.3-inch touchscreen infotainment system with Apple CarPlay and Android Auto compatibility; 22-way driver seat; cooled and heated front seats; leather upholstery; wood trim; three-zone climate control; wireless smartphone charging; premium audio; and a heated steering wheel.
Opt for a $76,695 V-8 G90, and a rear-seat entertainment system and cooled rear seats come with it. That's it; Genesis offers no options or packages on its flagship sedan, not that you'd miss them. They also come with a 5-year/60,000-mile bumper-to-bumper warranty, and three years or 36,000 miles' worth of concierge service, during which Genesis will pick up and return your car for maintenance appointments.
Being the newest luxury brand on the market, Genesis is on a warpath to prove that it has what it takes to compete with entrenched luxury-brand stalwarts. The updated 2020 G90 has everything the big dogs do with formidable refined powers, a cosseting interior, and classic luxury cues; for thousands less than the competition. With the 2020 G90, Genesis proves it has what it takes and competitors should be concerned.

For all your new car shopping needs, check out: drivevise.com Vehicle shopping made simple!