Ford continues to keep the new Bronco in the news, following its official debut a few months ago, with several concepts. The latest concept, the Bronco + Filson Wildland Fire Rig concept, is the result of a partnership with Filson.
Ford teamed up with Filson to raise funds for the National Forest Foundation and to celebrate wildland firefighters.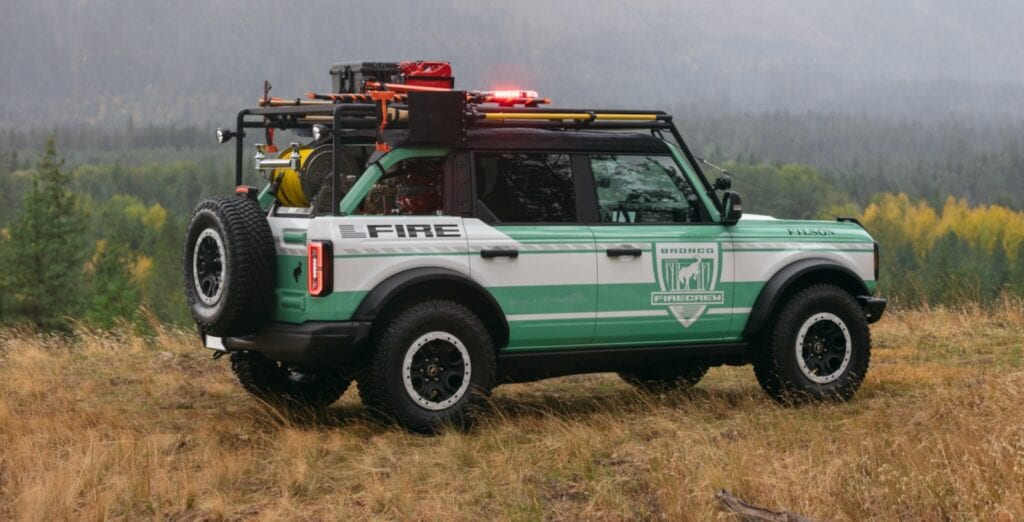 "Ford and Filson share a unique history of helping protect our nation's wildfire crews for more than a century and helping them access rugged areas of forests," said Dave Rivers, Bronco marketing manager. "Today, we're combining those strengths to support those who protect our natural resources as well as helping preserve our nation's forests for future generations."
The the Bronco + Filson Wildland Fire Rig concept is based on the four-door Bronco Badlands with the Sasquatch Package. It's painted in Forest Service Green, just like the first-generation U.S. Forest Service Bronco. It also gets a full fire skid with water tank in back and interior design elements made from classic Filson fabrics and accessories.
On the outside the concept gets a modular steel bumper with a WARN Zeon 10s winch, a custom fabricated roof rack with a RIGID LED light bar, a Pulaski, shovel, water tanks and axes. It's ready for the task with its fire hose reel, high-pressure water pump and 50-gallon water tank.
Inside, Filson materials include tough otter green duck canvas door bolsters, armrests and seat trim surrounds, plus seating surfaces in quilted black leather.
Although it's just a concept, Ford has announced that it will donate two Bronco four-door SUVs modeled after the Wildland Fire Rig concept.