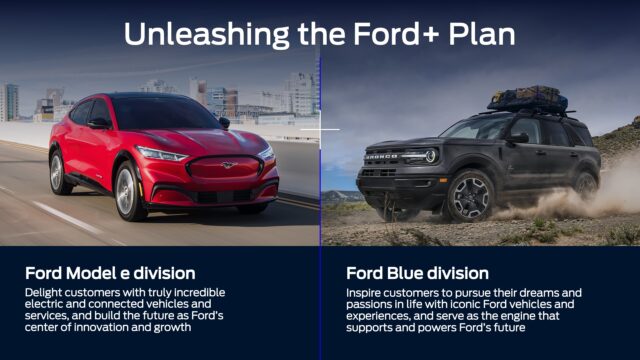 Ford has announced a big change to its structure, which will see it split up its vehicle divisions into two separate businesses. The businesses have been divided by electric and internal combustion vehicles. The electric division is called "Model e" while ICE vehicles will be organized under the "Blue" division.
"We have made tremendous progress in a short period of time. We have launched a series of hit products globally and demand for our new EVs like F-150 Lightning and Mustang Mach-E is off the charts," stated Ford President and CEO Jim Farley. "But our ambition with Ford+ is to become a truly great, world-changing company again, and that requires focus. We are going all in, creating separate but complementary businesses that give us start-up speed and unbridled innovation in Ford Model e together with Ford Blue's industrial know-how, volume and iconic brands like Bronco, that start-ups can only dream about."
The Ford Model e division will focus on developing EV platforms, batteries, electric motors and other components of Ford's electric vehicles. Ford also says that EV customers will also get transparent pricing, e-commerce platforms and personalized customer support.
"This isn't the first time Ford has reimagined the future and taken our own path," said Ford Executive Chair Bill Ford. "We have an extraordinary opportunity to lead this thrilling new era of connected and electric vehicles, give our customers the very best of Ford, and help make a real difference for the health of the planet."
The Ford e division will focus on Ford's ICE vehicles, which includes the F-Series, Range, Maverick, Explorer and Mustang.
"This new structure will enhance our capacity to generate industry-leading growth, profitability and liquidity in this new era of transportation," said John Lawler, Ford's chief financial officer. "It will sharpen our effectiveness in allocating capital to both the ICE and EV businesses and the returns we expect from them – by making the most of existing capabilities, adding new skills wherever they're needed, simplifying processes and lowering costs. Most importantly, we believe it will deliver growth and significant value for our stakeholders."
We'll have to wait and see if Ford has additional plans, since Reuters is reporting that Ford might completely spin-off its electric-vehicle division, although CEO Jim Farley has denied those rumors.