The 2020 Cadillac XT6 takes a more family-friendly tack to the three-row crossover than the big Escalade. It stakes its claim in the realm of three-row crossover SUVs, but it has its work cut out for it. It arrives in Cadillac showrooms at the same time some non-luxury brands have fielded some compelling three-row SUVs of their own: Explorer, Palisade, and Telluride. Not to mention other luxury players like the Acura MDX and Volvo XC90, and new-comers like the Lincoln Aviator.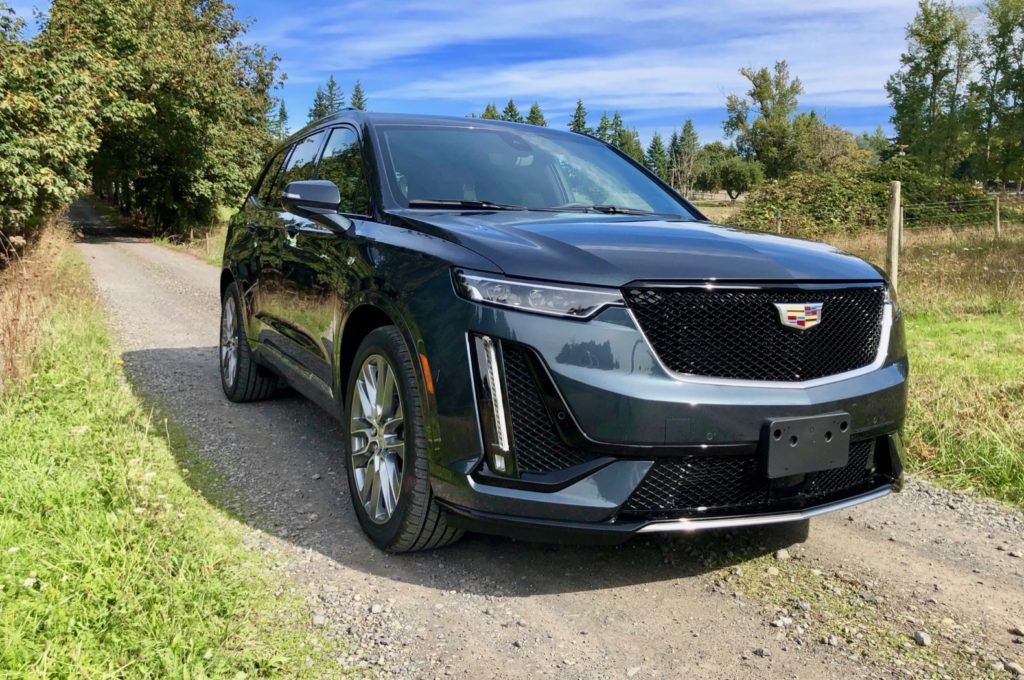 The 2020 XT6 stretches Cadillac style on a conventional crossover body with the overall look reminding us of a Volvo XC90 in a flattering way. The XT6 doesn't stray far from Cadillac's style playbook. It borrows the XT4's mesh grille and floating badge up front and the Escalade's tall, vertically integrated taillights in the rear. It's distinguished from the related Enclave and Traverse with sharper angles and a more upright appearance. We've appreciated the tall front end across a range of Cadillacs, from the outgoing CTS to the Escalade, and on the XT6 it relieves what turns into a more pedestrian look out back. The three-row crossover-SUV realm is filled with vehicles that share a similar rear roofline, though some avoid it notably: Aviator, Telluride. The XT6 could use more individuality since the overall look reminding us of a Volvo XC90, but in a flattering non-offensive way.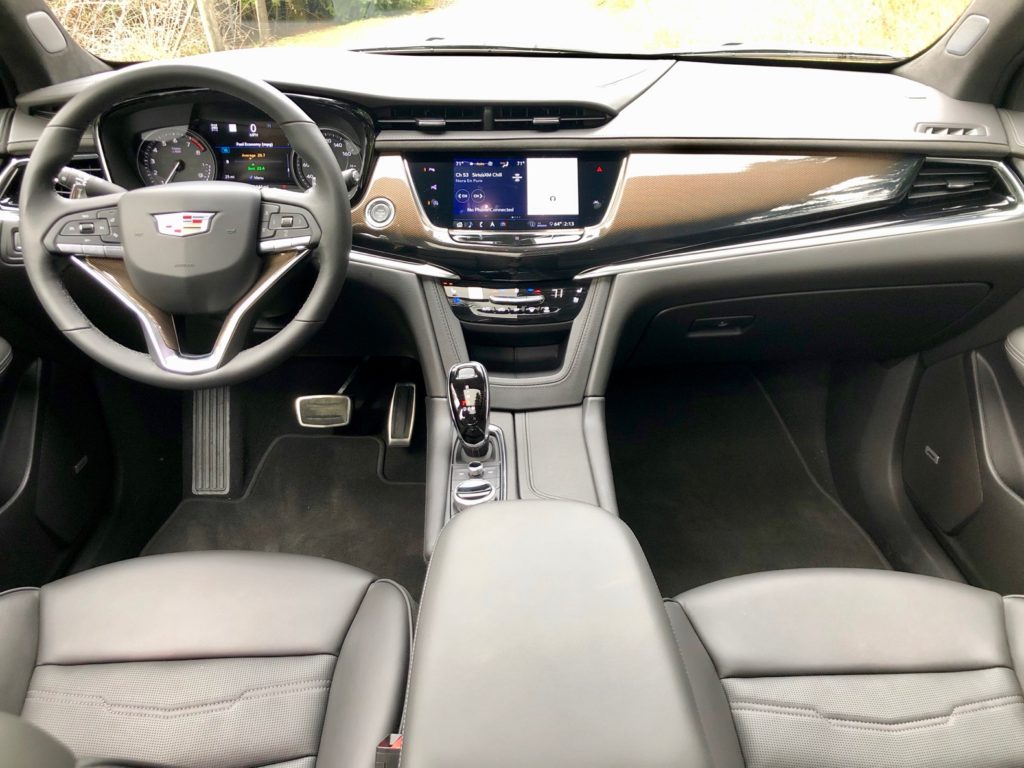 Inside, the XT6 is covered in soft leather and real wood in Premium Luxury versions; leather and carbon fiber in Sport versions. The XT6 also takes the rotary knob controller from the XT4 and pairs it with an 8.0-inch touchscreen for infotainment. The shapes are handsome and pleasing to the eye not to offend anyone. Diagonal striped wood on pricey versions dazzles, but the Sport's woven texture looks like Carbon Fiber and is impressive. The V-shaped dash confines the XT6's touchscreen in placement and in size; the world's moved on from 8.0-inch screens already, and the race to super-wide screens has already begun.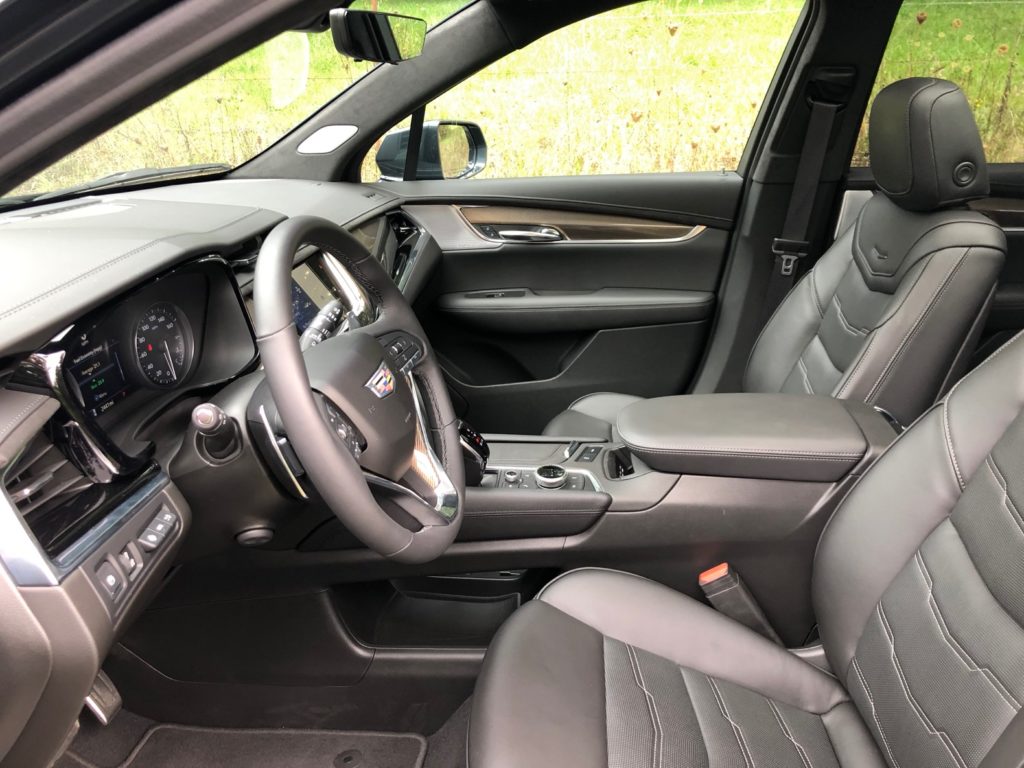 Excellent seats fill out the XT6's cabin, although for some used to Cadillac couches of the past, they might see a bit firm at first. Cadillac fits the XT6 with six or seven seats and like the Enclave and Traverse that share its architecture, the XT6 nominally seats up to seven, although second-row captain's chairs are available. Second-row riders get nearly 40 inches of leg room, which is on par with others in its class such as the Acura MDX. We can't comment on the bench seats, which we haven't tested, but the captain's chairs in six-passenger XT6s are as nice as those in front. The chairs slide forward for row-three access, but we'll warn you now, the back seats are limited. Third-row adult passengers get a scant 29.5 inches of leg room, though head room is fine. Behind the third row, the XT6 offers 12.6 cubic feet of cargo space that can expand to 43.1 cubes with the third row folded, or 78.7 cubic feet with both rear rows of seats dropped.
The Cadillac XT6's velvety power gets props. With the XT6, Cadillac serves up one of GM's most refined powertrains and pairs it with high-tech suspension hardware for mostly invisible performance. It doesn't annoy, but the XT6 doesn't deliver any wow moments, preferring to be a smooth operator all the time. Both XT6 trim levels tap the same 3.6-liter V-6 for power, and strap it to the same 9-speed automatic transmission found in other Cadillacs. The V-6 pumps out 310 horsepower and 271 pound-feet of torque, and it emits a lovely snarl when it's tested. Quick but no revelation, the XT6 steps smartly off the line and rifles through all its gears without ruffling any feathers. Power comes on very linear and the 9-speed automatic doesn't flutter and buck between gears as some 9-speeds have been known to; the shift quality is great. When properly equipped, the XT6 can tow up to 4,000 pounds.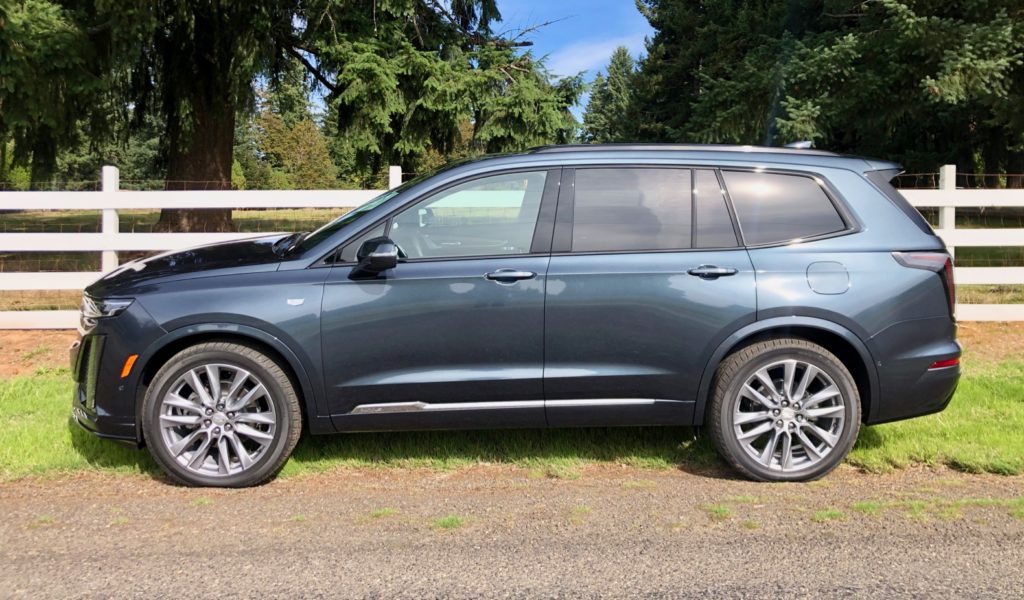 Premium Luxury trim levels get standard front-wheel drive, with all-wheel drive as an option while Sport versions get standard all-wheel drive. The all-wheel-drive system is the same twin-clutch system found in the XT4, which can split power across the rear wheels and can fully disconnect the rear axle for better fuel economy, but it requires a tap of a button to engage. The XT6's powertrain can change its mood as well, through drive modes that flip from Touring to Snow/Ice to Sport on most models; Off-Road and Sport modes come with all-wheel-drive models. The differences show themselves mildly on the powertrain side, a bit more vividly in steering weight when engaged. We wish the AWD was automatic since the front-wheel drive is easily overpowered by the smooth V6, leaving the drive mode switch to focus on steering and throttle.
On the ride and handling side, the XT6 sits on front struts up front and a five-link suspension at the back. The Sport variant gets standard adaptive dampers and a faster steering ratio for a more engaging feel. The XT6 comes on standard 20-inch wheels, while 21-inchers are optional. Cadillac outfitted the Sport XT6 we drove with adaptive dampers. Some German automakers have adopted cameras to predict road surfaces in tandem with adaptive dampers; it's a clear next step here. The Sport models have a better ride/handling formula, with more firmly controlled vertical ride motions, not to mention the ability to move power across the rear when in Sport drive mode (while the base AWD car simply adjusts power front to back).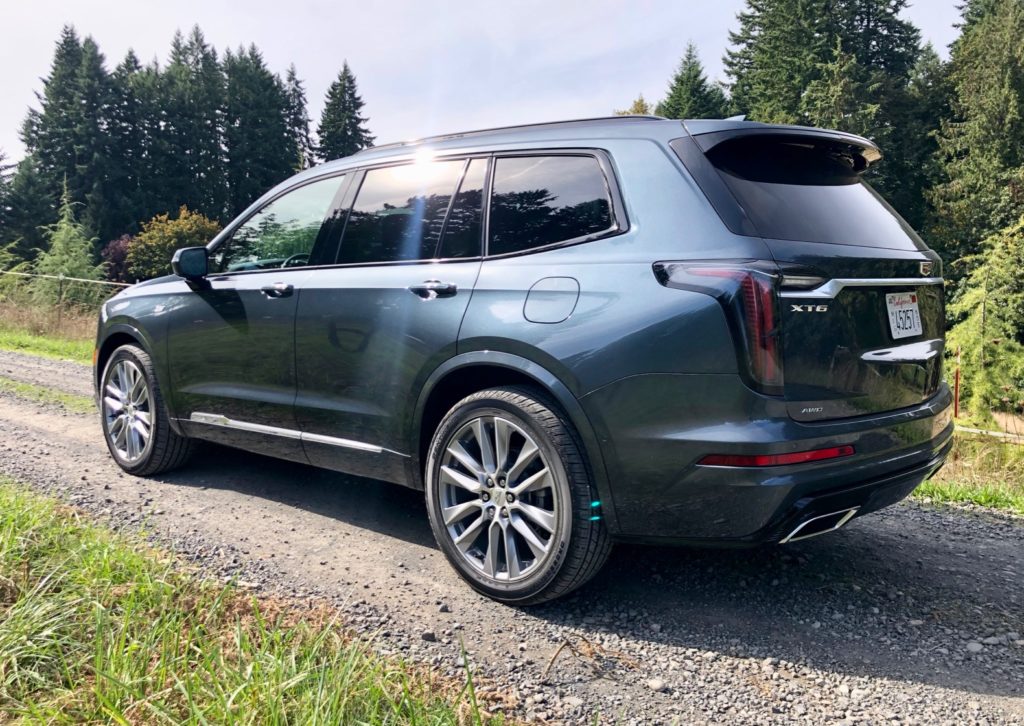 According to the EPA, the front-wheel-drive XT6 quaffs gas at a rate of 18 mpg city, 25 highway, 20 combined. With part-time all-wheel drive consumption increases to 17/24/20 mpg. The XT6's 3.6-liter V-6 can shut down two of its six cylinders to save fuel on the highway, and has stop/start to save fuel at stoplights. Cadillac hasn't made huge strides in fuel economy with the 2020 XT making its EPA ratings average. For comparison, an Acura MDX, rates 23 mpg combined in front-drive form, 21 mpg combined with all-wheel drive—and comes in 27-mpg hybrid trim.

Cadillac piles on safety technology with each XT6 comes with active safety features such as automatic emergency braking with pedestrian detection, blind-spot monitors, automatic high beams, front and rear parking sensors, active lane control, and a reminder for children in the rear seat. Options outfit the XT6's LED headlights with cornering control; another package adds automatic park assist, a rear camera mirror, a surround-view camera system, and a head-up display. Night vision and adaptive cruise control are options as well.
Cadillac trims out the XT6 well for its pricey mission, but some textures clash. Order an XT6 with the extra-cost mocha paint and tan interior, and the smooth leather on the door caps looks like tahini, while the sueded trim on the dash lip looks like another nut butter entirely. The seats have stitching that would look great on Under Armor, but the diagonal-grain wood trim has the flair of an Art Deco bar cabinet. The digital displays add a high-tech sheen, but they live in a V-shaped wedge on the dash that limits future screen size upgrades, while Tellurides and Palisades flaunt wider screens in almost every configuration—for less money.
Cadillac trims out the 2020 XT6 crossover SUV with a bucketful of standard features, and puts more behind a velvet-rope options list. Buy the $53,690 XT6 Premium Luxury, the base model, and you'll drive home with 8-way heated front power-adjustable seats, a second-row bench seat, leather upholstery, power tilt-and-telescope steering, a heated steering wheel, remote start, keyless ignition, wireless smartphone charging, 20-inch wheels with P235/55R20 all-season tires, a sunroof, LED headlights, a power tailgate, and a power-fold third-row seat. Every XT6 also includes an 8.0-inch touchscreen for infotainment, six USB ports, Apple CarPlay and Android Auto compatibility, and an AM/FM/XM audio system with 8-speaker Bose sound, which can be upgraded to a 14-speaker system.

On the $58,090 XT6 Sport, Cadillac springs for all-wheel drive, adaptive dampers, performance suspension tune and Sport specific interior trim. On either trim, a $4,900 Platinum package boasts semi-aniline leather, a snazzy Nappa headliner, adaptive dampers and performance suspension, and a choice of jazzy brown interior trims; we like the Maple Sugar look. A $2,350 package gets a head-up display, a rear camera mirror, a surround-view camera system with recorder, and automatic park assist. Adaptive cruise control costs $1,300, and for $750 the XT6 gets cooled front seats and rear outboard heated seats. All-wheel drive is a $2,000 option. Navigation costs $1,000; 6-passenger seating is $800; a rear-seat entertainment system costs an extra $1995.

Overall the Cadillac XT6 is a formidable player. It might be slightly late to the game and smaller than some, but the sum of its smooth running Cadillac parts make it a great contender in the mid-size luxury class. It should definitely be on your shopping list with a high recommendation from us for the Sport in particular, it's definitely worth a look!