Hyundai has revealed the 2025 Hyundai Ioniq 5 N, the first fully-electric member of the growing Hyundai N family of performance vehicles.
As with other Hyundai N vehicles, the 2025 Hyundai Ioniq 5 N emphasizes performance. Upgrades are numerous and include plenty of mechanical and visual updates.
Arguably, the most notable performance upgrade to the 2025 Hyundai Ioniq 5 N is its new powertrain featuring 641 hp in N Grin Boost mode (yes, you read that correctly) dual motor AWD as standard and a new 84 kWh battery with an enhanced two-stage inverter for stronger power output. That's over twice the horsepower of the standard Hyundai Ioniq 5 AWD. The 2025 Hyundai Ioniq 5 N also has an enhanced body-in-white structure with 42 extra welding points and 6.9 feet of additional structural adhesives, reinforced motor and battery mounts, and front and rear subframes to handle this additional power. The 2025 Hyundai Ioniq 5 N's steering has been strengthened for improved response and feedback and features a quicker steering ratio and enhanced torque feedback logic.
Hyundai has developed a system called N Pedal to help address electric vehicles' inherent issues with handling characteristics due to their higher weight when compared to ICE cars. This system uses intelligent software to provide instant turn-in behavior, prioritizing fast cornering over absolute energy efficiency. Thermal management has also been enhanced to help the 2025 Hyundai Ioniq 5 N perform better in severe racetrack conditions. Other software features exclusive to the 2025 Hyundai Ioniq 5 N include N Brake Regen, N Drift Optimizer, N Launch Control, and much more.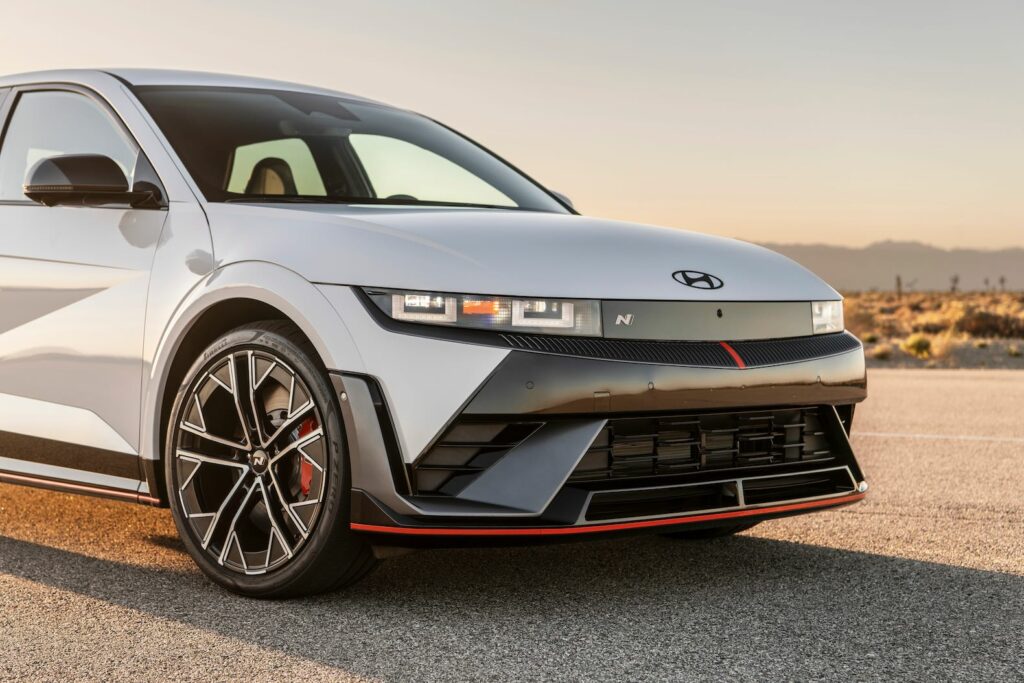 The 2025 Hyundai Ioniq 5 N's exterior receives a host of N-specific visual flair. Up front, we find a striking "N Mask" front fascia that features contrasting black elements and active air flaps for extra cooling, as well as a lip spoiler and "Luminous Orange" at the bottom of the bumper cover that continues along the side skirts, which will be unique to electrified N vehicles. Around back, the 2025 Hyundai Ioniq 5 N has a large N-exclusive rear wing spoiler and triangular CHMSL brake light as well as a black bumper cover with checkered flag reflecting graphics. Notably, the 2025 Hyundai Ioniq 5 has a rear window washer and wiper, both things the standard Hyundai Ioniq 5 lacks. The 2025 Hyundai Ioniq 5 N is 0.79 inches lower and 2.0 inches wider than the standard Ioniq 5 to accommodate wider wheels and 3.2 inches longer, thanks to its unique rear diffuser.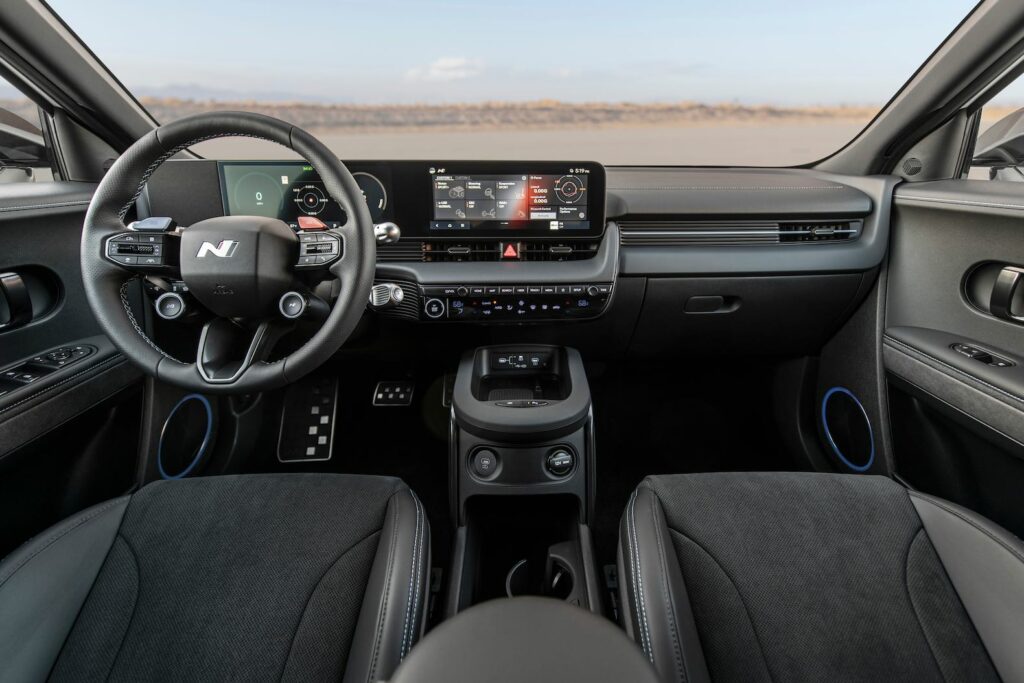 Inside, 2025 Hyundai Ioniq 5 N buyers will also find numerous N family upgrades. These upgrades include an N-branded steering wheel, seats, door scuff panels, and metal pedals. The 2025 Hyundai Ioniq 5 N features a newly designed N steering wheel with the N logo at its center and two "N buttons" that can be linked to customized drive mode settings. This new steering wheel also features a button for the N Grin Boost mode that affords the driver access to maximum acceleration in ten-second bursts. Other interior upgrades include a track-optimized center console with knee pads and shin support and an extension on the lower console that Hyundai says "enhances rigidity to further support sporty driving." This extension also houses USB-C ports, a wireless phone charger, and cup holders. Unique N seats with reinforced bolsters feature a two-tone design and illuminated N emblems, and redesigned pedals, optimized for improved foot contact, can be found with a new checkered-flag theme as a tribute to motorsport competition. Just as with the standard Hyundai Ioniq 5, the 2025 Hyundai Ioniq 5 N features various sustainable materials on its interior.
The 2025 Hyundai Ioniq 5 N is expected to reach US dealers by March of 2024.