We haven't seen the outside of the 2024 Mercedes-Benz E-Class, but Mercedes-Benz has just released the first photos of its reworked interior.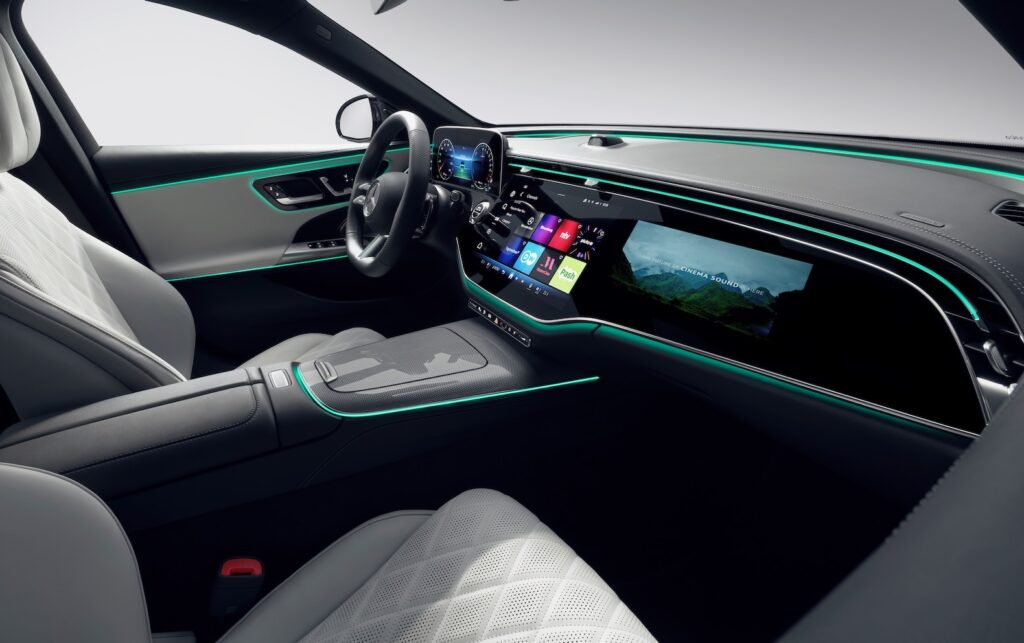 Overall the interior looks familiar to the brand's other models, but the dashboard is dominated by the optional MBUX Superscreen, which is interestingly not called a Hyperscreen. The big difference between the two is that the Superscreen does not consist of the gauge cluster, like the Hyperscreen. This means that the digital gauge cluster is a freestanding unit.
With the optional Superscreen there are three screens on the dashboard, which includes the passenger side screen. The standard setup just includes the gauge cluster and a freestanding infotainment screen. Under the screen you'll notice that there aren't that many buttons or switches. To make sure drivers don't get distracted by trying to look at the front passenger screen it uses something called "dual light control" tech to dim the screen so only the passenger can see it. The camera in the cabin will monitor the driver's eyes to make sure that they can't watch or see what the passenger sees, to make sure they keep their eyes on the road ahead.
The interior also gets a new "Active Ambient Lighting" system that coordinates the lighting with the sound system. Mercedes says that "fast sequences of beats can cause rapid light changes, while flowing rhythms can create softly merging lighting moods." For audiophiles, there's an available Burmester 4D surround sound system with Dolby Atmos.
The infotainment system will also be able to run third-party apps, like TikTok, the game Angry Birds, the collaboration app Webex, the video conferencing app Zoom and the web browser Vivaldi. In addition, the optional Zync entertainment portal offers video streaming, on-demand content, interactive experiences, sports, news, and games on the central and passenger displays, via one user interface.
The 2024 Mercedes-Benz E-Class will arrive later in 2023.