The 2023 Mazda CX-5 crossover SUV is a fun, stylish choice for drivers who prioritize handling over cabin space. The CX-5 is a small SUV that rivals the Honda CR-V, Ford Escape, and Volvo XC40, among others. It's a solid choice for drivers seeking a stylish ride that delivers sports sedan-grade handling, though just-OK fuel economy doesn't impress. For 2023, the Mazda CX-5 carries into the new year with few notable changes.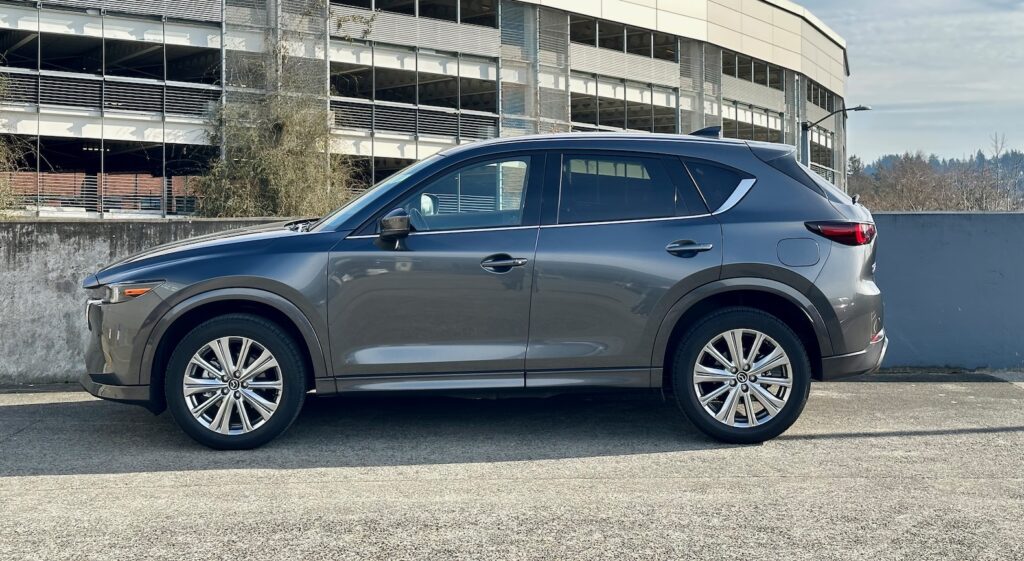 The 2023 Mazda CX-5 wears its curvy lines well inside and out. Even after a few years in it's current generation we still like it a lot, especially compared to some rivals that can look a bit too fussy. The CX-5 is a nice reminder that less is more when it comes to styling. The near-vertical front end wears a large grille flanked by narrow, bird-like headlights. Chrome and busy lines are kept to a minimum, even as you head down the curvy sides. At the rear, the taillights are almost dead ringers for the headlights. Even the CX-5's badging is minimalist.

The 2023 Mazda CX-5 is a hoot to drive, though the turbo takes most of the glory. All CX-5 crossover SUVs come standard with all-wheel drive. With just 7.5 inches of ground clearance and an all-wheel-drive system that sends most power forward in typical driving situations, the CX-5 is more an all-weather cruiser than an off-roader, though.


Base versions can keep up with traffic, while the turbo is fairly quick. We're most impressed with the CX-5's handling relative to its rivals, though. Its sharp steering and balanced feel give it a driving feel much better than its rivals. Standard 17-inch alloy wheels provide the most comfortable ride quality. The available 19-inchers may look great, but their small sidewalls result in a somewhat brittle feel on rough pavement.

The base 2.5-liter inline-4 pushes 187 hp and 186 lb-ft of torque to the wheels via 6-speed automatic transmission. This combo isn't bad, but it can feel a bit rough and the lack of gears against rivals means highway fuel economy is just so-so. Turbos boast 256 hp (or 227 hp on regular unleaded) and a hefty 310 lb-ft of torque, with a nice growl when you get deeper into the throttle. Once you're in the boost, though, these models deliver great highway passing.

The 2023 Mazda CX-5 is just average when it comes to fuel economy. It's fine, but some rivals offer better fuel economy. Most of the lack of pack leading fuel economy is due to only having 6-speeds on the automatic. The base 2023 Mazda CX-5 checks in at 24 mpg city, 30 highway, 26 combined. Turbos are a bit thirstier at 22/27/24 mpg, but well worth the extra grunt. All models are rated to run on regular unleaded, but you'll need premium to unlock the full 256 hp in the CX-5 Turbo.
Good crash-test scores and a bevy of collision-avoidance tech elevate the Mazda CX-5 above many rivals. It should be a very safe choice. The IIHS calls the 2023 Mazda CX-5 a Top Safety Pick+ and the NHTSA grants it a five-star overall rating. Additionally, Mazda includes a lot of crash-avoidance tech as standard fare: automatic emergency braking, adaptive cruise control, active lane control, and blind-spot monitors come on all. A surround-view camera system and head-up display are optional.
The 2023 Mazda CX-5 has a nicely finished cabin, especially in higher trim levels. The 10.3-inch screen pops out of the dash, which has stitched panels. Plenty of switches and knobs adorn the dash and center console, which can take a little acclimation. A chunky steering wheel fronts simple, easy-to-read gauges. Mazda is a bit stingy with interior hues on most trims, but the look and feel here is impressive as you work your way up the ladder. Range-topping Signature versions have soft leather and real wood trim, two features we don't expect at this price point.
The bolstered front seats offer power adjustment for the driver on all but the base model. Rear-seat riders have 40 inches of legroom on paper, but in practice we've found the CX-5 to be a tight fit for three abreast on the bench-like seat. Rear-seat riders will find somewhat tight accommodations in the 2023 Mazda CX-5. The CX-5 performs better when it comes to cargo space. Look for about 31 cubic feet with the rear seatback upright and nearly double that with it folded down. Outward vision is excellent forward thanks to skinny roof pillars and a relatively low belt line.

The 2023 Mazda CX-5 is a decent value and Mazda offers the 2023 CX-5 in a wide range of trim levels, all of which come standard with all-wheel drive, a 10.3-inch touchscreen, standard Apple CarPlay/Android Auto compatibility, and a host of crash-avoidance tech. The base CX-5 2.5 S costs $27,975 to start, though some paint colors run an extra $595. For about $1,800 more, we'd step up to the Select trim with its dual-zone automatic climate control, heated front seats, and power-adjustable driver's seat. At about $31,500, the 2.5 S Preferred includes a moonroof and leather trim, plus a few other niceties, too.

If you're after a turbo, the price skyrockets to nearly $38,000, though that money buys leather trim, Bose audio, and a few other luxuries. At $41,520 with extra-cost paint, the 2.5 S Turbo Signature emulates some costlier luxury models with its Nappa leather upholstery and wood trim inside. A 3-year/36,000-mile warranty is pretty much the bare minimum these days, however.
The 2023 Mazda CX-5 remains what is always has been; a great handling SUV with killer looks and Mazda's great reliability. While it may not be as large as some of its competitors, how often are you really going to be hauling a full load? It's the smart small crossover that we'd want to be driving on a daily basis since it can put joy into any drive. We'd pick the Turbo with its gutsier engine and minimal fuel economy to add to the miles of smiles.