With its modern take on luxury, the 2023 Lexus ES blends eco-friendly frugality, sporty touches, and traditional luxury. The 2023 Lexus ES is a mid-size luxury sedan with a big, well-outfitted cabin. It can be shopped against the Cadillac CT5 and the Acura TLX. If you can resist the SUV craze, the Lexus ES stands out as a highly rational choice.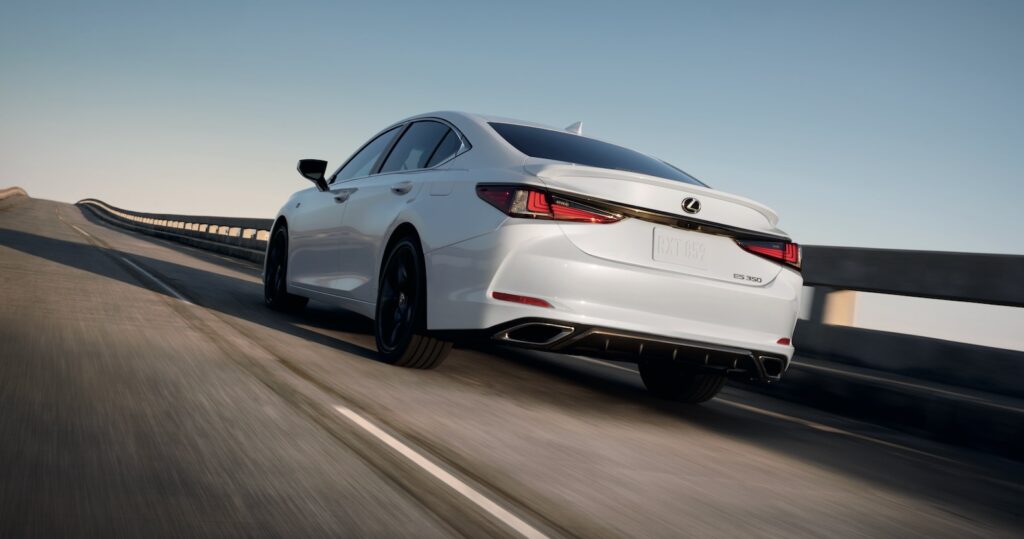 After a big update last year, the ES coasts into 2023 with welcome news: a new center console which removes the touchpad controller and replaces that interface with a standard 8.0-inch touchscreen or an optional 12.3-inch unit. This traditional big sedan shares underpinnings with the Toyota Camry and the dearly departed Toyota Avalon, but it charts a more upscale course. It's easily Lexus' most popular passenger car, but it trails the RX crossover SUV in the sales race.
The well-tailored Lexus ES strikes a dashing pose. The low front end wears one of the cleanest interpretations yet of Lexus' now-signature "spindle" grille, though it's surrounded by a pair of chrome whiskers that seem out of place. The less-is-more theme continues along the side, where the ES has a low, sinewy stance and a minimum of fussiness. It's comparatively brash from the rear thanks to a wide light bar capped by a strip of brightwork.
Multiple powertrain options enhance the 2023 Lexus ES, which prioritizes comfort above all else. The ES 250 has the lowest number on its trunk, and it makes use of a 203-hp 2.5-liter inline-4 teamed to an 8-speed automatic transmission. We've not driven this model, though on paper it's light on power for a 3,800-lb luxury sedan with all-wheel drive. Lexus quotes a 0-60 mph time of 8.6 seconds for this drivetrain. All-wheel drive is standard on the ES 250, but not available on the ES 350 or ES 300h.

The next-up ES 300h turns things around with a hybrid system consisting of a single electric motor and a nickel-metal-hydride battery teamed to the 2.5-liter inline-4 for a total output of 215 hp. This combination means a broader torque curve, too, which helps endow the ES 300h with decent power; it's quicker than the base version, with a 0-60 mph time of 8.1 seconds. It can grumble on occasion, and we're not huge fans of the continuously variable automatic transmission (CVT) for the way it tends to keep the engine working hard at higher revs for passing power. Still, for most users, this is the best overall powertrain, mostly for its fuel economy and calming driving nature.

Topping the line, at least in terms of power, is the ES 350. Its 302-hp V-6 provides conventional grunt, accompanied by a mild snarl. It's the most refined engine here, and it works brilliantly with its 8-speed automatic companion. Its 0-60 mph times are quoted at 6.6 seconds.

Most models have a soft, well-damped ride and steering with reasonable heft. Front-wheel-drive models can be equipped with an F Sport Handling Package with adaptive dampers, Sport+ and Custom drive modes, all for a more responsive and engaging feel. Top-line Ultra Luxury trims are fitted with those same trick performance dampers that give them even better ride quality and a hint less body lean in harder cornering. There's no disguising this model's heft on a winding road, but as long as you don't live on a canyon in Southern California, the ES is perfectly suited to day-to-day driving.
The 2023 Lexus ES hybrid is about as guilt-free as a luxury car gets. The ES 350 is the most popular model, and it's rated at 22 mpg city, 32 highway, 26 combined. That's not bad given its power output, but the hybrid is way thriftier. The hybrid rates 43/44/44 mpg in EPA testing. Meanwhile, the 4-cylinder ES 250h rates 25/34/28 mpg.
The 2023 Lexus ES is a safety standard. With excellent scores from the NHTSA and the IIHS augmented by great crash-avoidance tech and outward vision, the 2023 Lexus ES is a top choice. The NHTSA rates it at five stars overall, while the IIHS says it's a Top Safety Pick+ when fitted with available LED headlights. Standard fare includes automatic emergency braking, blind-spot monitors, active lane control, automatic high-beam headlights, and adaptive cruise control. A surround-view camera system and parking sensors are widely available.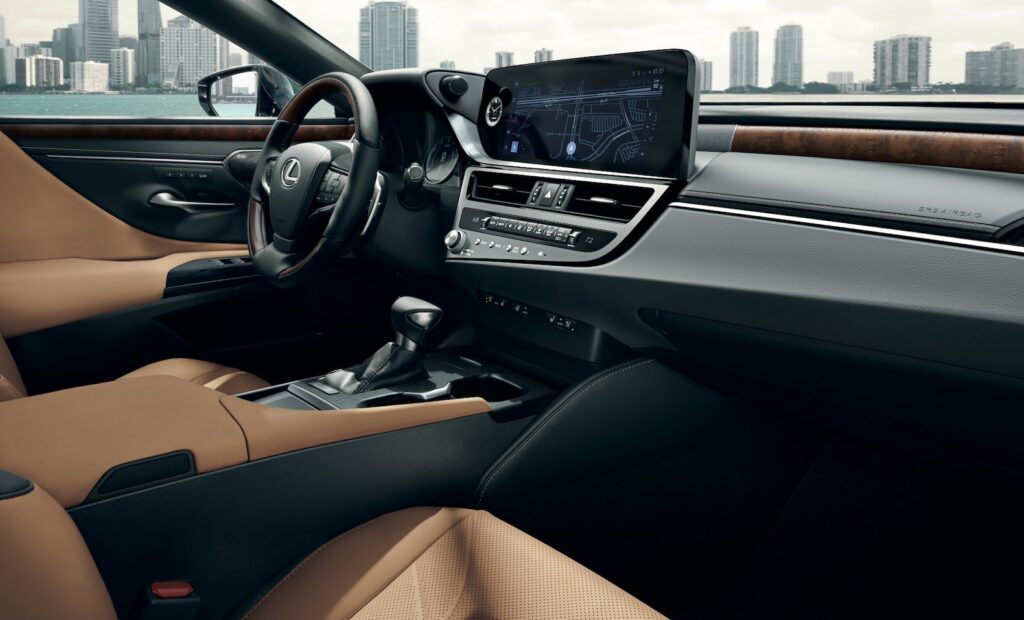 The 2023 Lexus ES is a well-wrought luxury sedan with a capacious cabin. Calm, composed, and gorgeous, the Lexus ES has a fine cabin for the money. Inside, the two-tier dash is capped by a wide 12.3-inch touchscreen in most configurations. (An 8.0-inch display is standard, but you'll want the bigger screen.) Small buttons and switches rest below. One nod to the past: a CD player lurks low on the center stack.

The ES stretches a hefty 196 inches long, which endows it with good interior room. Front seats with power adjustment accommodate a wide range of bodies, with little pretense of sporty bolstering. Five adults can slide inside, though the third row is a bit narrow for three big people abreast. Oddly, row two's backrest doesn't fold down, so you'll need to pay extra for large-item delivery when out shopping.

Synthetic leather comes standard, while a soft grade of real stuff is on the options list. Other luxury bits include open-pore wood, heated and cooled front seats, and contrasting stitching. Two-tone cabins can be a bit jarring at first, but close attention to detail makes them a delightful place to whittle away miles. Oh, and then there's all that sound deadening. The ES is downright silent.
The 2023 Lexus ES is a decent value and Lexus offers a huge array of 2023 ES configurations. Even base models are well outfitted at $42,490 to start; money that buys either an ES 350 or an ES 250. A similarly optioned ES 300h costs about $1,200 more, regardless of trim. All ES models are backed by a 4-year/50,000-mile warranty.

Base models wear synthetic leather inside, an 8.0-inch touchscreen, power-adjustable front seats, and 18-inch alloy wheels. A $2,430 Premium Package seems like a gimme for its heated and cooled front seats with memory for the driver, wireless charging pad, wood trim, and rear cross-traffic alerts, plus a few other small items.

For $47,660 to start, the ES in Luxury trim tosses in most of the Premium Package features plus real leather trim. Factor in another $1,030 for the bigger 12.3-inch touchscreen and you'll still be looking at a final bill under $50,000. For the F Sport Design or Ultra Luxury trim and Lexus will want the better part of $52,000, though these well-equipped models rival full-size sedans for their features.
The 2023 Lexus ES is the most impressive ES to date. With the interior updates to the 2023 ES, Lexus builds upon a long legacy of leadership by embracing its core values and bestowing stunning styling, refined efficient driving dynamics that won't disappoint, and cutting-edge technology. The 2023 Lexus ES is the best ES ever, there's nothing it doesn't do well.