With its three electrified powertrains and urban proportions, the 2023 Kia Niro lacks a direct competitor. The redesigned 2023 Kia Niro is a hatchback marketed as a small crossover that seats five in a pinch. Sold as a hybrid, plug-in hybrid (PHEV), or battery electric vehicle (EV); the Niro offers an efficient powertrain for customers all along the green spectrum. Larger, roomier, edgier, and more efficient, the second-generation Kia Niro makes thrift cool.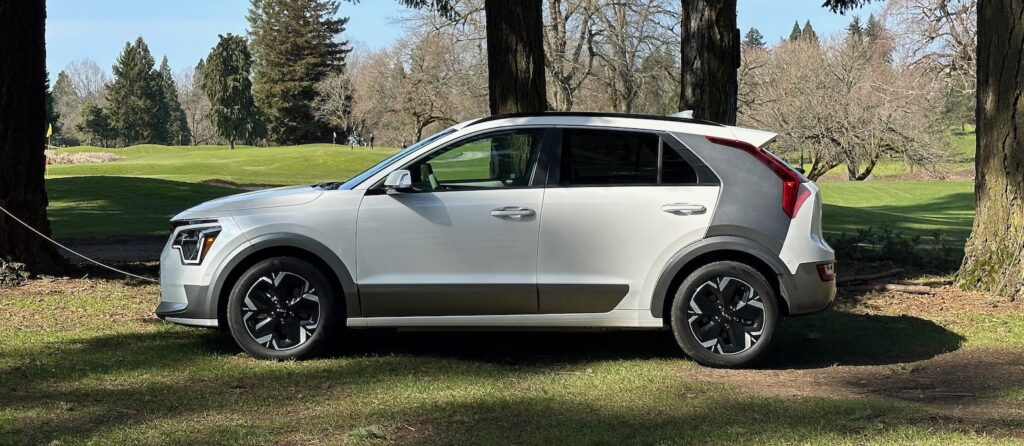 The 2023 Kia Niro dares to be different, inside and out. Kia swaps out its conventional if not common small crossover body for a more distinctive style inspired by Kia's 2019 HabaNiro concept. The most telling and polarizing feature is the boomerang body panel that extends from the roof to the rear wheels in silver or black, like a two-tone stirrup on the boot of the car. Kia calls it an air blade, and it reduces aerodynamic drag. It's different at a time when so many other small crossovers just want to fit in. Chunky LED headlights with running lights like underliner flank a thin upper grille that gives way to a widemouth lower grille. Shiny gloss black cladding covers the bumpers, runs over the round wheel arches and down the rockers, and hints at all the black plastic to come on the inside.


Built for efficiency not speed, the 2023 Kia Niro rides the turtle's back to the finish line. The 2023 Kia Niro runs the rainbow on the spectrum of electrification, with hybrid (HEV), plug-in hybrid (PHEV), and full battery electric (BEV) options. Kia expects the Niro Hybrid to account for 65% of sales, and the Niro EV to make up another 25%. The EV is the quickest, quietest, and most efficient, but regardless of the model, the Kia Niro does not concern itself with speed. We base our rating on the volume Hybrid model, which has smooth, calm driving characteristics that make up for its aversion to speed. Regardless of powertrain, the Niro is front-wheel drive only.


The Niro EV is the perkiest-accelerating of this relatively sluggish lineup, and its quiet, no-drama propulsion mostly gives it an aura of sophistication the other models don't match, though it has none of the punch of rival small EVs, most of which are cheaper. Also keep in mind that at around 3,800 pounds, the Niro EV weighs far more, and that's a difference you can feel in how it rides and corners, especially over sudden heaves and bumps. Even the quickest of the bunch, the EV, takes a horse-and-carriage approach with an official 0-62 mph time of 7.8 seconds.
The Niro EV is easy to fill up on electrons, too. With its 11-kw onboard charger, it can get a full charge in just over six hours, equipment permitting, and with a 32-amp home charger it will take around nine hours. On 100-kw or higher DC fast-charging hardware it will gain an 80% charge in 45 minutes. No matter which version of the Niro EV you're considering, we strongly recommend the Preserve Package, which assures you get a heat pump, battery heating system, and heated outboard seats; all items that will help you get better real-world range on long road trips.
The 2023 Kia Niro awaits official crash tests.The NHTSA and the IIHS haven't crashed the new, larger Kia Niro, but we hope it improves on its four-star rating from the NHTSA. Kia equips it with standard automatic emergency braking with pedestrian detection, active lane control, blind-spot monitors, a safe-exit monitor so you don't open the door into a cyclist or vehicle, and a rear occupant alert system. Niro EV models add standard adaptive cruise control with active lane control that enables hands-free driving for a minute or so on long straight highway stretches, while top-trim Niro EV Wave models can be equipped with an advanced version that includes automatic lane changes and machine learning.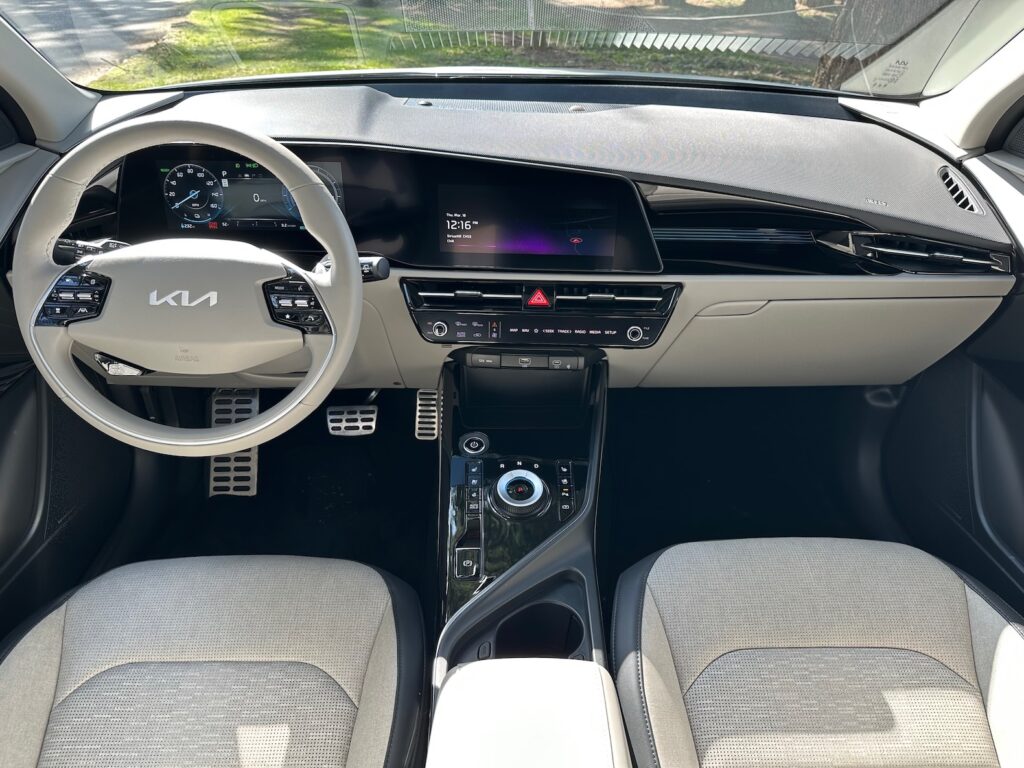 Larger, roomier, and more sustainably sourced, the 2023 Kia Niro matures for this generation. Called a crossover, but sized like a tall hatch, the 2023 Niro slots between the Seltos and Sportage in Kia's crossover family, and rides taller than the boxier Kia Soul. It earns points for its wide cargo hold and for relatively good rear legroom and headroom.
The interior borrows some upscale touches from the premium Kia EV6 electric crossover, with an arcing dash that stretches horizontally to make it feel wider and roomier inside, and a large available 10.3-inch touchscreen that blends into an equally large digital instrument cluster under one pane of glass stepped toward the driver. Below the touchscreen, the climate panel doubles as a touchscreen menu bar. Press the arrow icon on the thin digital display, and the climate controls morph into hot buttons such as radio, map, and navigation for the touchscreen. Press the fan icon, and it switches back. It takes a few turns to get used to, but once acclimated it's a clever compromise between traditional dials and cluttered touchscreen interfaces. A spokeless steering wheel exaggerates the wide and low vibe. Gloss black plastic collects dust and fingerprints on the console, door panels, and dash.

All but the base LX model have heated front seats covered in cloth and leather with a power driver seat, and they're fairly comfortable. Kia spruces up the interior with nice touches and sustainable materials such as recycled wallpaper for the headliner and seat upholstery made from eucalyptus leaves, but Kia should recycle all the gloss black plastic that dominates the cabin.

The cargo volume behind the 60/40-split rear seats grows 3.4 cubic feet from last year to 22.8 cubes (for the hybrid and the EV), and the wide opening makes it easy to fit bulky items. Folding down the rear seats, which sit above the battery packs, grows cargo room 9.2 cubic feet from last year to 63.7 cubic feet total. Battery packaging in the PHEV shaves cargo room to 19.4 cubic feet with the seats up and 54.6 cubes with the rear seats down.

Rear-seat passengers have 2.4 inches more leg room to 39.8 inches, which is better than the second rows in many three-row crossovers, although note that the Niro EV has slightly less rear legroom (36.9 inches) due to its own specific battery packaging. Across the lineup, headroom is mostly good too, but one caveat back there is the hard plastic seat backings are unforgiving for bonier knees. This might be a plus for front seat riders, however.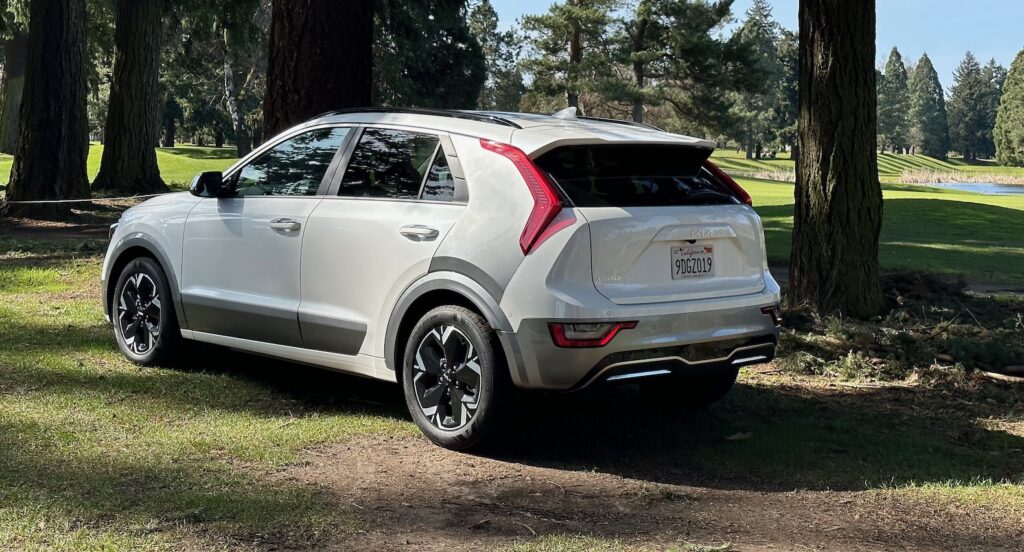 The 2023 Kia Niro rides on thriftiness. The warranty, standard gear, long options list, and good infotainment system, all add up to a great value. As is Kia's excellent 5-year/60,000-mile basic warranty. The Niro EV starts at $40,875, and in its more affordable Wind form it includes dual-zone climate control, a power tailgate, roof rails, heated front seats, and 17-inch alloy wheels. The materials roughly parallel those used in upper SX trims of the other models, but it underscores that you are indeed paying a big premium for the long-range battery pack.

That's the Niro EV, in its top-trim Wave form, which starts at $45,875 and includes a sunroof, heated and cooled front seats, a heated steering wheel, a power tailgate, ambient lighting, front and rear parking sensors, and a digital key system among many more standard items. Optioned with the $1,300 Wave Preserve Package (heat pump and rear heated seats) and a dual-level cargo board, plus two-tone paint, it adds up to $47,825.


Kia has come a long way in a short amount of time. Nothing is more evident of that than the 2023 Kia Niro EV which has quickly become a top choice in the small EV class. With inoffensive bold looks, good range and efficiency, and topnotch technology with a great value proposition; it's easy to see how great the Niro EV is. For those looking to try something new and step out of the current small car gas flock, the 2023 Kia Niro EV is definitely worth a look.