The 2023 Honda Accord upgrades its tech and cabin to maintain its lead over other sedans. With seats for five and a strong hybrid option, the Honda Accord stands out in a small but competitive class of mid-size sedans that includes the Toyota Camry, Hyundai Sonata, and Nissan Altima. Redesigned this year to mark the 11th generation, Honda's bestselling car in the U.S. over the past 40 years now runs cleaner, has a cleaner infotainment interface, and retains good handling and overall value.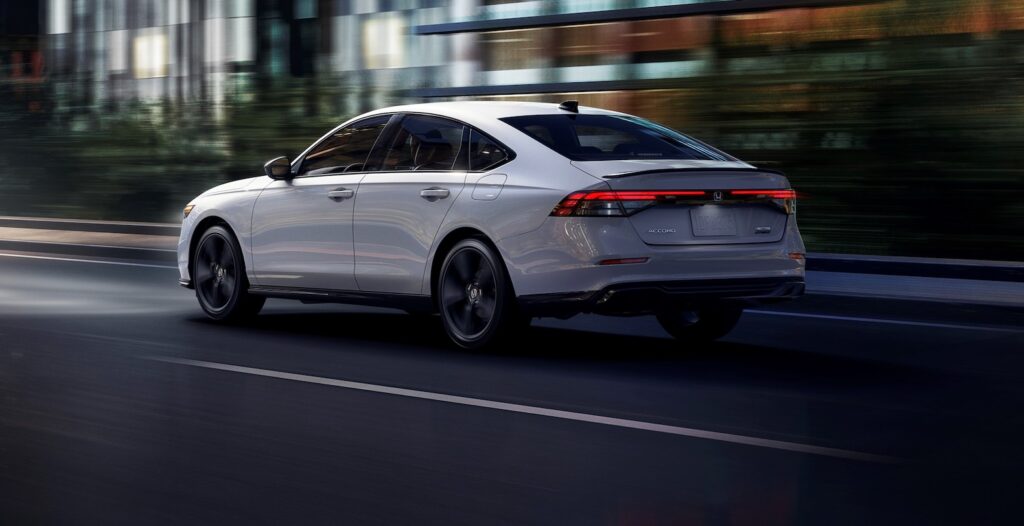 Longer, wider, cleaner, and more modern, the new Accord follows other recent Hondas and embraces the low front end and broad grille of the Honda Civic compact sedan. Most of the added length appears in the nose, and the fastback roofline and available 19-inch black wheels give it a sporty profile that's not matched by its powertrain options. Efficiency and comfort rule the day here, as a revised hybrid system masks the discontinuation of the sporting 252-hp turbo-4.
Tamed but still sophisticated, the redesigned 2023 Honda Accord flashes its freshest inside. Honda has smoothed out the fastback roofline from the prior generation and tamed the front end to align with the Honda Civic in its family of sedans. Though 2.7 inches longer, mostly in the front bumper, the front wheels don't sit as far forward, and the chrome roofline accent on top trims hooks back under the rear windows instead of flowing toward the trunk as on the predecessor. The grille appears to stretch wider under thinner LED headlights, and thinner bars split the grille into lower and upper sections. The 11th generation is not as fresh or exciting looking, but it still has the subtle sophistication of German touring cars without the garish ostentation favored by many rivals. It earns a point, and the streamlined interior feels more cohesive for another point.
Honda leans into the hybrid on the 2023 Accord, producing less emissions, more refinement, and still good handling. Skewing more towards efficiency and comfort than sportiness, the 2023 Honda Accord retains its balanced chassis and impressive handling for a front-drive car. Increased body rigidity with new front brace bars, and revised front struts and damper mounts complement the multilink rear suspension to make for a car that handles with much more verve than most front-drive sedans. Honda no longer offers an adaptive suspension on the Accord, yet the improvements to rigidity and the overall balance make that pricey feature hard to miss.

Quickness is not the forte of the Accord, but it makes up for it with balanced handling and effortless hybrid performance. Honda revised the CVT on the 1.5-liter turbo-4 and remade the hybrid powertrain to reduce emissions and provide more refinement. The revised 1.5-liter turbo-4 is less refined. It makes 192 hp and 192 lb-ft of torque with a peak as low as 1,700 rpm, but it's much louder and more coarse than the hybrid. Honda says the CVT makes less noise, but it can still drone along like a sentence that never stops. For $4,600 more and a more robust feature set, the Accord Hybrid is the smart play.

The 2.0-liter engine in the Accord Hybrid pairs with the two motors mounted beside each other, enabling Honda to fit in a larger propulsion motor. The system makes 204 hp and 247 lb-ft of torque, but it takes a beat on the throttle to tap into that power. Under lighter throttle, it can run longer in EV mode than before, but the most impressive aspect is the quiet and smooth balance of power between the motors and engine, which can decouple when not needed. At highway speeds, it's effortless and thrums along quietly, more like an EV than a gas-powered car.

Also like an EV, paddle shifters enable six levels of regenerative braking with a much more pronounced feel than its predecessor's four weaker settings. In the highest setting, it nearly comes to a stop for one-pedal driving, but still has the creep of gas cars in gear. Four different drive modes, including Normal, Sport, and Eco, add some variance to throttle response and steering feel, while a new Individual setting lets drivers customize those inputs as well as change the adaptive cruise control response, which is a nice touch. Sport mode amplifies some engine sound through the speakers.

Most 2023 Honda Accord Hybrids get 44 mpg combined. Honda estimates the hybrid will account for at least half of sales, and the Sport, Sport-L, and Touring models have an EPA rating of 46 mpg city, 41 highway, and 44 combined. It's a 6. Thanks in part to its smaller 17-inch wheels and tires versus 19s on the other hybrids, the EX-L does it even better at 51/44/48 mpg. That improves on the outgoing model by 3 mpg city, 1 mpg combined, though the highway rating falls 3 mpg. The LX and EX and its 1.5-liter turbo-4 gets 29/37/32 mpg.
Adaptive cruise control highlights the standard driver-assist tech on the 2023 Honda Accord. The IIHS dubbed it a Top Safety Pick+, which is the best safety rating in the industry. The new Accord earned top "Good" results on all crash tests, including a new side impact test that reflects larger vehicles on roadways striking the test car at higher speeds. It also earned an "Advanced" rating on a new vehicle-to-pedestrian test that stops the car before impact at nighttime, when most pedestrian fatalities occur. The NHTSA has yet to crash test the new Accord.

Honda equips every Accord with automatic emergency braking, blind-spot monitors, active lane control, adaptive cruise control, traffic jam assist, automatic high beam headlights, and a rear seat reminder. Its updated suite of safety tech now has wider angle cameras and radars that cast a wider net of detection. There aren't many options, aside from front and rear parking sensors standard on the top Touring.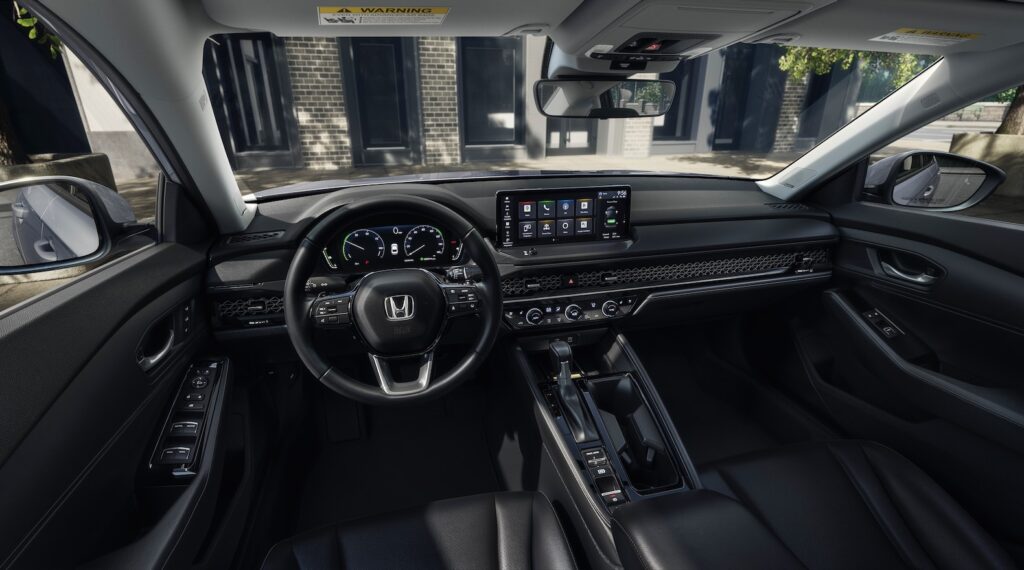 Inside, Honda stepped forward and back. A mechanical gear shifter in the console replaces the button shifter in the outgoing model, lending it a sportier feel, Honda says. The fake wood trim on top Touring models is no longer an option, with most Accords sporting the mesh vent panel first introduced in the Civic. Some black gloss plastic underscores it, but not too much, and the low dash better integrates the available 12.3-inch touchscreen. The volume knob sticks out like a nipple from the base, and a panel of dials and buttons for climate is always welcome. It's mostly a black-on-black affair inside, but it's clean and uncluttered, with simpler steering wheel controls.
The 2023 Honda Accord sacrifices little cargo or passenger space for its hybrid components. With a 111.4-inch wheelbase, the 2023 Accord feels nearly as large inside as a full-size sedan. The base LX has cloth seats with manual adjustments, but the new seat design has more cushion and more support for more comfort. That's worth a point, as are the roomy rear seats with a crossover-like legroom of 40.8 inches and good headroom. In hybrid or gas only models, trunk space remains ample at 16.7 cubic feet.

Most front seats sport heaters and power adjustments, but cooled fronts and heated rear outboard seats only come on the top trim. Wide door openings and a ground clearance of 5.3 inches make getting in and out easy, though not as easy as a crossover. The middle seat in back might make the fifth wheel feel unwanted, but otherwise four adults fit well. The 60/40-split rear seats fold down to expand trunk space, and it's a neat trick that Accord hybrids have the same amount of space as gas models. A recessed floor adds more storage options, and deep door pockets accommodate Thermos-style water bottles. Honda keeps the interior relatively basic, but it's well-sealed from the elements, with all but tire noise intruding into the cabin in the whisper-quiet Accord Hybrid.
The 2023 Honda Accord Hybrid retains its value with standard features such as a 12.3-inch touchscreen. Priced from $28,390, the 2023 Honda Accord comes reasonably well equipped with cloth seats, a 7.0-inch touchscreen with Apple CarPlay and Android Auto compatibility, a 10.2-inch digital instrument cluster, and two USB-C ports. All but the base model come with a 10-way power driver seat with power lumbar support. It earns a point each for its value, basic but better infotainment system underscored by physical menu buttons, and good standard features. Honda provides a three-year/36,000-mile basic warranty, hybrid components are covered for eight years or 100,000 miles, and the first two years or 24,000 miles of scheduled maintenance are included in its Service Pass.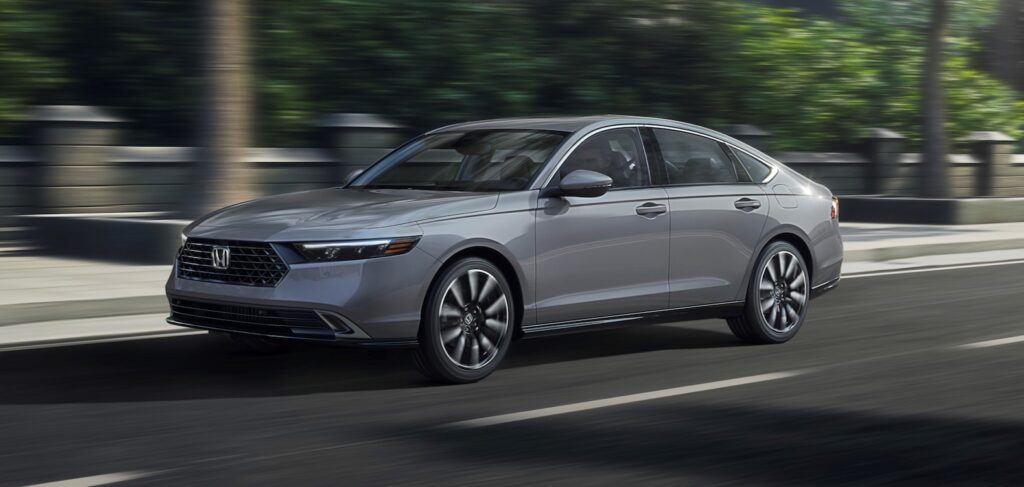 The hybrid is quieter, calmer, cleaner, stronger, better equipped, and still a relative value at $32,990 for the Sport. It has a 12.3-inch touchscreen with wireless smartphone compatibility and available wireless charging, and a leather-wrapped steering wheel. Hybrid EX-L grades and above have standard heated front seats. A heated steering wheel is not an option on any Accord.
Sport, Sport-L, and Touring trims ride on 19-inch wheels, while EX-Ls roll on more efficient 17-inch wheels and tires. The Touring hybrid tops the lineup at $38,985. It features a Google built-in infotainment operating system with a three-year data plan, 12-speaker Bose audio, a wireless smartphone charger, wifi hotspot, heated and cooled front seats, heated rear outboard seats, and a 6.0-inch head-up display.
The 2023 Accord may still be one of the top-selling midsize sedans, but the Hybrid has way more upscale polish than the name would imply. The all-new 2023 Accord Hybrid is just the latest in a series of vehicles where the hybrid version drives markedly better than its gas counterparts. And with the price gaps between the models continuing to shrink it's becoming harder to justify why you wouldn't pick the electrified version because the 2023 Honda Accord Hybrid is by far the best midsized hybrid we have ever tested.