Nine trims, four engines, three cabs, and three bed sizes allow the 2023 Silverado to appeal to a wide range of shoppers. The Silverado 1500 full-size pickup truck squares off against the bestselling Ford F-150, the smooth Ram 1500, the fresh Toyota Tundra, and the basic Nissan Titan. Refreshed last year with a modern interior and improved standard safety and convenience features, the 2023 Silverado 1500 is a formidable force, but it lacks the electrified powertrain options of the F-150 and Tundra, at least until next year's arrival of the Silverado EV.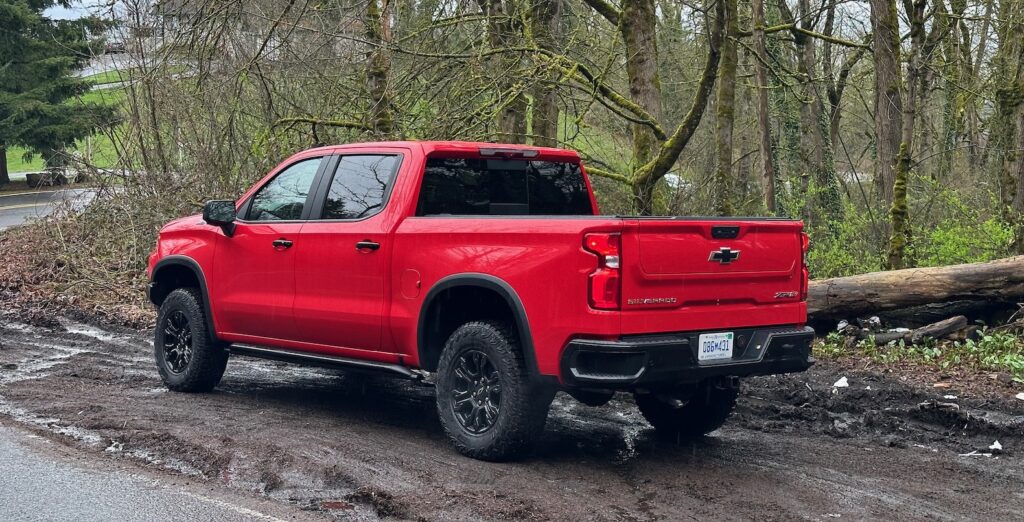 For 2023, Chevy boosts the ZR2 off-road truck with a ZR2 Bison model that adds more protective elements such as steel rock rails and five skid plates, among other upgrades. Chevy also revises its 3.0-liter turbodiesel that now makes 495 lb-ft of torque and can tow up to 13,300 pounds.

The 2023 Chevrolet Silverado wears the hallmarks of a modern truck with premium ambitions. Refreshed last year, the 2023 Silverado softens its cinder block bod with more sculpted ends. The face of the Silverado is less imposing in rearview mirrors, and that's a good thing. One bar stamped with the Chevy bow tie in the middle spans the slotted grille and stretches like a barbell weighted on either end by daytime running lights. Dirty Harry headlights squint above the DRLs, and the ZR2 models flex steel skid plates and ribbed hoods.
The ZR2 models sport red tow hooks and 18-inch wheels with chunky mud-terrain tires, and the hood bulges with a massive scoop. Distinct grille and wheel designs color each Silverado trim, but the vertical blocky shape remains even as Chevy tried to stretch it out visually last year. It's a big, hulking truck, with a roomy crew cab and the longest beds on the market.
An updated turbodiesel balances the Silverado range between a turbo-4 and two V-8 options. With four engine choices, including the revised turbodiesel, the Silverado's engine options impress in their own right, showing instead that many sizes fit one, instead of one size fitting all. Unfortunately it's rear leaf spring suspension that lacks the refinement of the independent rear suspension found in the Ram 1500 and F-150.

Chevrolet introduces a more potent 3.0-liter turbodiesel engine this year, with output increasing from 277 hp and 460 lb-ft of torque to 305 hp and 495 lb-ft. The standard engine is a 2.7-liter turbo-4 that provides plenty of power and is quick, quiet, and calm during daily use and for drivers who don't tow too frequently. It makes 310 hp and 348 lb-ft at 1,500 rpm and comes with a smooth-shifting 8-speed automatic transmission. A brief lag is followed by a turbo gasp before the turbo-4 jumps like a smaller, lighter, mid-size Colorado. Resist the temptation to dismiss this engine as too small because it makes for one of the more pleasant full-size truck commuters.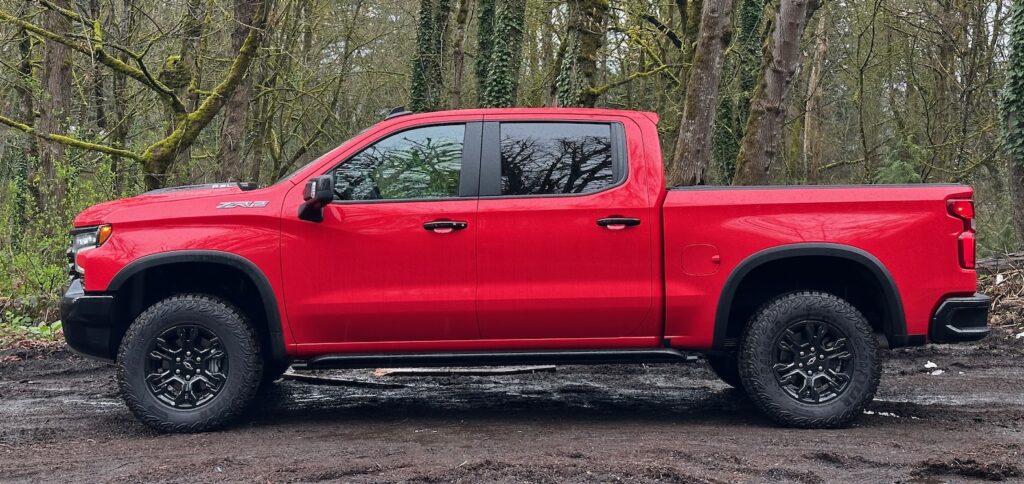 The volume 5.3-liter V-8 still produces 355 hp and 383 lb-ft. It makes less torque than the turbo-4, but can cost about $1,500 more, depending on the model. The big 6.2-liter V-8 comes with standard 4WD and makes 420 hp and 460 lb-ft, which is less torque than the new turbodiesel. Max towing of 13,300 pounds is the same for the bigger V-8 and the turbodiesel.  

Those three engines pair with a seamless 10-speed automatic with overdrive gears and a first gear seemingly for start-up only. It's quick enough to be unnoticeable with a light throttle, but it lets leadfoots dig deeper into the RPM range when needed.

The Silverado still has an independent front suspension and rear leaf spring suspension that can be bouncy when unladen. ZR2 models have position-sensitive shocks that adapt to the terrain and spool valves with three different compression profiles for higher-speed overlanding and rock crawling. Rear-wheel drive comes standard, but 4WD and a 2-speed transfer case is available throughout the lineup. The 6.2-liter only comes with 4WD.  

Following last year's addition of the ZR2, the Silverado follows in the rutted footsteps of the mid-size Colorado with an even more off-road capable ZR2 Bison intended to keep up with the F-150 Raptor and Ram 1500 TRX. Powered by the 6.2-liter V-8 with four-wheel drive, the Silverado ZR2 Bison teams up with outfitter American Expedition Vehicles for more bash protection than on the ZR2. Steel bumpers at both ends feature integrated recovery points and step pads, and the Bison has steel rock rails, and five underbody skid plates protecting the front and rear locking differentials, transfer case, and fuel tank. Black 18-inch wheels are wrapped with 33-inch Goodyear Wrangler Territory MT tires.

Based on engine and bed size, the towing capacity and payload of the 2023 Silverado varies. The turbo-4 Silverado with rear-wheel drive tows up to 9,500 pounds with the regular cab and long bed and hauls 2,189 pounds. On the other end of the spectrum, the 6.2-liter V-8 extended cab and the updated turbodiesel with either a crew or extended cab can tow up to 13,300 lb with the Max Trailering package. Payload maxes out at 2,443 pounds with the regular cab and long bed in rear-wheel drive.
The 2023 Silverado's new turbodiesel gets more efficient around town. Relative to its size and cinder-block shape, the Silverado tries for efficiency. The 5.3-liter with a 10-speed is the most popular engine, and it has an EPA rating of 17 mpg city, 21 highway, and 19 combined with RWD or 16/20/17 with 4WD. That's the same rating as the 6.2-liter with standard 4WD, which is impressive for an engine of that size in a vehicle this size. The base turbo-4 that replaced the V-6 last year outperforms it with an EPA rating of 19/ 22/20 mpg rear-wheel drive. -wheel drive lowers it 2 mpg. Mud terrain tires lower it another 2 mpg with most powertrains.
The Silverado's most efficient model gets more efficient around town this year with a second-generation turbodiesel. With rear-wheel drive, it rates at 24/29/26 mpg, compared to 23/31/26 mpg on its predecessor. Four-wheel drive doesn't cost it too much to 22/27/24 mpg, which is 1 mpg better than the 2023 Ford F-150 Hybrid. The estimates factor in active cylinder deactivation that shuts down a certain number of V-8 cylinders when cruising or otherwise not needed. The ZR2 conquers terrain and disposable income alike, at 14/17/15 mpg.
Standard driver-assist features, as well as physics, protect inhabitants of the 2023 Silverado 1500. The 2023 Silverado crew cab earned mostly good crash-test scores, though testing of regular and extended cab models remains incomplete. It earns a point for its five-star safety rating, though both the IIHS and the NHTSA dinged it for frontal crash protection. The Silverado earns another point for its standard driver-assist features, including automatic emergency braking with pedestrian detection, active lane control, and automatic high beams. Optional driver-assist features such as GM's Super Cruise hands-free driving system earn it another point.

An available surround-view camera system and an Advance Trailering System offer up to 15 views to help trailering and off-roading alike, and some of the equipment is used for an updated version of Super Cruise that enables hands-free driving on more than 400,000 miles of mapped divided highways in the U.S. and Canada. An evolution of adaptive cruise control, Super Cruise represents the most sophisticated and safe hands-free highway driving system on the market. It can be sweet relief for Silverado owners who log lots of highway miles, with or without a trailer.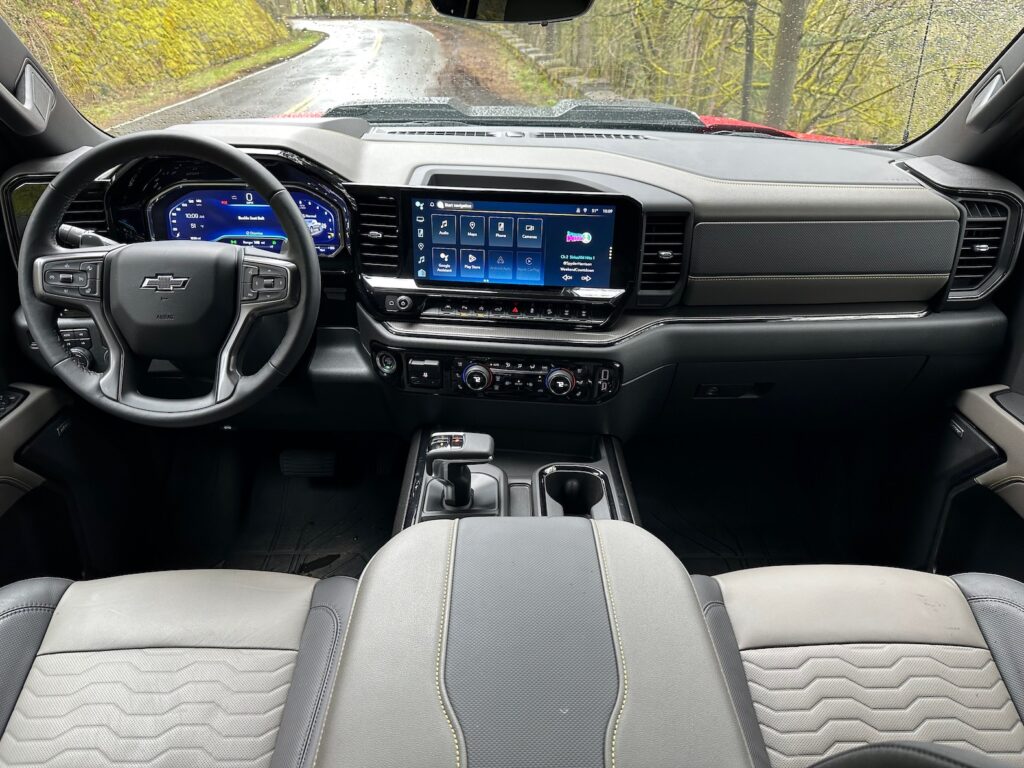 Chevy paid attention where the Silverado most needed it by completely overhauling the interior with a broad, horizontal dash housing all the tech of the modern truck. Inside, LT and above versions sport a 12.3-inch digital instrument cluster and a wide 13.4-inch touchscreen that integrates well with the low, long spread of the dash, unlike Ford and Ram's portrait orientation. The Silverado's display works better here, and cants toward the driver. Climate control dials, drive mode buttons, and a volume knob are a welcome respite from screens. Available open-pore wood trim, leather upholstery, and stainless steel speaker grilles let the truck double as an executive office.
Roomy cabs, large beds, and ample cargo volume distinguish the 2023 Chevrolet Silverado 1500. The Silverado offers the largest beds with the most cargo volume in the full-size pickup class, and innovative features ranging from the bumper step to a 6-way power tailgate make it one of the most useful trucks, provided you can get in and out of the high bed. That utility earns it a point, as does its spacious crew cab.

Chevy cleaned up the interior of the Silverado last year to give it a more premium feel apace with the competition on all but the Work and Custom truck grades. Available with leather upholstery, the LT and above come with power front seats and lumbar support, as well as good cushioning and bolstering that accommodates a range of frames.

Extended and crew cab models have six seat belts, but only the crew cab transports four adults in comfort. The crew cab doubles as a family vehicle with up to 43.4 inches of rear legroom, so traveling with five might be roomier than in some three-row crossovers, especially with all the storage pockets, including an available underseat storage to stow long items.

The three bed sizes of the Silverado average about 10 cubic feet more cargo volume than the Ram 1500 and Ford F-150, but the tall sidewalls make it difficult to reach into the bed from the side. Fortunately, the corner steps and available 6-way power tailgate simplify access to what's in either the 5-foot-8 short box with 62.9 cubic feet of space, a 6-foot-6 standard box with 71.7 cubes on extended cabs, or an 8-foot-2 long bed exclusive to the regular cab with nearly 90 cubic feet of storage. Crew cabs can be paired with either the short or standard bed.

The Silverado climbs new heights with the ZR2 Bison package. The 2023 Silverado can be configured with ten available trims, three cab sizes, and three bed options. Standard equipment includes keyless entry, power locks and windows, a 7.0-inch touchscreen with Apple CarPlay and Android Auto, and Bluetooth for two devices simultaneously. That's not bad for a basic Work Truck that costs $37,395. Four-wheel drive adds anywhere between $3,300 and $4,600. All Silverado's get a basic 3-year/36,000-mile warranty, but the first year of scheduled maintenance is included.

The LT crew cab with a short bed hits the mark at about $53,000. It's the least expensive trim to come with Chevy's excellent 12.3-inch digital gauge cluster and 13.4-inch touchscreen combo. Compatible with wireless Apple CarPlay and Android Auto, the system is as easy to operate as a smartphone. Additional upgrades include a 10-way power driver seat, heated front seats and steering wheel, dual-zone climate control, satellite radio, a wifi hotspot, remote start, four USB ports, and two 120-volt outlets. It can be equipped with the surround-view camera system, additional trailer cameras, and leather upholstery. The new ZR2 Bison off-road truck with standard four-wheel drive ascends to king of the Silverado hill at $78,490. In addition to the mechanical upgrades listed in the Performance section, it has 18-inch wheels wrapped in 33-inch mud terrain tires and a 6-way power tailgate.
The 2023 Chevrolet Silverado offers an incredible range of configurations, powertrains, trims, and options to heap onto those. On top of that, GMC offers an efficient turbodiesel engine, a trailer view system with more cameras than the federal reserve, a carbon fiber-composite bed, and a flexible multifunction tailgate. With all the choices it would be impossible to not find the perfect configuration to suit your needs and therefore deserves a drive for anyone looking for a full-size truck.