The 2022 Lexus UX prioritizes sharp styling and good fuel economy over a truly engaging driving experience. The UX is a small crossover SUV that competes against the BMW X1 and Mercedes-Benz GLA-Class. The 2022 Lexus UX is a good choice overall. Its acceleration is leisurely and the touchpad interface for its infotainment system can prove distracting, but fuel economy, style, and safety are all worthwhile assets. Lexus added a few new paint hues and interior trim combinations to the UX lineup for 2022.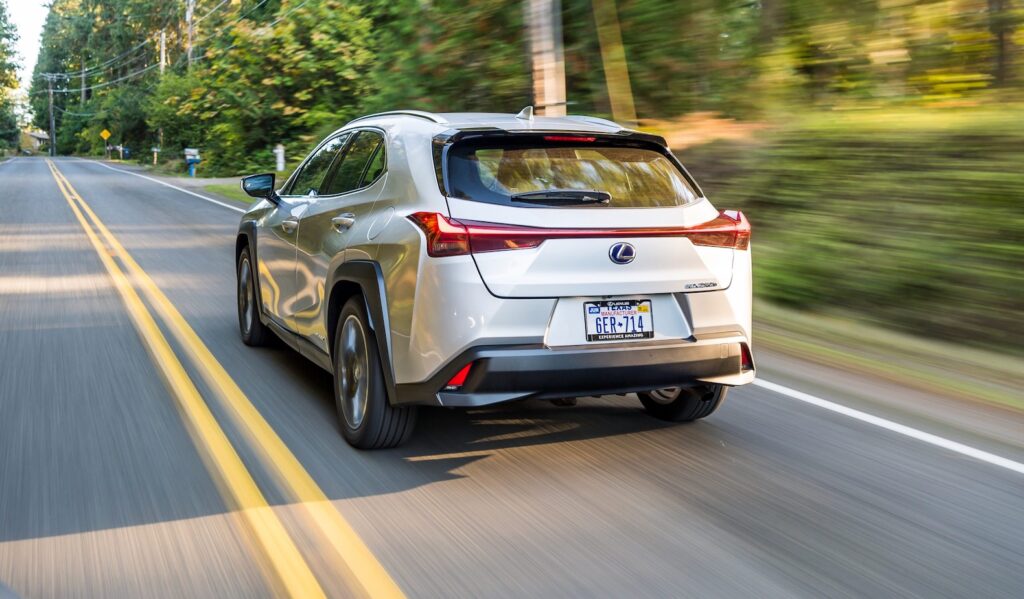 The 2022 Lexus UX brings crisp styling to the masses and we don't mind its lines. The UX is solidly in the modern Lexus camp with its angular styling and squat profile. It's more interesting than some of its bland rivals. A version of the Lexus hourglass grille gives the UX a familiar look. Don't seek out a soft curve or line anywhere, beginning with the sharp LED headlights and working back to the creased flanks. At the rear, the hatchback-like body comes to an abrupt halt, with red-finned taillights connected by a narrow strip.

The 2022 Lexus UX was not born to thrill. Base UX 200s are front-wheel drive, while the UX 250h comes standard with a second electric motor that powers the rear wheels to provide excellent wintry weather traction. Neither version of the UX will win a drag race. They provide just adequate acceleration regardless of powertrain. The base UX 200 puts 169 hp to the wheels through a 2.0-liter inline-4, while the UX 250h uses a different 4-cylinder teamed to two electric motors and a big battery pack for a net output of 181 hp.

A unique transmission with a fixed first gear teamed to a planetary-torque gearbox attempts to imitate a conventional automatic transmission, though for the most part the setup fades to the background. The same can be said for the UX's handling. Its steering is reasonable and its ride quality is comfortable, though F Sports with their upsized wheels can be a bit choppy.

The UX is a thrifty small crossover. Yes indeed, especially if you opt for the hybrid. The base UX 200 is rated at 29 mpg city, 37 highway, 32 combined. The UX 250h hybrid sips at a rate of just 41/38/39 mpg using regular unleaded gasoline, to boot.
It may be small, but the Lexus UX packs a lot of safety features backed up by good crash test scores. The 2022 Lexus UX has done well in crash tests. The IIHS rates it a Top Safety Pick, while the NHTSA scored it at five stars overall. Every UX leaves the factory with a host of crash-avoidance features that tend to be optional on rivals, including automatic emergency braking, adaptive cruise control, blind-spot monitors, and active lane control.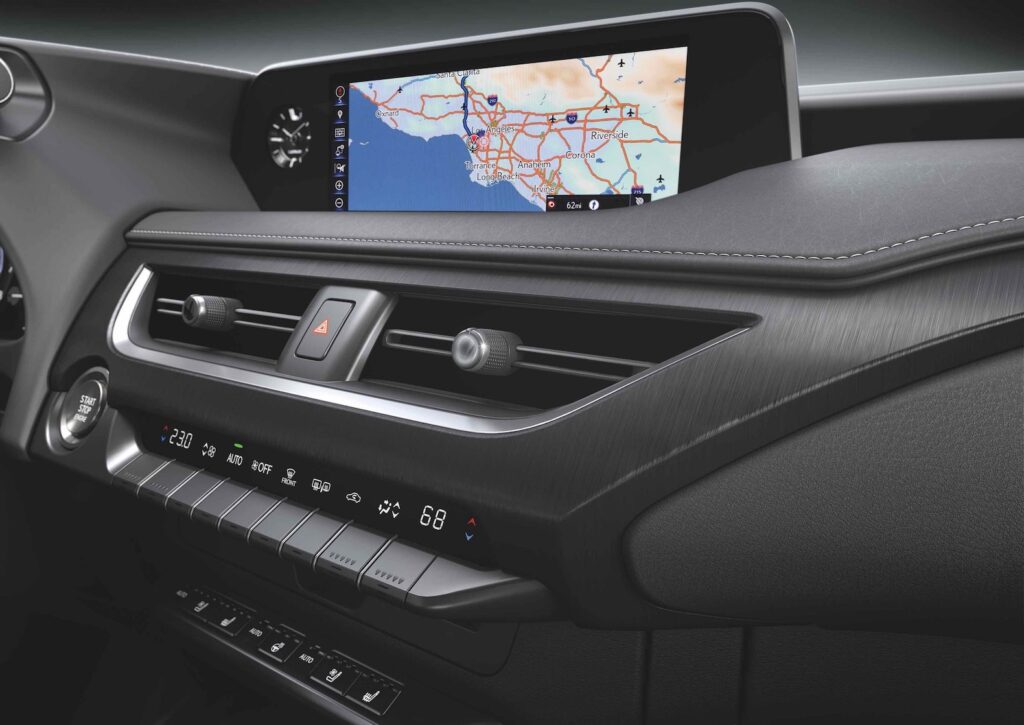 The UX is more conventional inside with a dash that angles slightly toward the driver. Up top, the infotainment screen nestles in the dash, and the gauges are flanked by some less-used ancillary controls. Switches on the center stack and a traditional gear lever stand in comfortable contrast to capacitive buttons and knobs that have made their way into other cabins.
The 2022 Lexus UX makes good use of its allotted space. The smallest Lexus crossover isn't especially utilitarian, but what's there is organized well and has a quality feel. exus drapes the UX in synthetic leather regardless of option package. The front seats are nicely shaped with good power adjustment, but we wouldn't spend for the grabbier (and head room-stealing) F Sport thrones.

With just 33.1 inches of rear-seat room, the UX is not a great choice for families, though what's there is better utilized than in some competitors. Narrow rear doors make climbing aboard a bit tricky, though we do like the fold-down armrest and rear-seat USB ports. Behind the rear seats, the UX offers around 17 cubic feet of cargo space, which is more than a like-size sedan.

The 2022 Lexus UX comes reasonably well-equipped for about $35,000 with synthetic leather trim, power seats, active safety tech, and an infotainment system that packs Apple CarPlay and Android Auto but is saddled with a frustrating touchpad interface and a relatively small display. The F Sport package runs about $2,000 above that for zippier styling and bolstered seats, but we'd skip that version.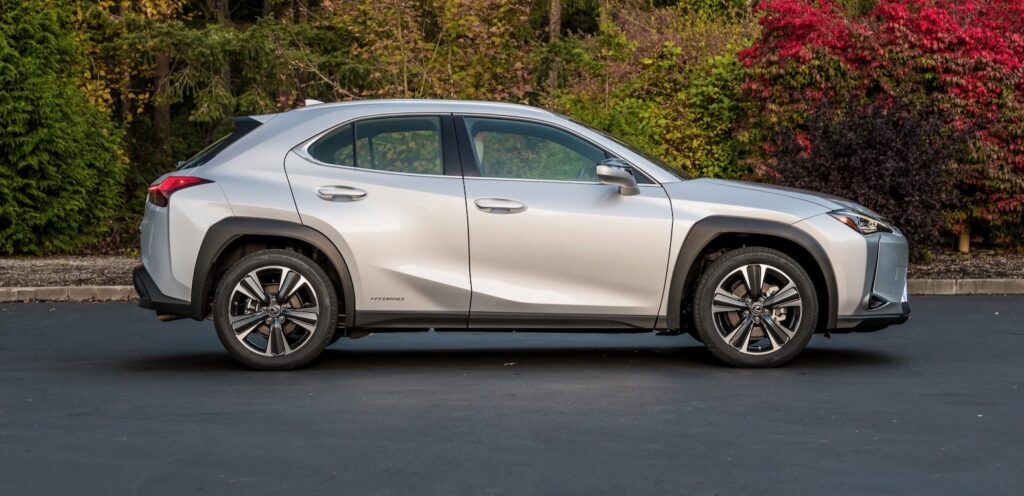 The Luxury package costs $5,000 more and adds niceties such as a power tailgate with a kick sensor and a 10.3-inch display with navigation. Don't look for leather upholstery, however, as the UX is almost vegan. Add LED headlights, a head-up display, a heated steering wheel, wireless smartphone charging, and a few other minor bits to a UX 250h Luxury with all-wheel drive and Lexus will present you with a bill for just shy of $45,000. Lexus includes a 4-year/50,000-mile warranty and two free maintenance trips.
For those looking for a luxury urban crossover to tame the urban jungle, the 2022 Lexus UX is an admirable choice. It drives like a proper Lexus, keeping the outside world at bay, is easy on the eyes and senses with its avant-garde styling, all while delivering a fuel saving safe and reliable ride. The hybrid powertrain is definitely the one to choose. In the end the UX is a true Lexus and deserves a look.