The 2022 Ford Bronco SUV pitches itself as a modern-retro alternative to the Jeep Wrangler and betters it in many ways. The Bronco is an off-road SUV with standard 4×4 capability on a pickup truck frame. Available in two-door or four-door, soft-top or hard-top configurations, the Bronco tries to buck the Jeep Wrangler Rubicon from its off-road throne.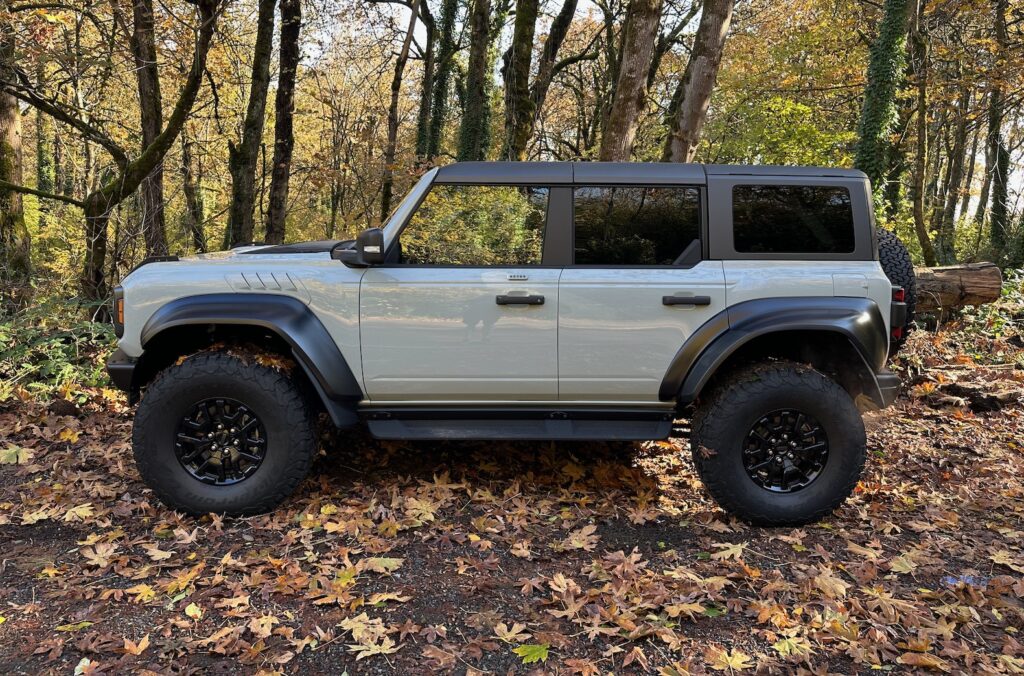 For 2022, a Bronco Raptor roars into the picture which is the model we reviewed. Ford teased an Everglades model with a winch and a snorkel, but timing remains unspecified. Color and off-road options expand for 2022, and the Sasquatch package can now be paired with the 7-speed manual transmission.
Like a Lego set come to life, the 2022 Ford Bronco makes adulthood fun. Ford nailed the balance of retro and modern when the Bronco returned to an SUV-dominated landscape after a 25-year hiatus. SUVs are everywhere, but the brick-like Bronco stands out as much for honoring its flat-sided predecessor as ushering in a new age of customization.


The Bronco name stamps the broad grille and connects the round headlights. The smaller Bronco Sport sports a similar face, but there's no mistaking the two. The Bronco features rock rails down low to twin trail sights on the broad hood. Out back the rear swing gate opens wide for cargo or as a seat at the next campfire. Removable fender flares and modular heavy-duty bumpers can be swapped out over time to keep the Bronco fresh, as do new colors for 2022 such as our favorite, Eruption Green. Raptors have removable body bits, which is a good thing, since its super-wide stance looks great when intimidating others in parking lots, but works less well threading off-road needles.


The 2022 Ford Bronco focuses on the thrill at the expense of the chill. Quickness and speed are not the Bronco's main concern, yet  the available 2.7-liter twin-turbo V-6 reaches 60 mph in less than seven seconds. Standard issue is a 2.3-liter turbo-4 under that makes 275 hp and 315 lb-ft of torque (or 300 hp and 325 lb-ft with premium fuel) also used in the Ranger pickup and Mustang coupe. The F-150 lends its torque-rich 2.7-liter twin-turbo V-6 to Badlands and Wildtrak grades, where it makes 315 hp and 410 lb-ft (or 330 hp and 415 lb-ft with premium fuel). With either engine, the Bronco can tow up to 3,500 lb when properly equipped.

A 7-speed manual transmission comes standard only with the 2.3-liter; it can't be had with the 2.7-liter. The manual has a low "crawler" setting with a 94.75:1 gear ratio. Beyond that, the manual behaves like a 6-speed manual with short shifts and clutch feedback that's neither too springy nor too spongy. Available with the 2.3-liter for $1,595 but standard with the 2.7-liter is a seamless 10-speed automatic transmission. Flick the console dial in up to seven drive modes for changes to the driving dynamics; Sport mode, for instance, illuminates the cluster in red and improves throttle response and steering feedback.

The steering adjusts to three modes, and maintains center without needing corrections. The Bronco's portly 4,500-lb weight helps it feel stable on the road, without getting pushed around by the wind despite its disregard for aerodynamics. Wind noise comes naturally to a vehicle with removable parts, as does road noise from any of the seven tire options, ranging from base 30-inch all-seasons to beefy 35-inch mud terrain tires on the $4,995 Sasquatch package. But the hard-top models are especially loud at highway speeds.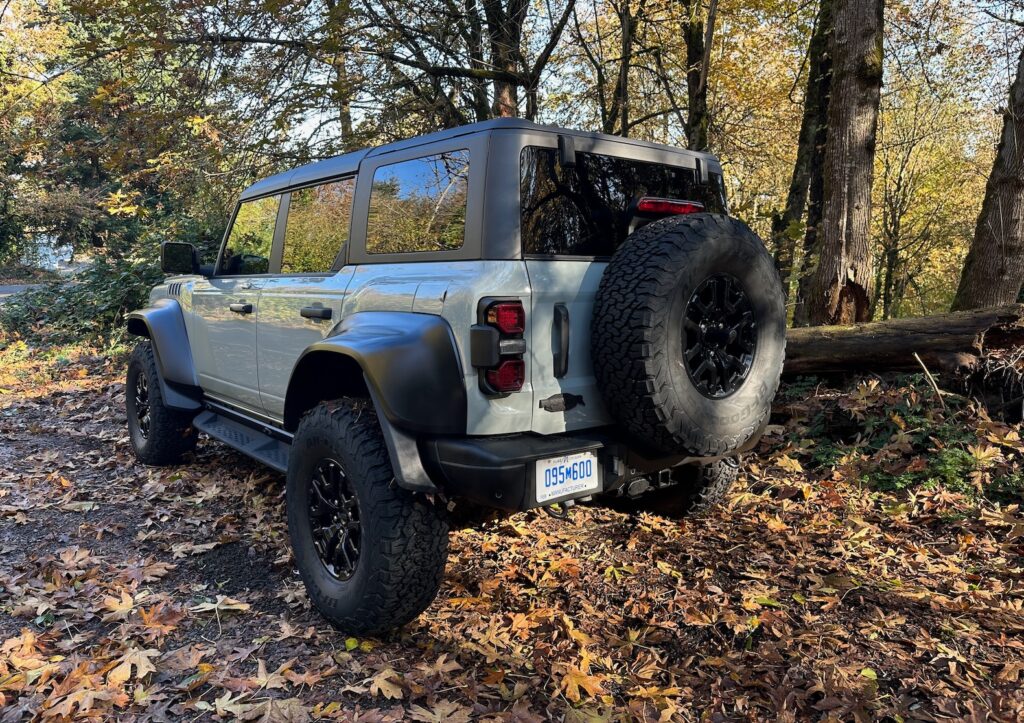 Four-wheel drive is standard with shift-on-the-fly capability, or a more rugged 2-speed transfer case that requires a stop in neutral to get it to 4L. The true charm of the Bronco is how accessible it is to off-road novices, and how capable it is to off-road veterans. The Bronco rides well on the road thanks to an independent front suspension, coil-over shocks in back, and an electric-assisted rack-and-pinion steering system. But road manners depend on the configuration, and the fast it goes the more it reminds you that off-roading is its forte. Three skid plates cover the engine, transmission, and fuel tank. The uprated 4×4 system uses a Dana 44 solid rear axle and can be equipped with independent front and rear lockers.

The Sasquatch off-road package now available with the manual transmission employs Bilstein position-sensitive shocks with three zones of damping, 35-inch all-terrain tires, and an advanced four-wheel-drive system. On the trail, the Bronco capably climbs 40-degree slick rock pitches, fords up to 33.5 inches of water, plows through mud ruts, and with the Baja mode limited to the Wildtrak, can dance through whoops and launch off jumps. Standard features such as a torque inhibitor locks the inside rear wheel to make tight hairpin turns or better negotiate sand; an available hill descent and ascent control acts as a low-speed off-road cruise control in 4H or 4L; a disconnecting sway bar keeps the Bronco loose and pliant for clambering.

At the top of the Bronco food chain, the Raptor edition stuffs a twin-turbo 3.0-liter V-6 into a dramatically widened body to generate 418 hp and 440 lb-ft of torque. It still uses a 10-speed automatic and four-wheel drive, but it's all beefed up for extreme off-road duty: it sports a performance dual exhaust, a 2-speed transfer case with a 3.06 4Lo ration, Dana 50 and Dana 44 axles, and wider bolt-on fenders that house 37-inch tires for a track that's 8.6 inches wider than that of a stock Bronco. With 13.1 inches of ground clearance, the Raptor can paddle through desert sand, crawl its way up spiny rock outcroppings, and still tow up to 4,500 lb, damping it all out with Fox semi-active shocks. It's an unbelievably capable off-road machine with a factory warranty.
The Bronco's brick-like design offsets gains from its turbo engines. Fuel economy ranges from an EPA-rated 17 mpg combined in Badlands models to a top 20 mpg combined with the volume 2.3-liter turbo-4 with an EPA rating of 20 mpg city, 21 highway, 20 combined with the 7-speed manual or automatic. Paired only with the 10-speed automatic, the 2.7-liter V-6 loses 1 mpg to 19/20/19 mpg combined. Off-road models suffer at the pump: Black Diamond or Sasquatch versions get 18 mpg combined, while Badlands gets 17 mpg combined with either engine or transmission. Raptor models with their prodigious power fair the worst at 15/16/15 mpg combined. We average 16mpg over the week with our Raptor test vehicle.


The NHTSA gives the Bronco a 4-star frontal crash and a 3-star rollover ratings, but no overall score. The IIHS faulted its head restraints for failing to protect against whiplash injuries, but it performed well in the independent safety agency's five other crash tests. It also gave its headlights a "Marginal" rating. Standard safety tech includes automatic emergency braking with pedestrian detection, hill descent control, and automatic high beams. Active lane control and blind-spot monitors come standard on the Mid package or on Outer Banks and above, while adaptive cruise control and evasive steering assist comes only with the Lux package.
The Ford Bronco comes with two doors or four, hard top or soft. The Bronco seats four people in two-door configurations or five people in four-door models with plenty of head and shoulder room. It's longer, wider, and roomier than a Jeep Wrangler Rubicon. On most grades, the four-door costs $2,345 more than the base two-door model, and adds 16 inches in length giving it generous cargo space of 35.6 cubic feet and 36 inches of rear leg room.

Two-door models come standard with a hard top split into three sections, with left, right, and rear panels. Retractable soft-top options replace the hard panels overhead for an easier convertible on the fly and range from $1,390 to $2,480. Four-door models come with a quieter and roomier cloth soft top or optional hard top for $695. Since there's no crossbar overhead, folding back the soft top for wide open takes less than a minute.  

The hard tops require more effort but can be done by one person. The available four-door hard-top roof comes with four panels, but you can stow either the roof panels or the four doors in back but not both. Same with the two-door model; the included cargo bags can secure either two roof panels or two doors in back, but not all four pieces.

It's as easy to remove the two bolts on each door, disconnect the electrical plug, and slide the storage bag over before stacking it vertically in the cargo area. The front doors weigh 62 lb each on the two-door, 55 lb each on the four-door, and the rear doors weigh 44 lb each. Lift with your legs and use the hand holds on the door sill. Ford mounted the side mirrors to the cowl and A-pillar, so even with the doors off, the mirrors remain, unlike the door-mounted mirrors on a Wrangler.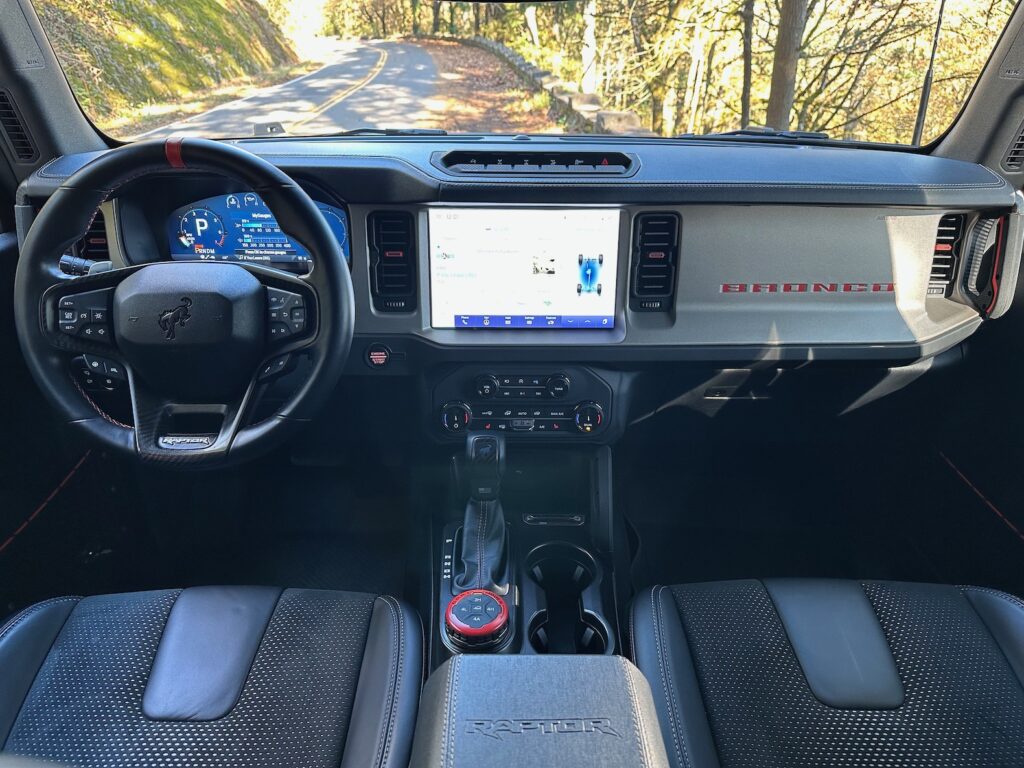 Inside, the broad themes continue with a horizontal dash with grab handles on either end; a higher grab handle would be welcome. Ford stamps the Bronco name and badge everywhere, including the flat dash panel facing the passenger like back in the day. Unlike that time, an 8.0- or 12.0-inch touchscreen centers the dash, flanked by vertical boxy vents and six auxiliary switches atop the dash. It's distinctive, sure, but if you've heard the Bronco's cabin is richly appointed…you've been lied to several times.

Like the Escape and the Bronco Sport, the Bronco's front seat cushions tend to the shorter side, but the back bolstering is good. In two-door models, seating four 6-footers make the happy trails short-lived. The four-door model offers up 36.3 inches of rear leg room, and better hip and shoulder room, but the fifth seat is best for the youngest child.

The Bronco's interior design reflects its essence of adventuring and durability. Cloth upholstery comes standard, and leather can be optioned, but the boat-like vinyl seats on Badlands trims protect against mildew. Available rubberized flooring and six passive drain plugs that release with a quarter turn give owners the confidence to wade and clean without worry.


The 2022 Ford Bronco comes in as many confusing configurations as a pickup truck. Base models start at $31,000 and deliver what's promised with 16-inch steel wheels wrapped in 30-inch all-season tires, an 8.0-inch touchscreen with wireless Apple CarPlay and Android Auto compatibility, cloth upholstery, manual seats, LED headlights, and keyless start. Four-wheel drive and the 7-speed manual are standard (10-speed automatic costs $1,595).

The six model grade differences are mostly mechanical with different wheel sizes and off-road components, whereas the Mid, High, Lux, and Sasquatch packages separate the feature content. It's confusing, but here's a breakdown. Big Bend models add 17-inch wheels with 32-inch all-terrain tires, the six drive modes, and a leather-wrapped steering wheel and shift knob. For value-oriented off-roading at about $38,000, check out the Black Diamond and its "Rock crawl" mode, vinyl upholstery, Molle straps, rubberized flooring, auxiliary switches, rock rails, steel bash plates and bumpers with two two hooks front and rear. That's the model we'd recommend for the frequent off-roader.

The $41,000 Outer Banks is more road friendly and easier to operate with a 10-speed automatic instead of the manual, tube steps to help get in, and it rides on 18-inch alloy wheels. Get this one if you like creature comforts but don't plan on leaving the pavement too often. The Mid package comes standard on Outer Banks and Wildtrak models, adding heated front seats, dual-zone climate control, remote start, navigation, and driver-assist features such as active lane control.

The $46,000 Badlands model is for the serious off-roader and upgrades the Black Diamond features with a front stabilizer bar disconnect, 33-inch A/T tires, a Baja mode for high-speed off-roading, and electronic locking front and rear differentials. The Wildtrak trim is the same thing but adds the Sasquatch package as standard.

The High package available on Outer Banks and above includes the 12.0-inch touchscreen and surround-view camera system. When off-roading, the full screen projects a low front camera angle to see what's under and around the front axle. The Lux package builds off High with adaptive cruise control, 10-speaker Bang & Olufsen sound, a heated steering wheel, two more USB ports up on the dash shelf, and a wireless smartphone charger.


For off-roading on a budget, check out the $38,000 Black Diamond. Just know that upgrading it with the Sasquatch package adds nearly $7,000, while it's only $4,000 more on the Badlands. For on-road creature comfort, we'd recommend the well-equipped Outer Banks four-door for $42,945. For about $50,000, the Wildtrak comes standard with the larger engine and Sasquatch off-road upgrades. The Raptor's $69,995 sticker seems high, but that's still less than a V8 Wrangler with way more presence. A 3-year/36,000-mile limited warranty with roadside assistance comes standard. All Bronco purchases include a Bronco Off-Roadeo 1.5-day off-roading experience at one of four Ford locations in the U.S.
Ford clearly did its homework and took it's time in creating the new Bronco, it quickly catapults to the top of the off-roading mound. With stunning looks that pay tribute to a legend, extremely capable driving manners, incredible flexibility, and topnotch technology; Ford's Bronco is here to conquer all and it's easy to see how just how stellar the Bronco is. For those looking to try something new and step out of the current off-roading crowd, the Bronco is definitely worth a look.