The 2021 Toyota RAV4 is the bread-and-butter crossover for many buyers. The RAV4 compact crossover SUV still has a few tricks up its sleeve. It adds a plug-in hybrid this year, with a twist: the 2021 RAV4 Prime has the quickest acceleration of the lineup. For 2021 the RAV4 Hybrid can be ordered as an XLE Premium, too. Like last year, the 2021 RAV4 comes in a wide range of trims: LE, XLE, XLE Premium, Limited, TRD Off-Road, SE, and XSE RAV4s can have a gas engine, while the RAV4 Hybrid comes in LE, XLE, XLE Premium, and Limited trims. The RAV4 Prime only comes in SE and XSE trims.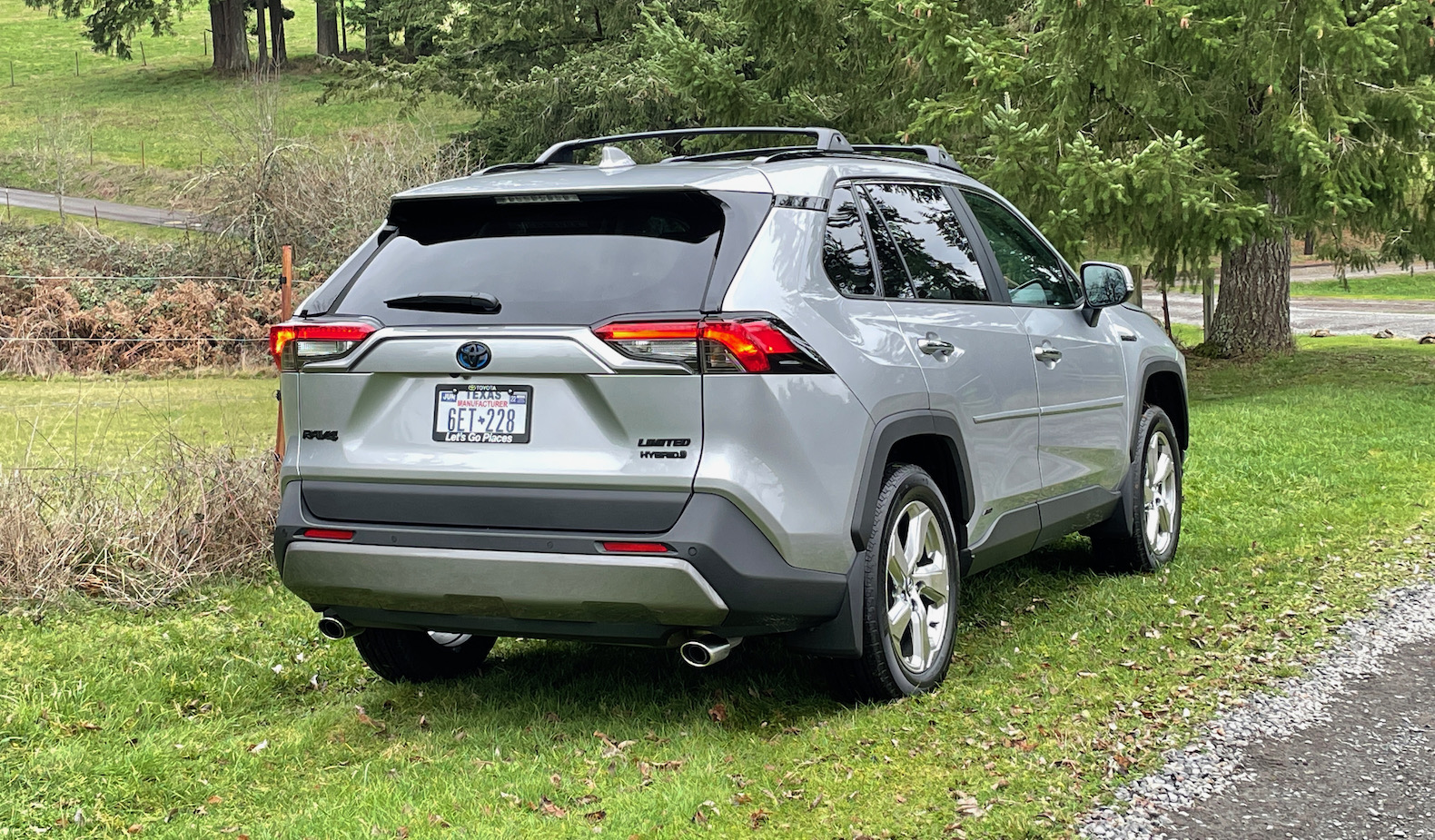 The good news: All RAV4s get the same mini-'ute good looks that started in 2019. The roofline and chunky body sides are a boon to curb appeal. RAV4s start with an inline-4 under the hood, although what happens down the driveline depends on how deep your pockets are. The base 2.5-liter inline-4 makes 203 horsepower and drives the front or all four wheels via an 8-speed automatic transmission. The RAV4 Hybrid teams that engine to a hybrid battery pack and electric motors for 219 hp net that drives all four wheels via a continuously variable automatic transmission. It's fuel-efficient and rates up to 40 mpg combined, according to the EPA.

The RAV4 Prime adds bigger electric motors, a bigger hybrid battery pack, and bumps up overall output to 302 hp. Unlike other plug-in hybrid crossovers, the RAV4 Prime's song is performance: it's the quickest RAV4 to 60 mph at an estimated 5.7 seconds (two seconds faster than the RAV4 Hybrid) and can travel 42 miles on electrons alone, according to the EPA. We cover the RAV4 Prime separately HERE.

Every 2021 RAV4 gets active safety features that include automatic emergency braking, active lane control, and adaptive cruise control. Base RAV4s get cloth upholstery, 17-inch wheels, a 7.0-inch touchscreen for infotainment with smartphone compatibility, and at least one USB port. Top trims get synthetic leather, better performance, off-road hardware, a bigger touchscreen, or better audio. 
The 2021 RAV4 is now the looker among the compact crossover bunch; never thought we'd say that about a Toyota. For 2021 Toyota channels all the right angles, 90 degrees and otherwise, into its body for a shape that's not only better than RAV4s before it, it's also better than most other small crossovers. It's a good look that draws the RAV4 closer to the Tacoma and 4Runner in all the right ways. It's a mini off-roader in some regards, even if it lacks the hardware to match. The roofline is low and stylish, we can even see a little FJ in there, but it doesn't overplay its hand with too-small windows. The RAV4's chunky fenders in TRD Off-Road and Adventure trims look good, and the sporty touches to the new RAV4 Prime are a win for the 'ute. Prime models get a distinctive grille with a gloss-black bumper, and a contrasting roof color on the XSE.
Now with a performance, plug-in hybrid powertrain, the 2021 RAV4 covers all of the bases. The sleepy performance of the Toyota RAV4 gets a shot in the arm this year with a new, higher-horsepower 2021 RAV4 Prime. An efficiency-minded, performance-ready crossover is the world we want to live in, but the one we do live in still buys the regular RAV4 at an alarming rate. With gas, hybrid, and plug-in hybrid powertrains now, the best balance between efficiency, power, and value is easily the Hybrid powertrain. The gas-only RAV4 is powered by a workaday 2.5-liter inline-4 that makes 203 hp, paired to an 8-speed automatic and front- or all-wheel drive. It's competent but lacks the grunt and efficiency of the other two powertrains and can be a bit buzzy when pressed.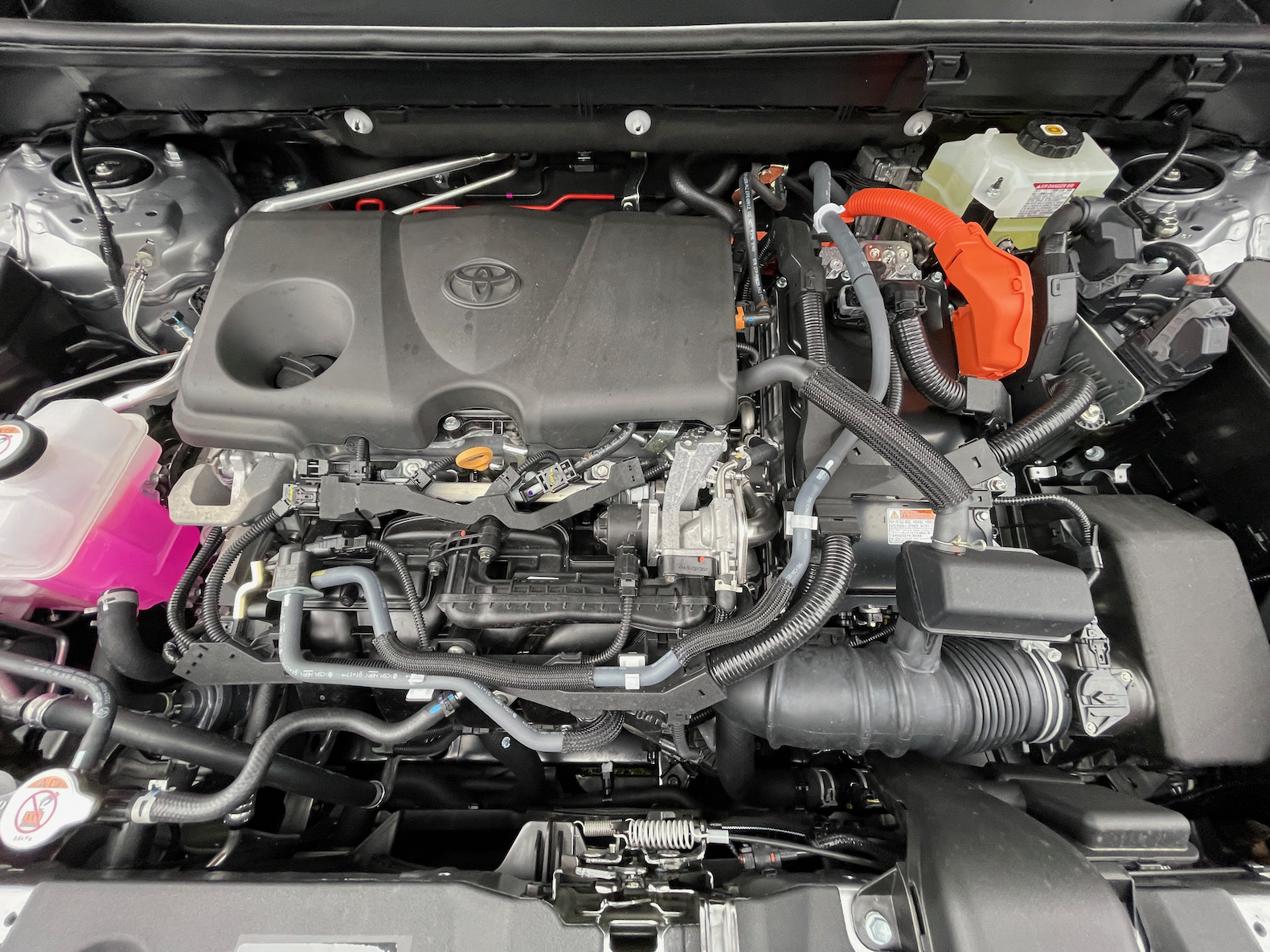 The RAV4 Hybrid adds a battery and electric motor to the 2.5-liter inline-4 to make 219 hp total. The engine and front electric motor typically drive the front wheels for better efficiency, while a separate rear electric motor can spin up the rear wheels when more power is needed. The RAV4 Hybrid's all-wheel-drive system is geared for all-weather confidence; off-roaders won't likely be attracted to the heavier, off-road RAV4 Hybrid anyway. The RAV4 Hybrid's appeal is its 39-mpg combined rating, according to the EPA, which is very fuel-efficient.
The all-wheel-drive systems offered on the RAV4 aren't all the same: LE and XLE versions get a base system that shuttles power backward for low grip. The RAV4 TRD Off-Road, Limited, and Adventure get a more sophisticated system that shuttles power front to back and side to side at the rear via a torque vectoring system. It's more sophisticated and slick, but it also takes a larger toll on fuel economy. The RAV4's stiff frame and four-wheel independent suspension (MacPherson struts in front with multi-link, trailing wishbones in the rear) give the RAV4 a supple ride over rough bumps, but competitors such as the Subaru Forester and Honda CR-V are a little softer.
The most efficient 2021 Toyota RAV4 is ironically also the quickest. The 2021 RAV4 covers a spectrum of efficiency with gas, hybrid, and plug-in hybrid options. The most common powertrain is a 2.5-liter inline-4 that drives the front wheels. The EPA rates that at 28 mpg city, 35 highway, 30 combined. All-wheel drive doesn't destroy efficiency either. Most RAV4 AWD versions are rated at 25/33/28 mpg. The RAV4 Hybrid with all-wheel drive standard manages 40 mpg combined with 41 city and 38 highway. Our week in an all-wheel-drive Limited Hybrid netted us an average of 37.9 mpg.

The RAV4 has earned impressive crash test results. It achiched top "Good" scores by the IIHS in its rigorous crash-test battery, and the agency rated its automatic emergency braking system as "Superior" at avoiding forward crashes. But only its most expensive Hybrid model has headlights that merit a Good rating; other models score Marginal and Poor headlight ratings. Federal testers were mostly complementary and gave the RAV4 a five-star overall score, including four stars for front and rollover crash safety. Every RAV4 gets automatic emergency braking, active lane control, adaptive cruise control, and automatic high beams. Blind-spot monitors are available—and a good idea. The RAV4's chunky rear roof pillars look great but compromise outward vision.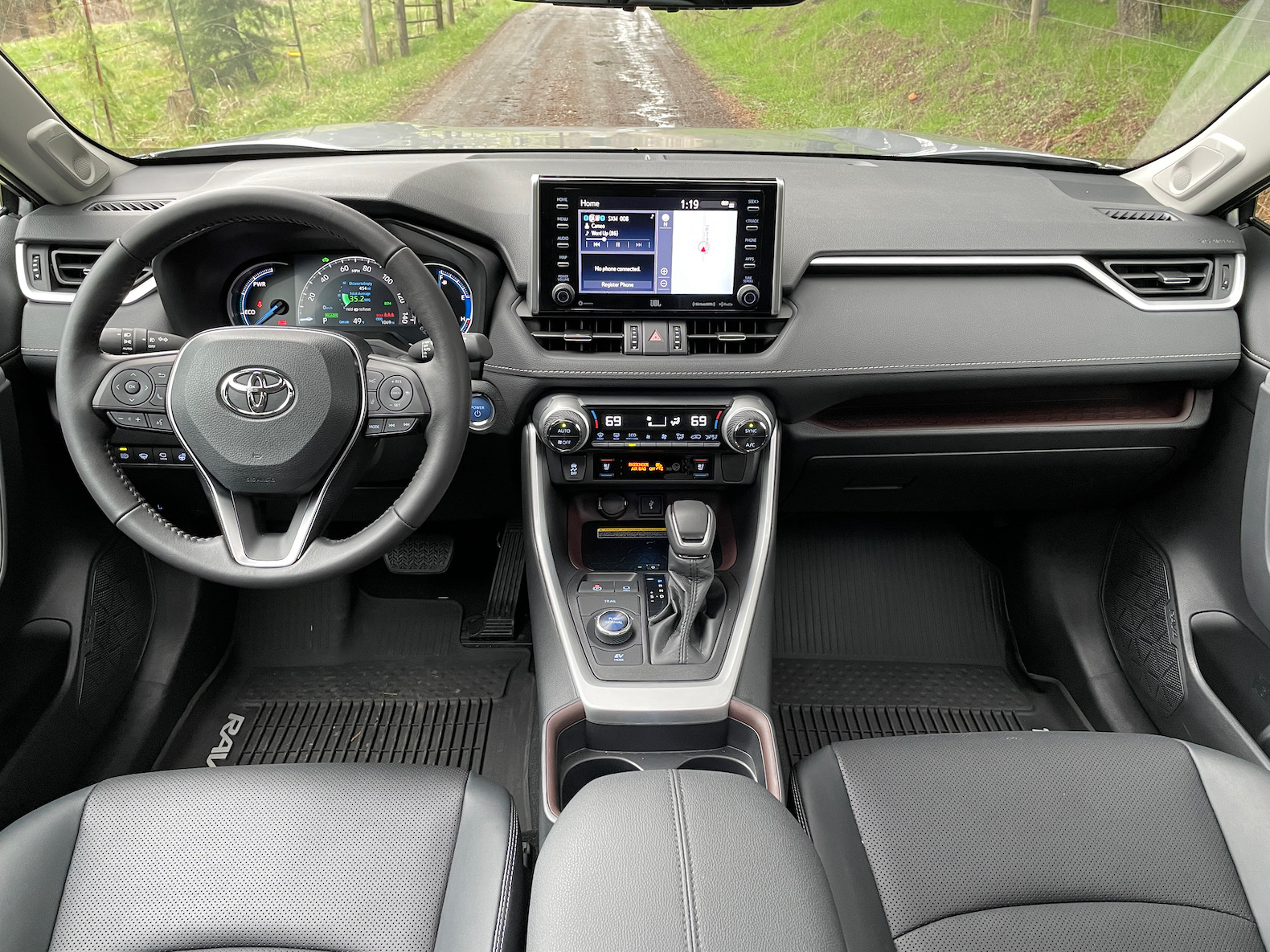 Style takes priority in the 2021 Toyota RAV4 making it a memorable small SUV. The 2021 Toyota RAV4 asks for some concessions in comfort for its avant-garde shape. Inside, the RAV4 is a mishmash of soft-touch materials and hard plastics with a wide and horizontal dash and touchscreen planted above the vents. Some trim levels differentiate with contrast stitching, which is a nice touch. The RAV4 Prime goes further with red inserts and synthetic leather. The front seats are snug for taller drivers and riders, especially with the optional sunroof that cuts into available head room. The rear seats offer scant more head room, but not more leg room. There are 37 inches of leg stretch-out space in the back, which is good, but also not as much as some rivals including the Volkswagen Tiguan and Honda CR-V. Three across in back is possible, just not preferable. With the rear seats up, the RAV4 holds more than 37 cubic feet of cargo, which expands to 69 cubic feet.
The 2021 RAV4 is available in just about any configuration and offered in LE, XLE, XLE Premium, XSE, and Limited trims. Adventure and TRD Off-Road models angle toward outdoorsy folks and sub in some handy off-road hardware. RAV4 Hybrids are offered in LE, XLE, XLE Premium, XSE, and Limited. We're not surprised that the RAV4 is a figurative rainbow of trim levels—it's one of the most popular cars on the planet. Starting at $27,225 including destination, the 2021 RAV4 LE includes cloth upholstery, 17-inch wheels, a split-folding rear seat, and a 7.0-inch touchscreen for infotainment with smartphone compatibility software. Active safety features are included too, but we cover that above. All-wheel drive adds $975, and a hybrid engine adds $625 to that.

The XLE has always been a sweet spot for less than $30,000 with all-wheel drive equipped. The RAV4 XLE adds alloy wheels, a power-adjustable driver's seat, keyless start, more USB chargers, and more available options including heated seats. The RAV4 TRD Off-Road introduced last year is interesting with chunky, 18-inch wheels, twin-tube shocks, and a power liftgate. They're pricey, but offer some small amount of off-road capability to the RAV4 family.
With the RAV4 Hybrid, Toyota has stuck the veritable sweet-spot of the small SUV class. The 2021 Toyota RAV4 is a great competitor is the compact crossover class. It does everything you'd want with Toyota refinement and reliability, and in Hybrid versions, great fuel economy. If we were to buy one we'd avoid the XSE with it's firmer suspension tuning unless you're really inclined to a sporty ride. Regardless of trim line, the 2021 Toyota RAV4 is an impressive crossover, one that Toyota continually keeps improving to make it one of the best.

For all your new car shopping needs, check out: drivevise.com Vehicle shopping made simple!