The 2021 Toyota Highlander learned new tricks to keep us entertained on the road while the hybrid powertrain keeps it efficient. There's an all-new 2021 Toyota Highlander three-row crossover out there. This year the Highlander adds an edgier XSE version that adds a little agro to its curb appeal—new bumpers, blacked out badges, big 20-inch wheels, and stiffer suspension can do that.


In addition to the new sporty Highlander XSE, Toyota offers the three-row crossover in L, LE, XLE, Limited, and Platinum configurations. The Highlander Hybrid, which we recommend, is offered in every trim except L and XSE. Front-wheel drive is standard on most models, and all-wheel drive is available on every trim except Limited and Platinum, where it's standard.


The exterior was revised last year and carries forward this year without any changes. The outside is more athletic than the dowdier Highlanders of yesteryear, and a tall tail helps the crossover look cocked and ready to spring from the blocks. Toyota subbed in a smaller, trapezoidal grille into the Highlander's nose in most editions. The XSE gets a "Predator"-like lower front bumper that reaches down toward the ground, which is unique to that trim level.

Inside, the Highlander is better with a tiered dash that makes for good small item storage, and a sharp interior that cants controls toward the driver. An 8.0- or 12.3-inch touchscreen takes center stage in the middle of the dash, flanked by solid plastics in lower trims or soft materials on top trims.  

Most Highlanders will be equipped with a 3.5-liter V-6 that makes 295 hp and 263 pound-feet of torque. It's paired to an 8-speed automatic transmission and front- or all-wheel drive. The combo is enough to power the two-ton crossover confidently and, when properly equipped, tug up to 5,000 pounds of trailer. It's more entertaining than it has any right to be, and the XSE tightens the crossover up more than the rest of the bunch.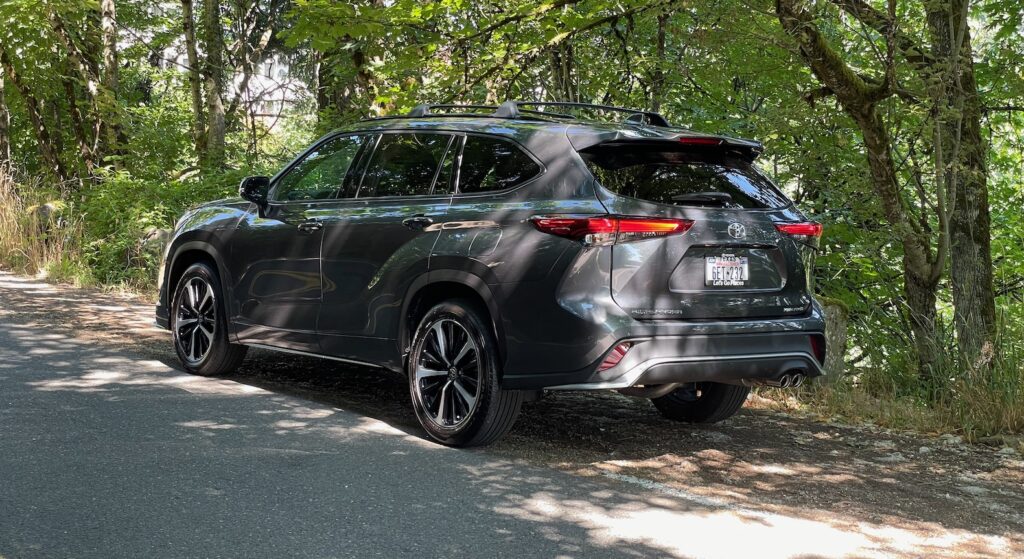 Toyota offers two all-wheel-drive systems on the Highlander, both suitable for wet or dry pavement and the occasional dusty trail. Highlander L, LE, and XLE get a simple all-wheel-drive system that can shuttle up to 50 percent of the available power rearward if the front wheels slip. Highlander Limited, Platinum, and new XSE get a more sophisticated system that sends up to 50 percent of its power toward the rear and can shuttle that power from side to side via a mechanical torque vectoring system that's not only slick, but also very confident.

Most versions of the Highlander equipped with a V-6 and all-wheel drive manage 20 mpg city, 27 highway, 23 combined, according to the EPA. That's a 4 on our fuel-economy scale. Front-drive versions rate 20/28/23 mpg. In our week with an all-wheel-drive XSE model, we averaged 22.7 mpg, roughly right in line with the EPA combined estimate.

Driveability isn't the first reason to buy a Highlander, of course—space is. Up to eight can snuggle up inside the Highlander relatively comfortably, and the first two rows have more than 40 inches of legroom. The third row is best for small children or occasionally, small adults, and the second row can slide forward a few inches depending on mood. Behind the third row, the Highlander hauls up to 16 cubic feet of cargo, which expands to more than 84 cubes with the second and third rows folded. The new for 2021 XSE's sport suspension does firm things up a little to help better control body motions, but it's still a comfortable cruiser.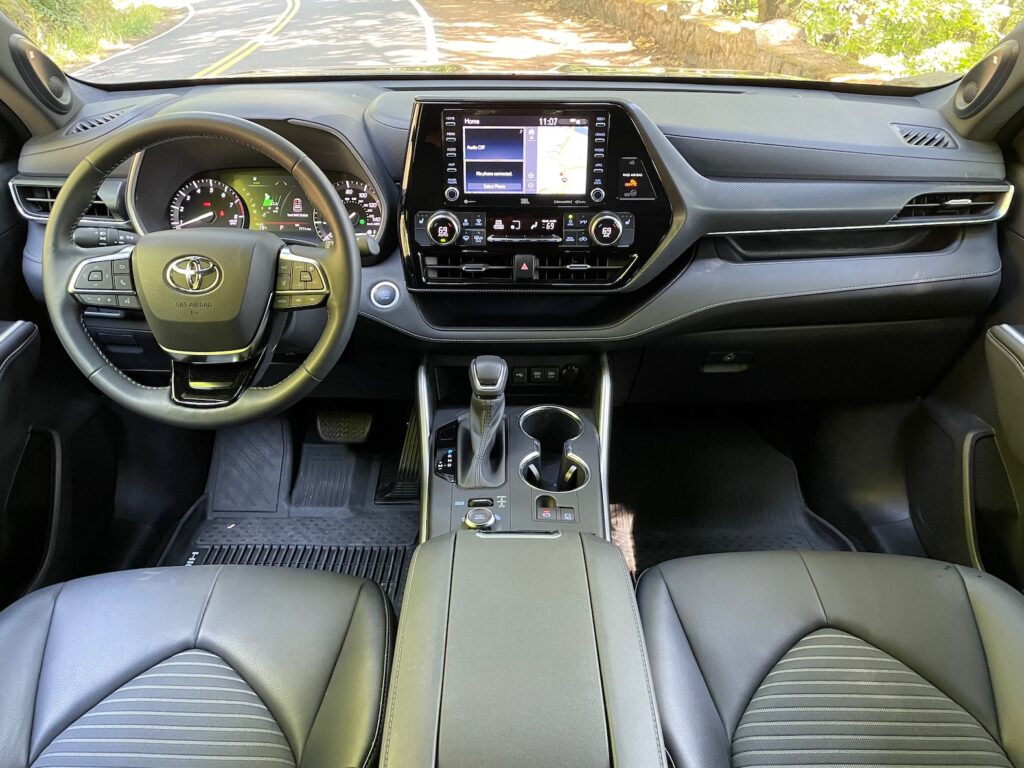 Every Highlander gets automatic emergency braking, adaptive cruise control, active lane control and blind-spot monitors. In addition to that, even base Highlanders get 18-inch wheels, cloth upholstery, an 8.0-inch touchscreen with smartphone compatibility, and seats for up to eight for about $35,000. Top Highlander Platinums crest more than $50,000 but offer 20-inch wheels, premium audio, a 12.3-inch touchscreen, leather upholstery, and more.

The sportier Highlander XSE wedges into the lineup like a mohawk in a church pew. It's equipped like the bunch but adds edgier bumpers that we cover above. Like last year, the Highlander is available in L, LE, XLE, Limited, and Platinum trims. Base Highlander L crossovers cost just over $35,000 and get power features, three rows of seats, cloth upholstery, 18-inch wheels, a power-adjustable driver's seat, four USB ports, active safety features (covered above) and an 8.0-inch touchscreen with Apple CarPlay and Android Auto connectivity. All-wheel drive is available for $1,600 more on Highlander L, LE, and XLE versions. Limited and Platinum Highlanders get their own, trick all-wheel-drive systems as standard equipment.

Throwing more money at a Highlander nets creature comforts we consider to be great, but perhaps not entirely vital. The Highlander Platinum flirts with luxury-car equipment—and luxury car prices. For more than $50,000, the Platinum includes 20-inch wheels, premium audio, leather upholstery, heated and cooled front seats, heated second-row seats, a head-up display, a 12.3-inch touchscreen, a heated steering wheel, a surround-view camera system, and ambient lighting.

We'd come back down to earth with a Highlander XLE that includes a power liftgate, fog lights, heated front seats, a power moonroof, leather-wrapped steering wheel and shift knob, and 18-inch wheels. For about $41,000, we think it's the best value. The new XSE is equipped similarly to the XLE, but offers 20-inch wheels, a sportier suspension and steering system, and unique bumpers is our top gas pick, but we'd still opt for the XLE Hybrid version.

The large three-row crossover segment is currently a hotly contested battleground with strong players from multiple manufacturers. Luckily the 2021 Toyota Highlander is one of the best. With a large inviting cabin, modern styling, and cutting-edge technology; the Highlander impresses. The new for 2021 XSE version makes the Highlander even better with its improved driving dynamics and a look all its own.