The 2021 Toyota Corolla buffs the automaker's small-car credentials in some obvious ways, and some subtler ones, too. An absurdly good value especially in hybrid trim, the 2021 Corolla's a resale beacon and hasn't lost those attributes even as it's grown more stylish and more nimble. For 2021, all versions gain Android Auto compatibility, two more airbags, and available satellite radio. Blind-spot monitors are more widely available, too. With the latest Corolla, Toyota applies some of its current styling cues, but not the more extravagant ones. The Corolla hatchback's the more striking of the duo; sedans have interesting detailing but a traditional outline. 

Hybrids and base Corollas putter, while "S" models keep a more brisk pace. The Corolla Hybrid's 121-horsepower output may shy from acceleration, but delivers 52-mpg combined EPA fuel economy, which shames the otherwise excellent gas mileage that comes from the Corolla's 1.8-liter inline-4 and continuously variable automatic transmission (CVT). Either of those satisfy the Corolla's mission as innocuous but capable transformation; SE and XSE cars with the 169-hp 2.0-liter inline-4 rush their way to quicker acceleration and come with manual shifters if you like. All Corollas handle with aplomb; the steering's never too heavy, the ride quality never too bobbly.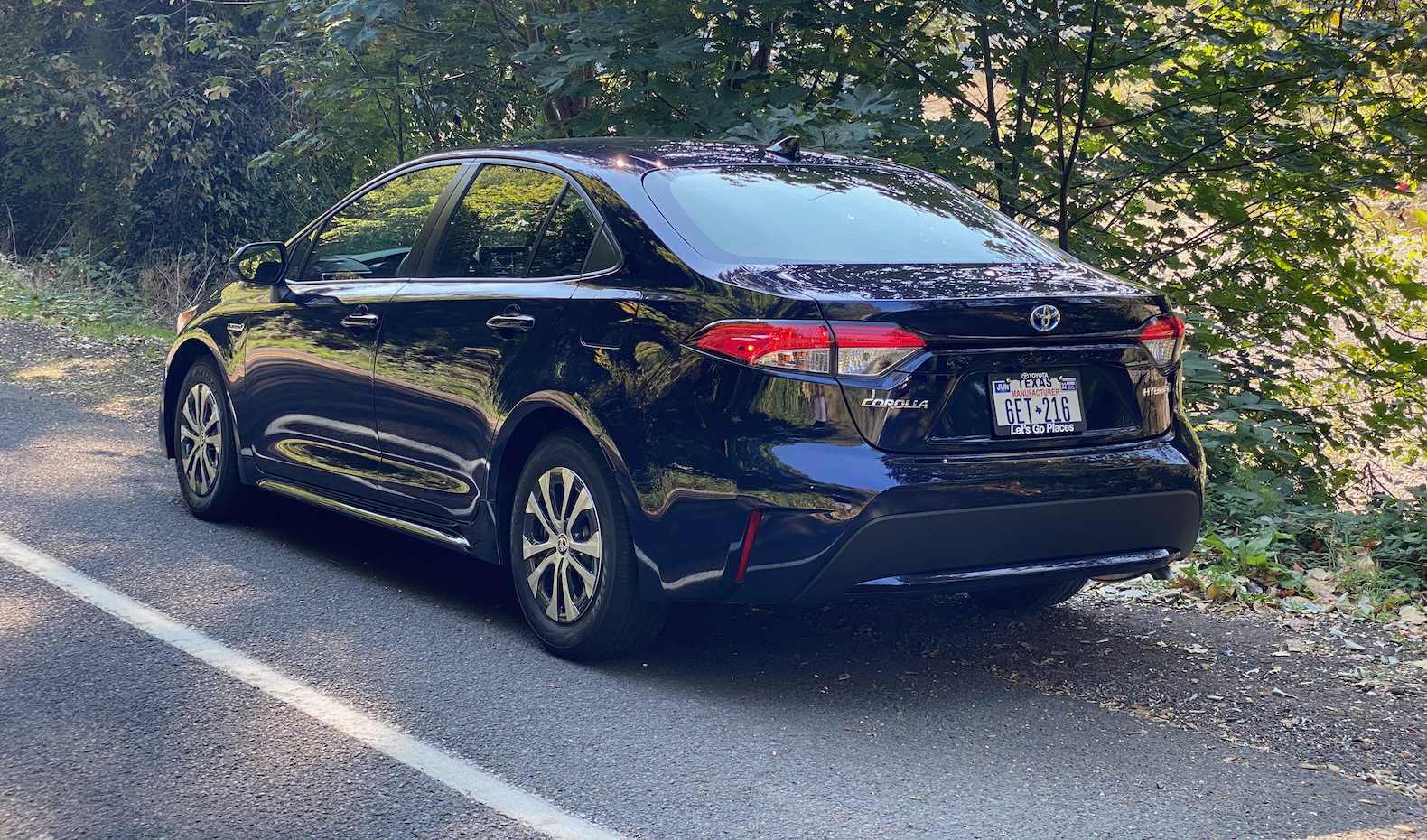 In either Corolla, the front passengers have the room they need to prosper, but sedans have superior rear seats, from the cushions themselves to the head and leg room that surrounds them. Hybrids have some of the best chairs of all, though all Corollas get taxed by a five-passenger road trip. Cargo space is shy on sedans, but hatchbacks have plenty of storage behind the back seats and behind the fronts when the backs fold down. Every Corolla gets automatic emergency braking, adaptive cruise control,  active lane control, and blind-spot monitors are standard or available on almost every model. Corollas also get touchscreen infotainment with Apple CarPlay and Android Auto compatibility, power features, and cloth or synthetic leather upholstery.
The latest Corolla sips some styling caffeine, but not more than it can handle. Toyota has shifted into a higher styling gear with other vehicles, but the Corolla's progressing more slowly. It's sharp in hatchback form but more sedate as a sedan. Corolla hatchbacks push their name further on the cutting edge. Their emphatic grilles and sharp hatchback cutlines don't go deeply weird like Toyota's Mirai and Prius. It's the sedan that steps ahead with less confidence. It's shaping up nicely as it adopts some of Toyota's lately racy design cues. Its LED headlights fishhook into the front fenders, and its lower glass and rear-end scoops give it some of the drama it's lacked since the 1980s.
The 2021 Corolla ratchets up its enthusiasm for driving, but keeps it low-key. Toyota has injected more flair into the latest Corolla's power and its ride and handling. Hatchbacks have the most interest in driving, thanks to a 2.0-liter inline-4 with 169 hp coupled to either a 6-speed manual or a CVT. The inline-4 feels willing enough, though the revs bring plenty of noise. It's a slick performer with the 6-speed manual, which rev-matches for smoother shifts. Expect a 0-60 mph time of about 7.5 seconds. Sedan Corollas are fitted with the 139-hp 1.8-liter inline-4. It's slower, but it's also quieter and calmer in the more sedate. It also handles the road with a more relaxed attitude. Its steering tracks true, but with even lighter effort.

Take all that into consideration, add otherworldly fuel-economy numbers, and you have the Corolla LE Hybrid, the poster-child of our review. It's essentially a penalty-free Prius for those who don't care for that car's strange styling. The Corolla shares the Prius' hybrid 1.8-liter inline-4 and checks in at 121 hp, which means strong acceleration is not its forte. In other important ways, it's less compromised. Its 15-inch wheels and tires generate a softly damped ride; at 52 mpg combined, it's a stellar fuel-economy performer. EV-only driving range is minimal and its steering is even less communicative, but who cares? It's the ultra commuter car, and costs less than $25,000.
The Corolla's vastly improved architecture allows it to make the most of its multilink suspension. It has both a controlled ride and precise steering, even on base versions with 16-inch wheels. Bigger 18s are available, but not really necessary without more exotic output. Corolla SE and XSE sedans also get the same engine as the hatback with the same results, though they have a more attentive ride that's not as stiff-kneed. This is a pervasively competent car, and luckily all the sloppiness of past Corollas has been erased.
Corolla fuel economy spans a wide array of models but a fairly narrow band of EPA ratings. Hybrids soar above the rest of the lineup, at 53 mpg city, 52 highway, 52 combined. Other sedans vary based on engine and transmission. With the 1.8-liter engine, the manual-shift Corolla L checks in at 29/39/33 mpg; it's 30/38/33 mpg with the CVT automatic. Corolla XLE 1.8-liter sedans are rated at 29/37/32 mpg. Six-speed Corolla sedans with the 2.0-liter engine earn EPA ratings of 29/36/32 mpg; automatic-equipped cars get 31/40/34 mpg, while the 2.0-liter Corolla XSE is EPA-rated at 31/38/34 mpg. Corolla hatchbacks begin at 28/37/31 mpg for the 6-speed manual; CVTs are pegged at 32/41/35 mpg except in XSE trim, where they rate 30/38/33 mpg. For our impressive Corolla LE Hybrid, over our week of testing we averaged an astounding 52.3 mpg.
The Corolla's crash-test scores are nearly ideal and earns some of the best crash-test ratings among all economy cars. Both the IIHS and the NHTSA grant it top honors; the NHTSA's five-star nod is paired with the IIHS' Top Safety Pick award, which would gain a "+" if the Corolla had better headlights. Outward vision is good in either body style, and the Corolla comes with automatic emergency braking, automatic high beams, adaptive cruise control, and active lane control. This year it gains two more airbags. Blind-spot monitors are widely available, but surround-view cameras and head-up displays are reserved for more expensive Toyotas and Lexuses.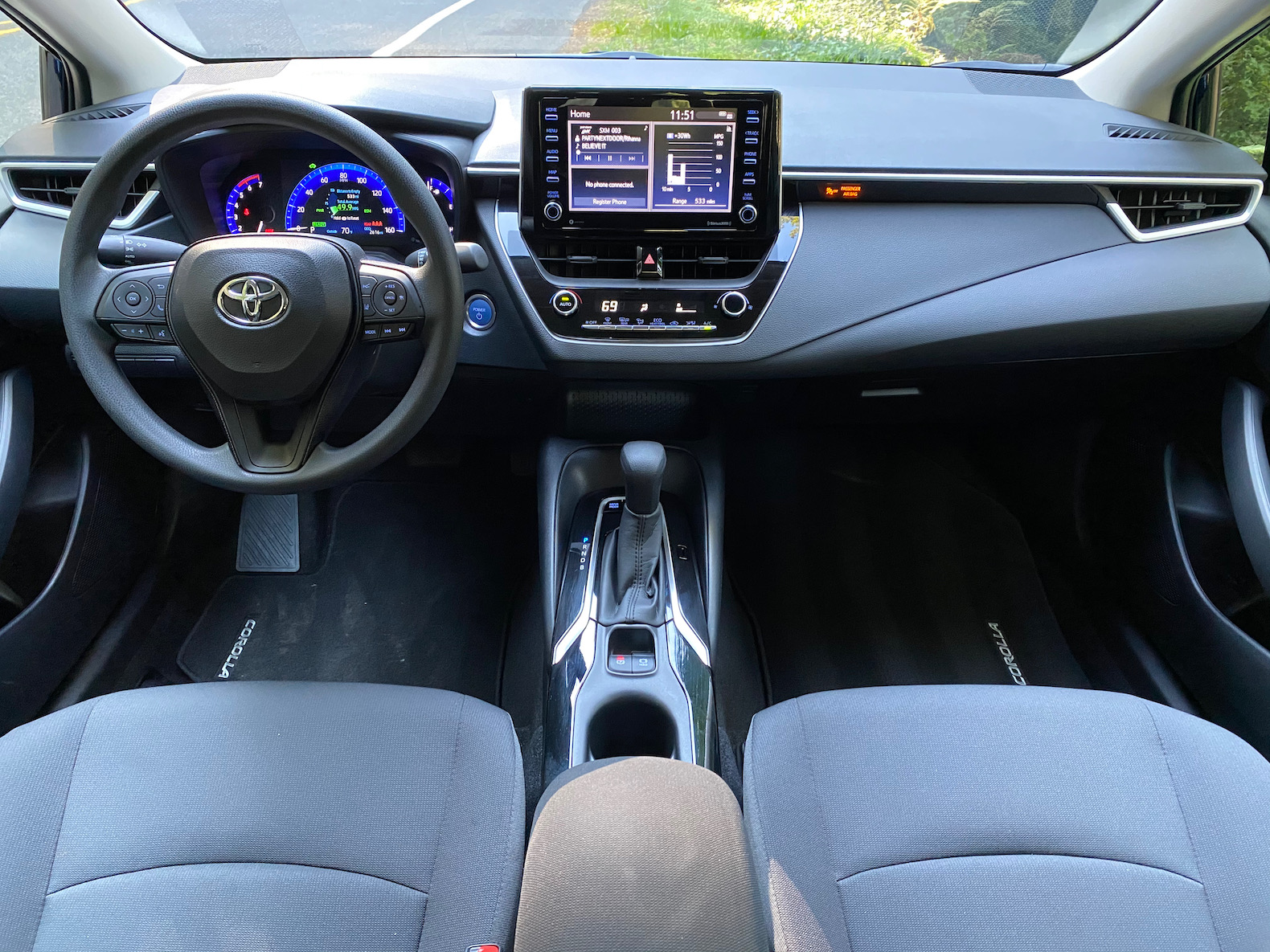 Inside, the 2021 Corolla leaves the big swoop of console trim to other Toyotas. Instead it adopts a simpler, open, and airy feel that omits cutlines and seams where it can. It leaves clutter behind in favor of a low console and a few well-defined surfaces. Some Corolla dash panels get stitched swatches of leather-like upholstery, and all get a touchscreen that stands atop the dash billboard-style, where it's easy to see and use. Whether hatchback or sedan, the Corolla offers shapely front seats and good passenger space.

Hatchbacks ride on a 103.9-inch wheelbase, a bit shorter than a Civic and the Corolla sedan. Its front seats are durable and decently shaped. The back seat loses the leg-room battle; the front seats slide on long tracks and cut into rear seat space, which isn't generous. Neither is head room. Two adults will be OK for shorter trips in back, but cargo fares better: the hatchback has 18 cubic feet of space behind the rear seats, which fold down for even more space. If cargo is your priority or you rarely carry passengers, get the hatchback; but if passengers are more your mission, the sedan is for you especially in Hybrid form.

More buyers will opt into the sedan, with its longer 106.3-inch wheelbase and its much better front seats, especially in the Corolla Hybrid, which wears a fine-knit synthetic material. Sedan seats have a wider range of adjustment and can be covered in leather, with heating for the front row too. More importantly, they have access to more head and leg room. In back, the Corolla skimps a bit on head room. Six-footers won't quite have enough room to sit upright, but knee and shoulder space are good for two large adults. The seatbacks fold down to expand the small 13.1-cubic-foot trunk.
Value is the 2021 Corolla's trump card thanks to its excellent value, standard equipment, and infotainment system. The 2021 Corolla adds standard Android Auto compatibility, blind-spot monitors on XLE and XSE versions, two more airbags, and makes satellite radio available on all models. The Corolla SE hatchback has standard power features, 16-inch wheels, Apple CarPlay and Android Auto compatibility, and an 8.0-inch touchscreen. XSE hatches gains 18-inch wheels, power heated front seats, satellite radio, and dual-zone automatic climate control. Options include navigation and wireless smartphone charging. Of the two, we'd keep it cheap with the base $21,245 SE.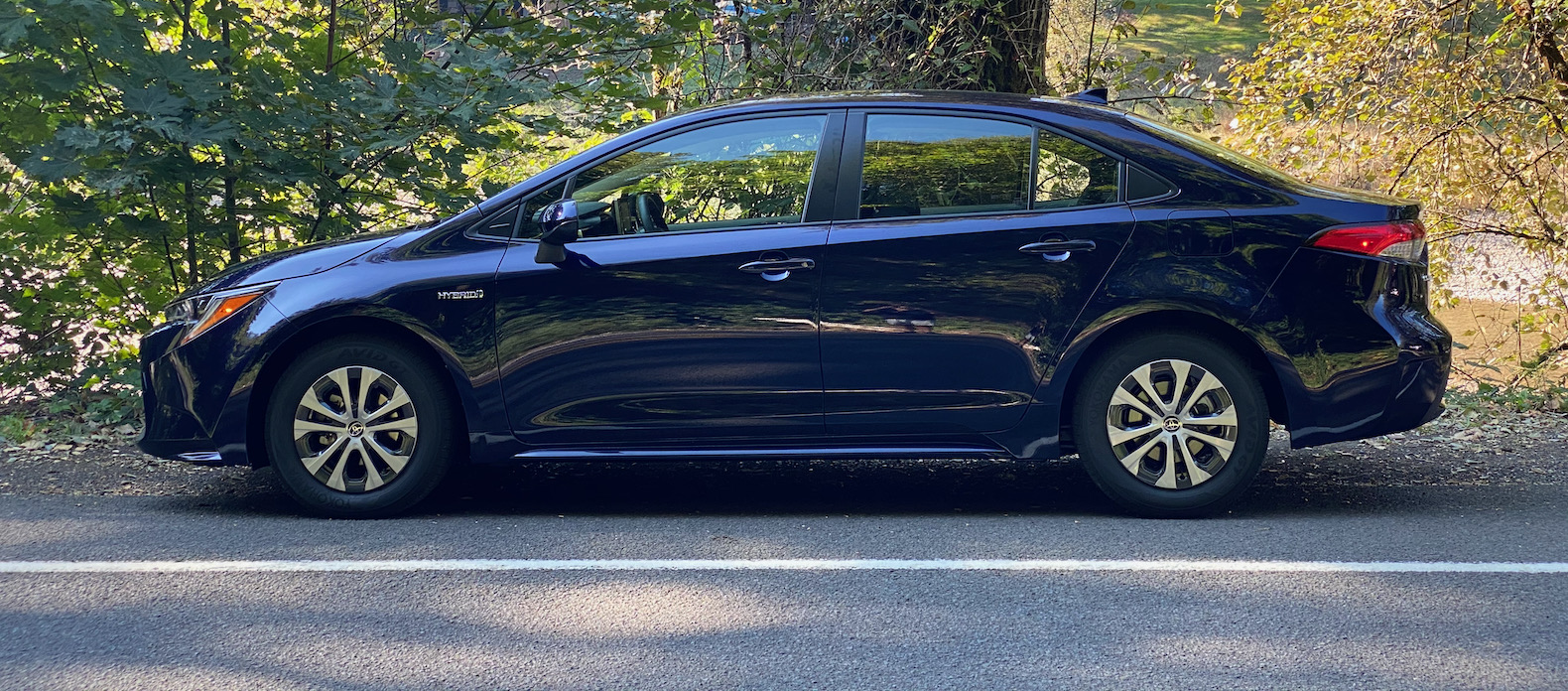 The $20,780 Corolla L sedan gets power features, LED headlights, a 7.0-inch touchscreen and Apple CarPlay/Android Auto compatibility. An LE gains bigger wheels and tires and an 8.0-inch touchscreen. Our choice would be the $25,180 Corolla XLE, which adds a sunroof, a power driver seat, and synthetic leather upholstery, with options for navigation and wireless smartphone charging, but we'd seriously consider the $24,355 Corolla LE Hybrid, which gets all the LE gear except for its smaller 15-inch wheels. At the top of the range, the $26,680 Corolla XSE has navigation and synthetic leather upholstery, with options for ambient lighting and premium audio. It's still a bargain.
Toyota's Corolla is a hallmark of automotive transportation; it has the rare distinction as the only vehicle to have sold more than Volkswagen's Beetle. So Toyota knows something about building basic comfortable reliable cars. The 2021 Toyota Corolla shows just exactly what Toyota has learned over the decades. The Corolla offers non-offensive current styling, almost every technology available, stellar safety and comfort; and in hybrid form, amazing fuel economy. With the 2021 Corolla, buyers can't make a wrong decision.
For all your new car shopping needs, check out: drivevise.com Vehicle shopping made simple!