The 2021 Mazda CX-5 crossover is still the handling champ, now with more power in the Turbo, but still has a tight back seat for the class. The 2021 Mazda CX-5 is a five-seat compact crossover SUV that puts ride and handling at the top of its priority list. Its competition includes the Toyota RAV4, VW Tiguan, and Volvo XC40. We like its road manners, its shapely body, and its leather-lined luxury in top models. A new Carbon Edition gets gloss-black trim and 19-inch wheels, as well as red leather seats and a turbo-4 engine option. All CX-5s now come with a 10.3-inch infotainment display.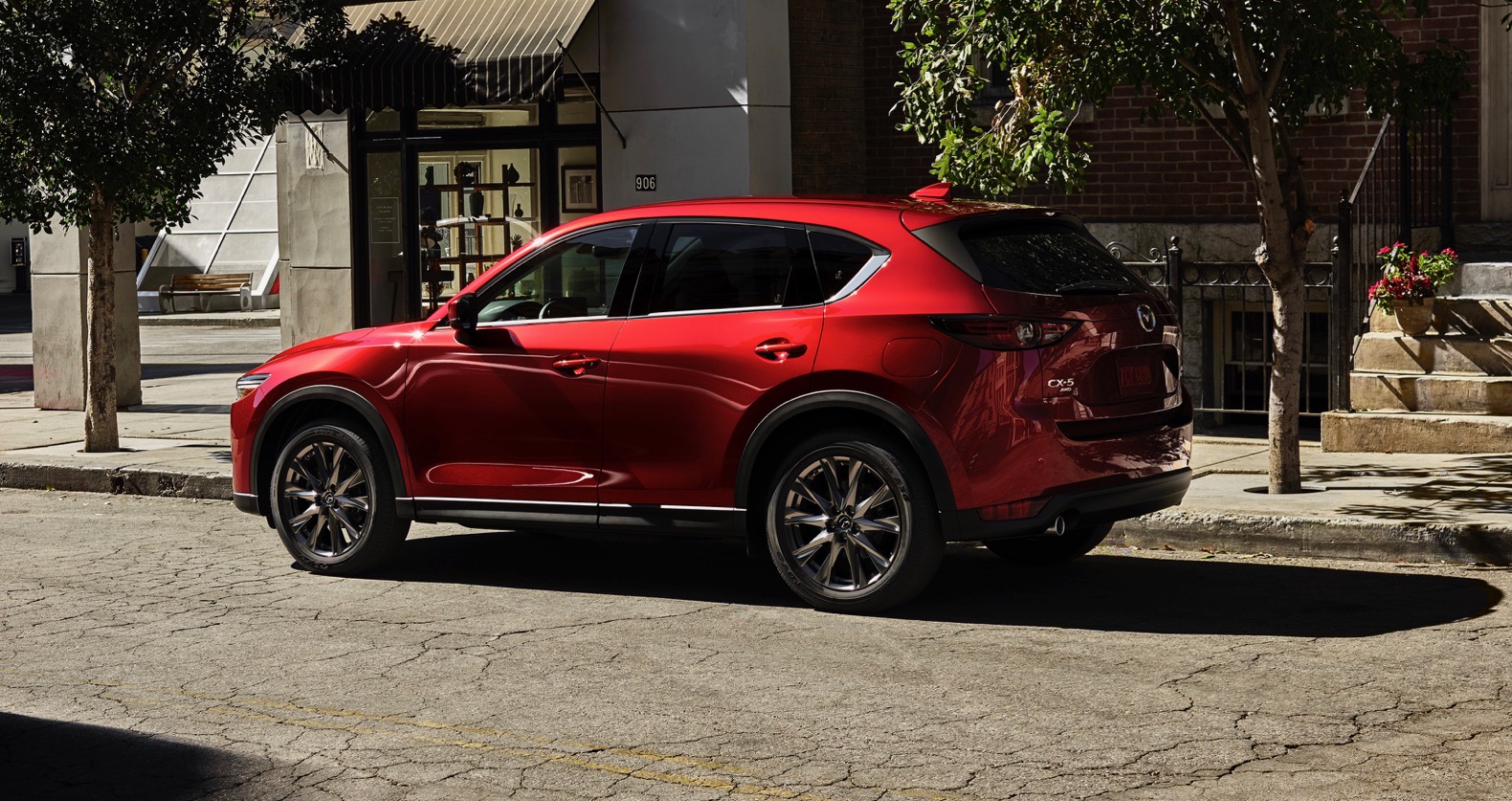 The 2021 CX-5 wraps pretty lines around a compact interior, and from the outside we can't come up with a single complaint. The grille and headlights are slim, the body sculpted to Pilates perfection. Inside, it's handsomely arranged on horizontal lines with a few standout details, like its geometric air vents add good visual flair. The CX-5 doesn't fumble with clumsy steering feel or bumbly ride quality like some of its rivals. It feels weighty but precise, taut and well-controlled, all at once. It's also saddled with a 187-horsepower base engine that puts out decent acceleration through a 6-speed automatic, through the front wheels or, optionally, to all four wheels. Step up into the 227-hp turbo-4 and the CX-5 scoots around more quickly, with a bit of turbo lag and a fair amount of powertrain rumble.

The CX-5's slim hips betray a slim interior. It's somewhat narrow, and though its front seats have lots of bolstering for great long-distance support, the back seat trims back on head room and seat comfort. Three adults across fit in a pinch but not for long. Cargo space is fine, but for the same price, a Honda CR-V delivers much more interior room; Mazda's high-spec CX-5 cabins with nappa leather and wood trim trounce most rivals though, even upscale ones. Crash scores are top-notch, and every CX-5 has a full ration of standard safety gear including automatic emergency braking. All come with power features, Apple CarPlay and Android Auto compatibility, and a 10.3-inch infotainment screen.
The CX-5's neat style focuses on efficient function. It's very handsome, with a low profile, sleek roofline, and a refreshing absence of useless detail, inside and out. Mazda sought a rear-drive appearance for the CX-5, one with a longer nose and a shorter rear end. It succeeds, but it's almost beside the point since it looks great from any angle. Mazda's figured out how to mold a tall and long wagon body into what looks like a slippery shape. From its slim and delicately rendered grille, to its narrow headlights and taillights, the CX-5 has a clean and svelte style that will still look appealing long after it's racked up thousands of miles.
The CX-5 excels at handling and pairs it with one bland and one exciting engine. Mazda sells the CX-5 as the sporty alternative to the usual crossover crowd, and it delivers that in ride and handling. It's quick too, but only with turbocharging, its base engine isn't as compelling. Base models are strictly midpack. With a 2.5-liter inline-4 rated at 187 hp and 186 lb-ft of torque, most CX-5s can turn in 60-mph acceleration in just under nine seconds. The engine's not especially quiet or powerful, and it's paired with a 6-speed automatic, not an 8- or 9-speed or CVT like some rivals. It could benefit from more gears, but what's here works well enough for decent highway passing and acceptable straight-line performance.

The more expensive versions of the CX-5 can be equipped with a turbo-4 that spools up 227 hp and 310 lb-ft of torque. With all-wheel drive, performance improves, and is definitely the fun engine to pick. Mazda estimates 0-60 mph times in the mid-seven-second range; in our drives, we noticed better passing power and a more responsive feel when we put the drivetrain in a selectable Sport mode, it also helps get rid of the slight turbo lag when driven normally in urban commuting. All-wheel drive is available on every model. The system can transfer up to half the torque from the front wheels to the rears when traction falters. Though it's confidence-inspiring, the CX-5 doesn't have the ground clearance of some rivals to make it a true off-roader, instead it's geared for sure-footed handling which it delivers diligently.

Where it excels is in ride and handling. The impression given by its thick steering wheel is correct, the CX-5 is eager to tackle the thin ribbons of road some crossovers shy away from. It has weighty steering with good feedback, and holds a cornering line without the constant corrections required from sloppier truck-based SUVs. We like the CX-5's well-damped but firm ride, too. It's most comfortable on base 17-inch wheels with their softer tires and taller sidewalls, but even on the available 19-inch wheels, the CX-5 has a calm and collected ride that rarely rattles its occupants.
Fuel economy's decent in the CX-5. The CX-5's gas mileage is average. Based on the EPA ratings of its most popular model, with the base engine and all-wheel drive. It's pegged at 24 mpg city, 30 highway, 26 combined. With front-drive, the same drivetrain's rated at 25/31/28 mpg. With the turbocharged engine and standard all-wheel drive, the CX-5 checks in at 22/27/24 mpg. Averaged over a week in our all-wheel-drive Turbo tester, we garnered 24.3 mpg, right in line with the EPA.
The CX-5 posts excellent crash-test scores. With five-star scores from the NHTSA and a Top Safety Pick+ award from the IIHS, the CX-5 has a great crash-test track record. It also comes standard with automatic emergency braking, active lane control, adaptive cruise control, and blind-spot monitors. It would do even better, but its optional surround-view camera system and head-up display only are offered on the most expensive models, and rearward vision around its thick C-pillars isn't great. There's a price to pay for great style.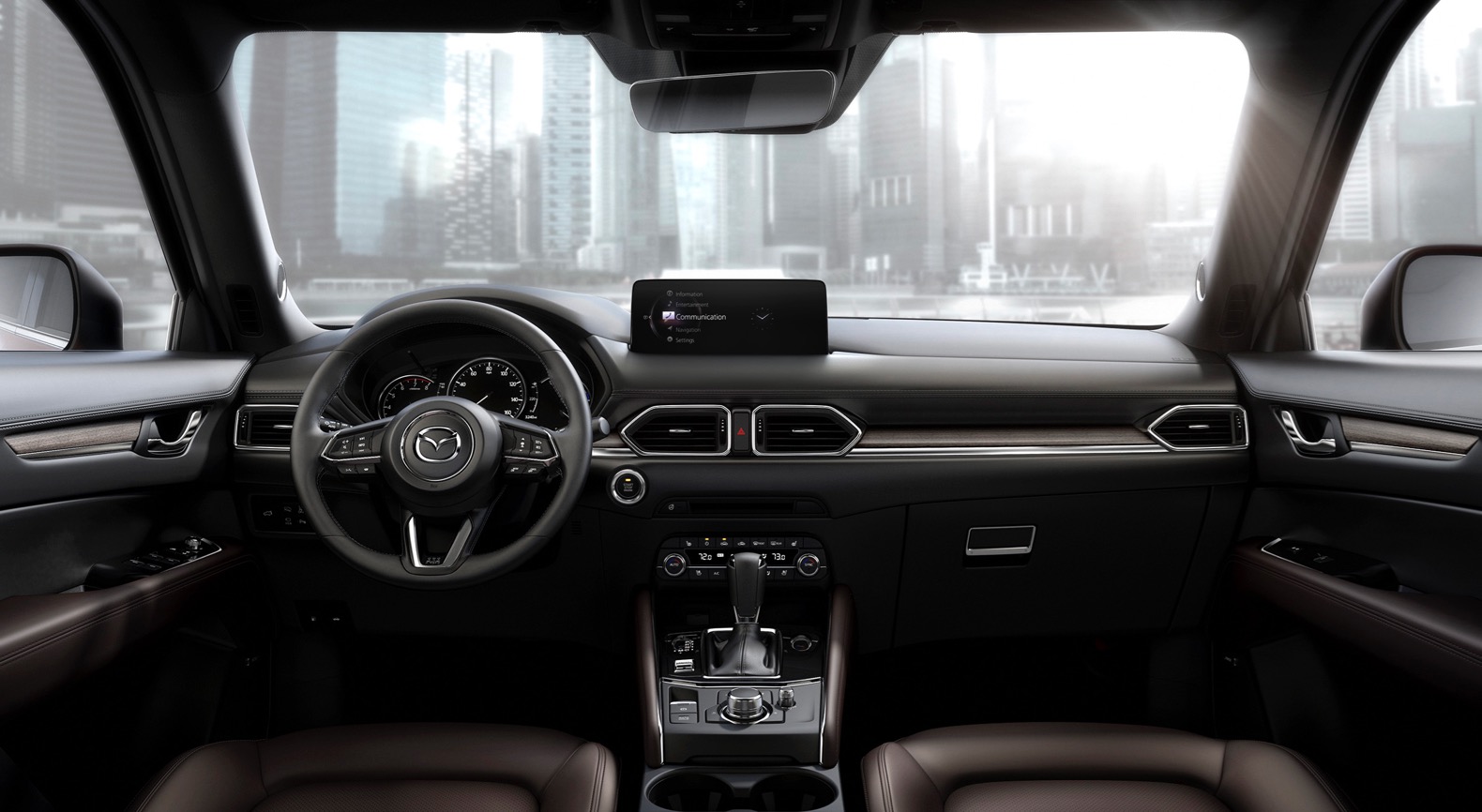 The 2021 CX-5 crossover has a smaller back seat than many of its rivals, but it's still usefully large for cargo and it's stylish interior. The cabin has more of the same restrained style. The dash sits low, for good outward vision, and the surfaces and lines are generally understated. We're no fans of the billboard-style screen stuck in the top of the dash, but the strong horizontal lines across the dash and doors and the geometric shapes of the air vents give it a harmony that's even better in top trims dressed in wood and nappa leather.
Just shy of 180 inches in wheelbase, the CX-5 has a five-seat cockpit that's better suited for four adults. In front, Mazda fits a pair of well-bolstered comfortable buckets, and adds power adjustment, heating and cooling as well as synthetic or real leather in upper trims. The CX-5's cockpit has enough head and leg room in front for a wide range of body types to fit nicely for a commanding view of the road, too. In back, the CX-5 lays out almost 40 inches of leg room, but has narrow door openings and a flat bench seat, not to mention a slim-hipped body. In all that means two adults will fit, not three.

The cabin's a compromise in other ways. The doors have deep pockets to hold water bottles, but the infotainment controller eats up potential storage space in the center console. Mazda applies a higher grade of materials to the cabin than you'll find in some rivals, and the most expensive CX-5s have truly luxurious interiors with wood trim and nappa leather; out classing some higher-end rivals. The rear seats fold down to expand the roughly 31 cubic feet of storage space to about 60 cubic feet, and the cargo floor sits low enough to be easily loaded.
We like the CX-5's bundle of standard features, and it's a good value at its mid-$20,000 price. The $26,370 price for the base CX-5 Sport gets cloth upholstery, a power driver seat, power features, and, new this year, a larger 10.3-inch screen with baked-in Apple CarPlay and Android Auto compatibility. CX-5 Touring gets synthetic leather upholstery, upgraded audio, heated front seats, and keyless start, and can be fitted with a sunroof, a power tailgate, and Bose audio. A new Touring Preferred SV package gets leather upholstery, power front seats, and a power tailgate, while a new Carbon edition gets gloss-black trim and 19-inch wheels, as well as red leather seats and an option for the turbo-4 engine. The CX-5 Grand Touring has leather upholstery, Bose audio, and a sunroof standard.

At the top end, both the $36,385 Grand Touring Reserve and $38,505 CX-5 Signature come with the turbo-4 and all-wheel drive. Both get a head-up display, cooled front seats, and heated rear seats. The Signature also adds nappa leather and wood trim, navigation, a surround-view camera system, and 19-inch wheels, along with rear automatic emergency braking. In all trim lines, Mazda's infotainment system now comes with a wide 10.3-inch display, but unfortunately it's not a touchscreen. A control knob on the center console drives infotainment with redundant steering and voice controls.
Mazda's 2021 CX-5 remains what is always has been; a great handling SUV with killer looks and Mazda's great reliability. While it may not be as large as some of its competitors, how often are you really going to be hauling a full load. It's the smart small crossover that we'd want to be driving on a daily basis since it can put joy into any drive. Which one is right for you really comes down to what kind of driver you are. If you're more concerned about fuel economy pick the Touring with its cost savings, but if you're more power hungry choose the Grand Touring Reserve; regardless you can rest assure knowing you've picked a great small SUV.
For all your new car shopping needs, check out: drivevise.com Vehicle shopping made simple!