The 2021 Lexus ES grabs some of the LS' spotlight with its sleek shape and its sky-high hybrid economy. The ES is a four-door mid-size sedan that bridges the gap between premium and luxury features and finishes. It's also a step between sporty sedans and the more traditional full-size family cars of the past. It's in step with core Lexus virtues, but with sharp handling and great gas mileage thrown in for good measure. It's an exceptional car in many ways. If you don't need a crossover SUV's space and height, the ES is the kind of car we'd recommend, as much for its hybrid economy as for its stellar safety record.
The ES 250 AWD costs $40,925, and comes with all-wheel drive, an 8.0-inch display with Apple CarPlay and Android Auto compatibility, a synthetic leather interior, power features, and automatic emergency braking. We think the $43,260 ES 300h hybrid is the best bet, with its soaring fuel economy and its luxe equipment, but it's possible to spend more than $55,000—though at that price, Lexus' fantastic Mark Levinson audio is included. Every Lexus comes with a 4-year, 50,000-mile warranty, which extends to 6 years and 72,000 miles for the powertrain. It also includes the first two service visits for free.
For all your new car shopping needs, check out: drivevise.com Vehicle shopping made simple!
For 2021, Lexus has added an all-wheel-drive model, the ES 250. It's also made blind-spot monitors standard on all but the base model. What hasn't changed is its style. Though it shares some running gear with the Toyota Avalon, the ES has a cohesive, attractive shape all its own. It's the best-looking Lexus sedan, one with a cabin that's composed of beautiful materials with an enduring appeal.
The ES looks more balanced than the LS flagship, more balanced really than anything else in the Lexus lineup save for the striking LC coupe. The ES brandishes a huge grille that streaks back toward the hood, flanked by brash headlights that needle their way into a muscular body with scant bloat. It's taut and lithe and appealing from just about every angle. F Sports get larger wheels and some different details, plus different exterior trim.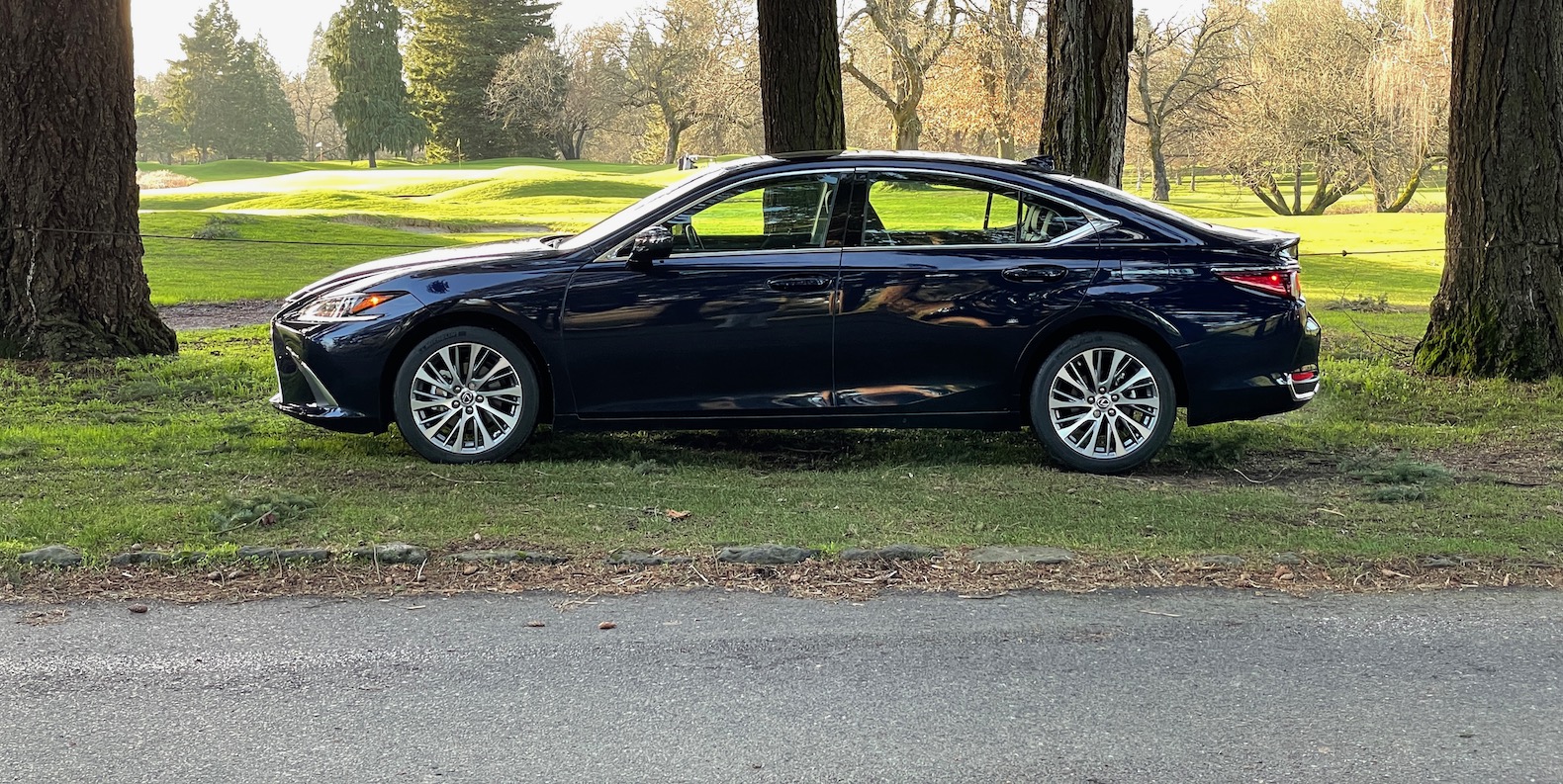 The ES 350 is no longer the entry model. Lexus has added a 203-hp 2.5-liter inline-4 to the lineup, coupled with an 8-speed automatic and a new all-wheel-drive system also found in the Toyota Avalon. The hybrid ES 300h swaps in a hybridized 2.5-liter inline-4 paired with a nickel-metal hydride battery and an electric motor. It's perfect for low-emissions driving and effortless low-speed cruising. That said, the ES 350 remains the most popular version, thanks to its 302-hp 3.5-liter V-6 and its 267 pound-feet of torque. 
No matter which model you choose, good steering effort and a well-damped ride serve up a driving experience that falls on just the right side of plush. Firmer responses can be had with the F Sport package and its adaptive dampers; it doesn't harm the ES' charm, but it holds on to gears longer and adds weight to the steering, just enough to notice. Lexus has more intentionally sporty sedans in its showroom, but the ES F Sport offers the best compromise between driving joy and commuting pleasure.
The ES 350, still the best seller in the range. It earns EPA ratings of 22 mpg city, 32 highway, 26 combined; as an F Sport it dips to 22/31/25 mpg. The new 4-cylinder ES 250 gets scored at 25/34/28 mpg. The ES 300h, our pick in the lineup, gets an impressive 43/44/44 mpg.
Both the IIHS and the NHTSA give the Lexus ES top scores. The NHTSA grades the ES at five stars overall, with a four-star rating for frontal protection. The IIHS calls it a Top Safety Pick+, but only when it's fitted with costly LED headlights in the top models; the base LEDs earn an "Acceptable" score. All ES sedans have good outward vision, and now come with standard automatic emergency braking, adaptive cruise control, and active lane control, while blind-spot monitors are available inexpensively where they're not standard.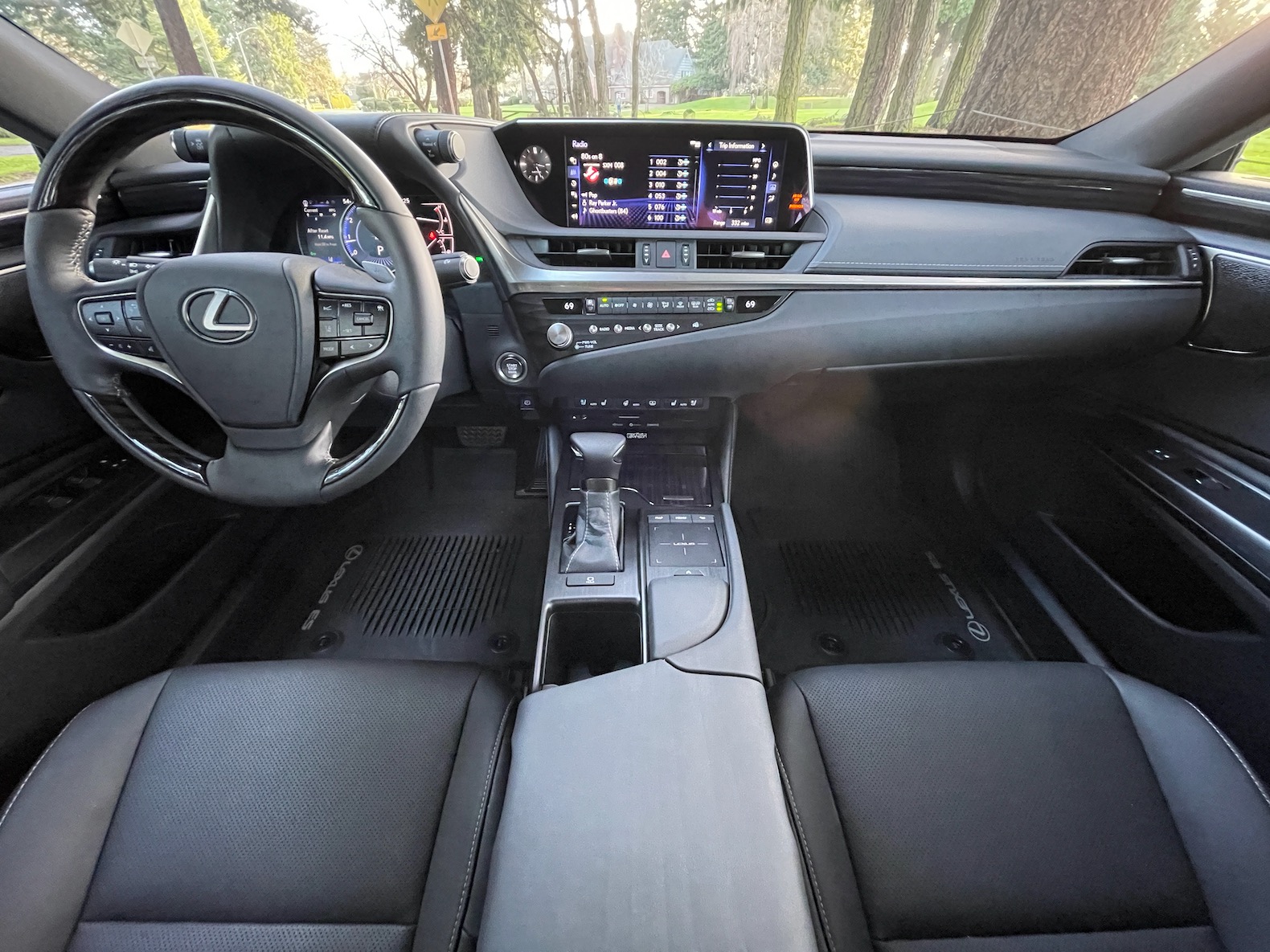 At nearly 196 inches long, the ES wraps its sleek body around a cabin that's suitable for up to five adults. Those in front have the best view and the best seats—their chairs get synthetic or real leather wrapping, multi-way power adjustment, and heating and cooling on many versions. We've spent hours of interstate driving in the ES, without touching the controls for a better position. It's virtually fidget-proof, once it's dialed in for comfort. With 39 inches of rear-seat leg room, there's no need to slouch in back, either. The ES has ample head and knee room, and it's wide enough for adults to sit three across for more than a few minutes without complaint.
Where the ES pulls up shy is in trunk space. Hybrids and non-hybrids have the same 13.9-cubic-foot space for bags and boxes; it's somewhat less than similarly sized sedans. To make up, Lexus slathers the ES cabin with aluminum and wood trim, soft leather and convincing synthetic upholstery that's pleasing to the eyes and to the fingertips. The controls themselves can get confusing, but the mocha or espresso two-tone trim smooths it all over.
The new ES 250 comes with all-wheel drive, 17-inch wheels, synthetic leather upholstery, power front seats, a sunroof, and a price of $40,925. The 8.0-inch touchscreen comes with Apple CarPlay and Android Auto compatibility. Options include leather, automatic park assistance, adaptive dampers, premium audio, and 18-inch wheels, as well as a 12.3-inch touchscreen, navigation, and heated and cooled seats. Base ES 350s include synthetic leather on the seats, power adjustment up front, a power moonroof, an 8.0-inch screen, Apple CarPlay compatibility, a trio of USB ports, and streaming Bluetooth. Add in the collision-avoidance tech and we're happy with its standard features.
You'll spend nearly $41,000 to buy the least expensive Lexus ES, but at least it feels worth the money. Hybrids cost about $1,900 more and come with about the same equipment, though they don't offer the F Sport package. For about $4,500 on top of the ES 350, it adds adaptive dampers, 19-inch wheels, and a host of styling changes.
We think the $43,260 ES 300h hybrid is the best bet, with features like those in the base ES 300 and the super fuel-economy advantage of its hybrid system.