The 2021 GMC Sierra has big looks, big tow ratings, and deep beds. The Sierra 1500 is a full-size truck that shares its underpinnings with the Chevy Silverado. It squares off against the Ford F-150, Ram 1500, Toyota Tundra, and Nissan Titan. In terms of capability, performance, and getting it any way you want it, the Sierra excels.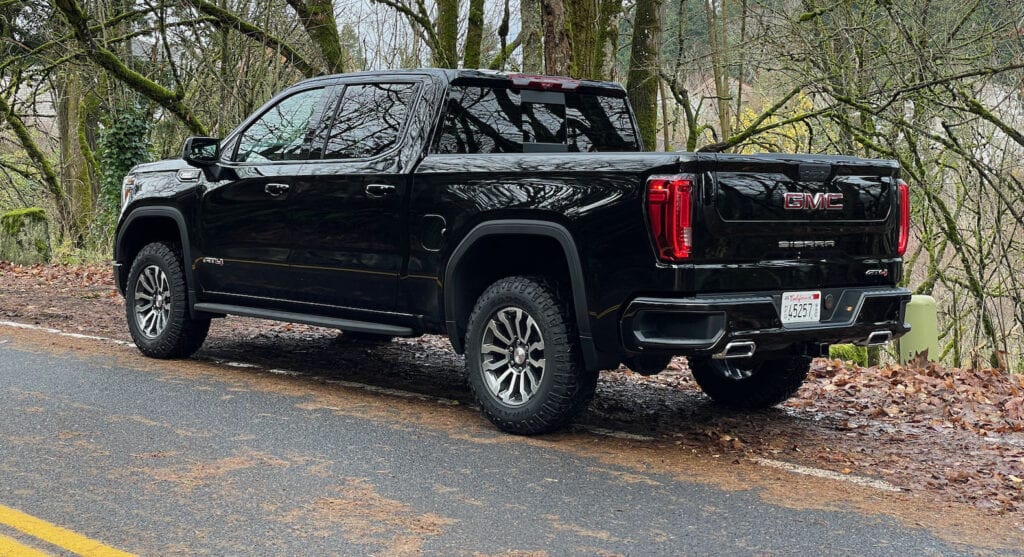 The Sierra's smallest engines, a 2.7-liter turbo-4 and 3.0-liter turbodiesel-6, get boosts in towing capacity thanks to better-than-expected test results. Improvements to the advanced trailering technology make hauling the heavy load easier, when properly equipped, and a six-way power tailgate comes standard on all but the base model. Offered in base, SLE, Elevation, SLT, AT4, and Denali trims with five engine sizes, three cab sizes, and three bed sizes, it would take an algorithm to figure out all the configurations on the 2021 GMC Sierra. From the square wheel arches to the clamp-shaped head- and fog lights, the Sierra wears its conservative square cuts with pride, as if in a military graduation parade.
The base V-6 is forgettable, but the four V-8 powertrains drive most of the sales. Between them is a 2.7-liter turbo-4 with as much towing capacity as a 3.0-liter turbodiesel that gets up to 30 mpg on the highway and can tow up to 9,300 pounds, though not at the same time. A 6.2-liter V-8 maximizes towing capacity at 11,800 pounds with standard four-wheel drive. It comes with a silky smooth 10-speed automatic transmission used on a 5.3-liter V-8 and the turbodiesel. The V-8s with the 10-speed, as well as one with an 8-speed, also feature fuel management that shuts down half of the cylinders to conserve gas, though with a peak of 21 mpg highway, or 23 mpg with rear-wheel drive, it is neither the most efficient V-8 on the market nor the most efficient Sierra. Leaf springs on the rear can cause the big truck to bounce around when unladen, but the size cushions most road warts; the adaptive dampers standard on Denali trims make it ride like a luxury SUV.
GMC equips the Sierra with roomy regular, extended, and crew cabs, with the latter being the most popular. It fits five passengers in comfort, and the ample storage spaces could handle double duty as a mobile office or family mud room. The longest and deepest beds in the class also have some of the easiest access points and storage solutions, just make sure you measure the garage before buying. The rich Denali trim swaddles the cabin in luxurious leather with wood and aluminum trim accents. The 2021 GMC Sierra ranges from about $32,000 in base Sierra models to more than $64,000 in top Denali trims. Bed and cab sizes, engine and drivetrain choices, all affect the price and decision-making, but if a Denali is too rich, we'd recommend the Elevation trim with a crew cab for less than $50,000.
The 2021 GMC Sierra 1500 hews to a cinder block design. Coming at you head on or in the rear-view mirror, you might call it something else, but this big block of a truck wears its conservative cuts with pride. From the square wheel arches to the bracketed head- and fog lights, the Sierra squares the boxiest geometries. It's a jarhead in the best sense of the word, with a flat face and a bulging square hood to match its square jaw and stiff lower lip. Some trims get body-color surrounds on the slotted grille, while Denali trims deck the body and bumpers in chrome.
The 2021 GMC Sierra 1500 comes with a potent turbo-4, a turbodiesel, or an array of V8 powertrains. With options ranging from a capable turbo-4 to a battery of V-8s, as well as a turbodiesel inline-6 and a smart 10-speed automatic, the 2021 GMC Sierra 1500 balances performance with efficiency and capability. GMC's Sierra comes standard with rear-wheel drive and available four-wheel drive that adds between $3,300-$3,500, depending on trim. The AT4 model comes standard with four-wheel drive, as does the 6.2-liter V-8 and the 5.3-liter V-8 with a 10-speed automatic transmission.
Of the four V-8 options, there are essentially six drivetrain choices. The 5.3-liter makes 355 hp and 383 lb-ft of torque, but can be had with a 6-speed, 8-speed, or 10-speed automatic transmission. The 10-speed only comes with four-wheel drive and an 11,000-pound tow rating; the 8-speed comes standard with rear-wheel drive and an 11,300-pound rating. The 5.3-liter with the 10-speed in SLT, AT4, and Denali models has plenty of grunt and handles all the chores. The 6.2-liter is the showpiece for those who prize the highest numbers, as well as a louder roar and a tad more response from the throttle.
The 6.2-liter V-8 tops the Sierra spec sheet by making 420 hp and 460 lb-ft, same as the turbodiesel, but it can tow up to 11,800 pounds to the diesel's 9,000 pounds with four-wheel drive. It's a beautiful beast of a truck that can almost have too much power bouncing around town unladen. The 3.0-liter turbodiesel inline-6 makes only 277 hp but excels at highway efficiency and towing up to 9,300 pounds with rear-wheel drive. The diesel costs about $1,000 more than the 5.3-liter V-8 with the 8-speed, and the upcharge is worth it for owners who log mostly highway miles.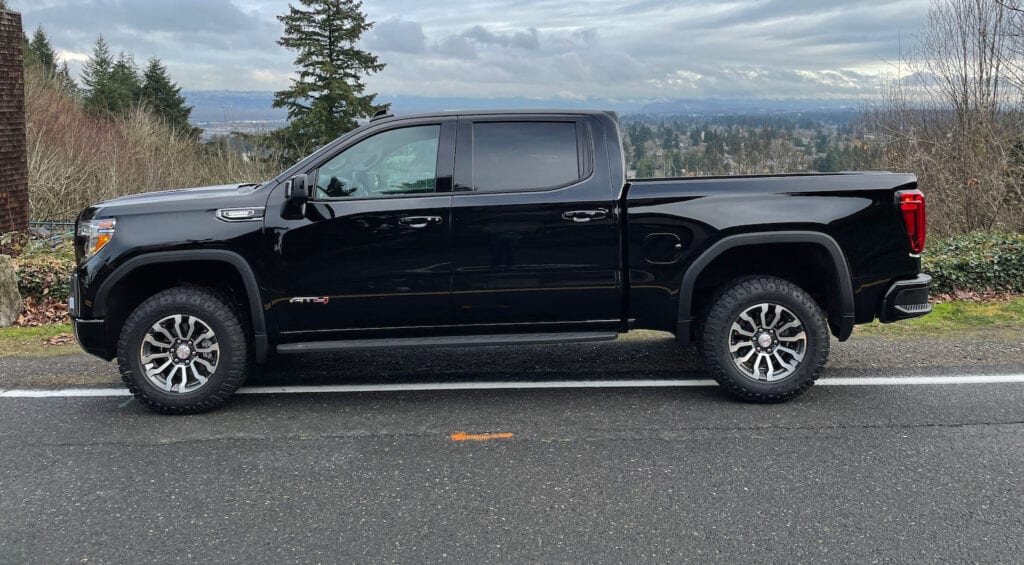 There's a 2.7-liter turbo-4 that makes 310 hp and 348 lb-ft, and it's capable enough by towing up to 9,200 pounds and carrying up to 2,060 pounds. But it's not much more efficient than the V-8s with fuel management, and can be even worse when towing. At the bottom of the Sierra's pecking order is the base 4.3-liter V-6 that makes 285 hp and 305 lb-ft. of torque with a 6-speed automatic. The 10-speed automatic's top gears serve as overdrive gears to optimize efficiency or help with heavier loads, but they're mostly unnoticeable. The shifts in lower gears are quiet and seamless enough to be unnoticeable, too, but it can get busy when coasting while trailering or in challenging downshift to upshift situations such going down and up hills.
The top Denali trim comes standard with adaptive dampers that soften the truck's ride like that of a three-row SUV, even on 20-inch wheels. The available 22-inch wheels provide more road feedback. The Ram 1500's optional air suspension might be a bit more posh, but the Denali also rides like the lap of luxury. Other models feature more traditional coil-over shocks up front and leaf springs in back. The Sierra steers well enough for a truck, with an electric rack and pinion set up that's nothing like the vague boat-like steering of older trucks. Five drive settings ranging from Sport to Tow/Haul mode let drivers adjust the throttle and steering response. In Denali models, the suspension characteristics relax in Tour mode for calmer cruising or stiffen in Sport mode for increased turning agility. An available two-speed transfer case aids off-road crawls on Denali and AT4 models with 4WD. The AT4 trim appeals to the off-road set with a 2.0-inch factory lift for nearly 11 inches of ground clearance and better approach and departure angles, an Eaton locking rear differential, Rancho shocks, and red tow hooks, of course.
Turbo options and an active fuel management system help the big 2021 Sierra match capability with relative efficiency. With four V-8 options, the Sierra can only be so efficient, even when it shuts down with half the cylinders when they're not needed. The 5.3-liter V-8 is the most popular choice, and the 8-speed and 10-speed get an EPA-rated 16 mpg city, 21 highway, 18 combined with four-wheel drive. Rear-wheel drive bumps it up 1 mpg. The most efficient Sierra is the 3.0-liter turbodiesel inline-6, at 23/30/26 mpg. Four-wheel drive dings it to 22/26/24 mpg. Those are good highway ratings for a full-size truck, and justifies the $995-$2,400 upcharge, on average, if most of your miles happen on the highway. The 2.7-liter turbo-4 isn't efficient enough to justify the reduced capability compared to the V-8. It gets 20/23/21 mpg, or 2 mpg less with four-wheel drive. The same could be said of the base V-6 that's 1 mpg less efficient than the 5.3-liter V-8. Even though the 6.2-liter gets only 16/20/17 mpg, the V-8 with the old 6-speed performs the worst, at 14/18/16 mpg with four-wheel drive. Our 3.0-liter diesel all-wheel-drive AT4 test truck averaged an impressive 24.7mpg in it's week with us.
The NHTSA gave it a four-star rating due to four-star ratings across the board except for a five-star side impact rating, which is not unusual for trucks. Meanwhile the IIHS gave it "Good" ratings across the board except for "Marginal" protection for the small-overlap passenger testing and "Poorr" headlight ratings keep it from being a Top Safety Pick. Unfortunately GMC doesn't equip their truck with standard automatic emergency braking, even on top Denali trims, where it's still part of an optional $1,045 package. It's standard on the Ford F-150, Toyota Tundra, and Nissan Titan.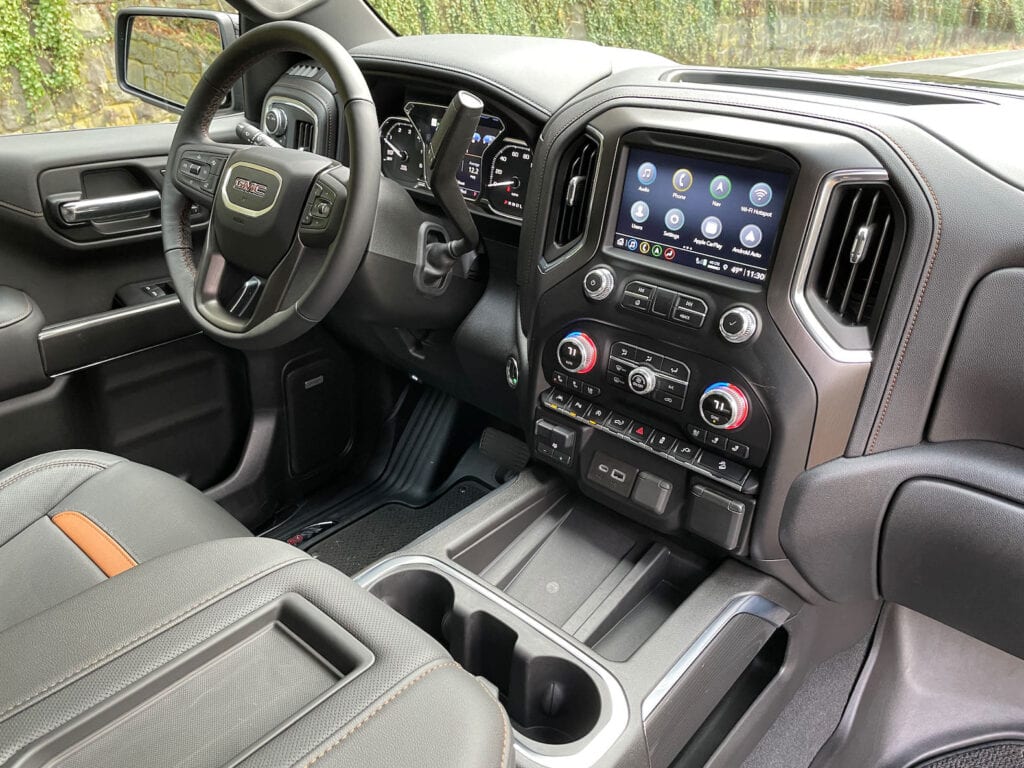 The 2021 GMC Sierra 1500 is a cut above the competition in comfort and cargo. Inside, the blocky elements carry over with chunky vents that swallow the available 8.0-inch touchscreen. Black and plastic chrome pieces do a poor tuxedo impression, but tony Denali trims dress it up right with leather upholstery, wood and aluminum accents, and soft touch elements throughout. The Sierra 1500 can be equipped with a regular cab with a long 8-foot-2 bed, an extended cab with a 6-foot-8 standard bed, or a crew cab with a 5-foot-10 short bed or the standard bed. All but the base Sierra comes with a 6-way power liftgate that makes getting things—including yourself—in and out of the bed a cinch, and there are still corner bed steps. GMC offers up to a dozen movable tie-downs, in-bed LED lighting, and a 120-volt outlet to help out the truck cause.
Even though those beds are more voluminous than the competition, the Sierra 1500 crew cab excels inside by fitting five passengers in comfort. Manual front seats with a 40/20/40 split with an armrest come standard, and all but the base model have rear underseat storage. Higher trim crew cabs offer heated rear steering and multiple USB charge ports. A deep center console with a flat phone holder on top can turn the truck into a mobile office or family locker, along with compartmentalized door pockets, dual glove box, and other clever storage spaces.
The 2021 GMC Sierra 1500's equipment appeals to the working man and executive alike. The base model comes with a 7.0-inch touchscreen with Apple CarPlay and Android Auto compatibility; two USB ports; 17-inch wheels; LED headlights, taillights and DRLs; power windows and locks; and manually operated cloth seats. As a basic work truck with a regular cab and long 8-foot-2 box, the Sierra 1500 costs $31,695, including $1,695 destination. The most popular configuration of a crew cab with the short bed is about $6,000 more on the base model. The Elevation trim looks good with a black grille and 20-inch black wheels, and it adds a locking rear differential, trailering package, heated front seats and steering wheel, dual climate control, and a power driver's seat for under $50,000.
The flagship of the GMC brand, Denali trim with the largest 6.2-liter V8 costs just under $64,000. It has comfy front bucket seats shod in leather, adaptive suspension, 20-inch wheels, blind-spot monitors, parking sensors, Bose sound, heated outboard seats front and rear, and cooled front seats. But even at this price, automatic emergency braking and adaptive cruise control costs extra with the $1,045 Driver Alert Package II. Add that and some 22-inch wheels or a bed storage unit and it scales $70,000. Surprisingly, that's not the most expensive light-duty truck on sale now.
The 2021 GMC Sierra offers an incredible range of configurations, powertrains, trims, and options to heap onto those. On top of that, GMC offers an efficient turbodiesel engine, a trailer view system with more cameras than the federal reserve, a carbon fiber-composite bed, and a flexible multifunction tailgate. With all the choices it would be impossible to not find the perfect configuration to suit your needs and therefore deserves a drive for anyone looking for a full size truck.
For all your new car shopping needs, check out: drivevise.com. Vehicle shopping made simple!