The 2020 Volkswagen Tiguan is a crossover SUV that doesn't chase trends. It's a conservatively styled, well-proportioned family hauler made a more attractive value this year by the addition of standard collision-avoidance technology. The spacious 2020 Tiguan doesn't shout for attention. It relies instead on its relatively balanced overall package. It's a low-stress offering worth including on your shopping list especially with it's rare, but small third row.

Available in S, SE, SEL and SEL Premium trim levels, the Tiguan uses a 184-horsepower 2.0-liter turbo-4 that pairs with an 8-speed automatic transmission to send power to the front or, optionally, all four wheels. The docile powertrain provides the Tiguan with decent acceleration and fuel economy, although it's not as quick as its predecessor. Handling is composed in true germanic fashion, and the optional R-Line appearance package adds a sporty looking touch.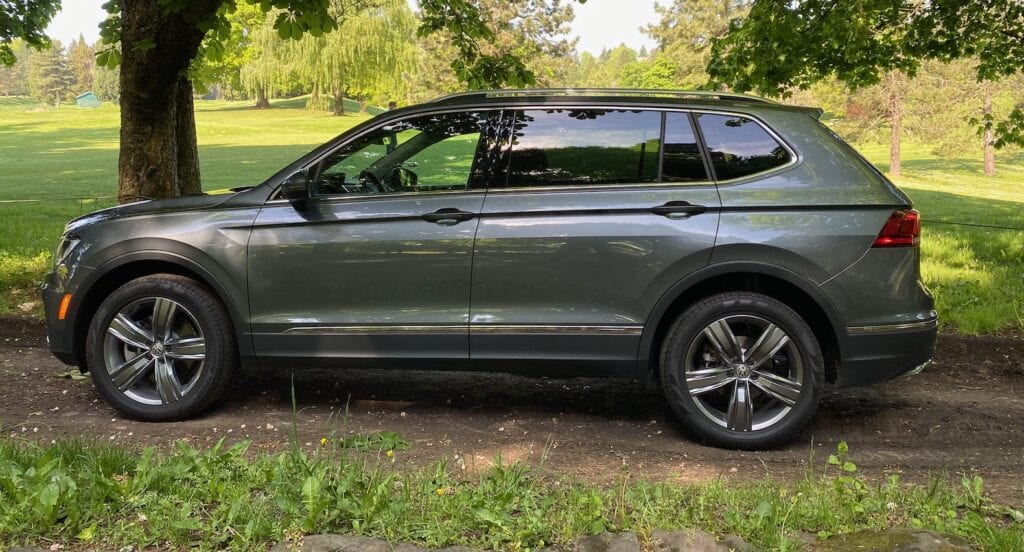 Larger than rivals such as the Subaru Forester and Toyota RAV4, the Tiguan can be had with three rows of seats. Draw your straw carefully, however, as the available third row is best for kids who should be in child seats or perhaps the family pooch. Otherwise, the Tiguan has a nice, spacious interior composed of low-sheen, soft-touch materials and hard-wearing upholstery. The standard 6.5-inch touchscreen is a tad small, but it works well with Apple CarPlay and Android Auto compatibility, and the optional 8.0-inch display is available for not too much more.
The 2020 VW Tiguan is a contemporary yet sensible choice when it comes to exterior and interior styling. The 2020 Volkswagen Tiguan plays it safe. It's the Target of crossover SUVs, a 'ute draped not in designer duds but in crisp, clothes that won't raise an eyebrow. At 185 inches between its bumpers, the 2020 Tiguan is on the large side for a compact crossover SUV. It looks every bit its length, though those wide doors help passengers climb aboard. The sharp front end features a wide grille flanked by either halogen or optional LED headlights. Wheels range from 17 inches on up, and the optional R-Line package has some glossy black styling bits that add some pizzazz. It's a straightforward design that doesn't believe in frills of any kind, for better or worse.
Though it may have been built by a company that tests its cars on the Autobahn, the 2020 VW Tiguan has a gentle, family-friendly demeanor. Even in R-Line grade, it prioritizes a soft ride over blistering acceleration or handling tenacity. No matter the Tiguan trim level or paint color, every model leaves the factory with a 184-horsepower, 221 pound-feet of torque 2.0-liter turbo-4 teamed with an 8-speed automatic transmission. By default power goes to the front wheels, while all-wheel drive is optional. Every Tiguan has a few drive modes, including a handy user-configurable one that lets drivers adjust features such as steering heft or throttle sensitivity. In every mode, the turbo-4 furnishes decent, but not thrilling power with good grunt once it spools up. The 8-speed automatic transmission is a smooth operator but can be slow to downshift for highway passing.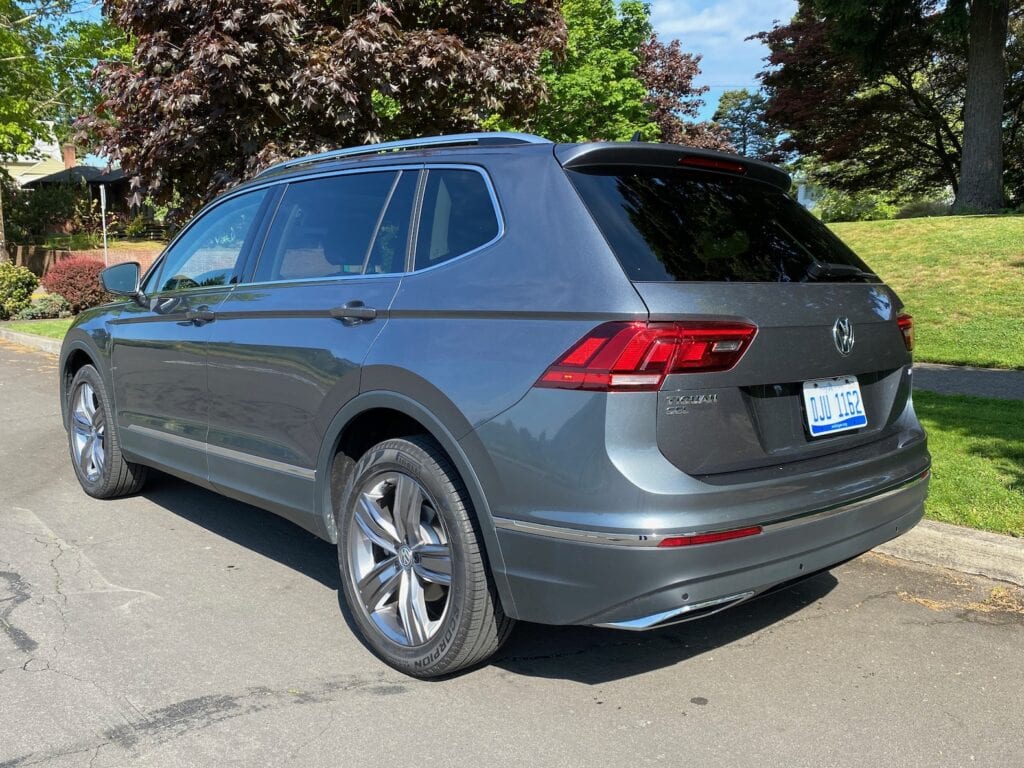 Steering feedback is very slight, though the three-spoke, flat-bottom steering wheel points the wheels forward with unusual precision on a winding road. There's plenty of lean into curves, a byproduct of the soft suspension that helps the Tiguan coddle its occupants on rutted terrain, but once it takes a stance the Tiguan grips fairly well. A long wheelbase helps give the 2020 VW Tiguan a composed ride. With just under 8 inches of ground clearance, the Tiguan is hardly a rock crawler. It'll be fine for gravel or snowy roads, however.
There are thriftier crossover SUVs than the 2020 Volkswagen Tiguan coming in about average. With all-wheel drive, the 2020 Tiguan is rated at an average 20 mpg city, 27 highway, 23 combined. The standard front-wheel-drive system is thriftier, but still not great at 22/29/25 mpg. Several rivals earn as high as 30 mpg combined with front-wheel drive, while the Subaru Forester is rated at an impressive 29 mpg combined with standard all-wheel drive. With no hybrid version on offer like the Toyota RAV4, the 2020 Tiguan has a little catching up to do. During our week with an all-wheel-drive SEL model we averaged 24.8 mpg, better than the EPA estimates and in-line with other real-world competitors.
The 2020 Volkswagen Tiguan includes an array of collision-avoidance tech as standard. This year, automatic emergency braking, blind-spot monitors, and rear cross-traffic alerts are standard on all 2020 Tiguan's. That previously optional tech joins six airbags and a system that locks the brakes in place in the event of a collision. Federal testers haven't fully assessed the Tiguan, although they did give it 5-stars in Side impact protection and 4-stars in rollover protection. The IIHS rated the Tiguan "Good" in every crash test, and upper trim SEL Premium models earned a Top Safety Pick for having "Good" headlights.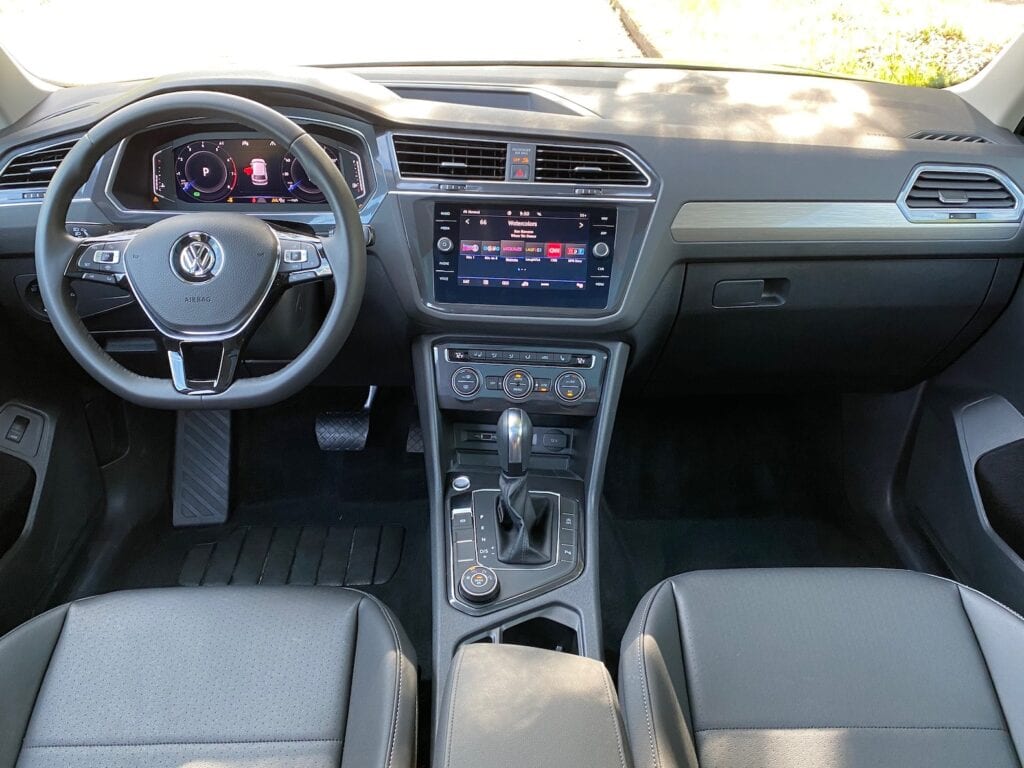 The 2020 VW Tiguan earns points for comfort, with ticks for an above average spacious cabin, good front seats, and a roomy second row. The Tiguan features a low dash inside that houses either a 6.5-inch or an 8.0-inch touchscreen mounted high. Interior shades range from relentless black to gray to a two-tone orange and black that works better than it sounds. The standard cloth upholstery has a pleasingly tough feel, while the optional synthetic leather fitted to SE and SELs makes cleaning up a cinch. Leather seats are included on the SEL Premium. It's a similarly plain environment in which to work, a marked contrast from the extravagant shapes found in some Korean and Japanese crossovers. It's functional, but lacks fun and warmth. Tiguan's make good use of soft-touch, low-sheen materials.
So long as you're not shoehorned into the third row, the 2020 VW Tiguan has a comfortable interior.The front seats are upright and firmly padded, and they sit high enough to afford a commanding view forward. Power controls and seat heaters are optional. Row two slides forward at the tug of a lever or pushes back to open up more or less cargo space or leg room. Five-seat Tiguan's can lug nearly 38 cubic feet of cargo with the second row upright and slid forward. The optional third row, mandatory with front-wheel drive, steals about 2.5 cubic feet, a small price to pay for flexibility. Fold row two flat and maximum cargo capacity swells to 73.5 cubic feet in five-seaters and 65.7 cubes in seven-seaters.
The 2020 Volkswagen Tiguan comes in four trim levels, with a handful of options available. The base Tiguan S now comes with automatic emergency braking that joins power features, a 6.5-inch touchscreen with Apple CarPlay and Android Auto, alloy wheels, and air conditioning. A third row of occasional-use seats comes standard on front-wheel-drive versions. It's not lavish, and at around $27,000 with a mandatory destination charge, the 2020 Tiguan S with all-wheel drive is fairly inexpensive, but it's a bargain compared to the range-topping SEL Premium. At nearly $40,000, the SEL Premium comes with leather upholstery, a power panoramic moonroof, an 8.0-inch touchscreen, Fender audio, and a number of other upgrades. In our eyes, the smart buy here is the middle-child Tiguan SE. For about $29,000 with all-wheel drive, to the base Tiguan S it adds easy-clean synthetic leather upholstery, heated front seats, a power-adjustable driver's seat, automatic climate control, keyless ignition, and more. All 2020 Tiguan's come standard with a 4-year, 50,000-mile bumper-to-bumper warranty.
For its Germanic driving dynamics, large spacious interior with cutting edge technology, impressive standard safety features, and handsome styling the 2020 Volkswagen Tiguan is a winner. Adding in a good warranty and reasonable value makes it easy to see why the Tiguan is easily Volkswagen's best seller. In the highly competitive small crossover class the Volkswagen Tiguan is a standout and deserves to be taken seriously.
For all your new car shopping needs, check out: drivevise.com Vehicle shopping made simple!