The 2020 Mercedes-Benz GLC-Class is comfortable and quiet, with few rivals among small luxury crossovers. For years, Mercedes-Benz GLC crossover buyers have touted their luxury rides. With the updated GLC, Mercedes-Benz adds its latest infotainment system and a slightly more powerful engine. Like last year, the GLC-Class is available as a crossover "coupe" with a racier roofline and hatchback glass, or as a traditional crossover with an upright tail and more usable cargo space.
Two engines with four configurations are on offer: the GLC 300 is available with or without all-wheel drive, and the high-powered GLC 63, with standard all-wheel drive, comes in one of two engine outputs, base or slightly more powerful S. Under the hood of the 2020 GLC 300 is a more powerful turbo-4 that makes 255 horsepower, plus 14 from last year if you're keeping score. That's paired to a standard 9-speed automatic transmission that makes the GLC more efficient now. The EPA rates the duo at 24 mpg combined. The GLC 43 and GLC 63 climb the performance and price ladder in a wonderful way.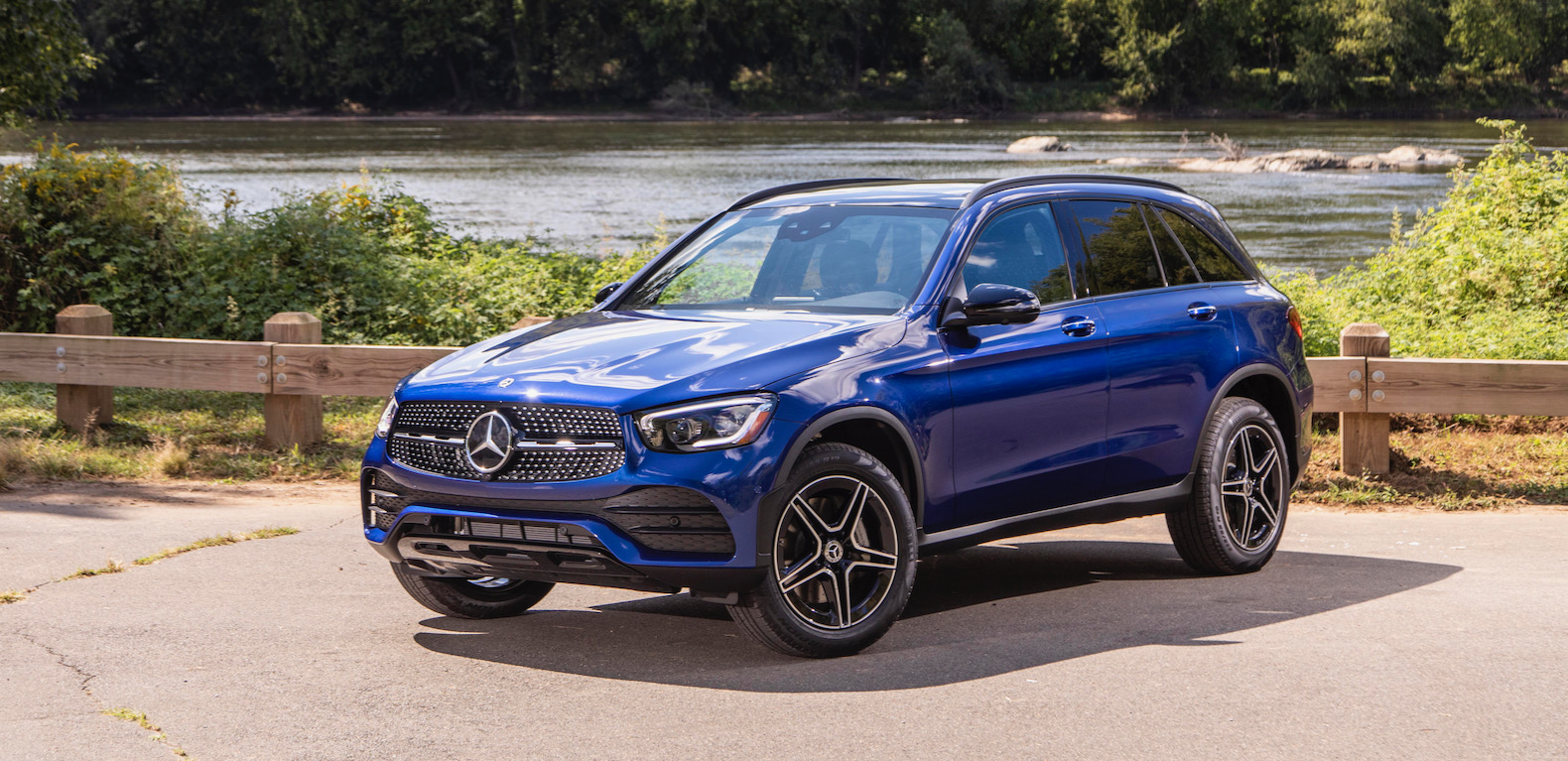 The GLC-Class is the tall-roof companion to the C-Class. The exterior hasn't changed much with this year's nip and tuck refresh; new bumpers, headlights, and taillights, and a new grille, and the interior of the GLC-Class is treated to the same sumptuous materials that have also received attention. The crossover still comfortably seats up to five adults, with plenty of leg and knee room for 6-footers or taller. Shoulder room may be an issue for wide adults, but 75-percenters likely won't squabble with three abreast even if they touch shoulders. "Coupe" models are a stretch by definition. Although the rear doors are compromised in their cutout at the top, your 6-foot-1 editor was able to sit behind someone of equal stature with about a half-inch of head room and ample leg room. The "regular" GLC is more comfortable for people and cargo with nearly 20 cubic feet of cargo space that opens up to more than 65 cubic feet with the second row folded. The Coupe's roofline sacrifices some space to 17.7 cubes and 49.4 respectively.

All the mandatory safety systems are there, but Mercedes' spend-up safety systems are likely worth the price. In addition to adaptive cruise control, the active safety features can help keep the GLC-Class centered in its lane, change lanes, and slow down for corners. Automatic emergency braking is standard, like last year. For more than $43,000 to start, the GLC 300 offers a 10.3-inch touchscreen for infotainment with Apple CarPlay and Android Auto compatibility, 18-inch wheels, USB-C charge ports, keyless ignition, heated front seats that are power adjustable, and a power liftgate. Extra-cost options include bigger wheels, softer leather, a 12.3-inch digital instrument cluster, heated rear seats, wireless phone charger, cooled front seats, panoramic sunroof, and Burmester sound system. At the top end, the GLC 63 S Coupe tips $85,000 and offers high horsepower and high fashion: a slinky roofline, dazzling interior, and mind-bending speed.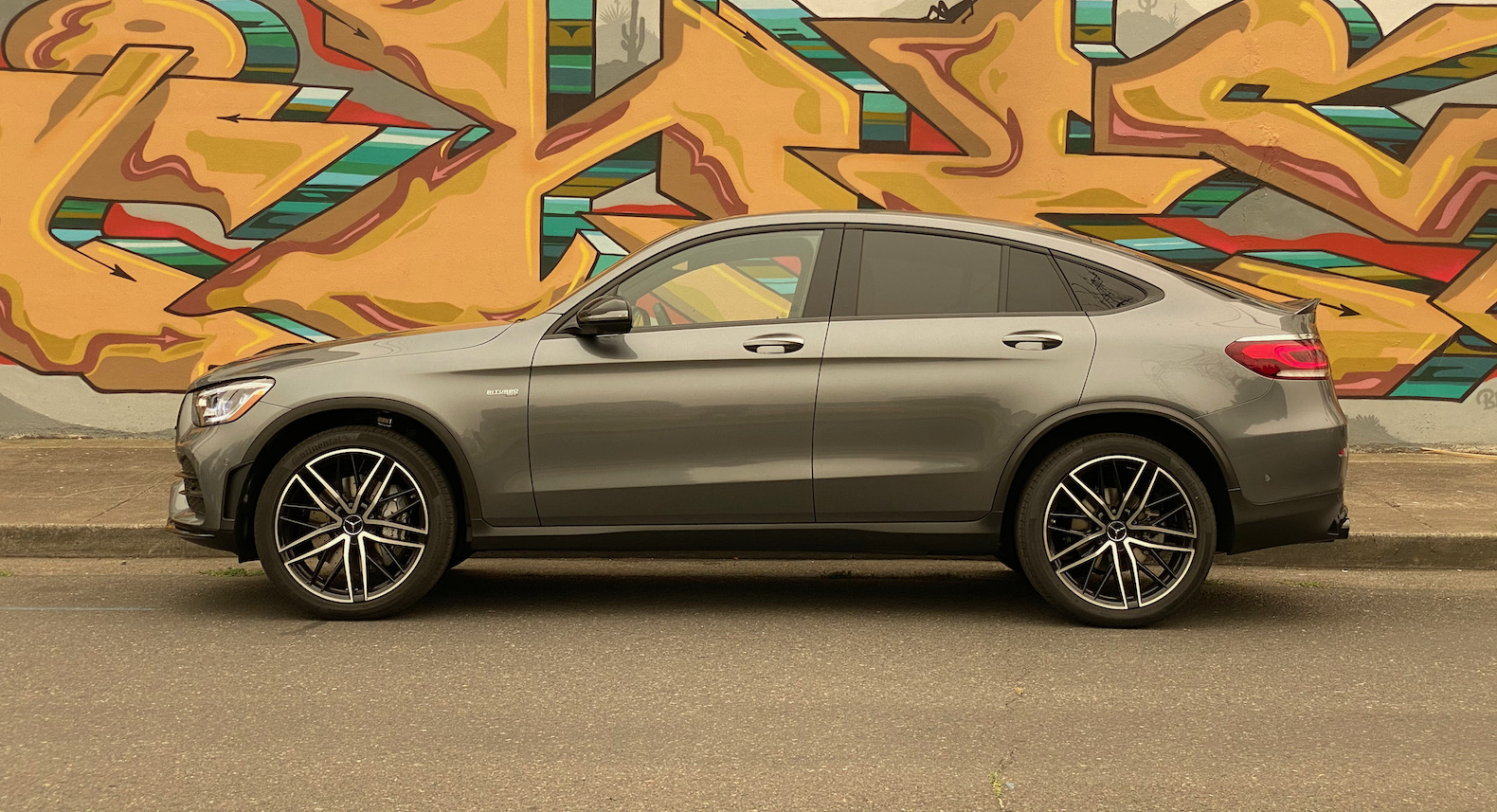 The 2020 GLC-Class doesn't have a bad look in any bodystyle or trim. Revised for '20, the GLC is new but inherits all the good looks of its parents and predecessors. We like its exterior look all the same, but its interior is even more stunning. The GLC crossover is available in two body styles: regular or coupe. The "coupe" is a stretch in the lexicon, but not in looks, it's even lovelier. The normal version is no slouch either. The new bumpers and grille don't spoil the curvaceous look of the GLC's nose, its three-pointed star is prominent in the small Benz's grille. A little more than last year, the new GLC is more masculine in its looks with the chops to back it up: an off-road engineering package gives the crossover traction and capability if the GLC ever ventures off the mall lot.

Modestly more power in the GLC 300 this year may go unnoticed, but its soft ride surely won't. The 2020 GLC gets a power bump in base versions but still relies on turbo-4 propulsion and a 9-speed automatic in most models. The 2.0-liter turbo-4 received a modest power bump over last year's crossover, up 14 hp to 255 hp, but it's not immediately noticeable. A 9-speed automatic handles shifting duties well. Base GLC crossovers are rear-drivers, but most crossovers will be fitted with optional all-wheel drive that costs $2,000, and all coupes will get AWD as standard equipment.

That all-wheel-drive system normally shifts 55 percent of available torque toward the rear wheels but can shuttle around for better performance or efficiency as needed. The GLC doesn't offer a low-range gearbox or locking differential, but it probably won't need it since most buyers won't traverse much more than a muddy concert parking lot in the GLC. If they do, Mercedes offers off-road candy this year that adds skid plating, traction control programs to help in snow or bumpy terrain, and when equipped with the optional air suspension, can raise up for more ground clearance. The GLC is hashtag-blessed with a luxury ride thanks to good dampers and compliant springs, and an optional air suspension and adaptive dampers only make it better.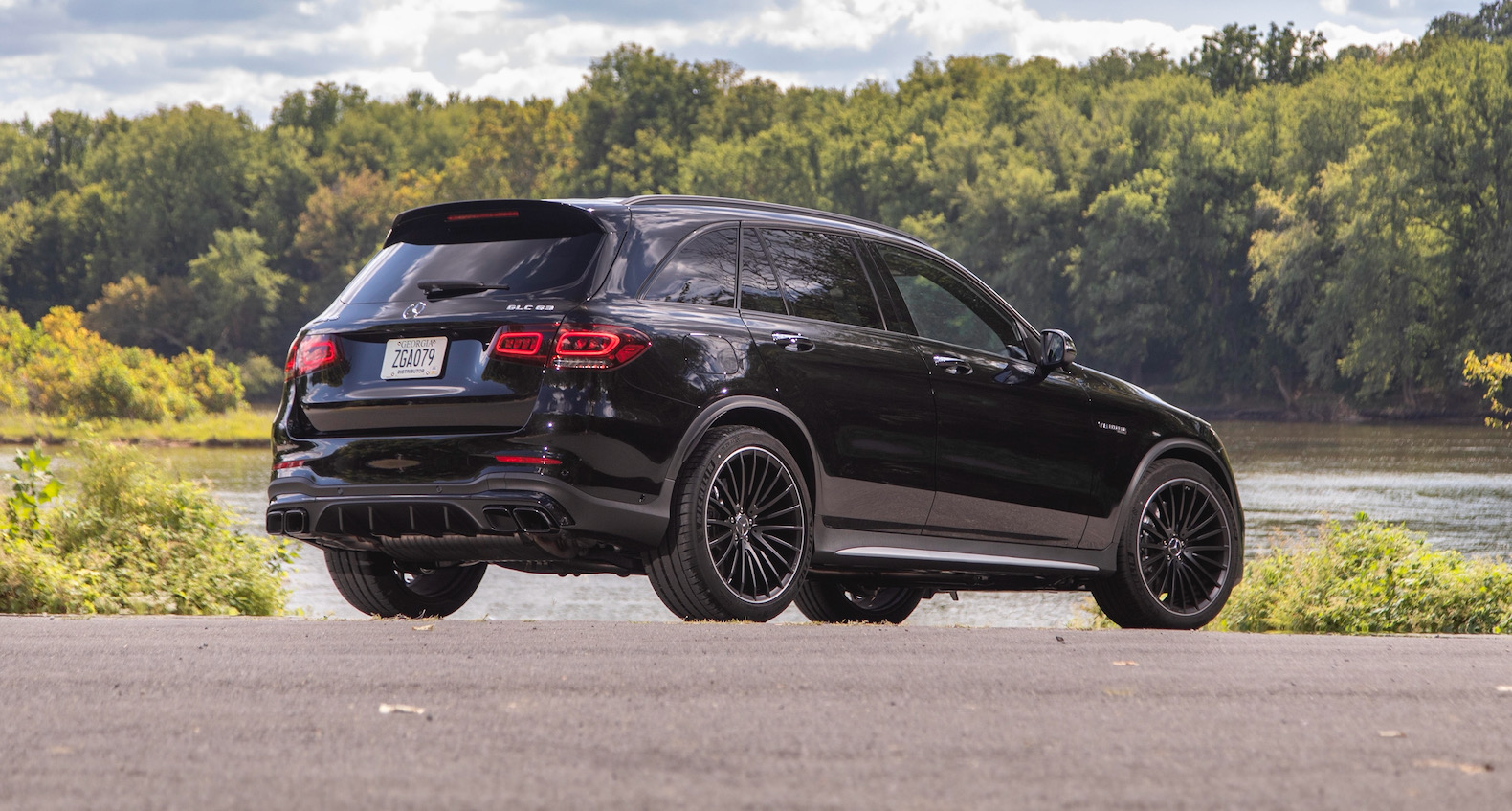 The AMG GLC 43 drills a twin-turbo V-6 into the GLC's svelte shoulders and extracts 385 hp that's sent to all four wheels via a 9-speed automatic transmission. Mercedes estimates that the GLC 43 takes just 4.7 seconds to accelerate from 0-60 mph in either coupe or regular configuration. It rides on adaptive dampers as standard equipment and shuttles between comfort and sporty settings via a toggle in the center console. The GLC 43 accelerates quickly and doesn't let up, all the way to its 130-mph top speed, which can be raised to 155 mph with 21-inch wheels and summer tires. The GLC 43 is never short of breath, although its V-6 soundtrack can be a little brappy with the active exhausts engaged. Personally, we love the feisty soundtrack from our test vehicle.

Top of the GLC-class, GLC 63 is available in two tunes: GLC 63 or GLC 63 S with 469 or 503 horsepower, respectively. The GLC 63 S is only available in the coupe, and all come standard with all-wheel drive to put all that power to the road. Speaking of, its power is intoxicating, imbibed through steady burbles from its 4.0-liter twin-turbo V-8 engine and deep stabs at the throttle. The GLC 63's performance is unquestionable: 0-60 mph takes less than 4 seconds in either model, and its top speed of 155 mph (174 mph in GLC 63 S) is effortless. The AMG GLC 63 is gifted with new performance programs that complement the drive modes already available: Slippery, Comfort, Sport, Sport+, Race, and Individual. The performance programs, Basic, Advanced, Pro, and Master, control everything from shift patterns to throttle response, steering behavior to engine mounts.
The GLC's gas mileage is par for it's class and slightly above with all-wheel-drive. The EPA rates the 2020 GLC 300 at 22 mpg city, 29 highway, 24 combined with rear-wheel drive, or 21/28/24 mpg with all-wheel drive. Impressive that both earn the same combined rating. The GLC 300 coupe, which is only available with all-wheel drive, rates 21/28/24 mpg, same as the "normal" bodystyle. Stepping up to the AMG GLC 43 knocks fuel economy back to 18/24/21 mpg, regardless of body style. The V-8-powered GLC63 is far thirstier at 16/22/18 mpg, in any configuration. In our week with the coupe version of the AMG GLC 43 we averaged slightly above the ratings at 22.6 mpg.
The 2020 Mercedes-Benz GLC-Class has earned good marks in the crash tests that have been performed so far. The IIHS gave it top scores on all of its tests, and awarded it a Top Safety Pick when equipped with certain headlights and the optional automatic emergency braking with cross-traffic function. The NHTSA has yet to test one. Even though the GLC comes standard with automatic emergency braking, the optional system called Active Brake Assist with Cross-Traffic Function earned a "Superior" rating from the IIHS for being able to avoid collisions with vehicles at 12 mph, and significantly reduce speed in 25 mph in collisions with vehicles and pedestrians. Also, the optional LED projector lights on the Exterior Lighting package earned the Top Safety Pick award; the base LED headlights did not qualify.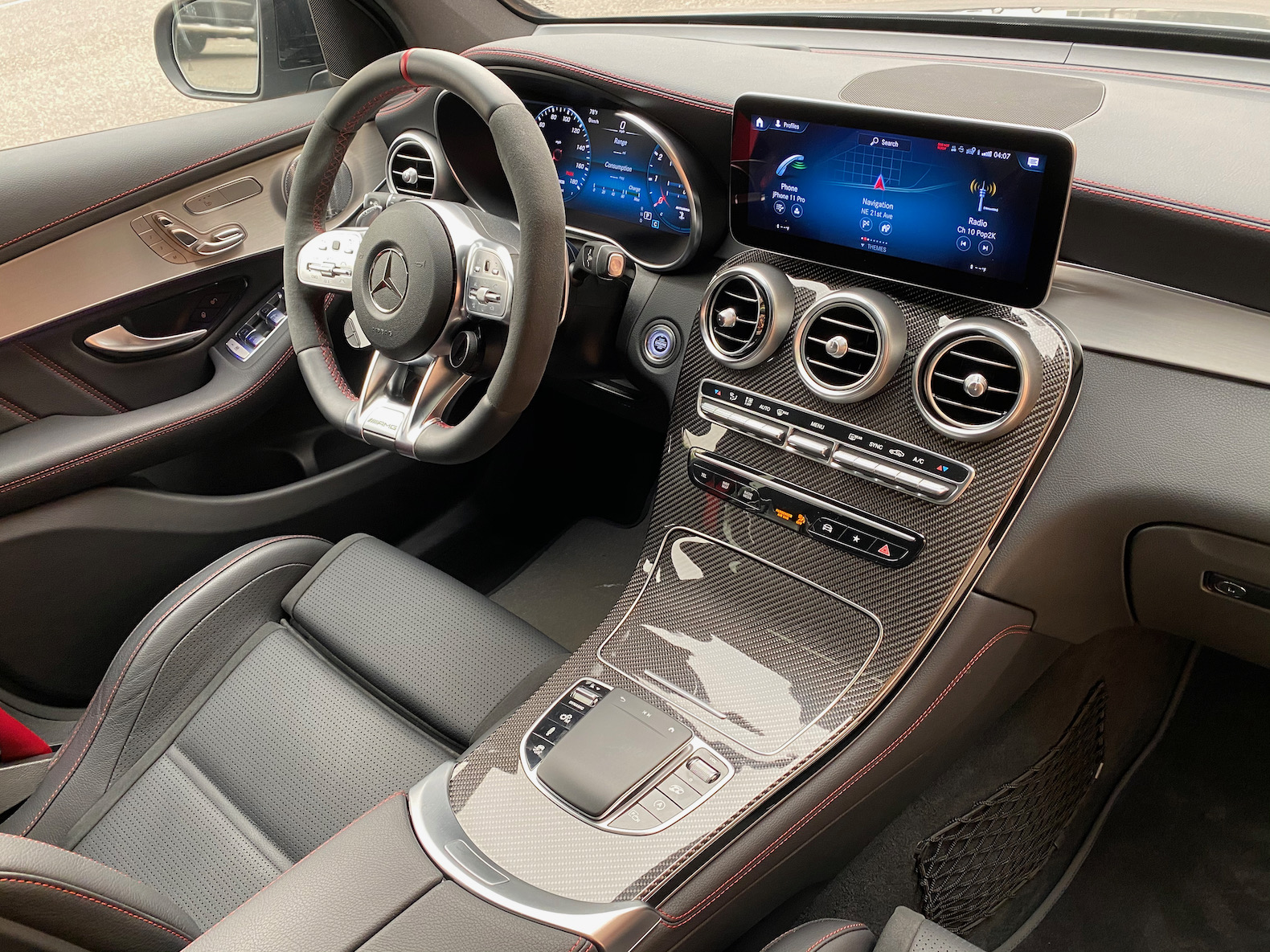 Optional safety add-ons include active lane control, blind-spot monitors, a surround-view camera system, adaptive cruise control that can speed up or slow down depending on the speed limit, lane-change assist, and GPS-based speed assistance that can slow the car down for a corner ahead. Mercedes-Benz's driver-assistance features take a small practical step that's actually a big deal. When adaptive cruise control and active lane control are piloting the car for a short distance and don't detect human attention, the GLC will slow itself and stop. That may not seem like a big deal, but it's one step closer to semi-autonomy and could be helpful in a medical emergency.
It's easy to make friends in the 2020 GLC-Class, even easier to carry them. Inside, the GLC is more suited toward finer things. The interior is just as flowing, just as comfortable, and just as rich as last year. The lines reach in from the doors down toward a center stack that's efficient and clean with just enough bling to keep it interesting. The new standard 10.3-inch touchscreen is bolted into the dash, but it's upright format doesn't intrude into the view out front. By not integrating the screen into the dash, Mercedes can have a lower dash panel with better outward vision all around. Overall, it's a stunning and very well executed interior.
The GLC-Class is discerning in materials and comfort. It's among the most spacious in its class largely because it's one of the biggest in its class. The front seats are comfortable for all body types in the GLC300. The GLC 63 swaps in narrower cosseting buckets to hold you in place during exuberant drives. The seat bottoms are padded with better than average leather in upper trims, and the dash can be warmed over with wood touches and soft materials. The seats are all-day spacious with road trips rewarded in Benz's small SUV. No GLC is thin, but optional extras add touches that are just *chef's kiss*.

The rear seats are comfortable and spacious for three. Mild- to moderate-shoulder touching will be involved for 75-percentile adults and larger. The rear-seat leg room is decent for 6-footers to sit behind other 6-footers and the rear outboard seats can be heated as an option. The GLC crossover sports nearly 20 cubic feet of cargo room behind its standard power liftgate with the rear seats in place. Folded, the GLC's cargo area expands to nearly 60 cubes, and its wide load floor is especially accommodating to full-size luggage. The GLC coupe shaves a few cubes off those cargo numbers ringing in at 17.7 cubic feet with the seats up and 49.4 with the seats down.
No GLC-Class is poorly equipped, but add-on extras make the small crossover a rolling palace. The Mercedes-Benz GLC-Class starts at $43,495, but finer details add to the bottom line. Standard equipment includes 18-inch wheels, synthetic leather upholstery, a 10.3-inch touchscreen for infotainment with Apple CarPlay and Android Auto compatibility, heated front seats with power adjustment, a power liftgate, and automatic emergency braking. All-wheel drive on base crossovers costs $2,000, which coupes and AMG models get as standard.

Next up from the GLC 300, Mercedes-Benz offers the plug-in hybrid GLC 350e, which costs $52,895, on up to GLC43 and GLC63 crossovers that cost $60,495 and $74,745, respectively. The mountaintop of price and performance is the GLC63 Coupe that costs more than $85,000 to start and run past $100,000. It's a nice thing.
We'd be fine with a GLC 300 with all-wheel drive and a few added features such as an AMG appearance package that includes 19-inch wheels, sport front seats, and uprated brakes. We'd opt for upgraded lighting too, leather upholstery, premium Burmester audio, and driver-assistance features. That configuration would come in at about $57,000. That being said, our favorite is the AMG GLC43 that strikes a perfect balance between comfort and sport without breaking the bank.
The 2020 Mercedes-Benz GLC-class is not only light years ahead of the GLK-class that it replaced but is also far ahead of most of its competitors. The GLC-class has nailed offering something for everyone while doing all of it well including living up to it's Mercedes namesake. The GLC is the top of it's class and one that every small luxury SUV shopper should take a look at. While you're at it, make sure to take a spin in the AMG GLC63 just for the spin tingling crackle fo the exhaust.
For all your new car shopping needs, check out: drivevise.com Vehicle shopping made simple!