The 2020 GMC Sierra 1500 finds new ways to deliver on an automotive concept older than a century: the pickup truck. This year, the GMC adds to its roster a turbodiesel inline-6 that's more refined, new trailer cameras, and a handful of added trim levels. The lineup for the GMC Sierra 1500 is wide and deep. The 2020 Sierra 1500 is available in base, SLE, SLT, Elevation, AT4, and Denali versions. Five engines, three transmissions, and two driveline configurations complement three cab options, three bed options, and endless options. In short the GMC Sierra 1500 can be any flavor you like. Work trucks cost just over $30,000, while fully loaded Sierra 1500 Denalis crest $60,000 before options. Regardless of what's underhood or on the badges, the Sierra 1500 looks the part. It was restyled last year and it's the smarter look compared to the mechanically related Chevy Silverado 1500. The body sides are flat and without flair, but the GMC's grille is the right side of conservative. 
Base Sierra 1500s get a 285-horsepower 4.3-liter V-6 that's mostly work-spec with few trucks will be parked in driveways with the base engine. A 2.7-liter turbo-4 is more common among retail buyers and it's more powerful at 310 hp. It's hooked to an 8-speed automatic and rear- or four-wheel drive. It rates up to 21 mpg combined, and it's acceptable for around-town duty. A 5.3-liter V-8 with 355 hp is our sweet spot, and gets a new 10-speed automatic when equipped with four-wheel drive in certain trims. It's more powerful off the line and can lug more than 11,000 pounds. The 420-hp 6.2-liter V-8 is the top powertrain and is only available with four-wheel drive. It manages 17 mpg combined thanks to its standard 10-speed automatic. A 3.0-liter turbodiesel inline-6 joins the crowd this year and its 277 hp is just enough, but it's the quietest and likely the most efficient. Its trick isn't towing—just 9,000 pounds—but it's the smoothest of the bunch.

Regular-, extended-, and crew-cab models are available with 5-foot-8-inch, 6-foot-6, or 8-foot bed lengths, depending on configuration. The four-door crew cab is a family vehicle, there's more leg room in the rear than before. Regardless of cab or bed length, the Sierra 1500 is a full-size pickup. GM unwisely keeps automatic emergency braking from base versions. It's available on top trims as an option, which is a head-scratcher ahead of next year's near-mandate for the life-saving tech on all cars. Base Sierras get power features, air conditioning, Bluetooth connectivity, a USB port, 17-inch wheels, and Apple CarPlay- and Android Auto-compatible infotainment with a 7.0-inch touchscreen. We find better features and value in Sierra 1500 SLTs that get an 8.0-inch touchscreen for infotainment, 18-inch wheels, automatic climate control, power-adjustable driver's seat, leather upholstery, a trick tailgate that opens six different ways, and a high-definition rearview camera.
The 2020 Sierra 1500 takes few risks in the way it looks. The new Sierra 1500 is right down the middle among pickups with it's blend of simple lines and straight edges without many rounded corners or much room for flair. The GMC Sierra 1500 is oddly less expressive than the related Chevy Silverado. The Sierra 1500's tall grille cuts between C-shaped headlights and meets up with a lower front bumper that gives it a square-jaw look. The amount of chrome varies between the pickup's range: Sierra Denalis wear the most chrome, off-road models get butch-looking accents. Down the Sierra's body, thin gray plastic wraps around the wheel wells to cut down on visual weight. Crew-cab models, which are the most popular, get a rear-window kick up that breaks out of the straight-sided look. The rear tailgate wears a big GMC or Denali badge, depending on model, and C-shaped taillights bookend the sides. It's upright and blocky, although not especially groundbreaking.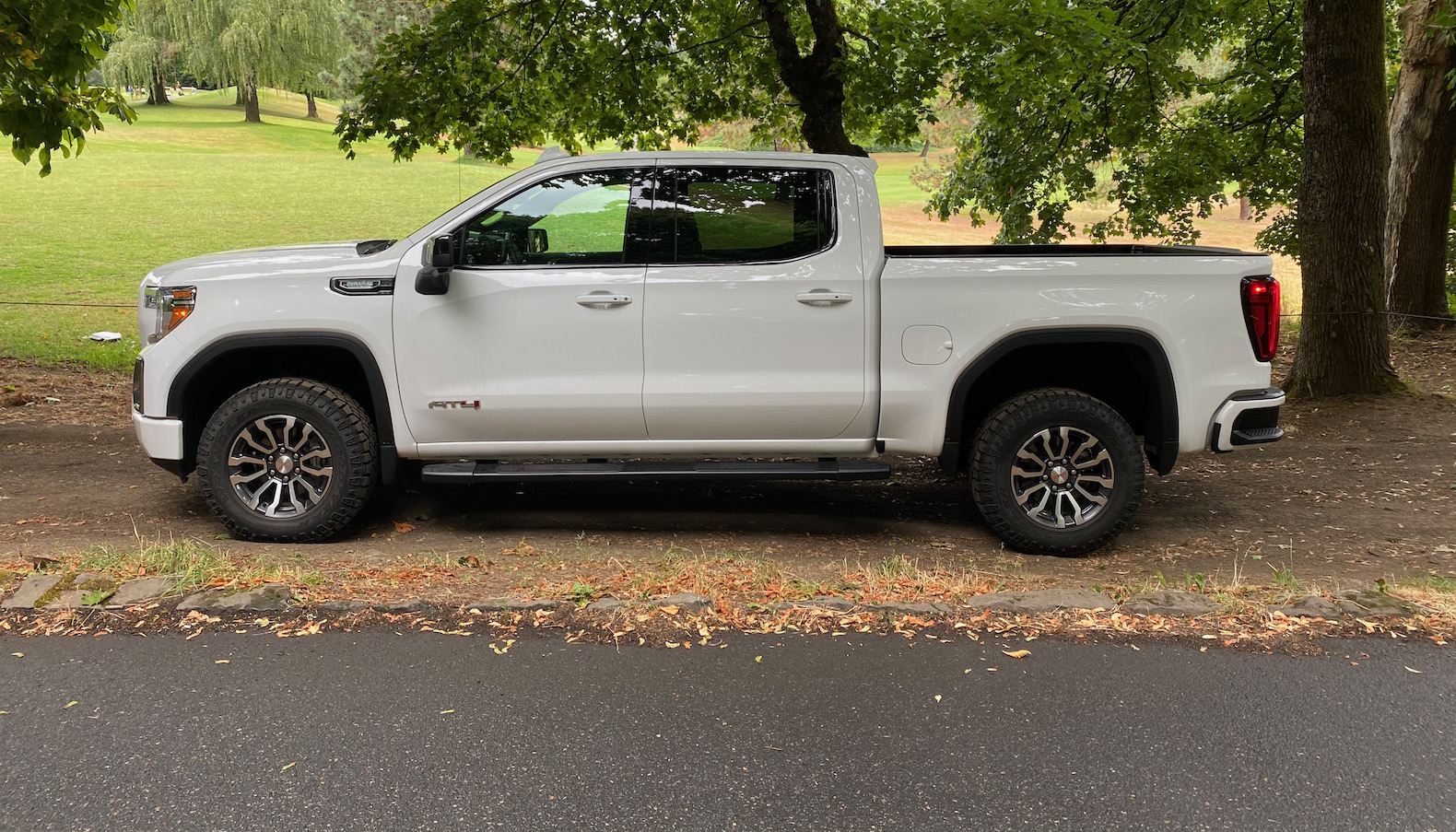 Turbodiesels do the best, but most Sierras rate about 20 mpg combined. The EPA pegs the newest GMC Sierra drivetrain with the turbodiesel as its most efficient. The new 3.0-liter turbodiesel earns EPA ratings of 23 mpg city, 30 highway, 26 combined in rear-drive form; with four-wheel drive, it slips to 22/26/24 mpg. The 5.3-liter V-8 is still the most common engine in the Sierra; it's rated at 17/24/20 mpg with rear-wheel drive, and 16/19/22 mpg with four-wheel drive and an 8-speed automatic. The big 6.2-liter V-8 is still around, and thanks to its 10-speed automatic it rates 15/20/17 mpg, about the same as Sierras with the base V-6. It's rated for premium fuel, however. GMC offers a turbo-4 that was last year's efficiency champ until the Turbodiesel came on the scene; most configurations are rated at 19/22/20 mpg. In our week of testing the new turbodiesel, see averaged a respectable 23.8 mpg, right on target with the EPA.
The GMC Sierra 1500 lags others in official safety scores. Federal testers gave the pickup a four-star overall score, and the IIHS gave it a "Marginal" rating for passenger-side small-overlap crash protection. Base pickups skip automatic emergency braking. This may well be the last year GMC will get that last demerit, nearly every new car starting next year will get automatic emergency braking as standard equipment. For now, GMC walls that off to more expensive trims. Regardless, there are multiple camera angles to shimmy the truck into parking spaces and trailer hitches, which mitigates the big body bestowed to the pickup. Also, the IIHS gave the Sierra 1500 top "Good" scores in all crash tests, except the passenger-side small-overlap test. When equipped with the optional automatic emergency braking system, the Sierra 1500 avoided front crashes at 12 and 25 mph.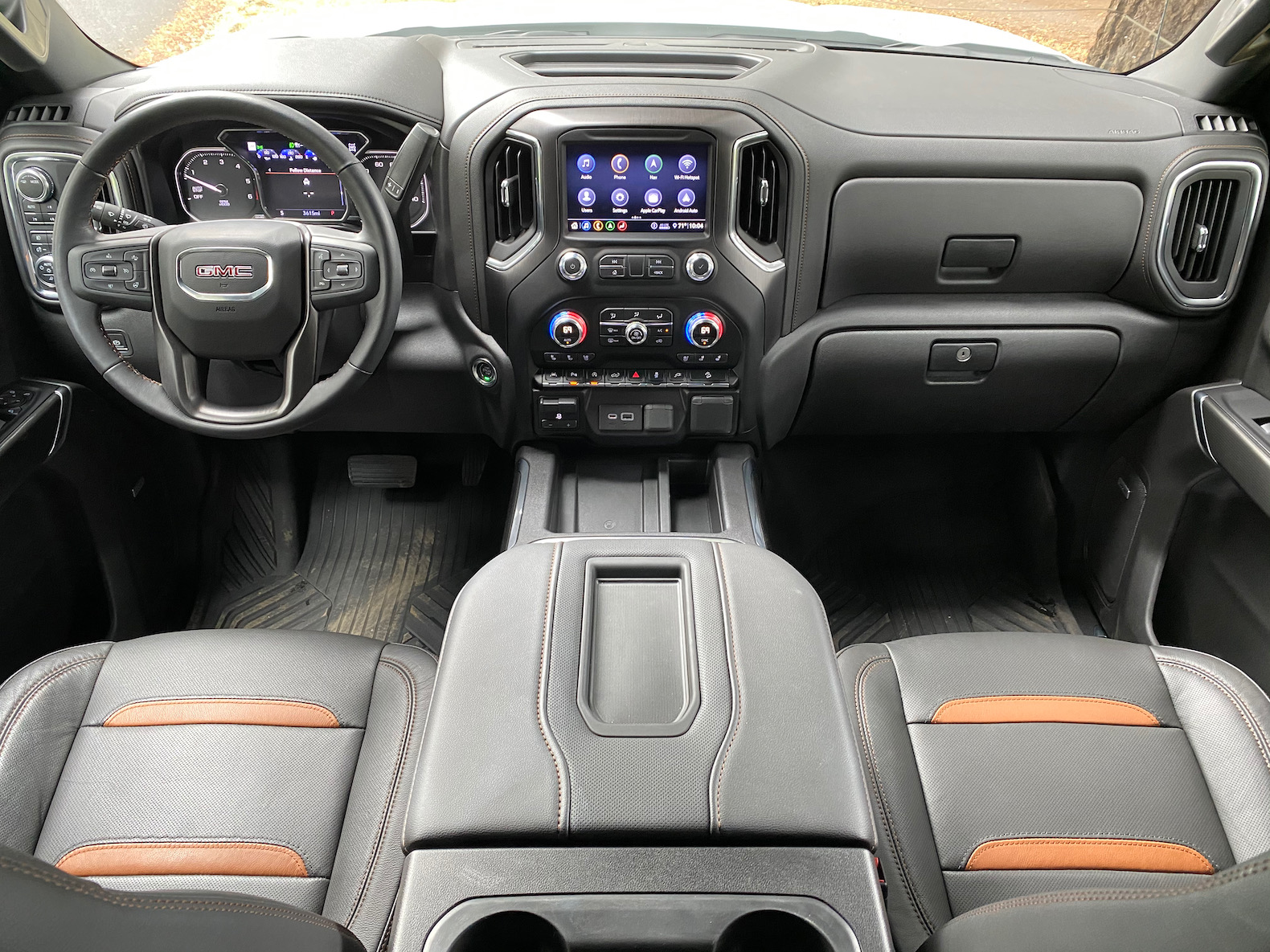 Inside, the truck gets more comfortable and colorful with more money, but all versions prioritize capability and ease of use over frippery style.
Comfort and utility are the 2020 Sierra 1500's best features, and it delivers both by the truckload. Inside, the Sierra 1500 is just as horizontal and wears dressier shades by throwing more money at it. A massive center panel contains most of the center stack of controls for audio and climate. Most pickups get an 8.0-inch touchscreen for infotainment while base models make do with a 7.0-inch unit. The Sierra 1500 is equipped with a 5-foot-8-inch, 6-foot-6, or 8-foot bed, depending on cab configuration. Regular cabs are two-door affairs, while extended- and crew-cab models offer seats for four. The crew cab is a four-door, five-adult vehicle that most shoppers will pick and it's our pick for comfort and stretch-out space.

Front passengers have it good, but rear-seat riders have it better. The rear bench can fit three across and the outboard seats can be heated as an optional extra. The rear seats don't recline, but there is more head room than in older GMC trucks and long legs fit better thanks to more leg room by three inches. The Sierra 1500's interior storage is a gem, too. The big center console on top trucks can swallow laptops and tools, file folders and pencils, and it offers multiple USB charge ports for devices. Generous sound-deadening material in the Sierra 1500 helps keep the pickup's interior, which can be trimmed in luxury materials, quiet and serene. The Denali trucks feature leather everywhere, wood and aluminum accents, fitting for its price tag that starts at more than $61,000. 

The Sierra 1500's bed is deeper and wider than before, GMC says it's more spacious by 20 percent over prior generations of the pickup. Depending on bed configuration, GMC offers up to a dozen tie-downs in the bed, bed steps at the corners, movable tie-downs, a multifunction tailgate with different ways to open, and in-bed LED lights. If that's not enough, GMC offers a carbon-fiber bed that saves about 60 pounds, but it's only offered in four-door crew-cab models with a standard-length bed. Like you'd expect in anything with an open bed, the Sierra 1500 can carry more than its fair share of cargo and gear, more than 2,200 pounds in some configurations. Expect plenty of people to ask if you can help move on the weekends.
The 2020 Sierra 1500 can be a luxury truck with few rivals. Pickup trucks are some of the most configurable vehicles on the planet. With multiple options for trims, powertrains, cabs, beds, and creature comforts, no two pickups need to leave the factory with identical features, and that's before we've even talked colors. We value your time, so what follows is the Readers' Digest version of the 2020 Sierra 1500. The 2020 GMC Sierra is available in base, SLE, Elevation, SLT, AT4, and Denali roster. Every truck gets power features, air conditioning, Bluetooth connectivity, a USB port, 17-inch wheels, and Apple CarPlay- and Android Auto-compatible infotainment with a 7.0-inch touchscreen. Base trucks are for work detail, and we imagine more shoppers will find better value in the Sierra 1500 SLT, which adds more comfort features.

The SLT adds an 8.0-inch touchscreen for infotainment, 18-inch wheels, automatic climate control, power-adjustable driver's seat, leather upholstery, a trick tailgate that opens six different ways, and a high-definition rearview camera. Cooled front seats, navigation, wireless smartphone chargers, heated rear seats, towing and trailering packages are optional extras. GMC's longtime ace has been its Denali-trimmed trucks, which are comfortable, powerful, luxurious—and also expensive. The Denali trucks heap on standard features such as comfortable front bucket seats, adaptive suspension, open-pore wood trim, navigation, 22-inch wheels, a surround-view camera system, chrome, and a rear camera mirror. The AT4 trim level is geared for off-roaders with a 2-inch suspension lift, chunkier tires, tougher hardware; the Elevation trim doesn't go as far but offers more rugged bits than most of the lineup.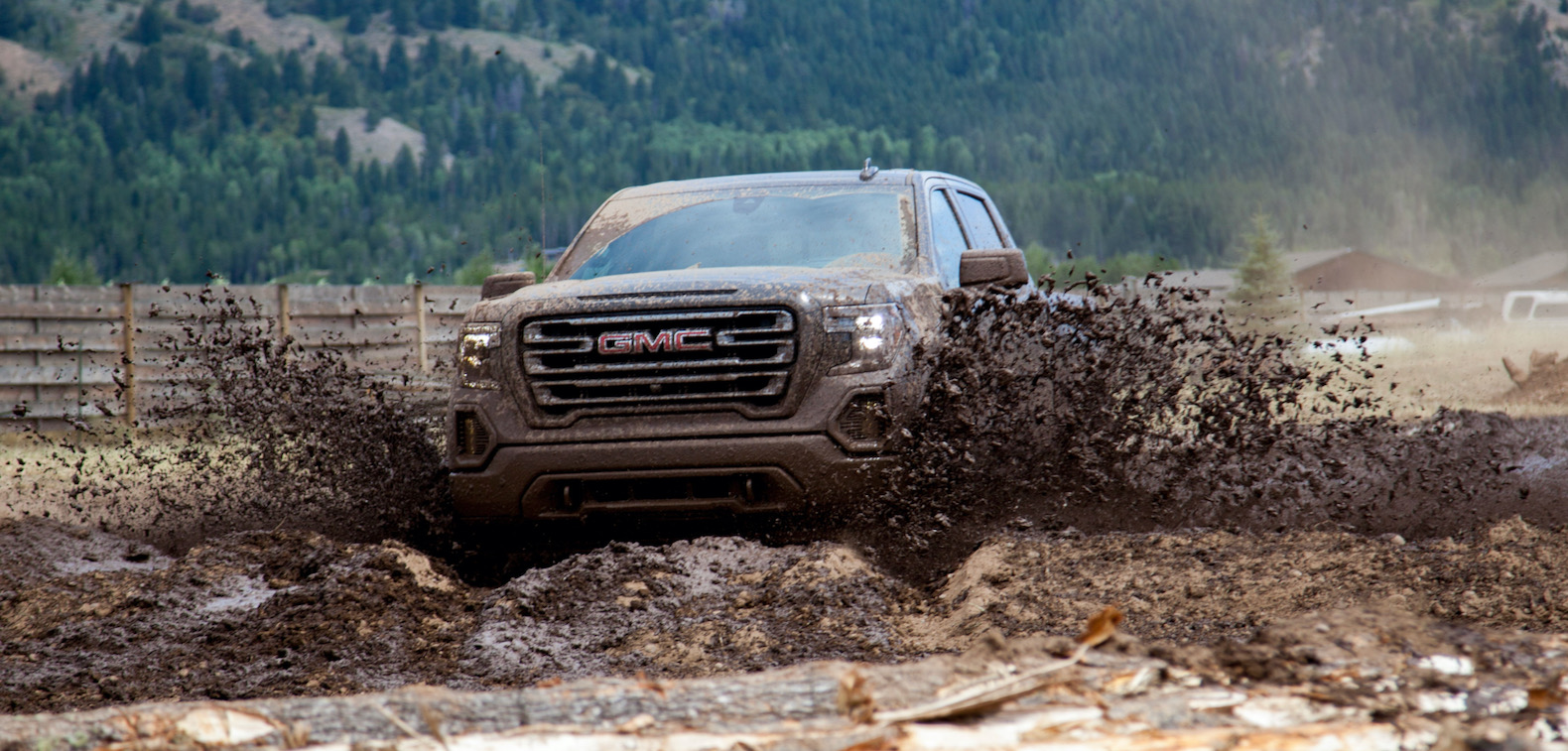 The 2020 GMC Sierra offers an incredible range of configurations, powertrains, trims, and options to heap onto those. On top of that, GMC offers the efficient new turbodiesel engine, a trailer view system with more cameras than the federal reserve, a carbon fiber-composite bed, and a flexible multifunction tailgate. With all the choices it would be impossible to not find the perfect configuration to suit your needs and therefore deserves a drive for anyone looking for a full size truck.
For all your new car shopping needs, check out: drivevise.com Vehicle shopping made simple!