The 2020 Honda Ridgeline is a different kind of truck; it's a truck that's more comfortable and practical than tougher-duty rivals, but yet still based on a car; a really impressive one. The 2020 Ridgeline is all the pickup truck most buyers will ever really use, and that's what makes it an outlier in its class. With impressive comfort, efficiency, and practicality but lacking some of the styling and ultimate off-road chops of its rivals.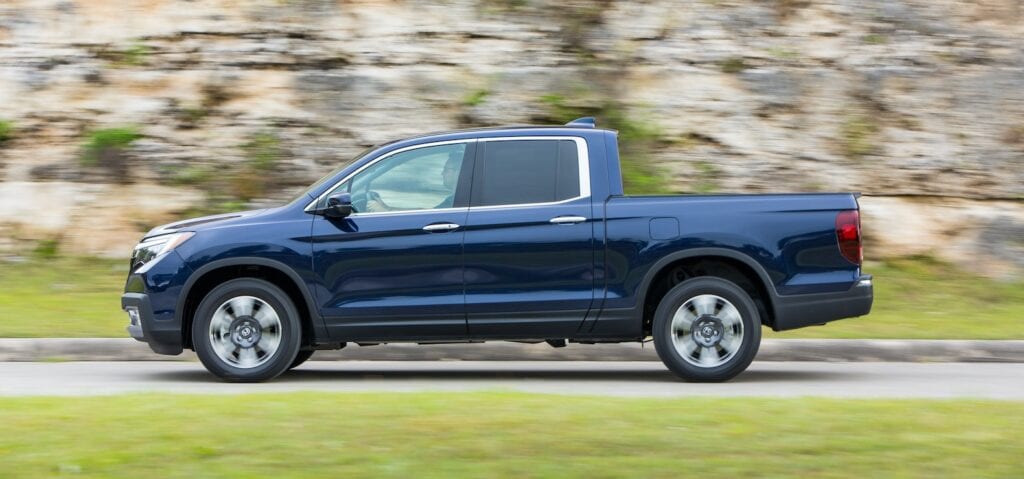 For the 2020 Ridgeline, Honda makes more equipment standard. All Ridgelines now come with a 9-speed automatic transmission, an 8.0-inch touchscreen infotainment with Apple CarPlay and Android Auto, and active safety features such as automatic emergency braking, active lane control, and adaptive cruise control. The RT and RTL-T trims are gone, leaving just the Sport, RTL, RTL-E, and Black Edition trims.

The Ridgeline looks just like the Honda Pilot upon which it's based, at least from the front. The bed on the back makes for a less cohesive overall design than other purpose-built pickups in the class, but if you're a fan of Honda's recent styling, you'll like this truck too. The interior is sleek and high-quality, with just the right number of buttons and knobs to be useful but not overwhelming.

A smooth 3.5-liter V-6 that makes 280 horsepower does the heavy lifting, now paired with a 9-speed automatic transmission meant to improve fuel efficiency. Front-wheel drive is standard and all-wheel drive is available. Fuel economy is only average at 22 mpg combined for the front-wheel-drive model and 21 mpg for all-wheel-drive equipped trucks.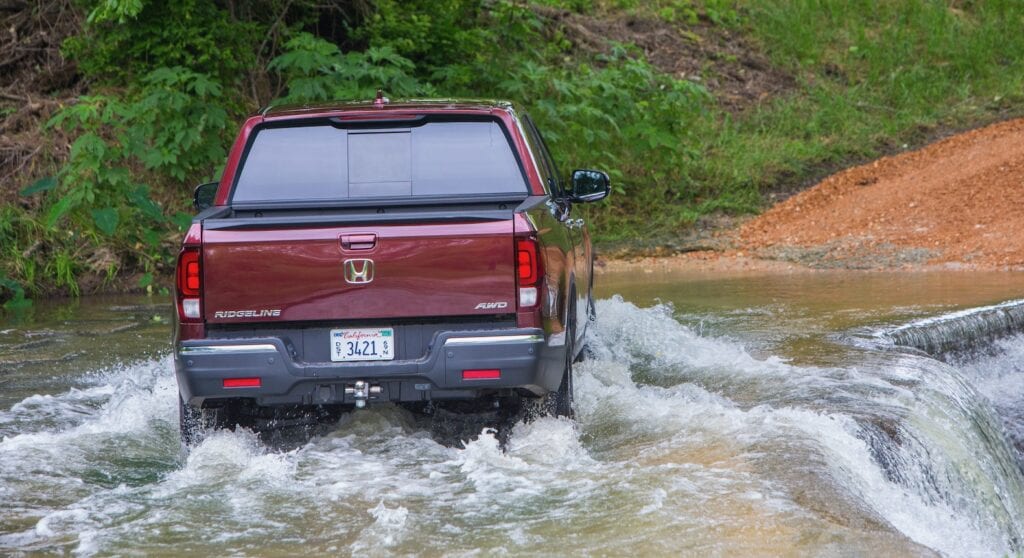 As this is a unibody truck that shares a platform with a crossover SUV, no true four-wheel-drive system is available with low-range gearing. The Pilot's integrated frame sacrifices some towing capacity and off-road capability, but its on-road driving manners are unmatched by any other pickup, providing a smooth and confident ride that feels very much like the Pilot. Strong safety scores from the IIHS and NHTSA make up for gas mileage.

The 2020 Honda Ridgeline looks more like a crossover with a bed. The 2020 Ridgeline has four doors and an open bed, but that's about all it shares with most other trucks in terms of design. From the front, the Ridgeline is nearly indistinguishable from both the Honda Pilot upon which it's based and the new Passport, but those are both handsome crossover SUVs so we're not complaining. In fact, the Ridgeline resembles a Pilot right up to the end of the rear door, where the square bed begins. While the first generation had a buttress at the D-pillar to transition more seamlessly to the bed, the latest Ridgeline adopts the modular look of other pickups. We miss the unique look of the first generation.

The 2020 Honda Ridgeline hauls and handles more like a crossover than a pickup, sacrificing capability for comfort, but unless you regularly boulder crawl, it's a sacrifice well worth making. The 2020 Ridgeline sacrifices some outright capability in the name of on-road comfort, and that's what many buyers can and should be looking for in a mid-size truck.

A 3.5-liter V-6 does all of the heavy lifting for the Ridgeline, putting out 280 horsepower and 262 pound-feet of torque. It's not as robust as some competitors, but gets the job done smoothly with plenty of available power for highway passing and one of the quickest. A new 9-speed automatic transmission is standard on all models this year and base versions come equipped with front-wheel drive. All-wheel drive is standard on the top-tier RTL-E and Black Edition trims and available on the Sport and RTL.

The Ridgeline uses a unibody architecture like most crossover SUVs, while all other pickup trucks use a more traditional body-on-frame design. This comes with both benefits and drawbacks. Lacking a solid rear axle and robust leaf-spring suspension, the Ridgeline can tow up to 5,000 pounds with all-wheel drive. That's about 2,000 pounds less than most of its competitors, so if you intend to tow a bit more, look elsewhere. Payload limit is impressive at 1,584 pounds, however.

A unibody design also sacrifices some off-road capability, and while the Ridgeline does come with a selectable traction management system, its lower ride height and lack of a low-range gearbox make it less confident off the beaten path than its contemporaries. The major benefits of the Ridgeline's unique construction those is it's comfort and additional practicality, both of which set it apart among the competitive set. The Ridgeline rides and handles like a Pilot, which is to say smoothly and comfortably. The lack of a solid rear axle also means there's space for the big, in-bed trunk that has become a standout feature of the Ridgeline, and one of our favorite things on any pickup truck.

The 2020 Honda Ridgeline is fairly efficient at 21-22 mpg combined and only regular fuel is required. The front-wheel-drive Ridgeline makes 19 mpg city, 26 highway, 22 combined while the all-wheel-drive version is rated at 19/24/21 mpg. With only a slight drop in efficiency between the two, we suggest opting for all-wheel drive if you've got the extra cash. Only other turbodiesel trucks fare similarly or better, owing to the Ridgeline's crossover-based construction and new 9-speed automatic transmission.
The 2020 Honda Ridgeline gets great crash test scores and includes active safety tech as standard this year. The 2020 Ridgeline is one of the few pickups that has comprehensive crash test scores, and with active safety features now standard, it's safer than ever. For 2020, Honda has equipped all Ridgeline models with its suite of safety tech, including automatic emergency braking, active lane control, adaptive cruise control, and blind-spot monitors. That makes it a much better deal than in years past and retains good outward vision.

The federal government gives the Ridgeline five stars overall, docking only one star in the rollover category, and the independent IIHS gave the Ridgeline mostly top "Good" scores in its crash tests, except the passenger-side small overlap test. It should be noted that the base headlights on the Ridgeline received a "Poor" rating from the IIHS, however, so considering spending more for a model with the LED units.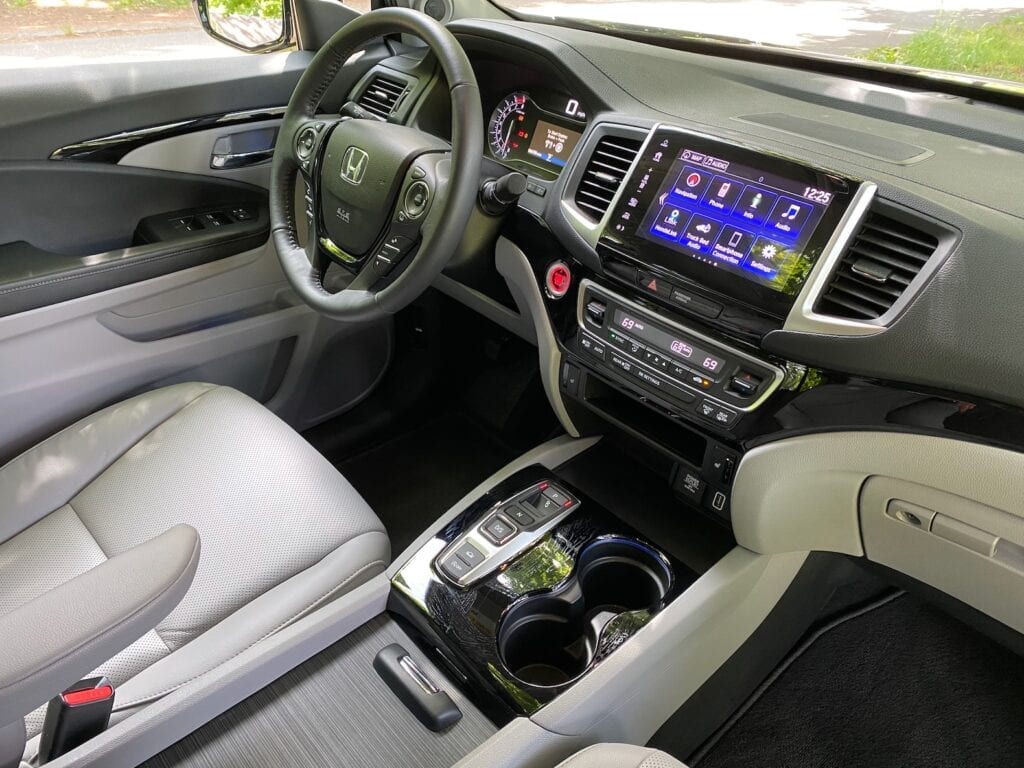 The 2020 Ridgeline's interior is as comfortable and high-quality as you'd expect from a Honda, and thoughtful design features made possible by this truck's unique structure set it above the pack in terms of storage beyond the bed. A lift-up rear seat with lots of storage, a dual-action tailgate that either folds down or swings out, and in-bed lockable trunk are all included and highly useful.
The interior is similar to the Pilot, but again, we're not disappointed. A sleek and logical cabin is fitted with just the right number of buttons and knobs and uses impressive materials for a comfortable and quiet atmosphere that's very un-truck-like. Those looking for a "hose-down" utilitarian interior are advised to turn elsewhere, as this is a family vehicle with a bed.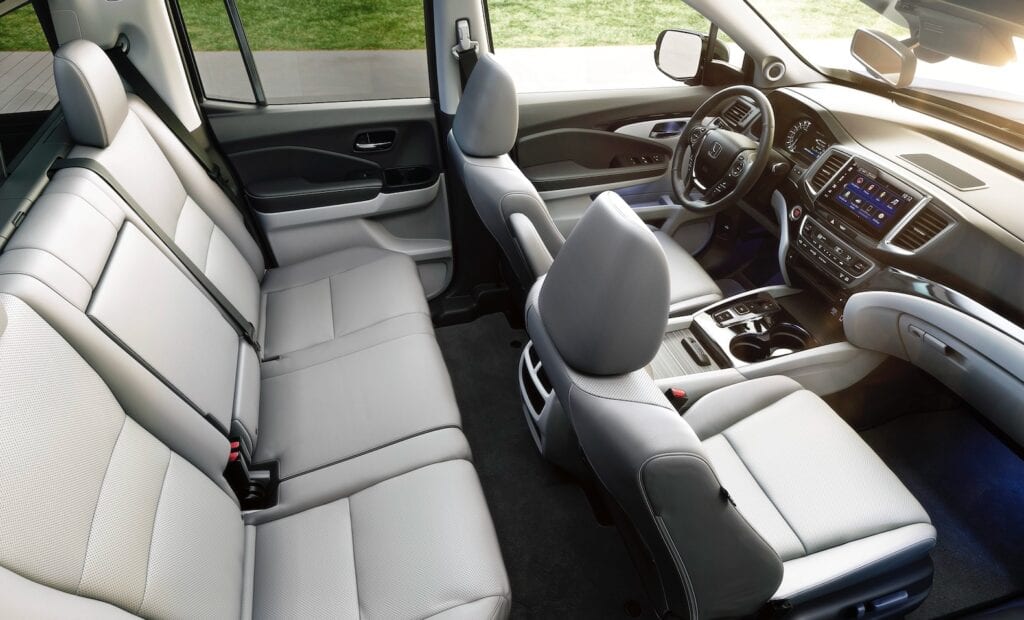 With plenty of room for five adults, a tall roofline and lower floor, and lots of interior storage thanks to its unibody construction, the Ridgeline is one of the most useful everyday vehicles we've driven. The seats are comfortable and supportive all around, and the rear folds up against the back for lots of under-seat storage. Material quality is good all around, with soft-touch plastics and available leather upholstery.

Though the bed is shorter and narrower than others at just 60 inches long and 50 inches wide between the wheel wells, it features a dual-action tailgate that both folds down and swings out for easier access to one of our favorite features of any truck: the in-bed trunk. A massive, washable and drainable tub accommodates bigger items that you don't want to store in the bed or interior and can even be filled up with ice and used as a cooler. Bed speakers and a power inverter are available on some models, making the Ridgeline a top-tier tailgating machine.
The 2020 Honda Ridgeline gets more standard equipment this year. Though down a couple of trim options and a few hundred dollars more expensive this year, the 2020 Honda Ridgeline is better equipped than ever. For good standard equipment, including an 8.0-inch touchscreen, and for some cool tailgating options. For 2020, the Ridgeline drops the base RT and mid-tier RTL-T trims, leaving just four: Sport, RTL, RTL-E, and Black Edition.

The now-base Sport model starts at $34,995 including a $1,095 destination charge, representing a $510 increase over last year's cheapest truck. For that sum, you get front-wheel drive, keyless ignition, an 8.0-inch touchscreen infotainment with Apple CarPlay and Android Auto and Bluetooth, as well as Honda's suite of active safety tech including automatic emergency braking, active lane control, and adaptive cruise control. All-wheel drive is available for an additional $2,240. The RTL trim starts at $37,765 and adds an acoustic glass windshield, power moonroof, power-sliding rear window, leather upholstery, 10-way power driver's seat with lumbar support, and 4-way power passenger seat, both heated. Front-wheel drive is standard on this model too, and the all-wheel-drive version costs $39,915.

Ridgeline RTL-E models get all-wheel drive standard and start at $43,115, but for the extra cheddar you get LED headlights, daytime running, and bed lights, automatic high-beam headlights, blind-spot monitors, front and rear parking sensors, a 150/400-watt power outlet in the bed, a heated steering wheel, ambient interior lighting, two second-row USB ports, satellite navigation improved audio, and a truck bed audio system that's perfect for tailgating. The Ridgeline Black Edition costs $44,615 and features the same equipment as the RTL-E, but wears unique black wheels, paint, and features red interior ambient lighting.
The 2020 Honda Ridgeline is unique in the best way possible. It takes a very different approach to truck life; one that for more than 95% of the population is a perfect fit. While it may not have boulder-hopping capability and huge towing capacity, the benefits of a car-like driving experience, smoother and quieter ride, and better flexibility more than out way the slight drawbacks. In the end, the Ridgeline is the best pickup truck money can buy.
For all your new car shopping needs, check out: drivevise.com Vehicle shopping made simple!