The 2020 Ford F-Series Super Duty has the towing technology and the goods to pull up to 37,000 pounds. Ford's venerable workhorse heavy-duty pickup truck gets a fresh face and new off-road package this year to compete with newer rivals from Ram and General Motors. With the 2020 F-250 Super Duty, Ford has a lineup of three-quarter and one-ton pickups that span an impressive range from work-ready tools to tony trucks tricked with tech, leather, and plentiful space for up to six adults.

The 2020 Ford Super Duty is offered in F-250 and F-350 specifications, the latter available in single- or dual-rear wheel configuration. F-450 pickups are available for even more hauling capability if needed. The Super Duty is available in XL, XLT, Lariat, King Ranch, Platinum, and Limited trims with 256 different mechanical build configurations but tens of thousands of configurations once options are considered. The new Tremor Off-Road Package adds some serious off-road cred with appearance and mechanical upgrades. Walk into a Ford showroom and it'll cost at least $35,300 to drive out in a new Super Duty.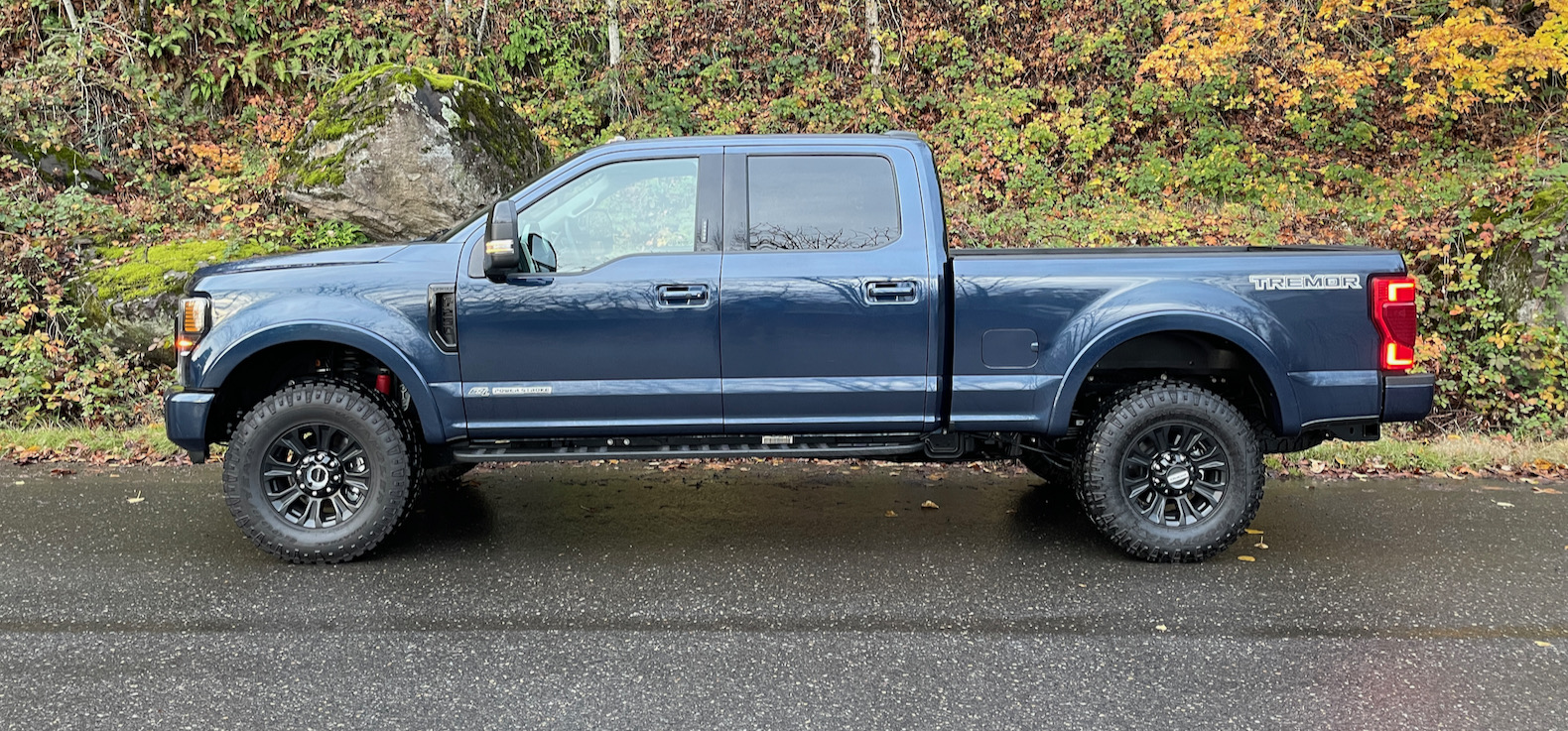 The 2020 Ford Super Duty gets a new, optional 7.3-liter V-8 gas engine. An optional 6.7-liter turbodiesel is the towing champ among the Ford lineup and can tow up to 37,000 pounds in certain configurations. The 6.2-liter gas V-8 returns for 2020 as the payload champ and is standard on all trucks. A 6- or 10-speed automatic transmission, the latter is new for this year, mates to drive the rear wheels or all four wheels when equipped.

The Ford Super Duty uses a fully boxed steel frame that's lighter than previous generations, but the Ford has spent most of its weight savings in beefed up suspension or tech in the big truck. Three cab configurations, two bed lengths, and multiple trim levels spread the 2020 Super Duty lineup. Regular, extended, and four-door crew cabs offer varying comfort for between two and five adults. Crew cabs are the most popular and the most spacious. A 6-foot-4 bed and 8-foot bed are available on most cabs; regular cabs only do with 8-foot beds.

The new Super Duty is available in a broad number of trims and offers interior materials that range from wash-and-ready vinyl to soft nappa leather and real wood trim accents. Ford offers blind-spot monitors, forward collision warnings, adaptive cruise control, and lane-departure warnings on the Super Duty, and for the first time this year, automatic emergency braking on XLT and higher trims. The XL-trimmed trucks are designed for work with 17-inch wheels, vinyl seats, and a basic radio. XLT adds 18-inch wheels, a touchscreen for infotainment, automatic emergency braking, and chrome bumpers. At the top, Limited trucks are trimmed with leather seats, a moonroof, ash wood trim, wireless smartphone charger, a suede headliner, and a heated steering wheel.
The 2020 Super Duty is a truck. It knows it, you know it, and everyone that sees it is going to know it. For 2020, the Super Duty lineup received a nip and a tuck to bring the exterior a bit more in-line with the latest F-150. The heavy-duty truck is still bold and brash with a squared-off blunt look like a slab of concrete. We can appreciate our trucks looking like trucks with slab sides and hard corners, which luckily the butch Super Duty provides in spades. Certain trims receive a pair of openings on the sides of the grille that may look like nostrils, but each trim level has its own distinct design details with different grilles, wheels, and some feature blacked-out chrome. Half the Super Duty lineup looks like a giant Transformer with massive LED headlights and taillights, while the other half looks like work trucks with huge halogen headlights.

The new Tremor off-road package blacks-out the chrome trim, swaps in a set of matte-black, 18-inch wheels wrapped in 35-inch Goodyear Wrangler Duratrac off-road tires, body-color wheel-well mouldings, Tremor decals. uniquest front air dam for increased approach angeles, and ups ground clearance to 10.8 inches with unique front springs. With ride height nearly two inches taller than other Super Duty trucks, Tremor models tower above nearly everything else on the road with an imposing look.
The turbodiesel can rotate the earth, but for those that don't need to haul a planet, the 7.3-liter V-8 is a terrific option for only $2,045 more than the base engine. There's no way around it: The 2020 Ford Super Duty is the current heavy-duty pickup champ in the hauling wars. With enough power to make semi's blush, a new, terrific 7.3-liter gas V-8 engine option, and ability to haul anything or now conquer most things in Tremor form the Super Duty can do it all.
Ford sells the 2020 Super Duty with three different V-8s, two available transmissions, in rear- or four-wheel drive. Base Super Duty trucks are powered by a 6.2-liter V-8 with 325 hp and 430 pound-feet of torque. It's hooked to either a 6- or 10-speed automatic transmission depending on the trim with a choice of rear- or four-wheel drive. It's the payload champ and can haul up to 7,850 pounds.

New for 2020 is a 7.3-liter V-8 with a cast-iron block and dual oil filters. It pumps out 430 hp and 475 lb-ft of torque to the rear or all four wheels via a 10-speed automatic transmission. The V-8 makes all the right noises and ticks all the right boxes. The V-8's torque peaks at 5,500 rpm, although it has plenty of tug lower in the rev range. Lugging nearly 10,000 pounds is a breeze, and in the right configuration an F-350 dually with the 7.3-liter V-8 can tow up to 21,200 pounds.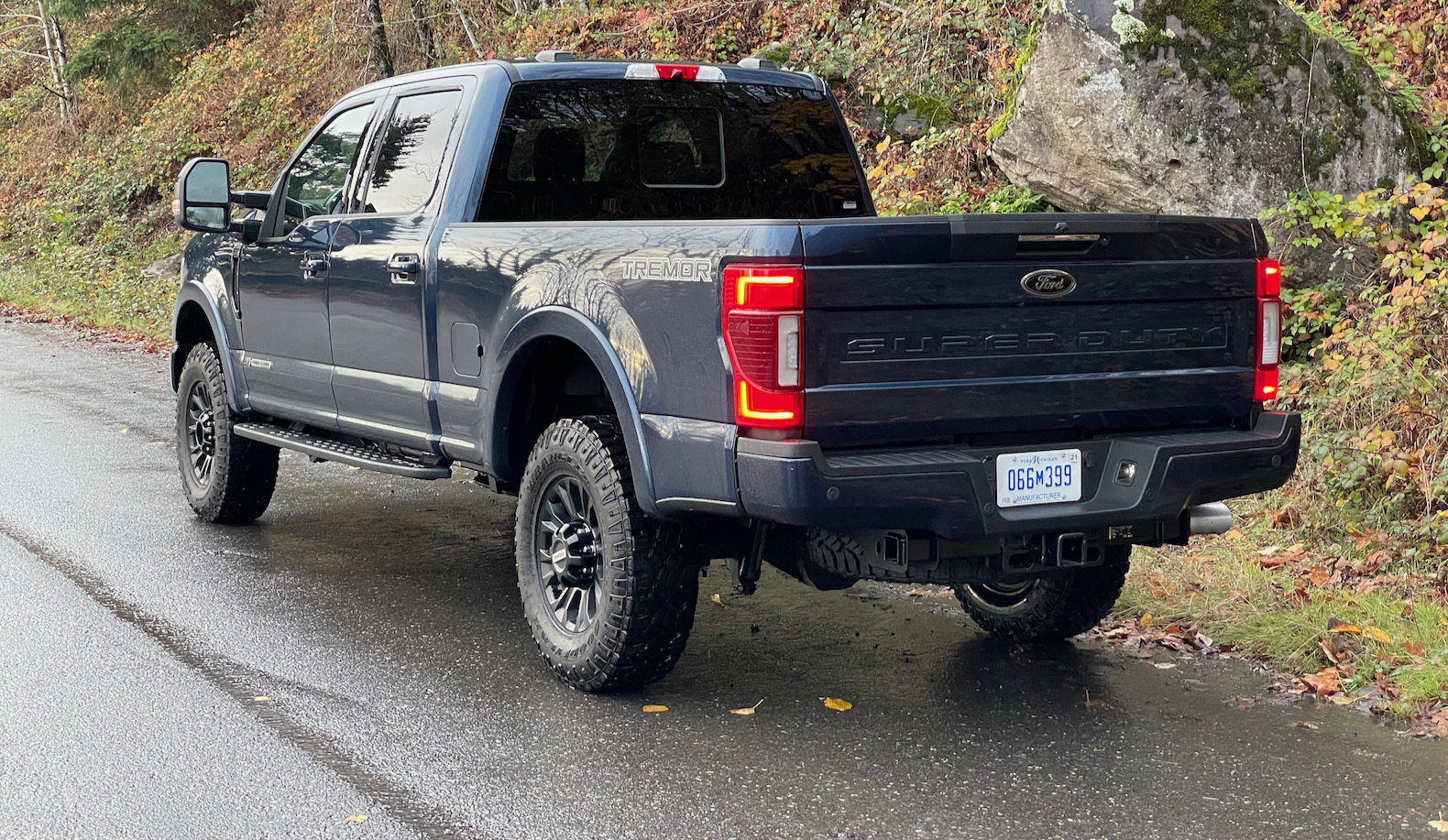 For 2020, the 6.7-liter turbodiesel returns, but the turbo's been slightly tweaked, and it now produces 475 hp with 1,050 lb-ft of torque. It hooks to a 10-speed automatic transmission, same as the 7.3-liter V-8, and can also be had in rear- or four-wheel drive. Ford says in the right configuration, the turbodiesel-equipped Super Duty can tow up to 37,000 pounds. 

Regardless of engine choice, the 10-speed automatic transmission is well-behaved with silky smooth shifts around town and at speed while unloaded. With a 9,000-, 12,000-, or 30,000-pound load hooked to the back of the Super Duty, the 10-speed automatic hunts for gears. The tow/haul mode does little to solve the situation and doesn't lock out any of the top-end gears.

Around town the Super Duty is easy to drive thanks to its electronically-controlled hydraulic power steering, which takes little effort to steer the massive piece of rolling aluminum into a new direction. The Super Duty can require constant attention while going around corners to ensure the rear end doesn't clip some poor unsuspecting small car. Sitting in traffic, the big truck towers above sedans, especially when equipped with the Tremor off-road package, but offers good visibility out of its large windshield and windows. Unloaded, the ride is impressive for a large pickup truck, but the stiff structure transmits road undulations to the cabin and washboard-like surfaces can induce some jiggling thanks to the stiffly sprung suspension for the heavy loads. The Tremor's 35-inch off-road tires can help smooth things out when equipped.
Heavy-duty pickups aren't rated for fuel economy. Since the Super Duty weights a few tons, literally, it escapes the clutches of the federal fuel economy rules. We've been in these trucks with the 7.3-liter gas V-8 and 6.7-liter turbodiesel V-8. Regardless of which engine is under the hood it'll be barely crest 20 mpg unloaded on the highway. Which is impressive for such a large vehicle with Earth-moving capability. Our test truck, a four-wheel-drive Crew Cab F-350 Tremor with the 6.7-liter Diesel netted an impressive 18.1 mpg in it's week with us.
The 2020 Ford Super Duty hasn't yet been fully crash tested. Federal testers haven't comprehensively tested a Super Duty pickup yet with limited results for some configurations. The IIHS hasn't crashed any versions of the Super Duty. Every Super Duty except the base XL trim now comes standard with forward collision warnings with automatic emergency braking, lane-keep alert, cross-traffic alerts, and blind-spot monitors, which can be integrated into some trailer configurations for safer towing. Most models either have or can be equipped with a surround-view camera system while adaptive cruise control is available as well.
From work truck to luxury truck, the Super Duty can be anything a buyer needs. Inside, the new Super Duty is virtually identical to last year's trucks except for softer, higher-quality leather and new soft-touch material for the top of the dashboard in the luxe-spec Limited model. Most Super Duty trucks excel at hauling lots of people, cargo, and equipment all at the same time with top-spec models doing it with luxurious flair. With excellent cargo hauling capabilities, space inside its cab, and supremely comfortable seats the Super Duty scores coddles in comfort.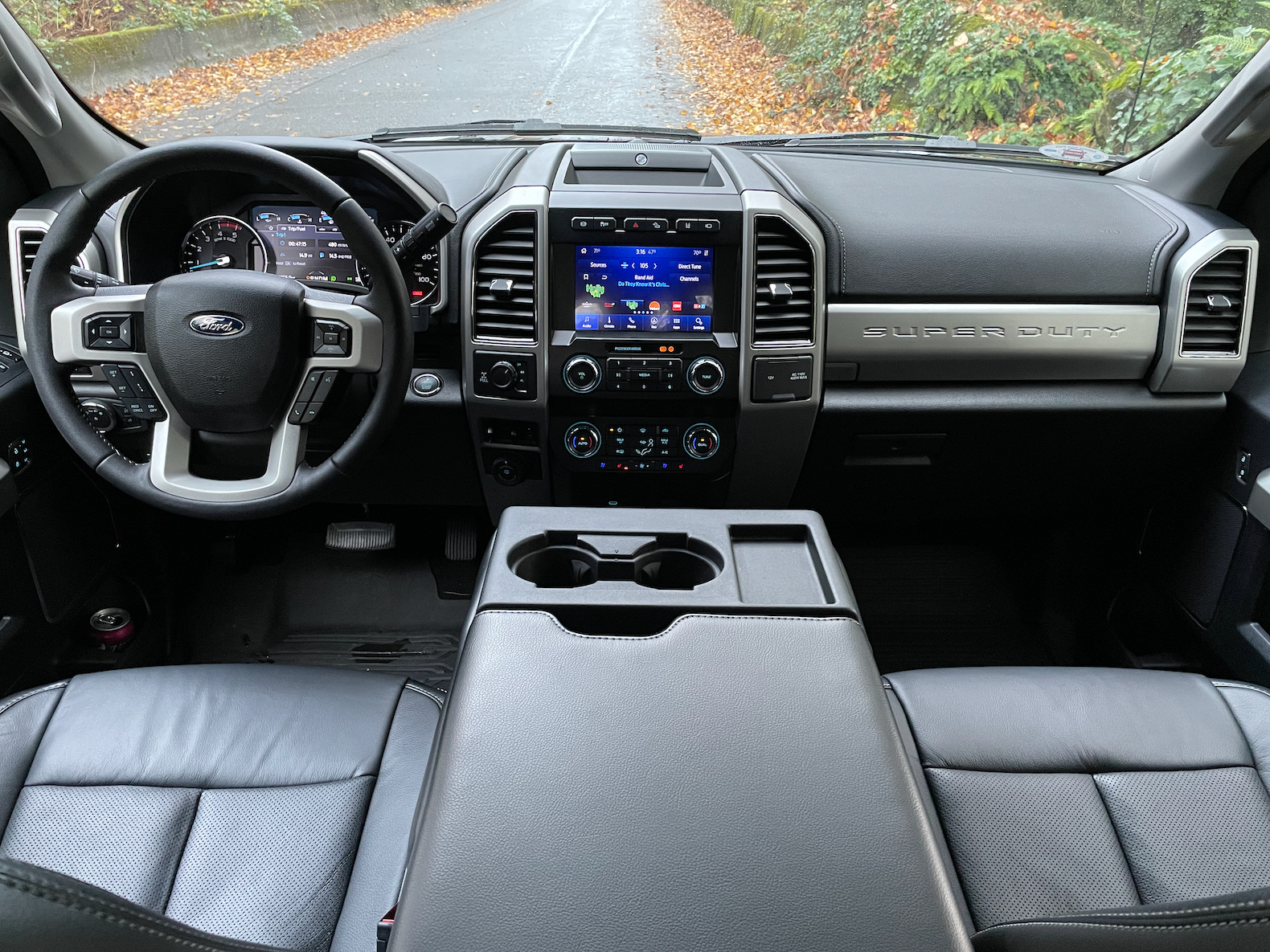 Inside, the Super Duty has seating for up to six, or five with front bucket seats, and a wide center console with storage fit for a mobile office. The rear bench seat folds up to reveal storage. We wish the seatbacks folded down like the F-150 for a flat load surface. Crew cab models have plenty of space and 6-footers can sit behind other 6-footers with room. Extended cab models are tight for anyone that uses the back seat on a regular basis. There's not a bad seat in the house in terms of room, but the front buckets are the best seats with wide, soft bottoms, lots of thigh support, and in some models can provide a lovely massage while towing 30,000 pounds.

Work-spec XL and XLT models have interiors filled with scratch-resistant plastics that are easy to wipe down after a messy day on the job site. To make it even easier to clean, Ford will ditch the carpet and lay in a vinyl floor on any trim. Top-shelf Limited, Platinum, and King Ranch models are slathered in soft-touch leather, some models have real wood trim or brushed metal.
The 2020 Super Duty is a real-life "Choose Your Own Adventure" with thousands of ways to configure a truck. There is a Super Duty for everyone. Whether you're an operator, foreman, owner, or dentist with some heavy toys to haul, Ford is happy to sell you a Super Duty fitted with as much or as little as you need. Configuring a Super Duty takes a map. With two bed lengths, now three powertrains, three cab styles, and at least seven rear axle ratios, it can be a maze. The Super Duty starts with the XL and XLT trims, which are aimed at doing hard work and little else. Things get more plush with the Lariat model, and then up to the King Ranch, Platinum, and Limited models for luxury-truck levels.

Work-spec XL models are like trucks of yesteryear with manual windows, locks, and no Bluetooth connectivity. The floor's covered in vinyl for easier cleaning. Notably, there's a 4G LTE connection with a wi-fi hotspot for jobsite connectivity and an AM/FM radio along with a 2.3-inch vehicle information display in the gauge cluster. Stepping up to an XLT model makes the truck feel more modern with power windows, locks, Bluetooth connectivity, 8.0-inch touchscreen infotainment system with Apple CarPlay and Android Auto compatibility. The Ford Super Duty is capable out of the box as a work truck, but the $3,975 Tremor off-road package adds serious capability thanks to 18-inch alloy wheels wrapped in 35-inch Goodyear Duratrac off-road tires, an upgraded off-road suspension and a locking differential

The Lariat model, which costs at least $48,195, is the sweet spot of the lineup with fog lights, 8.0-inch digital vehicle display in the gauge cluster, leather seating surfaces, 10-way power front seats, leather-wrapped steering wheel, power sideview mirrors, along with a Bang & Olufsen 10-speaker sound system. More importantly, it opens up the options list to customize the Super Duty with luxury features. The Super Duty gets luxurious but expensive in King Ranch, Platinum, and Limited trims. The King Ranch starts from $60,595 with Limited trucks starting at more than $85,000. Everything one expects of an expensive luxury vehicle is here. From soft leather, real wood, satin chrome trim, and seats that are heated, cooled, and can provide a massage while towing to a windshield wiper de-icing system; it has it all.
Ford's 2020 F-Series Super Duty trucks are the best heavy duty trucks ever. With years of truck experience, Ford has really built the best of the best. The updates for 2020 and the new Tremor package for off-road enthusiast only reinforce Ford's dominance. Whether your needs are work truck related, hauling anything you can dream of, or a comfortable highway cruiser to gobble up miles; there's a 2020 Ford Super Duty for you.
For all your new car shopping needs, check out: drivevise.com Vehicle shopping made simple!