The field of affordable electric vehicles is growing by the year. And this year marks the first time that one of the longest-range affordable EVs, the 2020 Chevrolet Bolt EV, gets a range boost. The 2020 Bolt EV gets its boost in battery capacity without any physical change to the pack or the way it's integrated into the vehicle structure, according to GM. Although if it weren't for the two new exterior colors, you might not be able to tell the 2020 Chevy Bolt from the 2019 versions at quick glance.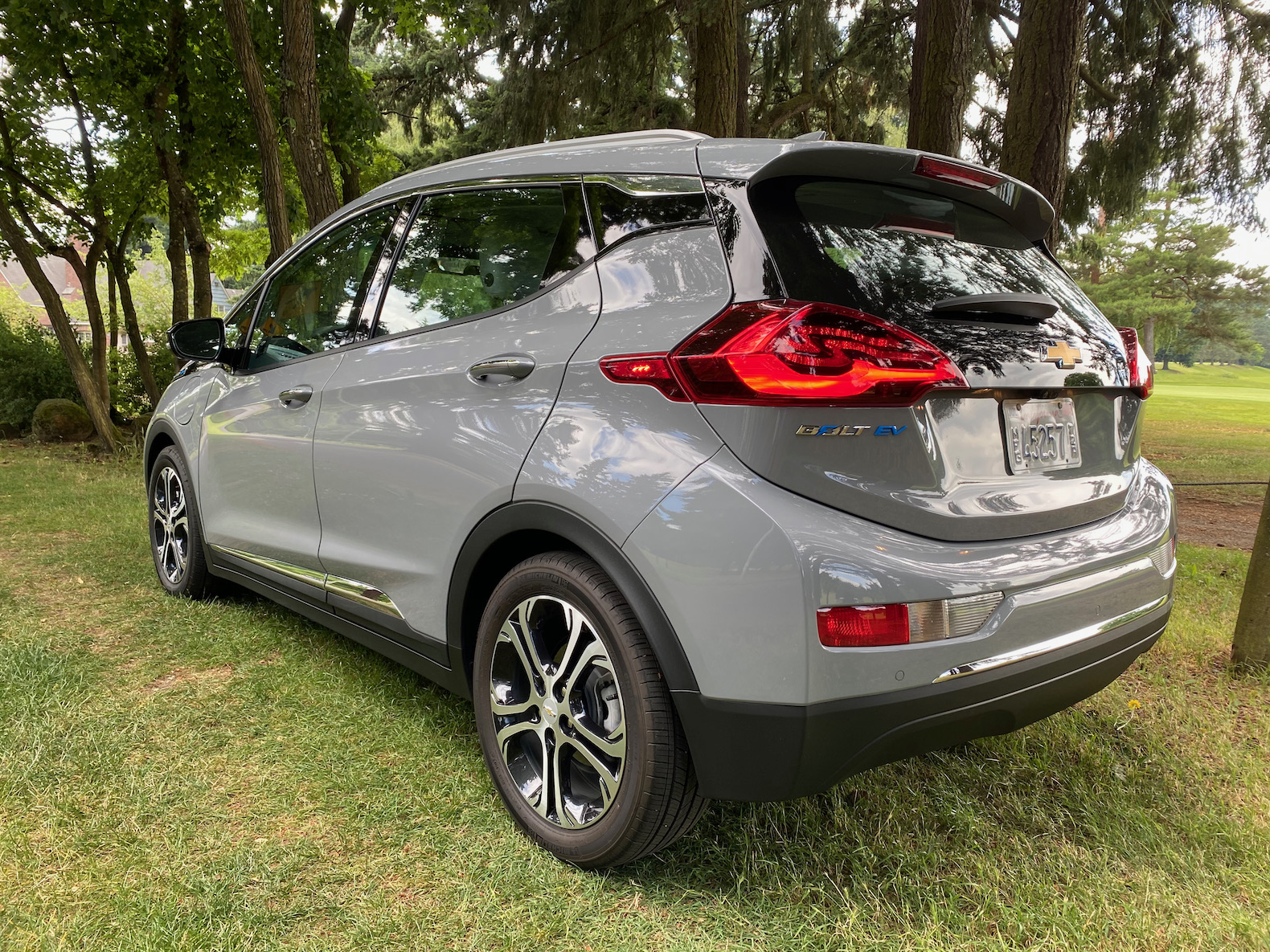 For 2020 the Bolt EV gets a 10-percent boost in battery capacity, without any physical change to the LG Chem produced battery pack. It's now EPA-rated at 259 miles, while its 200-hp motor, front-wheel drive, and generous 10.2-inch infotainment-screen real estate carry over.  The Bolt EV is incredibly space-efficient thanks to it's tall hatchback design. While your eyes might be torn between seeing this one as a boxy little utility vehicle made curvy, or a little hatchback pushed upward, the Bolt EV is set up to be a versatile little hauler of people and cargo. The 2020 Bolt EV fits four adults comfortably, or five in a pinch, and behind the second row, there's nearly 17 cubic feet of cargo room for gear. The second row tumbles down to offer as much space as many compact crossover SUVs.

Safety ratings are quite good for the Bolt EV, but its headlights have kept it from achieving the high ranks from the IIHS, and getting essential active-safety features requires option packages. A Chevrolet Energy Assist feature lets owners search for charging stations, plan a trip, or get dynamic advice about charging along their route. The feature is based on users' smartphones but can project to the infotainment system via Apple CarPlay or Android Auto.m The Bolt EV continues to be available across the U.S., unlike some other fully electric models that are only offered in CA emissions states.  Chevy has kept the Bolt EV's price at $37,500 and shown no sign of making up the difference as its rebate dwindles.
Is it a tall hatchback or a utility vehicle? You decide, but in either case the 2020 Bolt EV continues to fit in with a wide range of vehicles. Does the 2020 Chevrolet Bolt EV wedge a boxy layout into a curvaceous exterior, or does turn boxy into something more interesting? Whichever way you look at it, the Bolt EV is space-efficient, cleverly laid out and, to some eyes, attractive. From some distance away the form looks almost small van-like; get closer and it's more of a tall, economy-minded car. In either case, the tall, short proportions are inherently hard to get right. That's achieved mostly through some traditional vehicle-design tricks. The Bolt EV's wheels are pushed outward to the corners, which makes the vehicle seem smaller than it is up close, but the "floating" roofline in back helps make the roof visually "drop" toward the rear. Meanwhile the wedge-like beltline also helps the Bolt look stockier yet still graceful up close.
The 2020 Bolt EV is true to its name in how it can bolt forward from stoplights; otherwise it drives like a zippy compact car. Those who are new to electric vehicles may be pleasantly surprised to find that the 2020 Chevrolet Bolt EV has very perky performance especially in city driving. The focus on efficiency doesn't hold this hatch back. Generally, it accelerates strongly, holds the road well, and rides like a bigger vehicle, the last part due to the weight of its 3,600 pound battery pack. Regardless of drive mode, the Bolt EV handles well with a generous on-center steering zone that keeps the Chevy tracking down highways with minimal fuss.
The big, flat battery pack is low in the floor, which helps in handling and stability, and it feeds the front electric motor to an output of 200 hp. At its peak the motor delivers 266 lb-ft of torque, most of it early on, in ways only electric motors can provide. The Bolt EV accelerates up to 60 mph in less than seven seconds, which makes it quicker than many efficiency-minded sedans or crossovers. The driving range, rated at 259 miles, is an important part of the Bolt EV's performance credentials. We're happy to report that its range ratings mostly hold true in the real world, and they're repeatable/reliable with one drive reaching almost 300 miles. There are two drive modes in the Bolt EV. A normal mode functions like any car would, including idle creep (the vehicle moves slowly forward when you lift your foot off the brake pedal). A second mode allows something closer to "one-pedal driving," in which there's more regenerative braking when you lift off the accelerator pedal, and no idle creep. The transition between regenerative braking and friction braking was so subtle, we hardly noticed it in our drives.
The 2020 Chevrolet Bolt EV is one of the most energy efficient cars on the road, electric or gas. For 2020, the Bolt EV gets a range boost from 238 EPA-rated miles last year to 259 miles this year. That's primarily through more battery capacity; 66 kwh now, versus 60 kwh before. Chevy says that the Bolt EV can recover 100 miles of range in 30 minutes of DC fast charging, although it only charges at an official 50 kw (55 in some instances). A full charge on Level 2 (240V) takes about 10 hours.
The 2020 Chevrolet Bolt EV may be small and be riding around on a big battery pack, but it has amassed a respectable set of crash-test results and safety ratings. The IIHS gives the Bolt EV an overall evaluation of "Good," but that includes an "Acceptable" rating for the passenger-side small overlap test and a "Poor" rating for headlights. In federal NHTSA testing the Bolt EV earns five stars overall, but its front crash tests only manage four stars. For 2020, getting automatic emergency braking in a Bolt EV requires some option-box checking. You'll need to get the Driver Confidence I and Driver Confidence II packages. The Driver Confidence I package is available on LT and Premier trims and adds blind-spot monitors and rear parking sensors. The Driver Confidence II package adds active lane control, automatic high beams, and forward-collision warnings with automatic emergency braking (rated as "Superior" by the IIHS). For 2020, the Bolt Premier includes a standard surround-view camera system and rear camera mirror.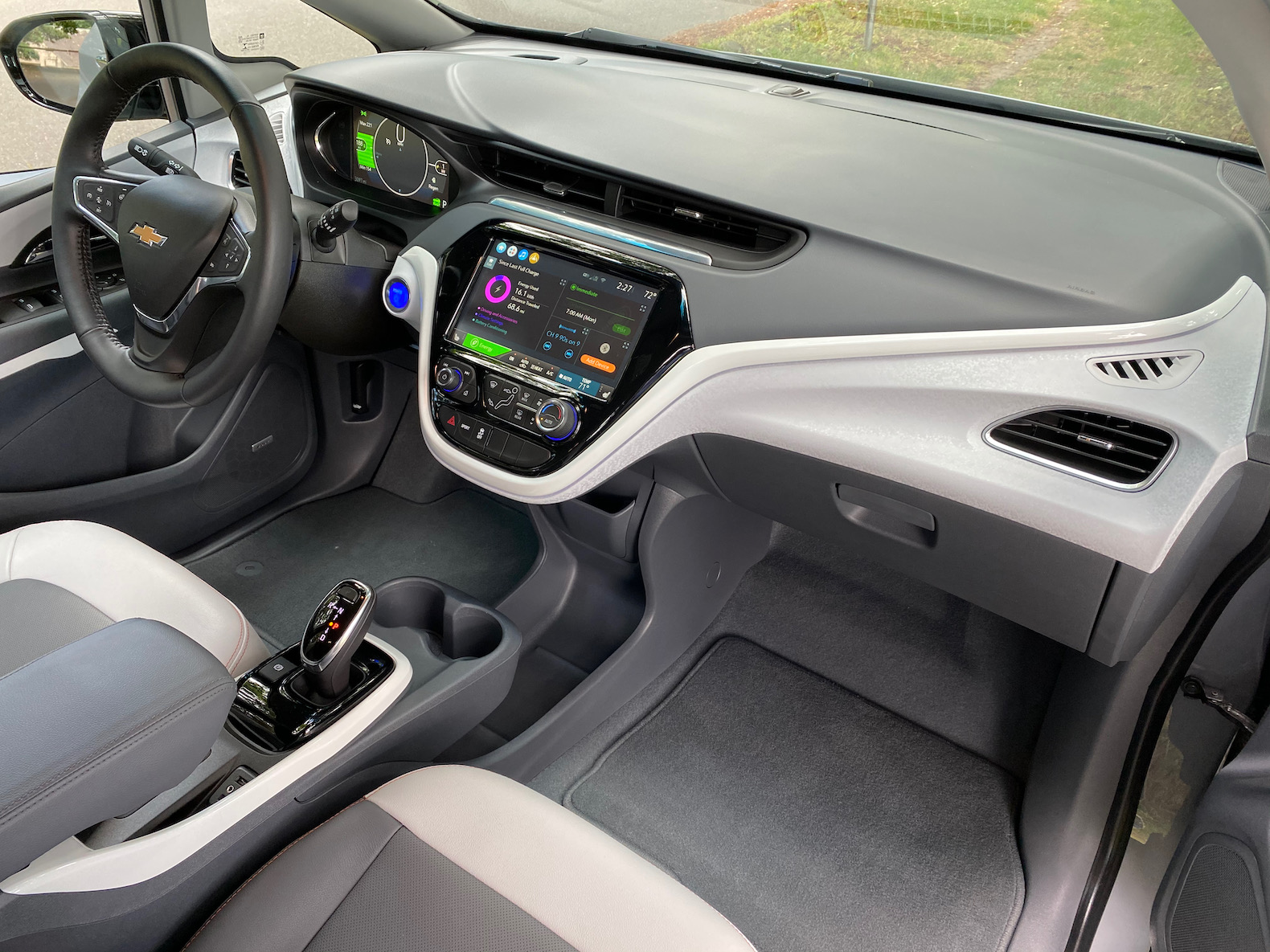 The 2020 Chevy Bolt EV looks from the outside like it's versatile and spacious, and that's a point that it delivers with no disappointment. There's room inside for four or five, including space for gear or luggage. While all the spaces are mapped out to their best, it's the fine details that could be better. The Bolt EV's interior speaks to a more modest price tag than its $40,000 price tag. Seating space is excellent in the Bolt EV, but seating comfort is most definitely not especially for your editor's 6'1″ frame. Around town the thinly padded backrests and upright seating position are just fine, but on longer tips the short cushions just aren't supportive enough. Some might find them passable, so take a long test-drive to see if the seats work for you. The plus side being the thin seats afford more leg room for those in back. Getting in and out of this hatchback is easy, thanks to the tall seating position and ride height with excellent outward vision, too. There's 16.9 cubic feet of cargo room, more than many large sedans. Tumble the second row out of the way and the cargo capacity expands to 56.6 cubic feet.
Once again, the 2020 Chevrolet Bolt EV comes in two trim levels, LT and Premier. There are only a few options available, mostly technology. The Bolt EV is pretty generous with standard features at the base LT level. LED headlights, 17-inch wheels, keyless ignition, automatic climate control, and an 8.0-inch driver information display are included, as are Bluetooth connectivity and a 10.2-inch touchscreen infotainment system that's Android Auto and Apple CarPlay compatible. On LT versions you can opt for a package with heated front seats and heated steering wheel. The DC fast-charging port is also optional on the LT and we'd recommend it for everyone; with the wider deployment of fast chargers, it's hard to imagine anyone wanting an EV without it in the near future. Premier versions add as standard features leather upholstery, a camera-based rearview mirror and an HD surround-view camera system, heated front and rear seats, blind-spot monitors, and rear parking sensors.
The 2020 Chevrolet Bolt remains a competitive and unique offering in the burgeoning small EV vehicle class, and one of our favorites only now more so. With 259 miles, the Bolt offers tangible real world range that under certain circumstances comes close to 300 miles. Besides range the 2020 Bolt is also entertainingly fun to drive with an incredibly spacious and versatile interior for its small footprint. So if a small EV is in your future, the 2020 Chevrolet Bolt definitely deserves a look.
For all your new car shopping needs, check out: drivevise.com Vehicle shopping made simple!